Cherry Cashew Granola Bars are simple, vegan, gluten free, and loaded with cashews, almonds, healthy seeds and dried cherries.
Pin Cherry Cashew Granola Bars for later!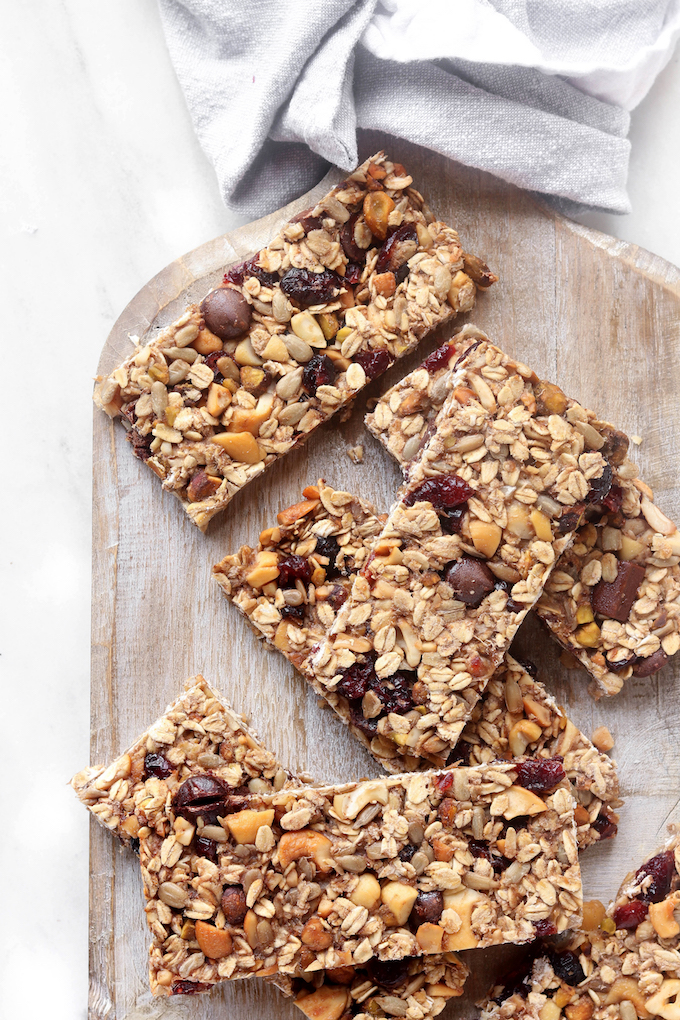 I'm going to level with you, because that's just the type of friends that we are.  Making the switch to a whole food lifestyle isn't effortless. It takes planning, preparation and TIME. No matter how many kitchen hacks, crockpot meals or doubled recipes you use... driving through or popping a frozen meal into the microwave is ALWAYS going to be the simpler choice.
Taking the time to read labels, make food from scratch and eliminate processed ingredients has to be something that you value or it just isn't going to work. Convenience food is just too, well...convenient.
Strange words from a whole foods recipe blogger... I know. But, I'm just trying to keep it real.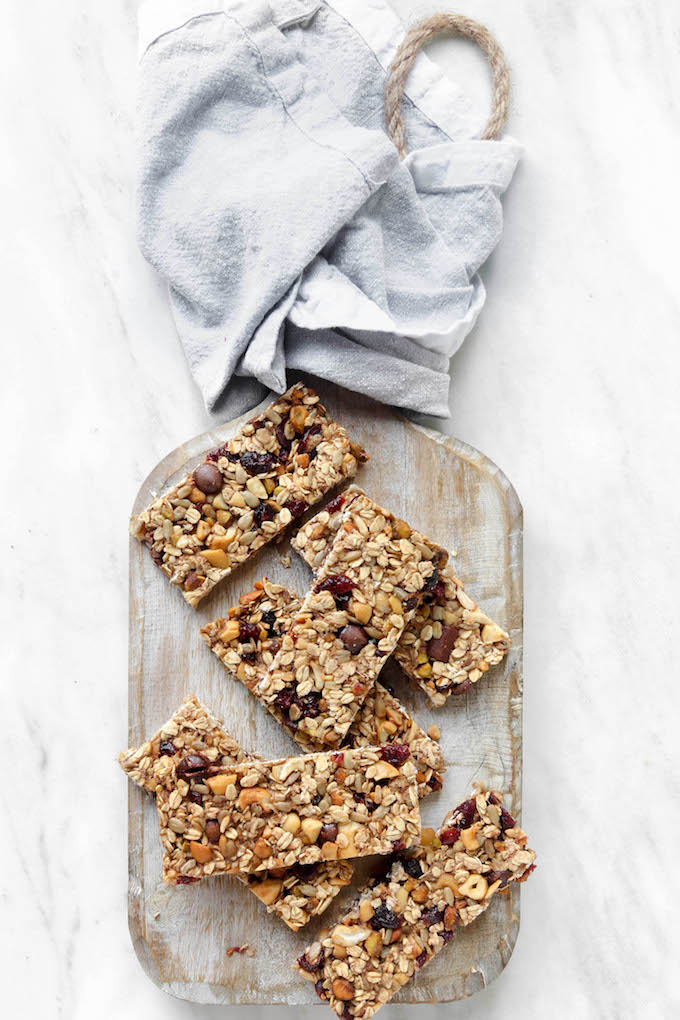 Let me tell you, if you want to feel fabulously domestic... this is the recipe for you. I used to think that the type of people who made homemade granola bars made their own wrapping paper out of parchment paper and rubber stamps, created vases that looked like a million bucks out of toothpicks and yarn and prepared homemade coq au vin for dinner on a regular basis. You know, "Pinteresty" people. Not so... granola bars are the best kind of recipes. They give the illusion that you spent hours slaving away in the kitchen, but in reality they come together in 1 bowl and about 30 minutes. My favorite kind of recipe!
I'm going to skip the middle part of this bars creation story where I made 123,876 trips to whole foods (I had the bulk bin codes memorized) and tested 234,876 different recipes (you don't have to worry about that part). I present to you..... Cherry Cashew Granola Bars!

The bars get their sweetness from dried cherries and bananas.  No refined sugar!  They also are oil free, vegan (just omit or use a vegan chocolate substitution) and can be made gluten free depending on the oats you use. Most amazingly.... they taste great!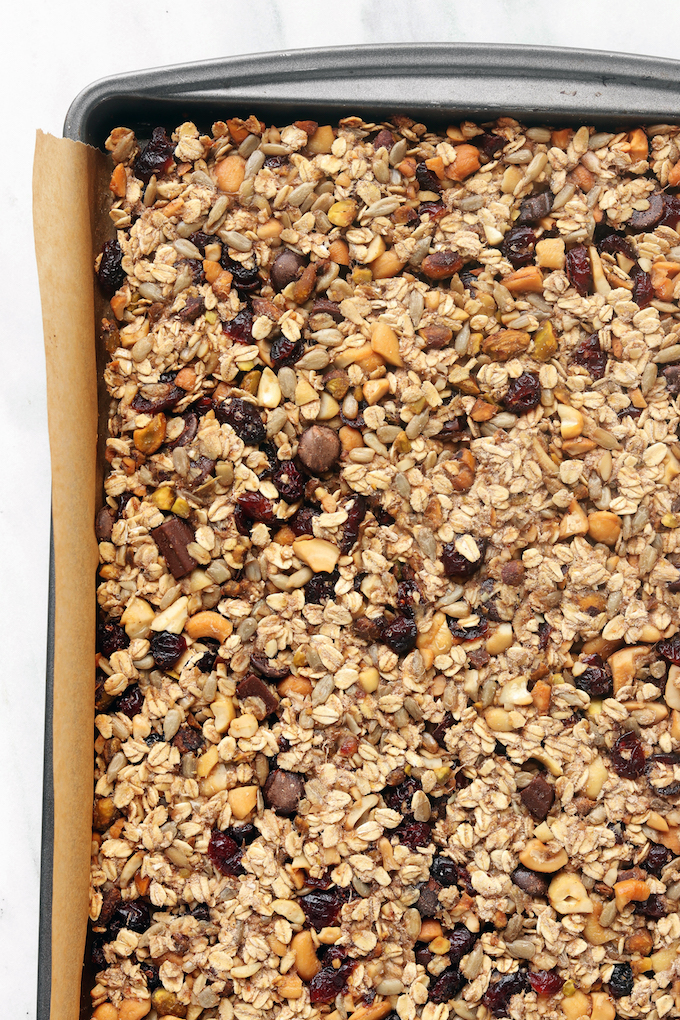 Time Saving Tips and Tricks:
Prep: Making homemade granola bars is definitely not as convenient as store bought, and my family goes through bars! To save time I always double the recipe. I use half of the dry ingredients to make the bars and save the other half in a storage container that I keep in my pantry. When I am ready to make bars again I just smash and add 3 bananas to the pre-mixed ingredients and I'm good to go! It takes 5 minutes. If you are feeling really ambitious make more than 1 backup!
Make Ahead:  These bars are perfect for a make ahead situation. Bake according to directions and wrap each individual bar in plastic wrap. Store in the refrigerator for up to a week.. but I bet they won't last that long!
Freezer: Cherry Cashew Granola Bars will last in the freezer for up to 3 months. To freeze, cook according to directions and allow the bars to cool. Arrange them into a single layer on a baking sheet and place the baking sheet in the freezer for 1-2 hours or until they are frozen through. Remove bars from freezer and wrap each individual bar in plastic wrap. That's it! Just allow the bars a few minutes to come to room temperature before eating.
Print
Cherry Cashew Oat Bars
Author:

Yield:

12

bars

1

x
---
Description
These Black Cherry Walnut Bars have the perfect amount of sweetness and crunch.  Decadent enough for dessert, but healthy enough to stand in as a grab and go breakfast option.
---
1

egg

2 ¼ cups

walnuts, divided

2 cups

rolled oats + extra for topping garnish

¼ cup

unsweetened applesauce

2

TBS maple syrup

1

TBS coconut oil, melted

1 tsp

. vanilla extract

1 tsp

. fine grain sea salt

1 cup

dried cherries

1 cup

of medjool dates, pitted

1

TBS cinnamon

½ tsp

. ground ginger

¼ tsp

. nutmeg

¼ tsp

. cloves
Juice and Zest of 1 lemon
---
Instructions
Preheat the oven to 350 degrees.
For the Crust:
Cover a rimmed baking pan with parchment paper. Place 2 cups of chopped walnuts on pan and place in oven (reserve ¼ cup of walnuts). Heat oven to 350 degrees. (The pan should be in the oven while it is pre-heating. Bake walnuts until they are lightly toasted, about 5-10 minutes. Keep your eye on them... they burn fast! Remove from oven, and allow to cool.
Lightly oil a 9×9 pan and line with parchment paper (to avoid bars sticking to pan).
To the base of a food processor, add 2 cups of oats and process until consistency is similar to flour. Add toasted walnuts, and blend until mixture has the consistency of rough sand.
Add egg, applesauce, maple syrup, coconut oil, vanilla. Pulse until fully incorporated.
Take ⅔ of the crust "dough" (reserve the other ⅓) and press it into an 8 inch square baking pan. Wet your hands a little to help prevent the dough from sticking.
For The Filling:
To the food processor, add cherries, dates, cinnamon, nutmeg, cloves, and lemon juice and zest. Blend on high until the mixture is smooth. Spread mixture evenly over crust. It will be very thick (think loose peanut butter). If the filling is too thick to spread add 1 TBS of water and pulse on high.
To Assemble:
Crumble the remaining crust evenly over the filling layer. Sprinkle remaining ¼ cup of walnuts and some extra rolled oats over the top. Lightly press the pie crust crumbles and nuts into the filling. Bake 25-30 minutes or until the topping is golden brown. Allow bars to cool completely before slicing.
---
Notes
Make the recipe gluten free by using gluten free rolled oats.
Make the recipe vegan by subbing 1 Tbs chia seeds mixed with 3 Tbs of water
Store the baked bars in the refrigerator... they don't have any preservatives, and thats a good thing!
If you can't find black cherries.. you can use a different variety or swap them for your favorite dried fruit.
 Let's Connect:
Other Posts You Might Like:

Healthy No-Bake Cereal Bars for Kids: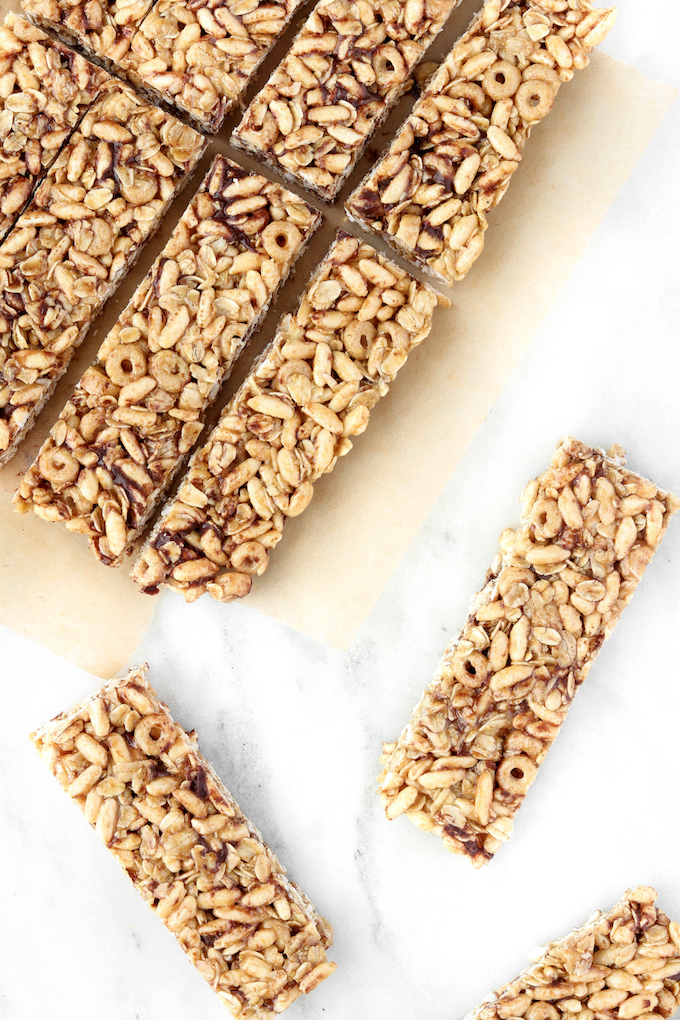 Peanut Butter Chocolate Buckwheat Bars:
SaveSave