Easily make your own copycat Starbuck's Protein Bistro Box! Healthy, nutritious and prepped for lunch or post workout snacks.
Pin Copycat Starbuck's Protein Bistro Box for later!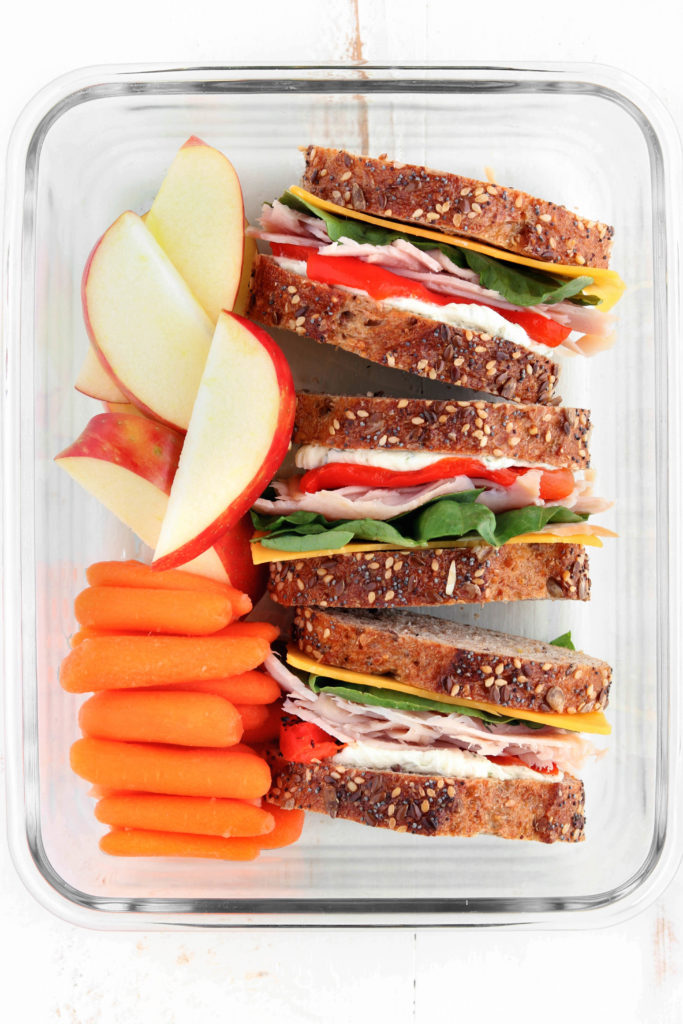 Please tell me that I'm not the only one that has been eyeing these guys in the drive through Every. Single. Time. I go through and get coffee (which is admittedly WAAAYYYY too often). Maybe it's the fancy branding, I mean how cute is ordering a "bistro box?" Maybe it's just the idea of somebody packing MY lunch that is so wonderfully appealing.
In any case.. 20+ grams of protein and a full serving of veggies and fruit.. these guys NEEDED to be recreated. So I took it upon myself, and you guys... they are SO easy. Best part,  I doubled the recipe, made 6 boxes and lunch for the rest of the week was a no brainer!
Calling this sandwich a "recipe" is a bit of a stretch, but adding this tangy herbed cream cheese spread adds a some legitimacy and a little something fancy. Whipping it up is super simple, just throw some herbs (I used basil and thyme) into the cream cheese with a squeeze of lemon and mix it up. Nothing complicated, but it definitely adds an extra layer of flavor to a sandwich that might otherwise be a bit bland.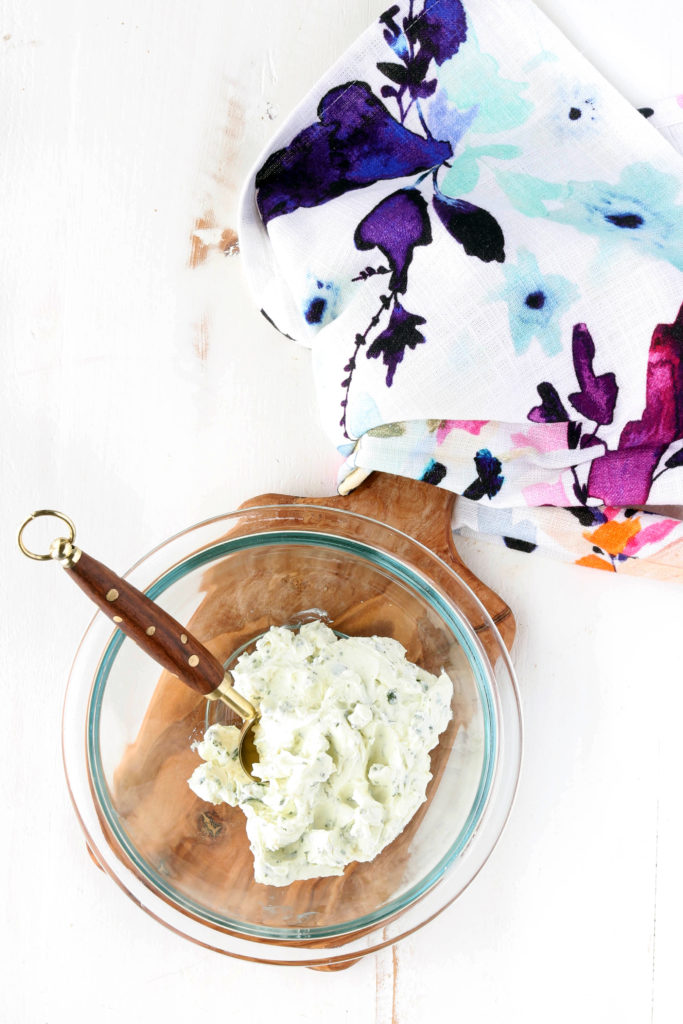 By making my own bistro box instead of purchasing a pre-assembled one from Starbucks I was able to control the quality and quantity of the ingredients. The main change I made was to the sandwich bread. In my opinion, bread gets a really bad wrap. It can have tons of health benefits, you've just got to know what you are looking for. This bread is from a local bakery and is made from 100% whole grains and recognizable ingredients (i.e. packed with nutrients, protein, fiber and anti-oxidants). I also chose high quality deli meat (I like Applegate) and organic cream cheese, cheddar, apples and romaine lettuce. I feel confident in saying that by making my own version, I REALLY improved upon the quality of the entire box and STILL saved money.  Yep, this is one that you MUST give a shot!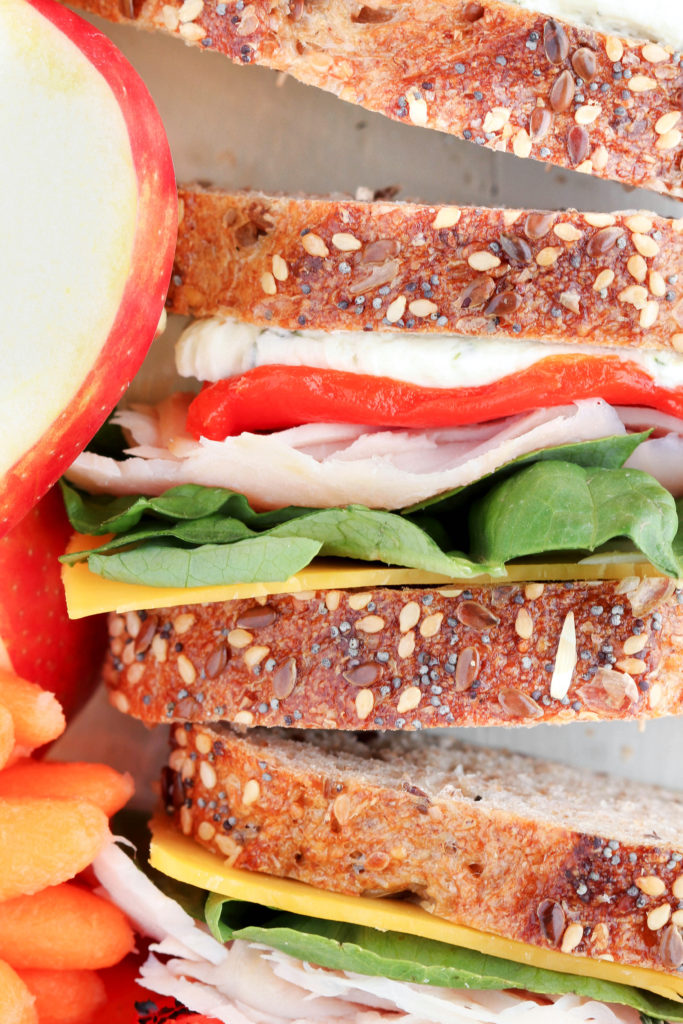 Time Saving Tips and Tricks
Prep: I did not take the time to prep these boxes since they were so simple to throw together, but if you want to get a jump start you could definitely make the cream cheese spread ahead of time. It will keep in the refrigerator for up
to 3 days.
Make Ahead: That's the idea! I made 5 boxes so I could eat them for lunch throughout the week. I did hold off on chopping the apples until the night before. If you want something completely make ahead friendly try berries instead.
Freezer: Not this time.
Print
📖 Recipe
Copycat Starbuck's Protein Bistro Box
---
Description
Easily make your own copycat Starbuck's Protein Bistro Box! Healthy, nutritious and prepped for lunch or post workout snacks.
---
8 oz. cream cheese, softened
juice of half a lemon
⅓ cup chopped fresh herbs (I used basil and thyme)
pinch of salt

1 loaf of crusty whole-grain artisan bread.
¼ lb. Vermont Cheddar Cheese, sliced thin
½ lb. smoked turkey
1 head Romaine lettuce
1 jar roasted red peppers
1 bag baby carrots
2 apples, sliced
---
Instructions
FOR THE CREAM CHEESE SPREAD:
In a small mixing bowl, combine cream cheese, lemon juice, herbs and pinch of salt.
Mix to incorporate.
Set aside.
FOR THE SANDWICHES:
Cut bread into 16 ¼" thick slices. Smear 8 slices with a good amount of the cream cheese spread.
Build your sandwiches on the 8 remaining slices of bread. 1 slice cheddar cheese topped with smoked turkey, romaine lettuce, and a roasted red pepper.
Place the top (which has been smeared with cream cheese spread) on each sandwich and secure with 1-2 toothpicks.
FOR THE BISTRO BOX:
In each box, place ⅓ of the apple slices, ½ cup of carrots and 3 sandwiches.
Cover with lid or plastic wrap.
---
Notes
Apples, romaine lettuce and red peppers all rank in the top 12 on the EWG's dirty dozen list, for this reason, I recommend purchasing organic when possible.
Lunch meat can be tricky, I used Applegate  Organic Smoked Turkey.
Nutrition Info is not included for this recipe because it will vary depending on the products and quantity of each that is used.
Let's Be Friends:
Posts like Copycat Starbuck's Protein Bistro Box: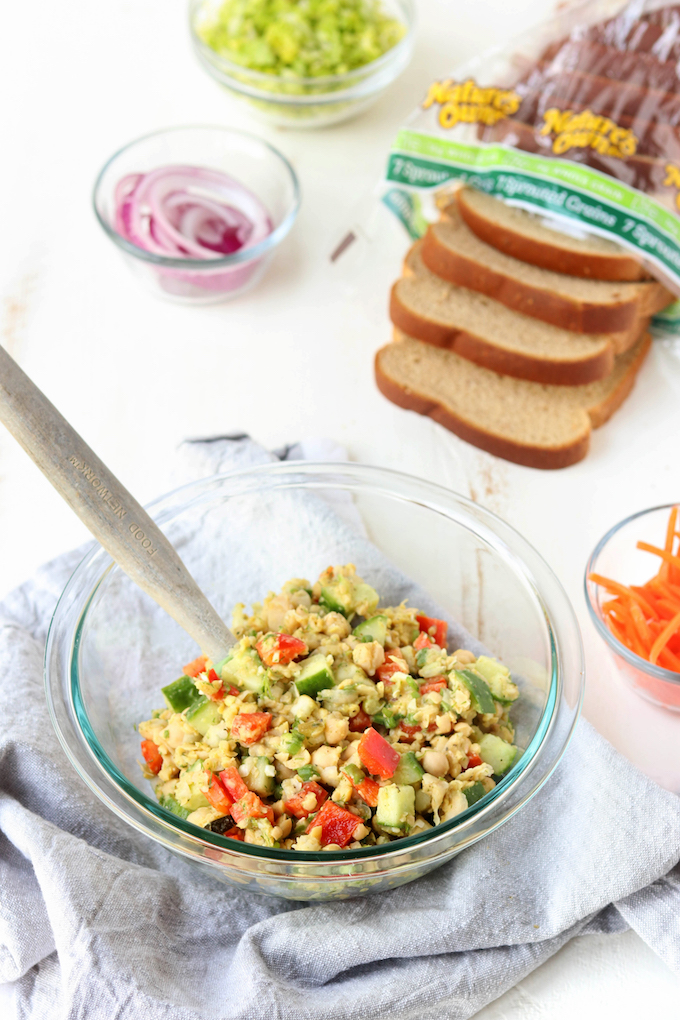 Healthy Chicken Salad: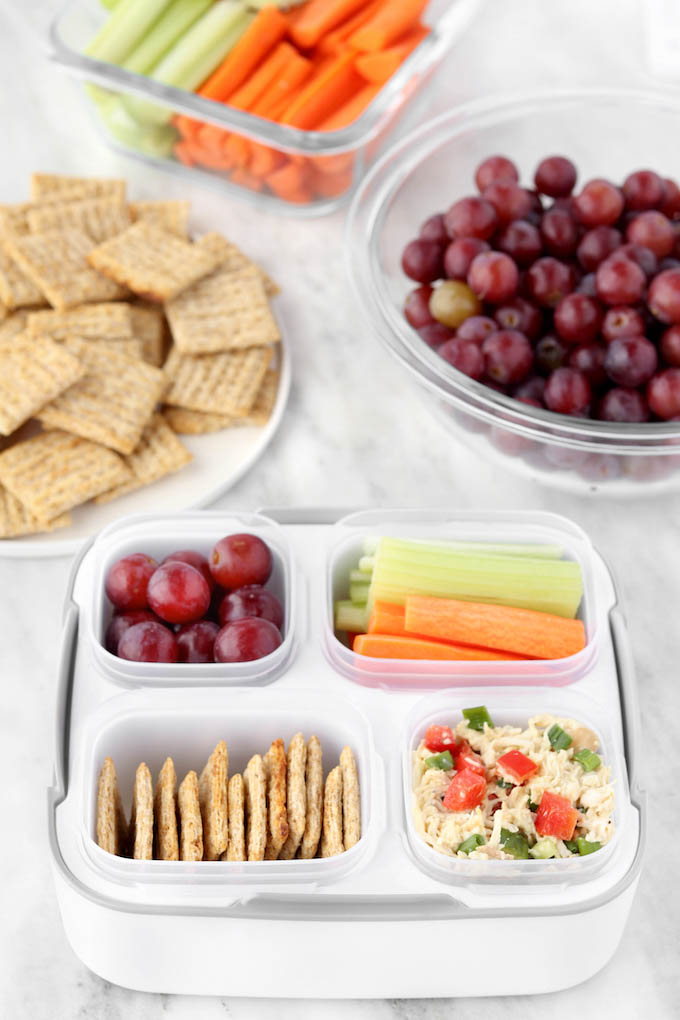 Peanut Butter Chocolate Protein Bars: