Freezer Friendly confetti corn is a quick side dish that can be frozen. 10 minutes hands on prep and basic ingredients make it a recipe you will go back to again and again.
Pin Freezer Friendly Confetti Corn for later!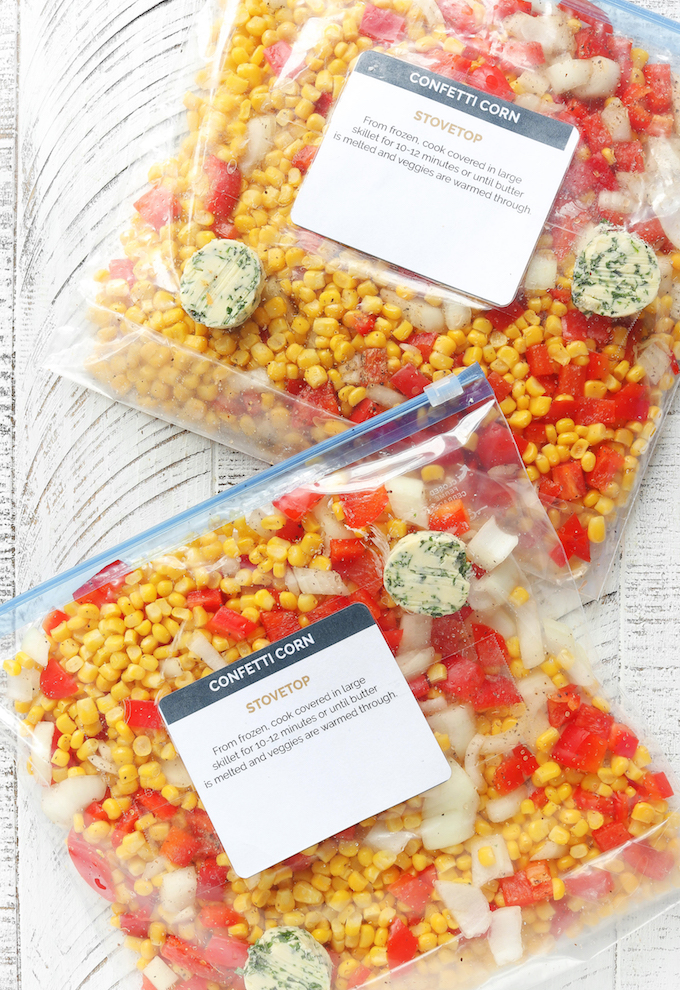 If you've been following along with @simplysissom on Instagram you know that I've recently started a new initiative called Simply Serving. Simply Serving provides a stocked deep freezer full of meals to families who are currently impacted by a serious medical diagnosis of themselves or an immediate family member.
Each deep freezer contains 25 family-friendly meals that are fully prepared. The goal is to offer tangible, practical support (i.e. - dinner) to families who are struggling through a difficult season.
I will be sharing a LOT of the freezer meals here on Simply Sissom because, well... who doesn't love a good fully prepped recipe hanging out in the freezer on nights when life gets a little crazy.
As I searched the internet for side dishes that can be frozen, I quickly realized that it was slim pickings. I found several versions of confetti corn, but none with rave reviews. And thus, today's recipe... Freezer Friendly Confetti Corn.
It's simple to throw together (10 minutes tops), made from real food ingredients AND (most importantly), it's a side dish that can be frozen! AKA.. go ahead and double the recipe, serve up 1 portion for dinner and pop the remaining 3 into the freezer where they can hang out until you need a quick, easy, veggie loaded side dish that can be served up FAST.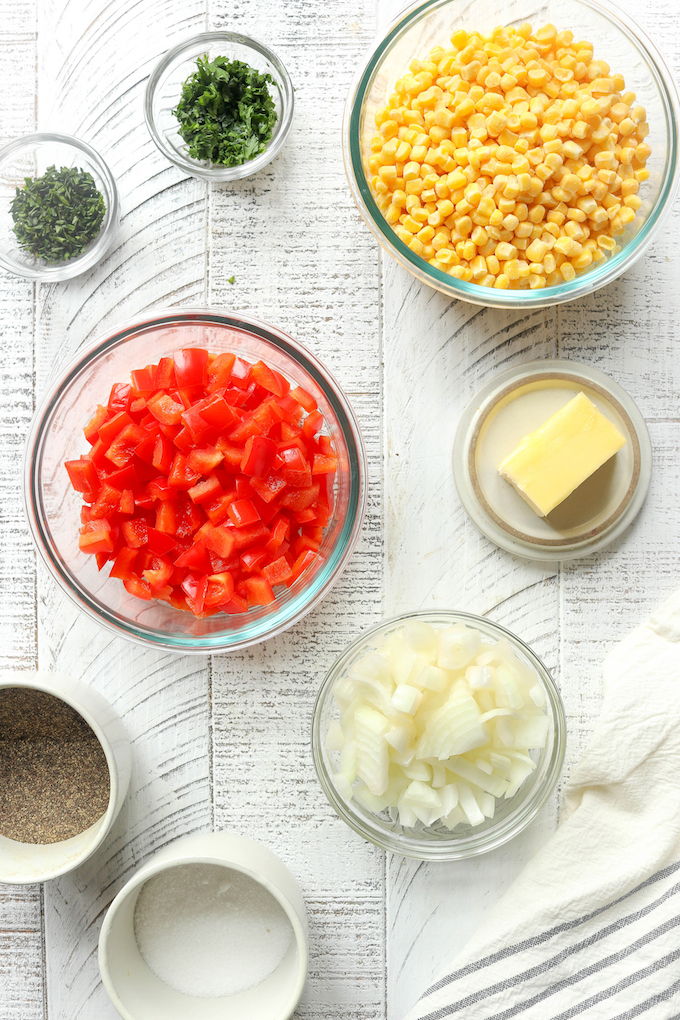 WHAT IS CONFETTI CORN?
Confetti corn sound fancy, but in reality, it just means that you sauté fresh or frozen corn with some bell peppers and onions. This recipe throws in a little herb butter to up the flavor and add some freshness!
HOW DO YOU MAKE FREEZER FRIENDLY CONFETTI CORN?
Chop your veggies and divide them between 2 gallon size freezer bags.
Make your herb butter (compound butter) by mixing in some fresh chives and parsley with unsalted, room temperature butter. Freeze so it slices easily.
Slice the herb butter and divide it between the bagged veggies.
Remove air from bags, seal and label. Store for up to 6 months.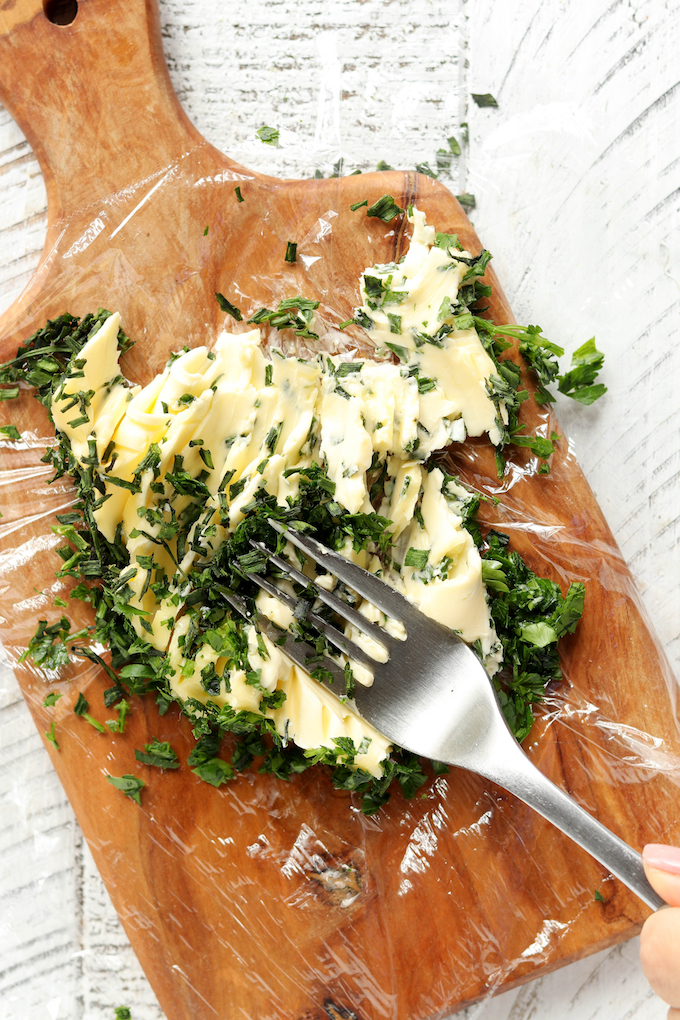 FAQ'S ABOUT FREEZER FRIENDLY CONFETTI CORN:
CAN I USE FRESH FORN INSTEAD OF FROZEN TO MAKE CONFETTI CORN?
Absolutely. In fact, I'm sure it would taste better than using frozen. That said, the purpose of this recipe QUICK + SIMPLE and blanching corn and cutting it from the cobb is going to add some extra time. If you're ok with that, go for it!
I DON'T LIKE TO USE DISPOSABLE PLASTIC BAGS, IS THERE SOMETHING ELSE I CAN STORE THE CONFETTI CORN IN?
Sure! You can use a freezer friendly kitchen container with lid instead. Follow the recipe directions, but use the containers in place of the bags. Once you have there recipe fully assembled, place a piece of parchment or plastic wrap over the confetti corn and then put the lid onto the container. Freeze according to directions.'
CAN I USE SALTED BUTTER INSTEAD OF UNSALTED BUTTER TO MAKE CONFETTI CORN?
You can. Just reduce the amount of salt you add to the recipe by ¼ of a teaspoon.
WHAT FREEZER BAGS DO YOU RECOMMEND?
Ziploc Freezer Bags (Easy Open Tabs)
Ziploc Slider Freezer Bags, Gallon
HOW LONG CAN YOU FREEZE CONFETTI FORN FOR?
You can freeze this recipe for up to 6 months.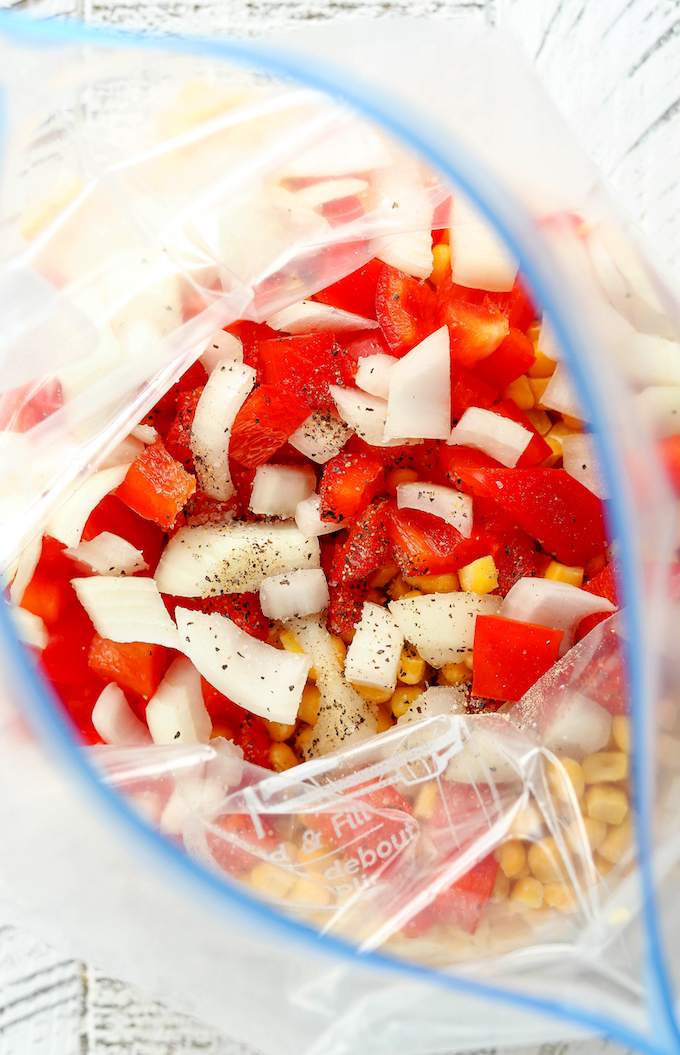 Print
📖 Recipe
Freezer Friendly Confetti Corn
Author:

Prep Time:

10 minutes

Cook Time:

10 minutes

Total Time:

20 minutes

Yield:

8

servings

1

x

Category:

Side Dishes

Method:

Freezer

Cuisine:

American
---
Description
Freezer Friendly confetti corn is a quick side dish that can be frozen. 10 minutes hands on prep and basic ingredients make it a recipe you go back to again and again.
---
½ cup

onion, chopped

1 cup

red bell pepper, chopped

4 cups

frozen corn kernels

3

Tbs. unsalted butter, room temperature

1 ½ tsp

. salt

1 tsp

. black pepper

1

Tbs. fresh chives

1

Tbs. fresh parsley
---
Instructions
Freezer Bag Assembly Instructions:
Combine ¼ cup of onion, ½ cup chopped bell pepper and 2 cups of corn into each of 2 gallon sized Ziplock freezer bags.
In a small bowl, combine butter, salt, pepper, chives and parsley. Shape into a 3-inch log. Wrap in plastic wrap and freeze for 1 hour, or until firm. Cut the butter into 4 slices. Place 2 slices into each of the assembled freezer bags.
Remove air from bags and seal. Freeze for up to 6 months.
Serving Instructions:
To reheat, dump the frozen vegetable mixture into a large skillet. Cook, covered, over medium heat for about 10 minutes or until butter is melted and vegetables are heated. Stir occasionally.
---
Notes
If you would like to serve the confetti corn immediately (without freezing), just follow recipe serving instructions, but cut stovetop time to 5-7 minutes.
Keywords: Confetti Corn, Freezer
Let's Connect:
You can find Simply Sissom on Instagram where I share even more recipes (some that aren't on the blog), behind the scenes pics and videos AND tips and tricks to make healthy eating realistic for your busy family.
Did you make this recipe? If you tried the recipe, I would love to see it and have you share! Tag me @simplysissom using the hashtag #simplysissom.
OTHER SIDE DISHES THAT CAN BE FROZEN:
Simple Garlic Smashed Potatoes: