Simple, 3o-minute Summer Veggie Skillet Lasagna with turkey sausage, squash, zucchini and a creamy tomato sauce. All the taste of the traditional Italian favorite with half the effort.
Pin Summer Veggie Skillet Lasagna for later!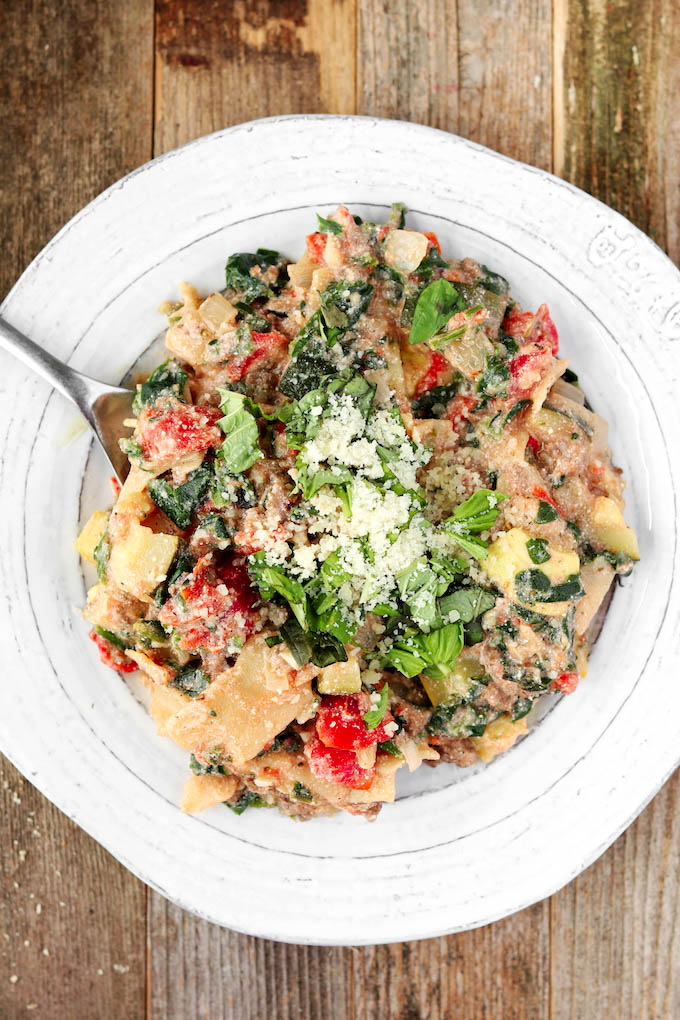 This Summer skillet lasagna is the stuff that my Monday-Night-Dinner-Making-Self dreams of.  And yes, I realized hat it's a little early for "Summer" veggies, but can you just give me this one?
This recipe is all around perfection.
One pot (that makes so much that you most likely get some leftovers.. aka, no dirty pot to clean), TONS of prep ahead options AND leftover friendly. Oh yeah, and if you're into the whole feed your kids healthy whole-food dinner thing.. this one has got you covered. A couple simple swaps and few well calculated veggie additions make this guy So. Much. Healthier. than his traditional counterpart, buuuuuuut.. you won't even notice. Promise.
Let's break down the makeover shall we?
I swapped out traditional beef or pork for turkey sausage. Tons of flavor, WAY less calories and fat.
I  cut the cheese (<-- ok, that cracked me up. I clearly need some female influence in my life). This lasagna has no mozzarella or parmesan. Instead, it gets it's creamy texture from Ricotta. Can't deal with the thought of "lasagna" with no cheese.. add some, but I REEEALLLY don't think you need it!
Finally.. I loaded it up with fresh veggies, because, well... why not?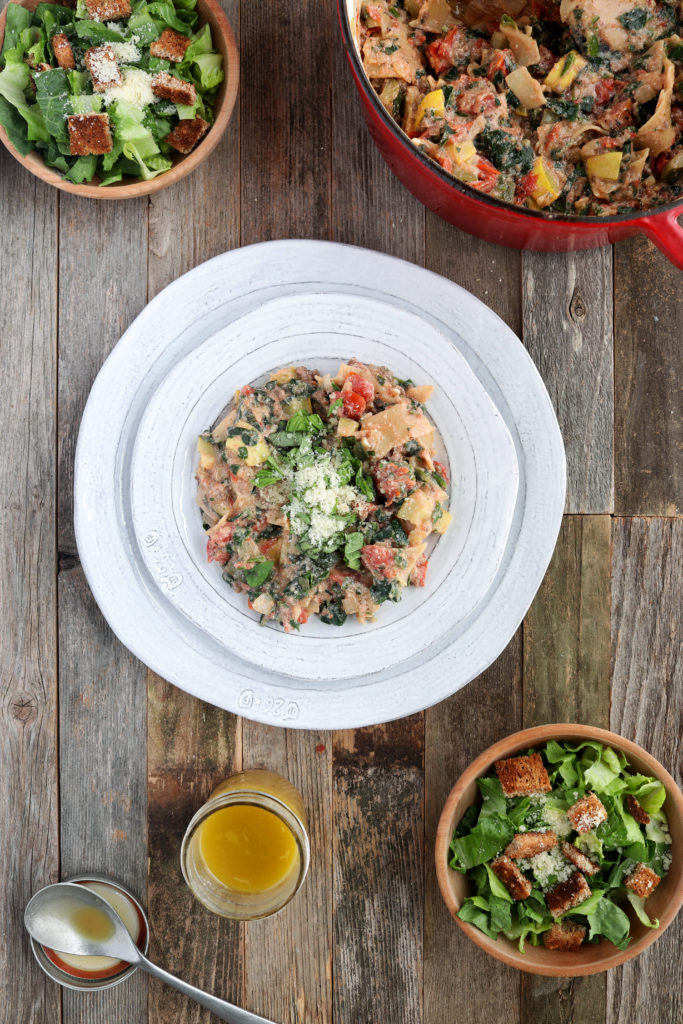 Obviously, I'm all for healthy, but if I'm being completely honest, the fact that this dish check's all the boxes in that category isn't why I love it. Since we currently have no main kitchen and most of our meal preparation is done in the basement (which is dark and sad) simple and make-ahead friendly are the main criteria by which I judge food these days. Summer Veggie Skillet lasagna really couldn't be any simpler. Just chop, add some aromatics, open a can, throw in some veggies, throw in some more veggies and stir. It's really as simple as that!

Print
Summer Veggie Skillet Lasagna
Author:

Prep Time:

10 mins

Cook Time:

20 mins

Total Time:

30 minutes

Yield:

10

servings

1

x
---
1

lb turkey sausage (you can buy or make homemade- recipe below)

1 tsp

Italian seasoning

2

TBS olive oil, divided

1

onion, diced

4

garlic cloves, minced

1

28 oz can diced tomatoes

1 cup

water
salt and pepper

10

whole wheat lasagna noodles broken into

2

inch pieces

1

small zucchini, chopped

1

small yellow squash, chopped

1

9 oz package of frozen spinach

1 cup

ricotta cheese, thawed.

¼ cup

shredded basil
---
Instructions
In a medium skillet, combine sausage and Italian seasoning. Cook until no longer pink. Drain and set aside on a clean plate.
In same skillet, add 2 TBS of olive oil  over medium high heat. Add onion, cook until tender. Add garlic and cook for about 1 minute.
Add diced tomatoes and 1 cup of water. Pour in broken lasagna noodles. Season with salt and pepper. Bring mixture to a simmer and then reduce heat to medium. Cover, but stir frequently or the lasagna noodles will stick to the bottom of the pan. Cook until veggies begin to tenderize (about 10 minutes).
Add frozen spinach and cooked sausage. Cook 3-4 minutes uncovered.  Stir in ricotta and basil. Season with salt and pepper as needed. Serve immediately.
---
Notes
Spinach is on the EWG's dirty dozen list so make sure to buy organic if possible!
Make sure to buy turkey sausage that is raised without hormones and antibiotics. If you want to totally rock the eating healthy thing you can make your own turkey sausage. I like to mix the spices with the raw turkey and then freeze the mixture. Homemade turkey sausage ready when you need it!
This makes A LOT- be sure to use your biggest skillet or it can get kinda messy!
Time Saving Tips and Tricks:
Prep: This recipe is great for prepping. You can pre-cook the sausage and take care of chopping all the veggies. I like to store each component in individual baggies and then store them all together in a 1 large one so I don't lose anything in the fridge between prepping and actually making dinner.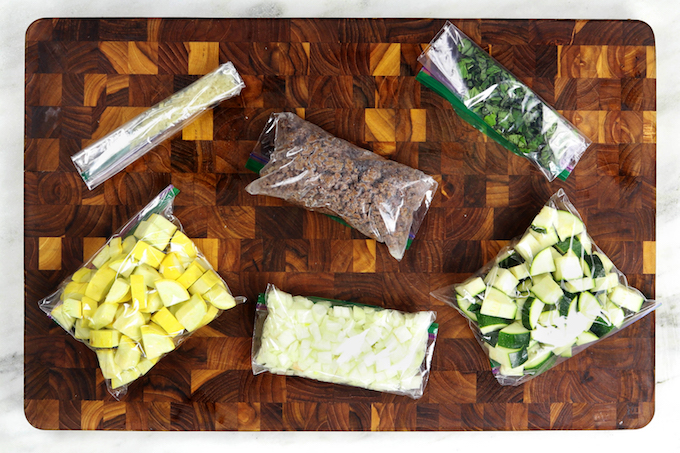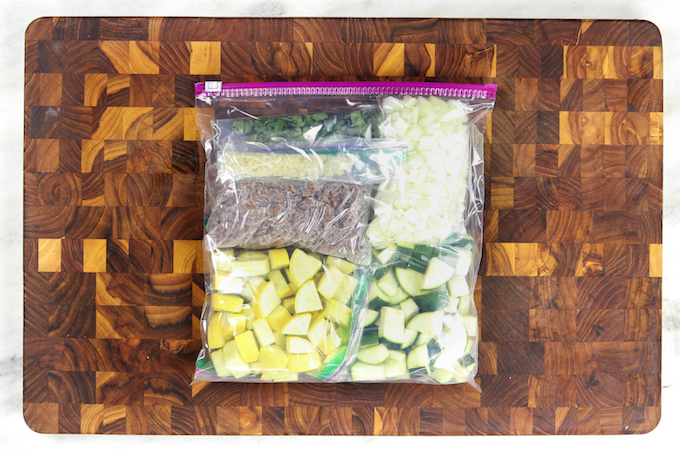 Make Ahead: Yep! Told you this was a good one. This dish tastes even better as leftovers IMO. I like to store it in the original skillet or dutch oven so that reheating is as simple as just popping it back into the oven and heating it up.
Freezer: I tried freezing this ,and unfortunately.. when reheated it came out a soggy soppy mess. Don't. Do. This.
Let's Be Friends:
Posts Like Summer Veggie Skillet Lasagna:
Summer Veggie Lasagna (Vegan):
Lasagna Stuffed Zucchini Boats: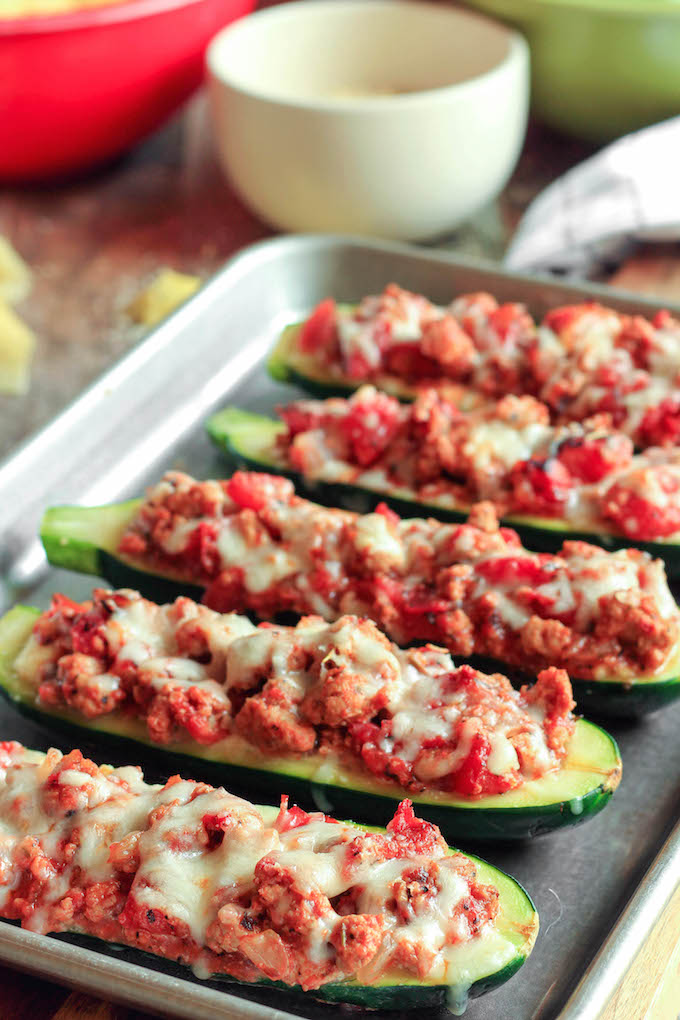 Chicken Parmesan Lasagna Bake: