How To Host A Meal Prep Party : Everything you need to plan a fun and efficient meal prep party. Why spend time cooking alone when you could do it with friends instead?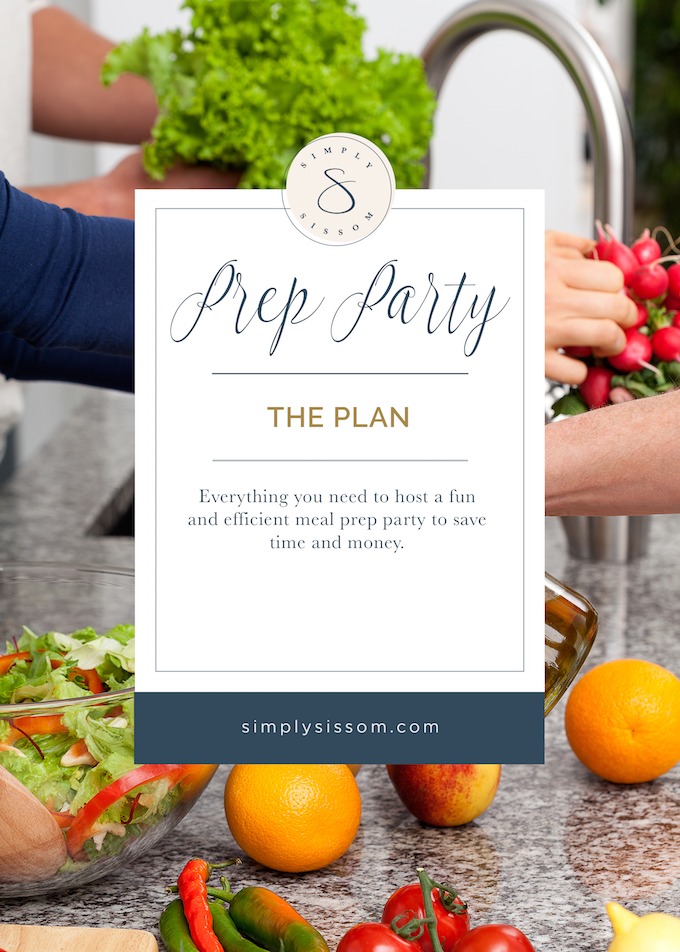 (Scroll to the bottom of post to DOWNLOAD EVERYTHING you need to host a meal prep party.. recipes, grocery list, party instructions included)
I'm going a little rogue on you today. But it really does make sense if you think about it.
Why cook alone Every. Single. Night when you can spend 2 hours on the weekend cooking with friends?
For Me? Meal Prep Parties with my besties (<-- am I too old to say that?)... it's a no brainer.
Let me start this post out by saying.. If you are the Martha Stewart of your generation, you know the type.. impeccably kept home, hand painted mason jars brimming with fresh flowers EVERYWHERE, backyard full of garden boxes with precise little rows of organic veggies and herbs this post is not for you.
This post is for you IF:
You are a mother who cares very deeply about your children. BUT struggle to plan, shop and prepare meals on a nightly basis.
Even with a drawer full of recipes, you end up making the same 5 over and over again.
You have been known to say things like "who wants to order pizza." When in fact, you have lots of food in the pantry, but for some reason just aren't feeling up to cooking.
More than once you have purchased less than nutritionally ideal things from the grocery store, because CONVENIENT.
Finding the time, energy and motivation to put together healthy (and kid-approved) dinners is overwhelming, soooo fast food.
Enter: MEAL PREP PARTIES:
What is a meal prep party? It's a fancy way of saying hang with friends, drink wine, cook food, improve life.
Once you get all the prep work out of the way, MAKING DINNER IS SO EASY. Seriously you guys, there aren't even words. The dreaded routine of deciding what to prepare, shopping, cooking turns from a 90-minute ordeal into a simple 5-10 minute per night type situation.
I just hosted my very first meal prep party and we had So. Much. Fun. Not to mention, after hanging out in the kitchen and catching up with my mommy friends (sans children) dinner was handled. For the week.
I'm going to be honest, because that's the type of friends we are.. I spent LOTS of time planning the menu, creating a grocery list, making a detailed plan to get everything done and creating recipe packets for my guests.
GOOD NEWS: You don't have to. I'm happy to share.

How To Host A Meal Prep Party:
Step 1: Download Meal Prep Party: The Plan. (You will be asked to enter your name and email.. this is so I know where to send your PDF)
Okay, first and foremost, you Must. Be Very. Organized. Seriously. Read the ALL the information provided in the MEAL PREP PARTY: THE PLAN.
That being said, keep it in perspective, no life will be lost if you forget to purchase enough basil.
MY MEAL PREP PARTY FORMULA:
You and 3 of your friends get together and create:
4 complete dinners (1 crockpot, 1 fully cooked and 2 prepped)
2-3 simple side dishes
1 breakfast
Waaalaaaaah! Dinners for the week.... Done.
(NOTE: The grocery list does provide ingredients for some simple side dishes. These will NOT be prepared at the prep party. Each recipe takes about 5 minutes to throw together and will be prepared the night that it is being served).
Step 2: Pick a Date and Pick your Friends.
You need to have exactly 4 people attend (including yourself). Choose 2-3 times that would work for you and see what works for your guests. I like to use Facebook or a group text. This way everybody can see everyone else's responses and it makes planning a little easier on you. Make sure that everyone attending the party has a little flexibility time-wise since you won't be able to commit to a specific time that the party will be over. It depends on the talking-cooking- ratio of your party. If someone leaves early it will really throw things off.
TIPS:
Recommend that everyone sets up childcare. You are going to be doing an LOT of cooking and having kids there will make it take twice as long (speaking from experience on this one).
Plan on 3 hours of meal prep. I have hosted 2 parties and we have completed all the cooking in about 2 hours, but better safe than sorry.
Make sure to share the menu with your friends. They will want to make sure that their families will enjoy all of the meals.
Let guests know that they will need to bring an empty crock-pot. You might want to shoot them a reminder text as the date gets closer.
Everyone should be responsible for ¼ of the total grocery bill (+ cost of storage containers). It will be approximately $85. I know, I know.. grocery shopping for 4 families!!! It can be tempting to divide the list up and have everyone shop for some of the items. You guys, bad things happen with this plan. Ingredients get forgotten, money gets confusing and EVERYONE has to go to the store. I like to keep things simple. The grocery list provided includes everything that you need for everybody (i.e. 4 families of 4).
I used Kroger Click List (online grocery shopping) and paid an additional $5 for them to pack my groceries and load them in my car. It did cost an extra 5 dollars, but split between 4 people it really wasn't a big deal and it saved me a ton of time. Sam's Club and Costco have similar programs if you don't have a Kroger in your area.
Step 3: Let me know how it goes.
If you like Prep Party Plans.. let me know! I'll post more. Tag a photo of your party or your prepped meals on FB, Twitter or Instagram. Use #simplysissom or @simplysissom (which ever applies). Hearing from you makes my day!
POSTS LIKE HOW TO HOST A MEAL PREP PARTY:
How To Host a Meal SWAP Party: A done for you approach to hosting a meal swap party!