Introducing: SWAP x Simply Sissom. Everything you need to plan a fun and efficient meal swap with friends!
Pin Introducing Swap X Simply Sissom for later!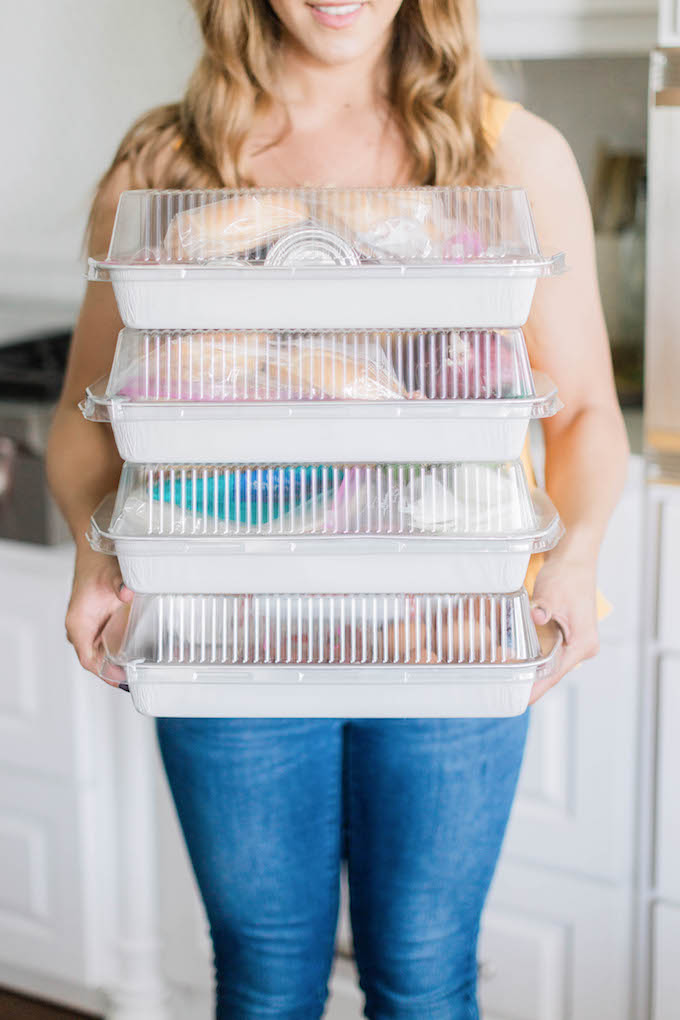 SWAP X Simply Sissom is available HERE from July 22nd - August 4th.
Today's the day! I've got news. Big news. SWAP x Simply Sissom is LIVE! (You can purchase by clicking HERE)
I've shared quite a bit about this new program on Instagram, but if you are scratching your head wondering what in the earth I'm talking about, well.. no worries. I got ya. Just read on my friend!
SWAP x Simply Sissom is a "done-for-you" approach to hosting a meal swap. Recipes, step-by-step meal assembly directions, serving instructions... it's all there.
This is "not your mama's freezer swap." All recipes being traded are fresh and fully prepped, but not assembled because, well.. who wants to eat casseroles for dinner every night? Not to mention, creating 4 fully assembled dinners for 4 families would take LOTS. OF. TIME aaannnnd let's be honest, we're all a little short on that.
Swap X Simply Sissom meal kit recipes are pre-measured, pre-chopped (mostly) and come together quickly with an average of about 15 minutes hands on prep. It's very similar to meal prep services like Hello Fresh or Plated, but without the enormous price tag.
Here's how Swap X Simply Sissom works:
Invite your friends to your swap party. You will need to include yourself + 3 friends. All the SWAP X Simply Sissom recipes are written for groups of 4. Any less.. and you won't have enough meals to get you through the week, any more and you run the risk of not using all your kits before things get less than fresh!
Assign recipes. These are all written for you, you just choose who is going to make what.
Each attendee will turn their assigned recipe into 4 identical meal kits. There are step-by-step instructions for doing this along with a grocery list.
Meet up and swap. You will show up to the swap with 3 of your prepared meal kits (you will keep one of the meal kits that you prepared at home for yourself) and leave with 3 different meal kits. That's dinner planned and prepped for 4 nights!
Use your meal kits throughout the week to prepare delicious dinners that come together really fast. Directions for turning your meal kit into a meal are included. No more worries about what to make for dinner!
Check out this VIDEO about SWAP by Simply Sissom:
SWAP X Simply Sissom Step-By-Step Guide:
I think I probably know what you're thinking... " A meal swap sounds like a great idea, but why do I need to purchase recipes when the Internet is full of them?"
First of all, YES... you can 100% host a swap without the "done for you" approach that SWAP offers (I wrote a post about it HERE), but you guys.. as someone who writes the swap plans for my own group, I'm going to level with you...it's a lot of work. You will need to ensure that that there are a variety of meals (aka.. everyone can't bring Mexican kits or entrees that chicken is the star), consistency between how each meal kit is prepped and assembled, all recipes need to be meal kit-friendly/packable AND most importantly simple and delicious.
SWAP X Simply Sissom takes care of everything. Let's take a closer look.
Pantry Ingredients List: When creating a swap group, it's important to establish what ingredients will be considered "pantry" (aka.. it will be assumed that everyone has these ingredients available in their kitchen and they WILL NOT be included in the meal swap kits). Your swap guide will include a specific pantry ingredient list for the recipes included.
Meal Kit Assembly Instructions: Each Swap Guide that you purchase contains 4 recipes (1 for each guest) with full assembly instructions + grocery list.
Meal Kit Serving Instructions: Having a meal kit is great, but you've got to know how to turn it into the meal. Each Swap Guide contains step-by-step instructions for turning each kit into a delicious dinner.
WHAT RECIPES ARE INCLUDED IN EACH SWAP GUIDE?
1-PACK SWAP GUIDE:
3-PACK SWAP GUIDE (THE NEXT 8 RECIPES + THE RECIPES INCLUDED ABOVE):
FREQUENTLY ASKED QUESTIONS ABOUT SWAP X SIMPLY SISSOM:
WHAT TYPES OF CONTAINERS SHOULD I USE TO PACK MY MEAL KIT?
When my group first started, we used plastic grocery bags to pack each meal kit into. It was cheap and inexpensive. Since we now meet regularly, we have invested in a "group set" of aluminum foil 9"x13" cake pans with tall plastic lids. We each just threw in a bit of money and purchased 20 to share. Since they all match we just use our meal kits, set side the pans and pack the new meal kits in them to take to the swap. It's really convenient but NOT AT ALL necessary.
Each group member will need to have an assortment of plastic zipper bags available. The meal kits use snack, sandwich/quart and gallon size bags. We wash and refuse when possible, so that we aren't using so much plastic.
HOW EXPENSIVE ARE THE MEAL KITS TO CREATE?
On average, you should plan to spend $3.00-$4.00 per serving or about $15.00-$20.00k per meal kit. Because you are preparing the SAME RECIPE 4x you will find that you save a lot of money because you don't have to buy a bunch of ancillary items for 4 recipes that are completely different from one another. On weeks that my group does our swap I save an average of $20.00 on my groceries.
DO THE MEAL KITS STAY FRESH?
Yes! That said, you do have to ensure that everyone shops for their groceries no sooner than the day before the actual swap. This can take a little planning, but I usually just order the ingredients online and then swing by and pick them up so I can assemble my kits that evening. All meal kits should stay fresh in the refrigerator for up to 5 days. That gives you a little grace in case there is a night where dinner at home just isn't happening!
CAN I DO A MEAL SWAP WITH LESS THAN 4 PEOPLE?
Unfortunately the recipes are written so that each person creates 4 meal kits. The grocery lists, packing instructions, etc. all reflect this. If you were to do a swap with 3 people or less, you would need to tweak your grocery lists and packing instructions. I don't recommend this.
CAN I DO A MEAL SWAP WITH MORE THAN 4 PEOPLE?
If you purchase the 3 pack of Swap Guides, you will have 12 different recipes + prep instructions to work with. Although the guide is written with the ideal amount of attendees being 4, you could assign extra guests a recipe from a different swap guide. When your group meets together to swap, everyone will still bring 4 of their assigned meal kits, but everyone will not take home every meal kit. Your guests will be able to pick and choose their 4 favorites. My group likes to do this occasionally, the choice to skip a particular meal is always appreciated.
ARE THE MEAL KITS ORGANIC?
That is completely up to you and your swap group. I recommend that you establish "rules" for your group prior to your first swap. For example, my group chooses to purchase organic meat/dairy with all other items being conventional. Your group could do something similar or just decide to go non-organic across the board. What you want is consistency so that everyone is happy with the meal kits that they receive.
HOW DO I PURCHASE SWAP X SIMPLY SISSOM?
Swap X Simply Sissom is available from July 22nd - August 2nd. CLICK HERE TO PURCHASE.
HOW MUCH DOES IT COST?
The cost of 1 SWAP Guide is $5.99 or you can save and purchase 3 SWAP Guides for $12.99 (<-- if you're planning on a "Swap Club" type situation or if you want to host a party with more than 4 attendees).
IN SUMMARY:
You can click here to purchase.
If you have additional questions you can contact us and we'll be sure to get back to you as soon as possible.
I'm so excited. Thank you for taking the time to read about SWAP X Simply Sissom. I truly hope you find it to be a valuable tool for getting healthy dinners on the table!