Avoid all the toxic and unnecessary junk found in traditional food dyes by using natural homemade food coloring that is really simple to make at home!
Pin How to Make Natural Food Coloring for later!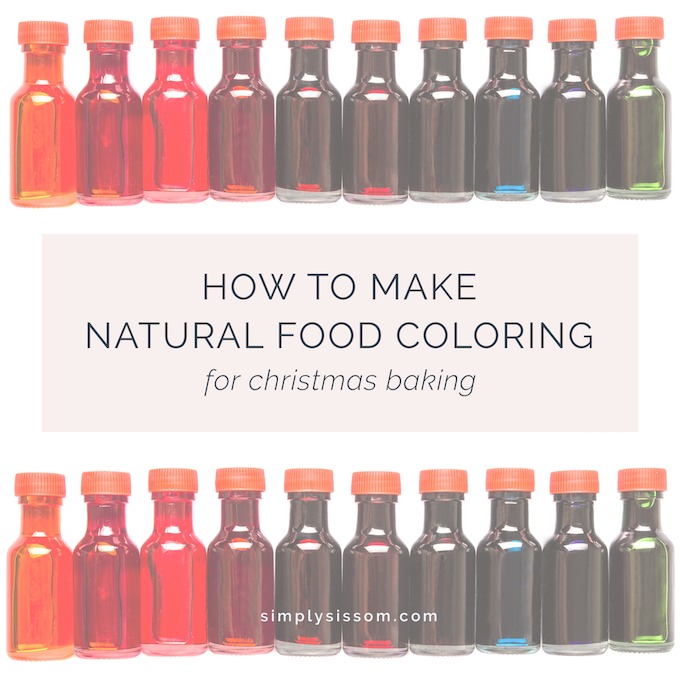 Yes. I write a "whole-food" blog.
Yes. I believe that processed foods should be avoided.
Buuuttt....
Yes. My kids enjoy the occasional yummy homemade treat made with white flour, tons of chocolate, and sugar that doesn't come from a coconut.
Are those things healthy? Of course not. BUT.. a piece of cake at a birthday party, a family Christmas cookie decoration session, an ice-cream cone on a Summer evening... I'm good with it. In fact, I'm more than good with it.. I look forward to it!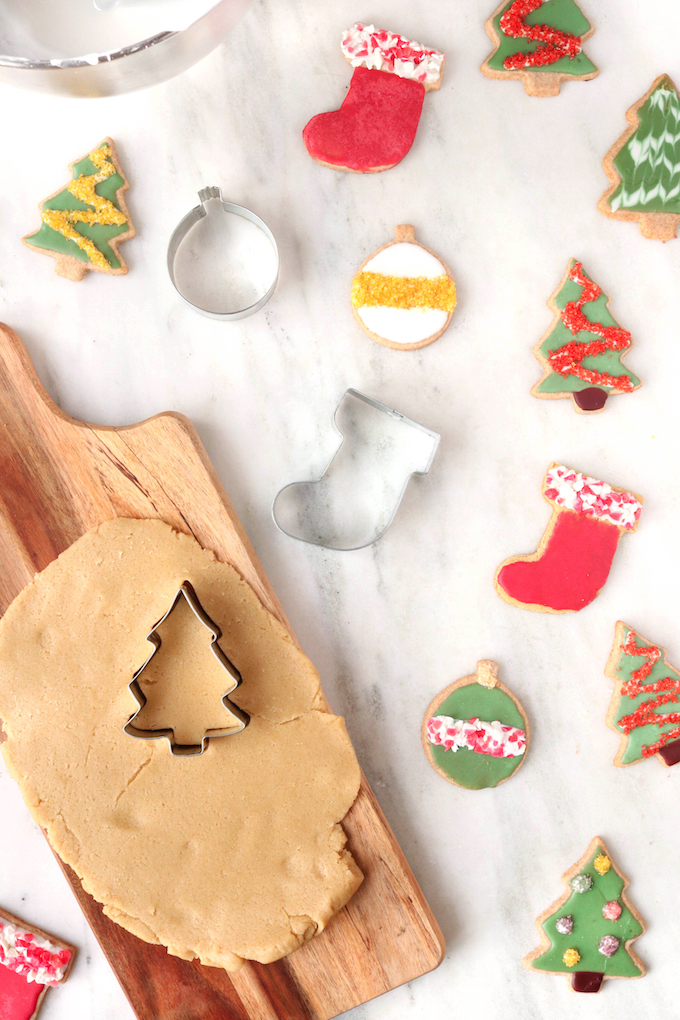 About a year ago I had an epiphany.. I stopped worrying about all the things that my family DOESN"T eat, and instead, focused on preparing meals and snacks that are full of things we DO eat (whole grains, greens and seasonal veggies, lean meats, healthy fats). It just feels more positive that way.
However, there is one thing I DON'T "treat" myself (or my kids) to... chemicals. Especially when those chemicals are derived from petroleum and tar. Yes, you read that correctly, annnnd yes... I wrote it there for a bit of dramatic effect. Forgive me?
You have probably guessed by now (based on the title of this post) that I am talking about artificial food dyes. The US consumes 15 million pounds of these chemicals each year and it's not just in colored icings. It's found in foods and personal health items that would never cross your mind to check.  Think vanilla frosting, white sprinkles, shampoo, Lunchables, yogurt, and even brown cereals. IT. IS. EVERYWHERE.
With all that said, there is still 1 time a year that I am tempted to bury my head in the sand and head to the store to purchase a little dose of petroleum. Christmas. When it's the holiday season... I Want. It. All. Frosting, sprinkles, cut-out cookies. Like I said when I wrote this whole-food christmas cut-out cookie post, decorating cookies during the holidays is one of my favorite traditions. But... Petroleum?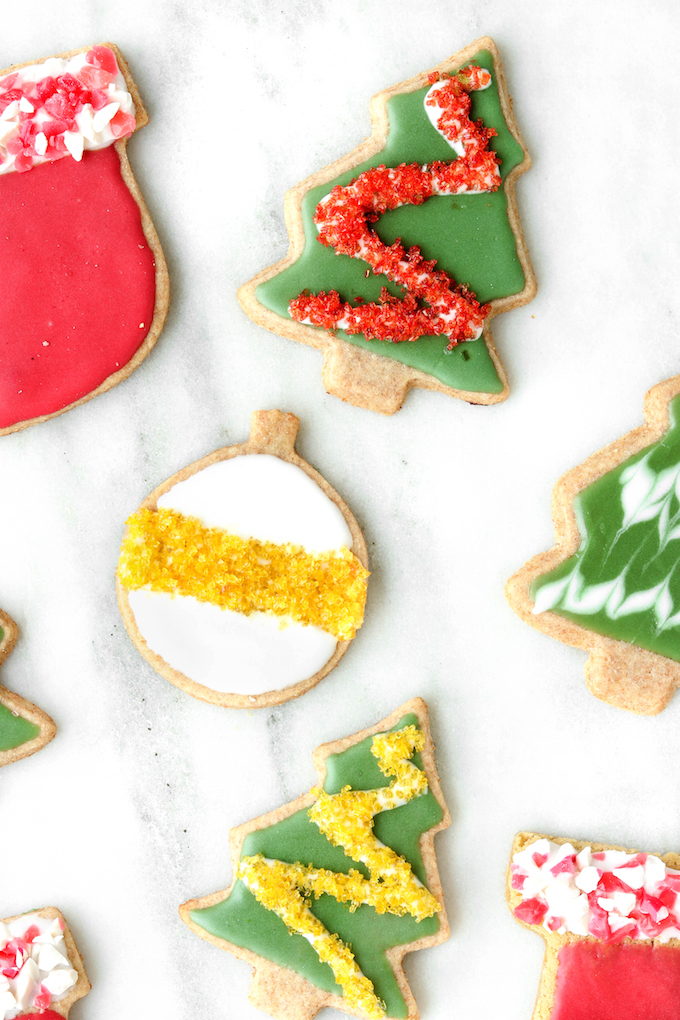 I scoured the internet for recipes for natural food dye (and there were TONS). Some were simple, some complex, some ridiculous, and some that were EXPENSIVE!
I tried ALL of them (not fun, not cheap). Not recommended.
Making green dye was pretty easy. I tried store-bought (natural) food coloring, chlorophyll drops, and spinach. My favorite is easily the chlorophyll. It made a rich "christmas tree" green, was super simple (same as using store-bought food coloring), and had a hint of a minty taste. Prefer no flavor? Spinach is the way to go.. I know it sounds awful, but you can't taste it.. promise!

The red's were much trickier. As you can see below, the store-bought version turned a hideous cinnamon shade!
I became borderline obsessed with making a true red. I'm going to level with you.. not going to happen (using natural ingredients). Of all my trials, beets were my favorite since they made the closest to a true red color. Note.. Joe later pointed out to me that store-bought artificial red coloring doesn't create a true red either.. touché).
UPDATE: After posting, I gave India Tree's Original Nature's Color Decorating Set a try. By adding a little yellow in with the red dye I got a color that was pretty good (I replaced the cookie photos on this page with cookies that were iced with frosting from this set to give you an idea about color). The set was pricy, around $18.00, but unlike a lot of other natural food dyes, it came in packaging similar to traditional food coloring instead of one-use bags. I don't bake often, so I think it will last a good amount of time.
One thing to mention, while the cookies were originally beautiful, they did oxidize and become a little discolored the following day. No big deal for me, but I'm wasn't making cookies for an event or a client:)

Since it is my firm belief that nobody should EVER have to go through the expense, mess, or sugar high of testing 1,346 different methods of turning icing red and green I documented it all and turned it into a convenient downloadable PDF. I photographed each final product, listed the positives/negatives, and provided all 6 recipes and  the price for each method. Want it?? Just enter your info in the box below so I know where to send it and get to baking (sans the tar)!
Not feeling $18.00 food coloring??? Don't want to research?? Just want to take my word for it? Go for Chlorophyll and Beets  for your red and green frosting needs this year. Here's the recipes ...
Print
How To Make Natural Food Coloring for Christmas Baking
Author:

Prep Time:

2 mins

Cook Time:

45 mins

Total Time:

47 minutes
---
Description
Avoid all the toxic and unnecessary junk found in traditional food dyes by using natural homemade food coloring that is really simple to make at home!
---
1

bottle chorophyll drops

3

beets
---
Instructions
GREEN: Use dropper to placed desired amount of chlorophyll into frosting. Mix. The more drops you add the darker the frosting will become in color.
Red: Trim and roughly chop beets. Place beets in a medium pot and cover with cold water. Heat over medium high heat until mixture begins to boil. Reduce heat to medium-low and allow beets to simmer uncovered until only about ¼ cup of liquid remains. Remove pot from heat and discard "beet pieces." Replace the liquid in your frosting or cake mix with "beet dye."
---
Helpful Hints:
I found chlorophyll drops in the health/supplement section of my local whole foods. The bottle was about 11 dollars, but it will last A LONG TIME since you only use 3-5 drops each time you make frosting.
I may be the only person in the universe that doesn't know this, but not all beets are red on the inside! Make sure to get the right variety...
If you go for the store-bought method, I definitely recommend India Tree's Original Nature's Color Decorating Set . Please note that it is not the "store-bought dye" pictured on the downloadable printable  or the food color samples on this post (the cookie's in the pics were decoreated with it though!). It was a late addition 🙂
Let's Connect:
Recipes Similar to How to Make Natural Food Coloring for Christmas:
How to Make the Ultimate Whole-Food Cut Out Cookies:
How To Make Homemade Sprinkles: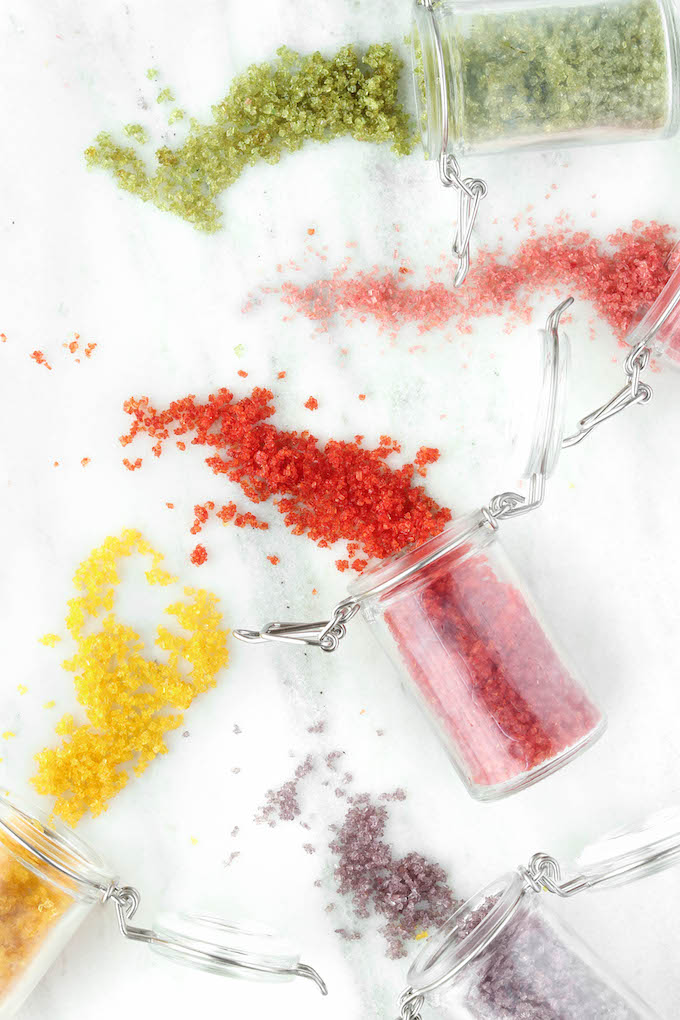 Honey Roasted Almonds + FREE Printable Gift Tag: