Lasagna stuffed zucchini boats are simple to make, requiring just 30 minutes. Tender zucchini hollowed out and stuffed with layers of creamy ricotta cheese, Italian meat sauce and melty mozzarella cheese. Noodle-less lasagna for the WIN!!!

Okay. Soooo I'm not a gardener.
(FACT: I once killed a cactus.)
We tried planting some zucchini early in the season, but it was involved in an unfortunate accident with an unexpected spring frost and an apathetic gardener.  If it has to do with PLANTS + LIFE, I'm not your girl.
I AM, however, the daughter-in-law of 2 talented gardeners!
Joe's parent's drove up from Tennessee this weekend with our nieces and nephew, and they brought us LOTS OF VEGETABLES... from their garden.  Zucchini, green beans, corn, cucumbers, and tomatoes. Now I get to have the happy "drowning in late summer veggies from my someone else's garden" problem!
No doubt I have have huge plans for All. The. Veggies. Buuuttt.. for today, Lasagna Stuffed Zucchini Boats.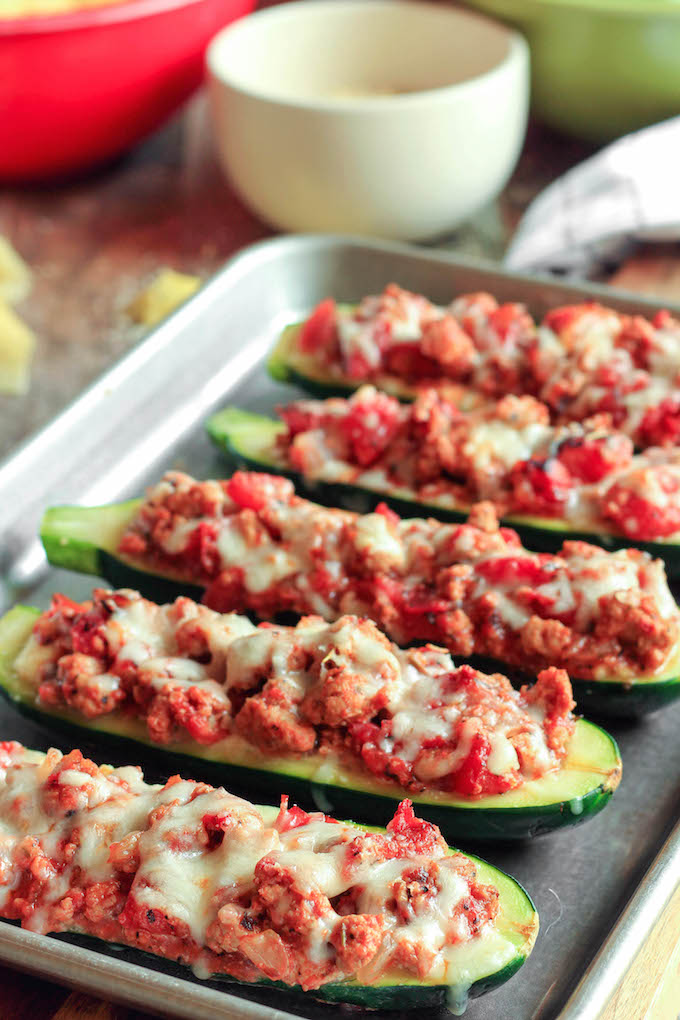 You guys, these little boats are the stuff that my dinner-making self dreams of. Make-ahead friendly (aka.. assemble during nap time) and ready in about 30 minutes (less if you are really on your game). It's so much less work than assembling a traditional lasagna.
Seriously, they are SO SIMPLE to throw together. Check it out...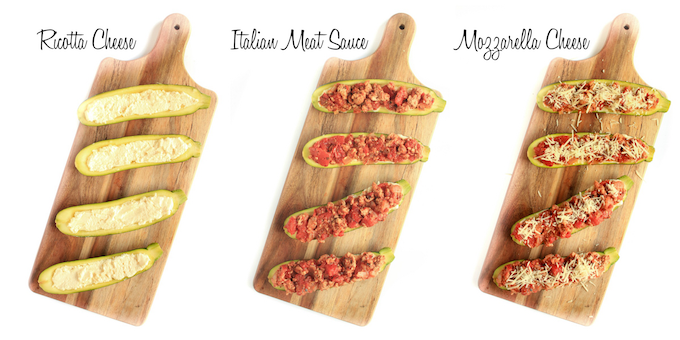 Since this is a food blog and all.. I felt a little pressure to up my dinner game and make the spaghetti sauce from scratch. Does it taste better?.. sure. Does it in all likelihood a bit more nutritious.. probably. With that said, you gotta do what you gotta do. Short on time and have some store-bought marinara sauce lying around.? Use it up! No . Big. Deal.
Monday Night Blahs ?...  Trust, noodle-less lasagna for the WIN!!!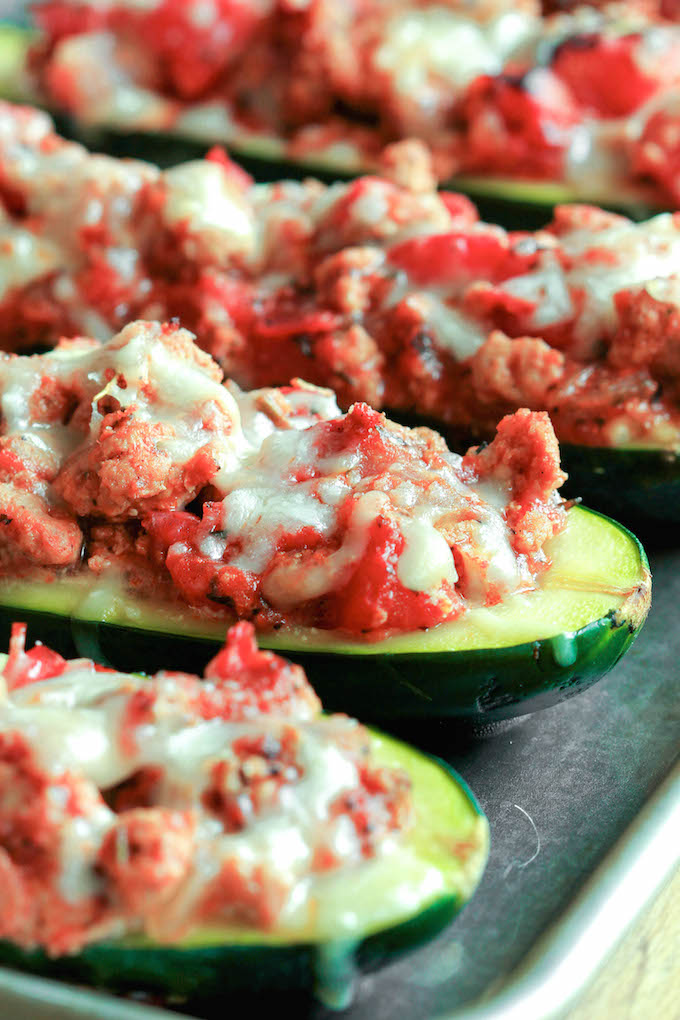 TIME SAVING TIPS AND TRICKS
PREP: Slice and hollow out zucchini. Make ricotta cheese mixture. You can store it in an airtight container or go ahead and  add it to the hollowed out zucchinis. Store prepped zucchini boats on a cookie sheet wrapped in clear wrap. Lightly push the clear wrap down so that it is touching the ricotta mixture on each zucchini. This will help keep out air! The Italian Meat Sauce can also be prepared in advance. Simply cover and place it in the refrigerator. It will store safely for 2-3 days.
MAKE AHEAD: Make the recipe according to directions, but don't bake. Store the assembled lasagna stuffed zucchinis on a cookie sheet. Arrange plastic wrap so that it is touching each zucchini boat to help keep out air. Cover entire cookie sheet with foil and store in fridge for 1-2 days.
FREEZER: The turkey mixture does very well when thawed from the freezer. Double the recipe and store half in a labeled airtight Ziplock bag . To thaw, just remove from the freezer the night before you want to use it.  ½ the work of the next round of zucchini boats will already be done!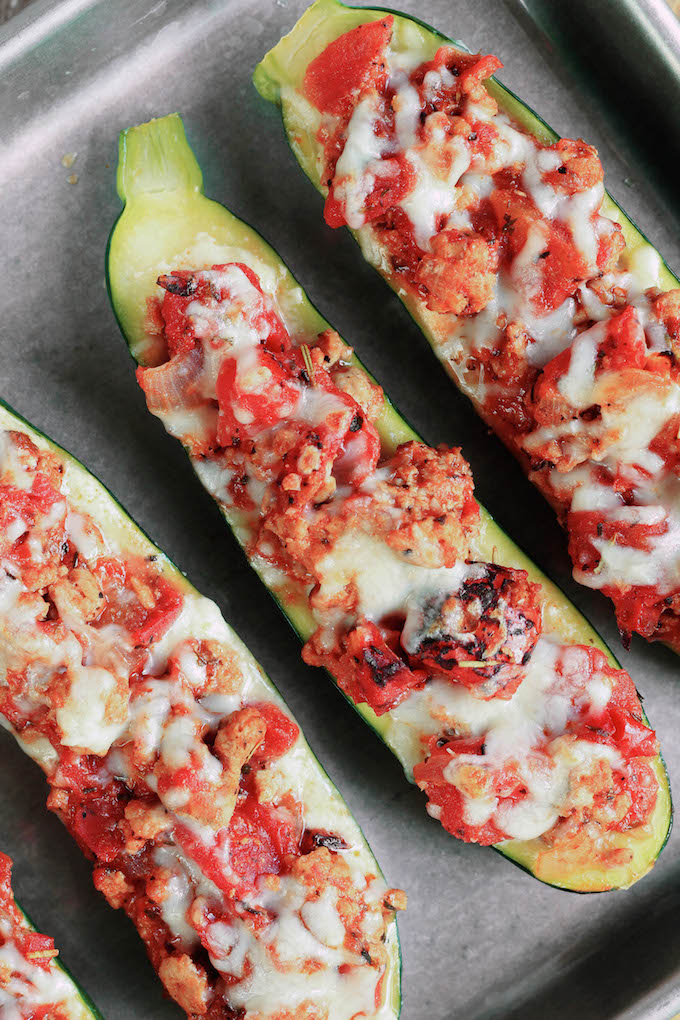 Print
Lasagna Stuffed Zucchini Boats
Author:

Prep Time:

20 mins

Cook Time:

30 mins

Total Time:

50 minutes

Yield:

8

boats

1

x
---
8

small zucchinis

1

lb gr turkey

½

-

1

TBS olive oil

½

large onion

2

cloves garlic

1 tsp

salt

½ tsp

pepper

1

14.5 oz can diced tomatoes

1

TBS basil, dried

1 ½ tsp

oregano

1 tsp

thyme

¼ tsp

rosemary

¼ tsp

red pepper, optional

1

TBS tomato paste

1 cup

ricotta

½ cup

parmesan

1

egg

½ cup

mozzarella cheese
---
Instructions
Preheat oven to 425
ITALIAN MEAT SAUCE: In a large skillet over medium high heat add 1 TBS of olive oil, garlic and onions. Cook 2-3 mins. Add ground turkey, salt and pepper. Cook until turkey is no longer pink. Add diced tomatoes, basil, oregano, thyme, rosemary, red pepper (optional), and tomato paste. Reduce heat to medium and allow mixture to cook until thickened. 10-15 minutes.
RICOTTA MIXTURE: While the turkey mixture is thickening add ricotta, parmesean, egg, and parsley into a mixing bowl. Stir until combined.
ZUCCHINI PREP: Slice zucchinis in half lengthwise. Use a small spoon to scrape out the zucchini meat (think seeding a cucumber). Leave ¼ - ½ of an inch so that they remain sturdy.
ASSEMBLY: In each hollowed out zucchini place 1-2 TBS of ricotta mixture. Smooth it. Top with desired amount of Italian Meat Sauce.
COOKING: Place assembled zucchini's in a baking dish. Cover with foil. Bake for 15 minutes, Uncover and sprinkle with mozzarella cheese. Return to oven for 2-5 minutes or until cheese is melted and zucchini are tender. To get the mozzarella nice and golden, pop it under the broiler for 1-2 minutes prior to serving.
---
Helpful Hints:
I have found that smaller zucchini are easier to work with. They cook faster in the oven and aren't as loaded down with "fixins."
If you skip on making your own Italian meat sauce, you still need to cook the turkey, onion and garlic in a skillet according to directions. Skip adding the diced tomatoes, basil, oregano, thyme, rosemary, red pepper and tomato paste. Instead, simply pour in your jar of pre-made marinara.
If you don't want to purchase 2 types of cheese, skip the mozzarella and simply top the zucchini boats with parmesan.
Let's Connect:
Other Whole-Food Dinner Ideas You Might Like: