3-Ingredient Hummus-Crusted Chicken is simple, requiring just 5-minutes prep. A healthy whole-food, protein packed, weeknight meal.
Pin 3-Ingredient Hummus Crusted Chicken for later!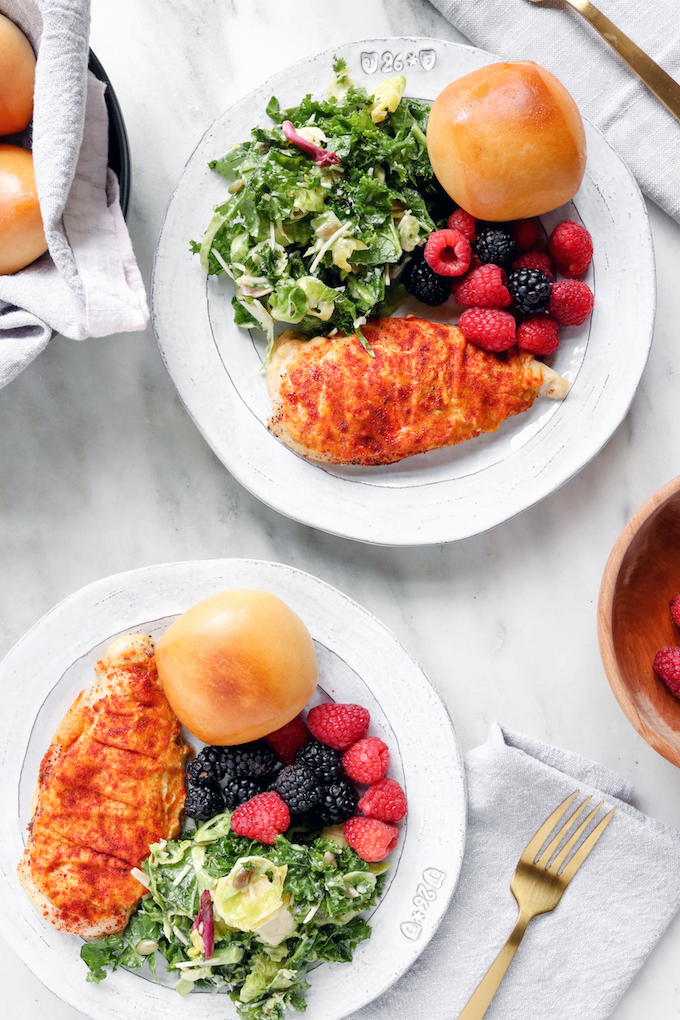 Simplicity and I are having a bit of a moment.
Could I replace "simplicity" with laziness, well... maybe, but for whatever reason (new baby, long Winter, recipe boredom), I haven't been feeling super creative in the kitchen. Rather than exploring new recipes options, I've been digging through old recipes looking for a dinner option that requires the least amount of ingredients, time and prep possible.
This 3-ingredient hummus chicken, well.. I made it twice last week. The first time I served it up with berries and veggies and night #2 it made an appearance on top of huge California Cobb Salads. Trust me, nobody was complaining.
It really doesn't get much easier than this one. It's not the kind of recipe that claims 3-ingredients and then sneakily add "options." Although full-disclosure, the chicken should be well seasoned and that requires salt + pepper, which is NOT included in the "3 Ingredient claim."
Seasoned Chicken Breasts + Hummus + Smoked Paprika (<-- smoked is important). That's REALLY it. Serve it up with a quick side salad, roasted veggies or even some fresh fruit. Most likely you will have some leftover hummus, so raw carrots, cucumber and/or celery is also a great option. Use what you have. This is a throw-it together, fly-by-the-seat-of-your-pants type meal AND not one single person will be the wiser.
Seriously.. 3 Simple Steps + 3 Ingredients = Done. Let me show you..
Season chicken and arrange it on a parchment lined baking sheet.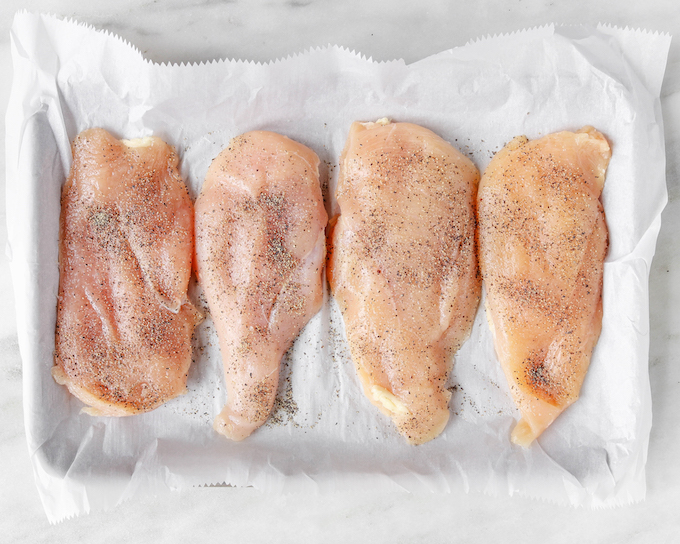 2. Cover seasoned chicken with a layer of your hummus of choice.
3. Finally, sprinkle with paprika. That it.. oven ready.
I'm going to have what I like to call an "Ina Garten" moment with you ... you've gotta splurge on the good quality ingredients for this one. Since you are only using 3 items, every single one is important. Look for chicken that isn't super thick, it will cook forever and dry out in the process. Choose a flavorful hummus, I like garlic but have heard wonderful things about a cilantro + jalapeño version available at Trader Joes. You could also make your own, but in my humble opinion, that would defeat the purpose of making 3-Ingredient Hummus Crusted Chicken in the first place! For the paprika.. purchase the smoked version (even if you already have regular).. it's worth the extra effort.
For having only a few ingredients, this Hummus Crusted Chicken packs quite the nutritional punch..
Chicken is an awesome source of lean protein which supports muscle development and supports a healthy body weight and combats bone loss. It is rich in phosphorus, an essential mineral that supports your teeth, kidneys, bones, liver and nervous system; selenium, which improves metabolic performance, and niacin which has been show to guard agains cancer.
Hummus is also a great source of protein which means it can help you feel full longer, fight cravings and balance your blood sugar level. It is also very iron rich, this helps boost energy (who doesn't need a little of that!)
Paprika is a spice that is made from grinding dried bell and chili peppers is rich in vitamin C and carotenoids. It can help you fight aging, brighten your complexion, prevent hair loss, and has great anti-inflammatory properties.
Summary: Eat this chicken and you will have a beautiful complexion, a head full of hair, muscles on your muscles and more energy than you know what to do with. But lets be honest, the healthy factor (while important) doesn't really matter in this case... I had you at 3-ingredient!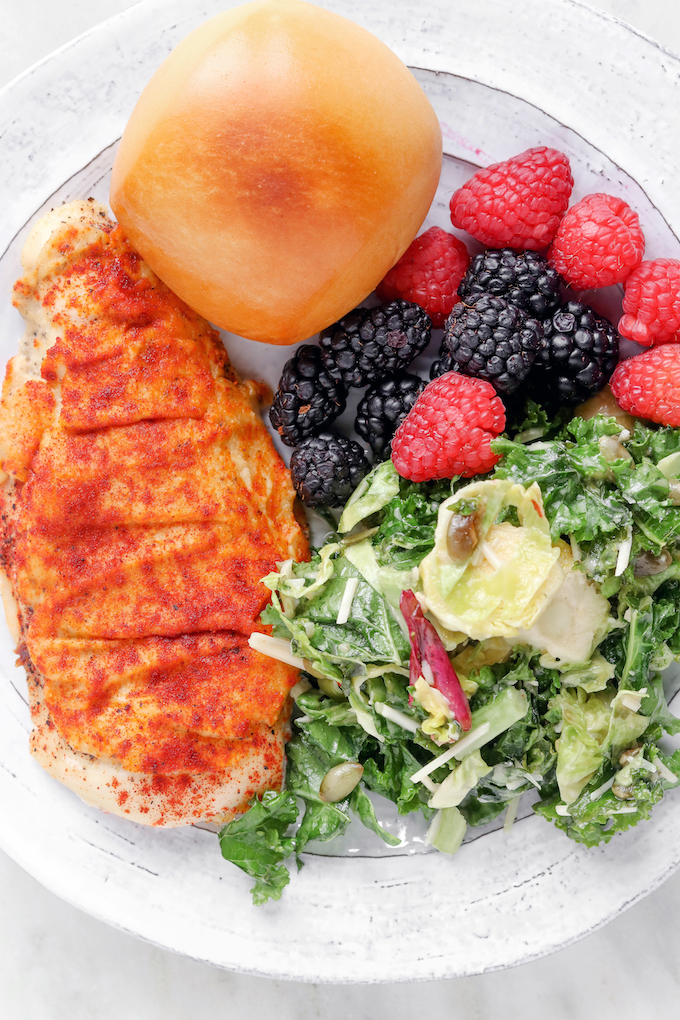 Time Saving Tips and Tricks:
Prep: If you are making your own hummus this can be done 2-3 days in advance of making the chicken. If you are using store bought, don't bother to prep! The recipe is so simple that it really isn't necessary..
Make Ahead: If you are just eating this chicken by itself.. I recommend eating it straight from the oven. It just tastes better. However, this chicken is FANTASTIC when diced up and thrown on a salad the following day. I like to make a little extra just so that I can ensure that this situation materializes.
Freezer: Again.. the recipe is so simple that there really isn't any need to freeze ahead. 5 minutes prep guys!
Print
4-Ingredient Hummus-Crusted Chicken
Author:

Prep Time:

5 mins

Cook Time:

30 mins

Total Time:

35 minutes

Yield:

1

lb. chicken

1

x
---
1

lb. boneless skinless chicken breasts, the thinner the better.

1

container of you favorite hummus (I like Trader Joe's garlic hummus).
Smoked Paprika
---
Instructions
Heat oven to 350 degrees and line a rimmed baking sheet with parchment paper.
Pat chicken dry and season with salt and pepper. Spread a thin layer of hummus over seasoned chicken breast. Sprinkle hummus covered chicken generously with smoked paprika and then place onto prepared baking sheet.
Cook chicken at 350 degrees for 30 minutes, or until center of chicken is no longer pink. Cooking times will vary based on size and thickness of the chicken.
---
Notes
If you want to make your own hummus but don't have a recipe, I suggest Ina Garten's Classic Hummus. It's simple, healthy and perfect for this dish.
Using store-bought hummus? Make sure and check the ingredients. Some big brand names have TONS of additives that just really aren't necessary. You should be looking for something along the lines of chickpeas, olive oil, tahini, salt, pepper, garlic, possibly some spices and not much else.
There is a difference between paprika and smoked paprika... go for the smoked, it's delightful!
Let's Be Friends:
You can find Simply Sissom on Instagram where I share even more recipes (some that aren't on the blog), behind the scenes pics and videos AND tips and tricks to make healthy eating realistic for your busy family.
Recipes like 3-Ingredient Hummus Crusted Chicken:
Easy Arugula Salad with 2-Ingredient Lemon Vinaigrette: