Simple Pecan Pie Slabs are ridiculously simple to make. Whole-Food Friendly, gluten-free, and loaded with crunchy nuts. A fun twist on a classic Southern staple. No crust making required!
Pin Pecan Pie Slabs for later!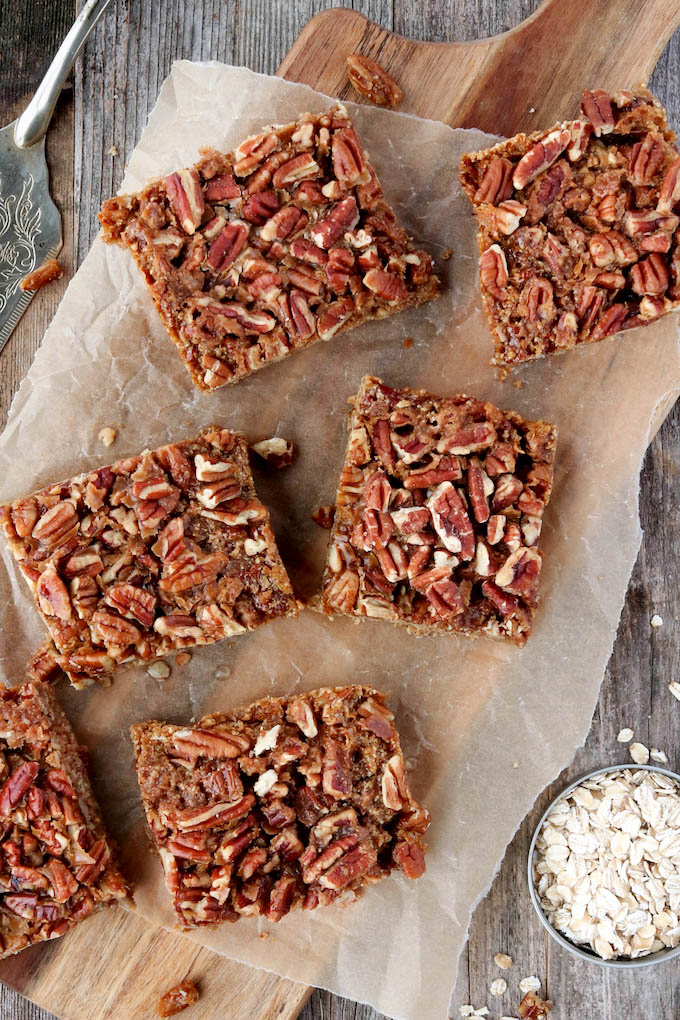 Okay.. so I'm NOT a baker.
(FACT: I once made 7 Pecan Pies before getting the crust to stay in-tact.)
If it has to do with baking + Pinterest worthy pics, I'm NOT your girl. 364 days out of the year my inability to create a perfectly shaped flakey pie crust has little to no consequence in my life... buuuuuuut then.... Thanksgiving.
As long as we are making confessions., you should also know that I am a RIDICULOUS procrastinator.  AKA.. I always get last pick about the dish I'll be bringing to Thanksgiving. People who are on top of life jump in and claim simple things like green beans, mashed potatoes, rolls and the most coveted of all, wine.  Get wine and you have a pass to  forego the entire cooking situation (#goalz).
Due to may lazy tendencies in the area of responding to Facebook messages, this year I've got .. you guessed it, PIES. Pecan pie to be specific. Only I'm not stressing. Instead, I'm making a bold move.. Pecan Pie Slabs.
You guys, I'm not one to brag, but This. Is. Brilliant. All the warm gooey, crunchy, nutty flavor of pecan pie, but No. Crust. Making. Required. Pecan Pie Slabs are baked in an 8x8 inch pan.. all the ingredients are there, you just don't have to mess with rolling out a crust, cutting out impressive decorative harvest style leaves (<-- j/k, who does that?) and most importantly.. crust breakage and or burning.  I figure this will save all you "non-bakers" like myself upwards of 12-15 hours! Your welcome ?.
Time Saving Tips and Tricks:
Prep: This one comes together so easily and many of the ingredients that are used to make the crust are also used for the filling. Why pull things out twice?
Make Ahead: I did! It was delicious. The pie needs to set up before being sliced so serving it at room temperature is to be expected.
Freezer: This is a great freezer recipe. Cook according to recipe directions, cool, and then cut into squares. Arrange squares on a baking dish and pop them into the freezer for 2-3 hours or until frozen through. Remove from freezer, wrap in freezer paper and store in a sealed airtight Ziplock bag for up to 3 months. To thaw, place in refrigerator overnight or allow to come to room temperature on the counter. You can then heat and serve warm.
Print
Pecan Pie Slabs
Author:

Prep Time:

15 mins

Cook Time:

30 mins

Total Time:

45 minutes

Yield:

12

servings

1

x
---
Description
Simple Pecan Pie Slabs are ridiculously simple to make. Whole-Food Friendly, gluten-free, and loaded with crunchy nuts. A fun twist on a classic Southern staple. No crust making required!
---
1 cup

rolled oats (gluten-free if needed)

1 cup

almonds

¼ tsp

sea salt

2

TBS coconut sugar +

½ cup

coconut sugar

4 ½

TBS butter, melted (sub coconut oil if vegan)

3

TBS coconut oil (solid form)

3

eggs

1 cup

maple syrup

1 tsp

vanilla

2 cups

pecans, coursely chopped
---
Instructions
Preheat oven to 375 and line an 8x8 inch baking dish with parchment paper.
CRUST: To the bowl of a food processor, add oats, almonds, salt, 2 tablespoon coconut sugar and butter. Pulse until the consistency of sand with no large chunks remaining. Spread mixture into baking dish and press down into an even layer.
FILLING: In a small sauce pan, bring the maple syrup to a simmer and simmer for about 5 minutes or until it begins to bubble up. Pour into a bowl and add the 3 TBS coconut oil, vanilla, and ½ cup coconut sugar. Use an immersion blender to combine. Add remaining 3 eggs and blend until smooth. Pour over pie crust and top with pecans. Bake for 30 minutes or until the center is mostly set. Do not over bake.
---
Helpful Hints:
When I bake I really like to make sure that I am using quality ingredients that don't contain tons of additives. For this recipe I used Bob's Red Mill Gluten Free Rolled Oats , Wholesome Organic Coconut Sugar .
Make sure to press the crust down VERY firmly or the bars will be too crumbly. You can use the bottom of a cup to make sure that everything is really pressed together.
When cooking maple syrup.. make sure not to bring it to a rapid boil.
If you don't have an immersion blender, you can use a regular beater but you will need to make sure to beat long enought that filling thickens and begins to get fluffy.
Let's Connect:
Other Recipes Pecan Pie Slabs:
Chunky Chocolate Pumpkin Muffins:
Pumpkin Whoopie Pies with Maple Spice Filling:
Maple Pecan Baked Stuffed Apples: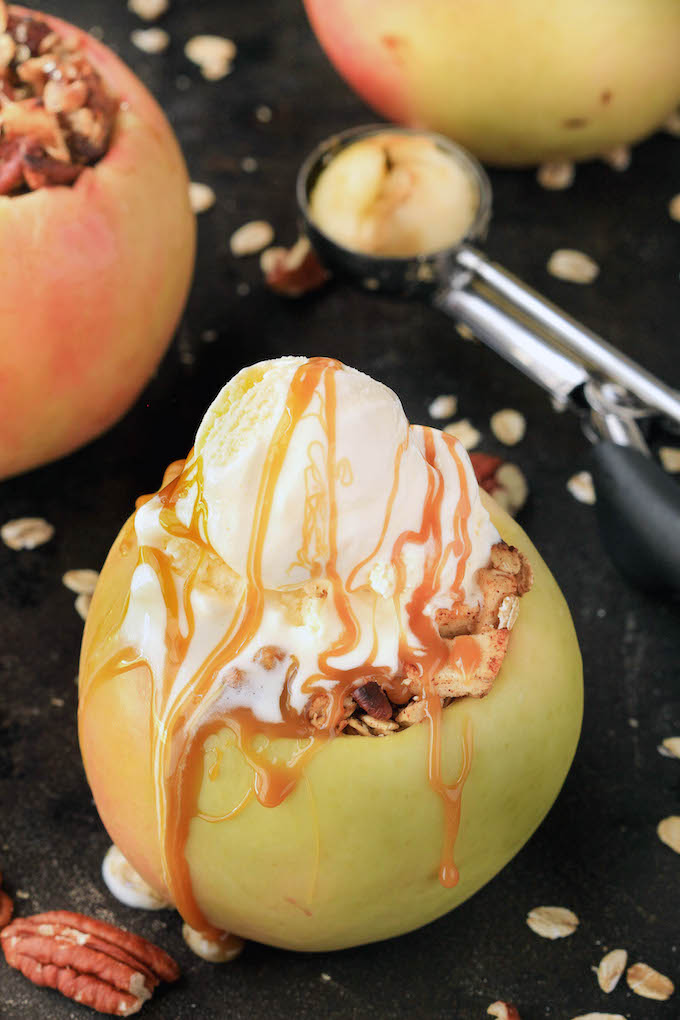 SaveSave
SaveSave