Baked Pecan Crusted Chicken Tenders are a fun (and healthy) twist on a traditional American classic. A prep-ahead option and short ingredient list make this the perfect weeknight meal.
Pin Pecan Crusted Chicken Tenders for later!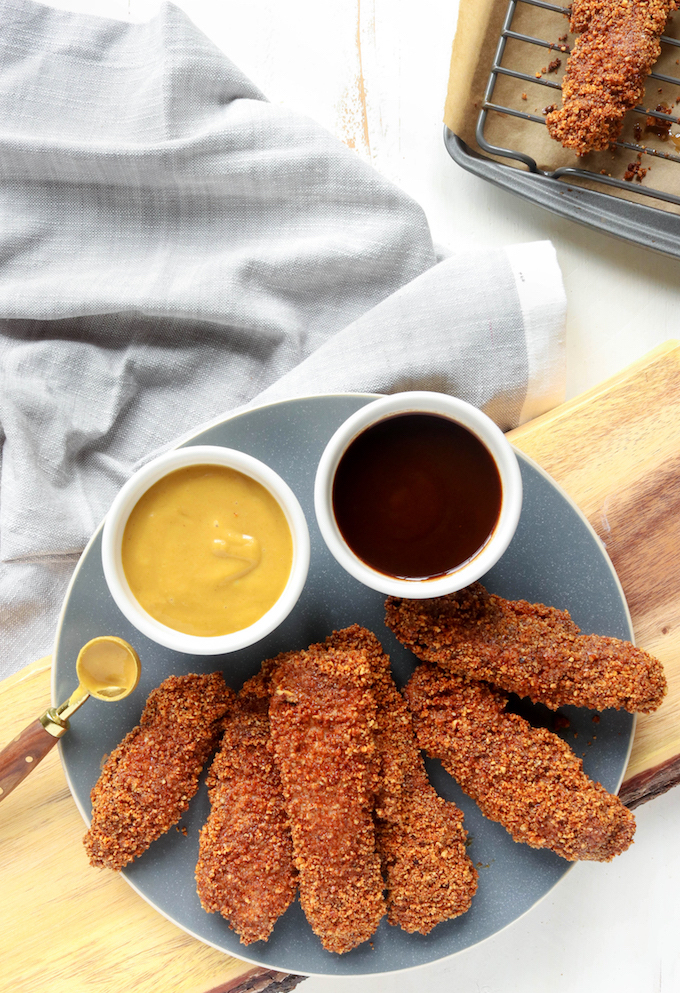 Another Sneaky Swap favorite, comin atcha!
There is little that I enjoy more than making "sneaky swaps" to our family dinners, watching everyone devour it, and then gleefully announcing that that the brownies were made of black beans, the burgers were actually bison, the ricotta cheese was made from cashews... you get the idea.
I'll be the first to admit that this does not always go as planned. If you watch my Insta-stories you know that the chocolate avocado ice cream I posted a few weeks ago may have tricked my 3 year old, but had Cooper more than just a little suspicious ?. Yeah, my kids are no doubt going to grow up and need therapy from my constant deceit, but you guys.. it's just so much fun (in an "I'm a 34 year old mom who doesn't really get out much" kinda way).
If you asked me if this one's gonna pass the picky-kid test, I'd say yes. Yes, emphatically yes.
What does this even mean? Tenders that looks fried, taste fried, but are actually baked and oil-free? Say what?
First, let's state the obvious ... I'm normally not a big fan of baked chicken things that are supposed to resemble FRIED chicken things. It's just.. well, generally speaking not a solid plan. You know you were thinking it too!
But today, we are going to do just that because 1) I'm a risk taker (in a "34 year-old Mom who doesn't get out much" kinda way), and 2) with the addition of some chunky pecans, we get just the right amount of crispiness to give this chicken all the texture and taste of fried tenders, but waaaaay less of the stuff that doesn't make you feel your best.
The seasoned egg wash and pecan bits make a crust that the chicken gets breaded in, and just like that, you've got yourself a plate full of faux "fried" chicken and you're left wondering why in the world you ever made chicken tenders any other way.
Of course what are chicken tenders if we don't address the issue of sauce.
You can always go marinara or bbq .. it's simple, tasty and doesn't get much easier.
Me, I'm a honey mustard kinda girl. You can whip it up in 2 minutes and 2 ingredients (my favorite kinda recipe). Just combine equal parts honey and yellow mustard and mix. It's delicious and much better than most store-bought honey mustards in terms of ingredients and funky additives.
Soooooo... life's getting pretty crazy at the Sissom household.
Pecan Crusted Chicken Tenders!
Sneaky Swaps!
Who says being a 34 year old Mom is boring ?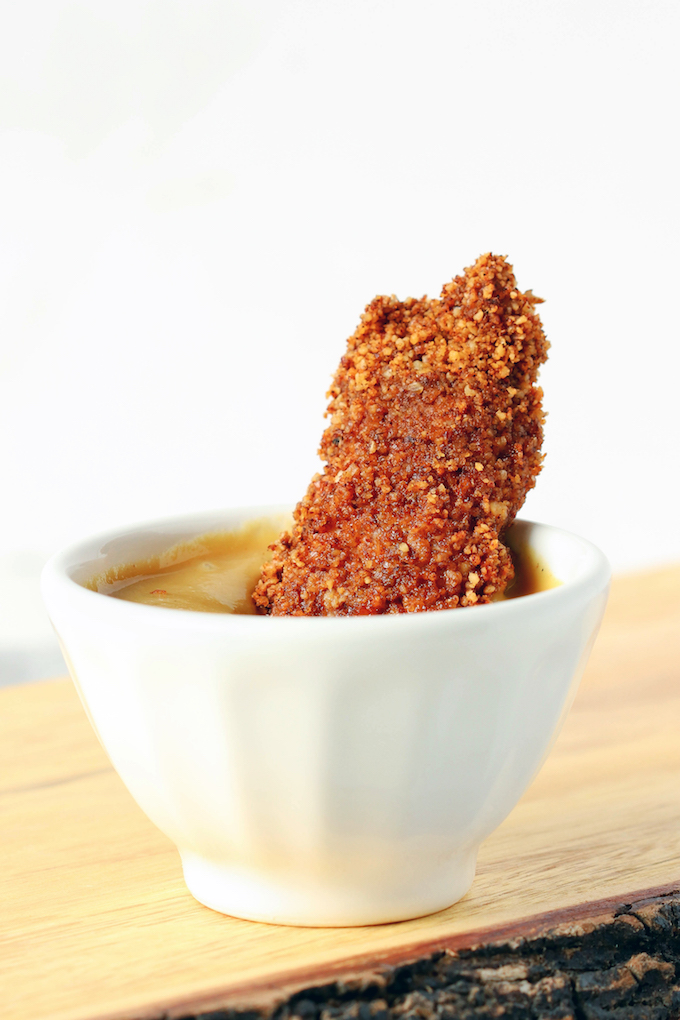 Time Saving Tips and Tricks
Prep: This recipe is definitely prep friendly (you can watch me do it in the Simply Sissom Private FB community). The Chicken Crust and the Egg Coating can both be prepared up to a day in advance. You can also trim and slice the chicken into tenders (or buy them pre-sliced) and store them in a Ziplock bag for up to 2 days. If you are throwing the meal together during nap time (aka.. you will be serving it in a couple hours) you can even pre-bread the chicken tenders. I wouldn't do this the night before as they can become soggy.
Make Ahead: Full disclosure.. these are crispiest when they are eaten straight from the oven, but my family enjoys eating them as leftovers (or as a salad toper) for a day or two.
Freezer: Yep! You can freeze them. Just follow the recipe as written, allow chicken to cool and then freeze chicken strips on a baking sheet for 1-2 hours. Once chicken is frozen through, place in an airtight bag or container and store in the freezer until ready to use. To reheat, bake chicken at 400 for 25-35 minutes or until center of chicken is no longer pink.
Print
📖 Recipe
Pecan Crusted Chicken Tenders
Author:

Yield:

4

servings

1

x
---
Description
Baked Pecan Crusted Chicken Tenders are a fun (and healthy) twist on a traditional American classic. A prep-ahead option and short ingredient list make this the perfect weeknight meal.
---
2 cups

pecans

2

garlic cloves, roughly chopped

1

 TBS paprika

½

  tsp salt

½ tsp

 black pepper

3

eggs

1

TBS dijon mustard
splash of Sriracha

1.5

lbs chicken breasts, sliced into

ten

ders
---
Instructions
Heat oven to 400. Lightly coat a baking rack with non-stick spray and place it on top of a foil lined baking sheet.
CHICKEN "CRUST": In a food processor fitted with S blade, add pecans, garlic, paprika, salt and pepper. Pulse until topping is a little more course than the texture of sand.
EGG COATING: Place 2 beaten eggs in a shallow bowl, with lid. Add 1 Tbs dijon mustard and place of Sriracha. Whisk to combine.
DREDGE: Dredge chicken in egg, coat with pecan mixture, and arrange on prepared baking rack.
COOK: Cook chicken for 20-30 minutes (cooking time will depend on the size of your chicken tenders) or until no longer pink in center. Allow to cool and then serve immediately.
---
Helpful Hints:
Serve with homemade honey mustard. It's easy! Just combine equal parts honey and yellow mustard. Honey should be raw and local if possible! I usually pick mine up at the farmer's market.
Don't have pecans? No prob. You can sub almonds, walnuts.. whatever you have on hand!
If you do not have a food processor you could also use a blender to create the almond coating.
Make extra Chicken Crust and store it in the pantry while you already have the food processor or blender out. You will thank yourself later.
Let's Be Friends:
Posts like Pecan Crusted Chicken Tenders:

3 Ingredient Hummus Crusted Chicken:

Honey Mustard Glazed Chicken Thighs:
SaveSave
FREE WHOLE30 COOKBOOK
12 Family Friendly Whole30 Compliant Recipes from Simply Sissom.