How to Make a quick and easy DIY taco seasoning blend to add to all of your favorite Mexican dishes, soups, meats and more!
Pin Quick and Easy DIY Taco Seasoning for later!
I debated about posting this today. In fact, I have debated posting this Quick and Easy DIY Taco Seasoning for A. Long. Time. It's such a simple recipe, that it didn't seem worthy of it's own post. Buuuuuut... right here and right now, I'm going to make a promise to you. On this blog, I will never pretend that I'm making fancy gourmet things in my kitchen when I'm not. Full disclosure... Taco Tuesday has been on repeat around here for months and I've got no shame about it.
I know what you're thinking (my Mom says it all the time).. "Bailey, are you aware that taco seasoning can be purchased at the grocery all nice and pre-mixed up for about $1.00?"
Yes, yes.. I'm aware. That said, making your own taco seasoning is so much healthier. It gives you complete control of the quality of ingredients and is going to contain way less sodium and funky unnecessary ingredients. Not to mention, it's really really simple and throws together in about 5 minutes.
I'm going to go super minimal on this post because it's actually a lead in to a more comprehensive recipe post involving a Summer staple around here... chicken fajitas (that can be made ahead as a freezer meal). It's not fancy AT ALL, but I wanted to give you a chance to have your taco seasoning ready, so I'm giving it it's own post. Even if you never visit this blog again, and the fajita recipe never passes your eyes, no worries.. you can still use this taco seasoning on pretty much anything within the Mexican food realm (i.e. tacos, enchiladas, breakfast burritos, soups, meats, etc.). Seriously, it's winner.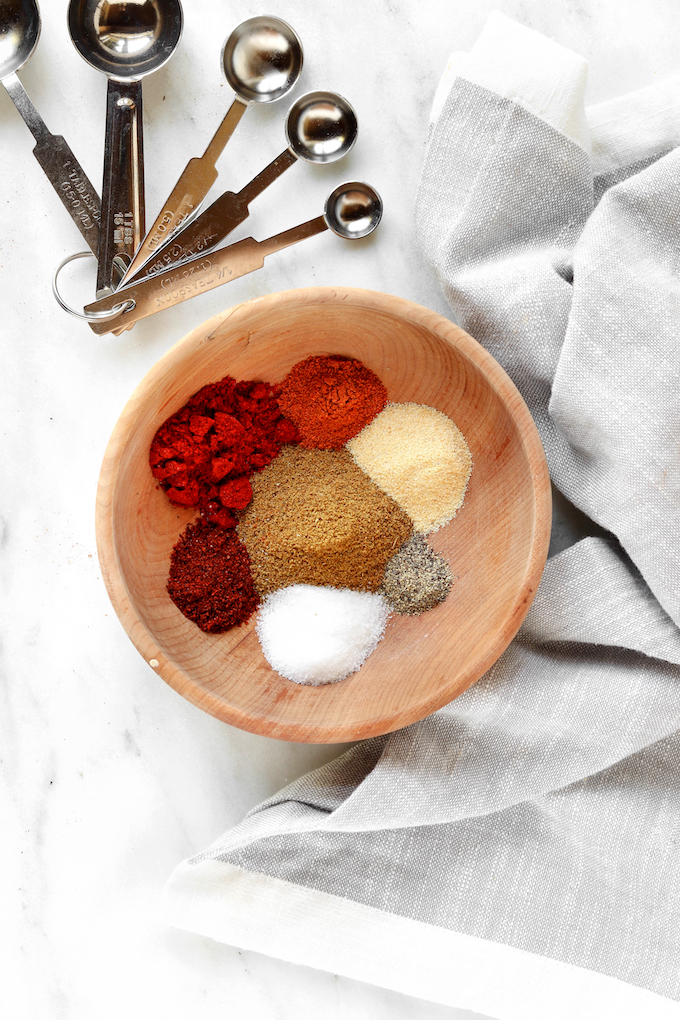 TIP:
If you are using this recipe to actually make taco meat (and you should), the spices alone are not going to create a creamy, saucy situation. You will need add the taco seasoning to the meat (about 1 TBS per lb. of meat) and then add corn starch mixed into a bit of warm water and whisked until smooth. I use about ½ cup of water and 1 teaspoon of cornstarch. Once you've added the cornstarch/water.. allow the mixture to simmer until thickened.
Time Saving Tips and Tricks
Prep: This recipe throws together in about 5 minutes with no chopping or grinding spices. There is no need to prep!
Make Ahead: Absolutely! I usually double the recipe (so I have LOTS of extra) and store the leftovers in a small mason jar in my spice cabinet (or any other dark and dry place). It will keep for about 3 months, but I bet it won't last that long!
Freezer: Storing spices in the freezer or refrigerator can cause unwanted condensation, and possibly mold. For this reason I don't store my spices in the fridge or freezer.
Print
Quick and Easy DIY Taco Seasoning
---
Description
How to Make a quick and easy DIY taco seasoning blend to add to all of your favorite Mexican dishes, soups, meats and more!
---
¼ cup

cumin

2 tsp

paprika

1 tsp

cayenne pepper

2 tsp

garlic powder

½ tsp

black pepper

2 tsp

salt

1 tsp

chilli powder
---
Instructions
Add all ingredients to a small mixing bowl. Stir until fully incorporated. Store in an airtight container for up to 3 months.
---
Notes
Using fresh spices is very important. If spices hang out too long in your spice cabinet their flavor weakens.
This taco seasoning has a little bit of kick (nothing crazy). To keep it mild, eliminate the cayenne pepper and add an extra teaspoon of paprika.
Let's Connect: 
Prep-Ahead recipes are my all time favorite! Join the BRAND NEW Simply Sissom Community Private FB Group and let's meal prep together! Each week I share an exclusive recipe in the group via FB Live that is REALLY simple and make-ahead friendly. Join us!
Interested in more Whole30 meal prep ideas? Follow Simply Sissom on Instagram. I share all my meal plans and behind the scenes prep session videos on Instagram stories.
Want to prep 5 whole-food meals for a family of 4 in just 45 minutes? Check out my new program, Savvy Mama Meal Prep: Quick and Easy. Use code SMMP50 to save 50%
Posts like Quick and Easy DIY Taco Seasoning:
Freezer-Friendly Chicken Chipotle Burritos: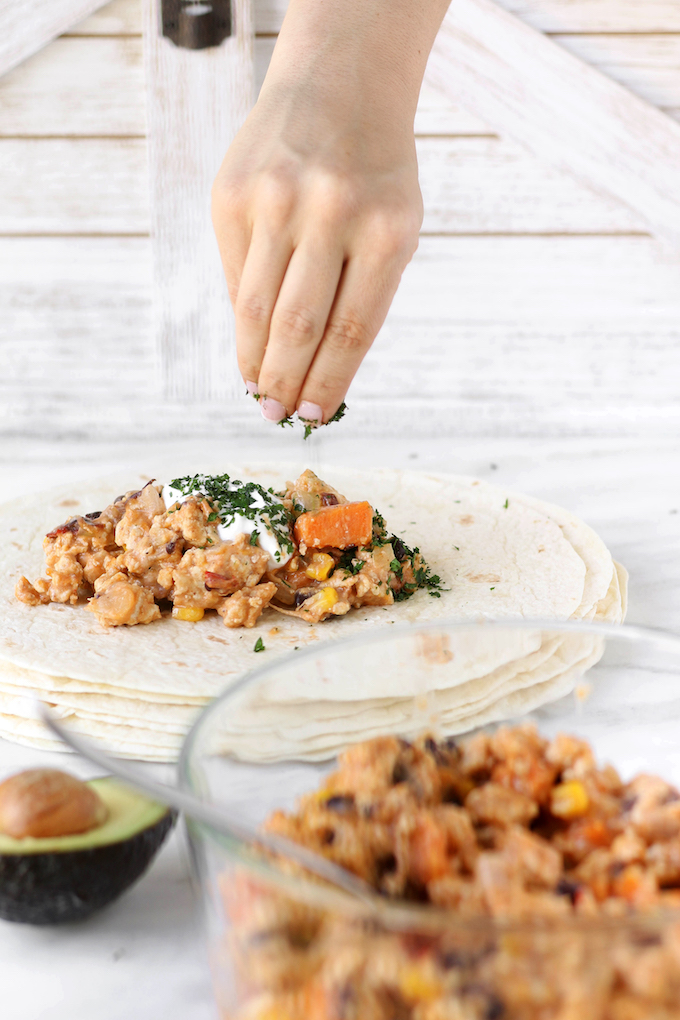 Roasted Potato, Spinach and Egg Breakfast Hash: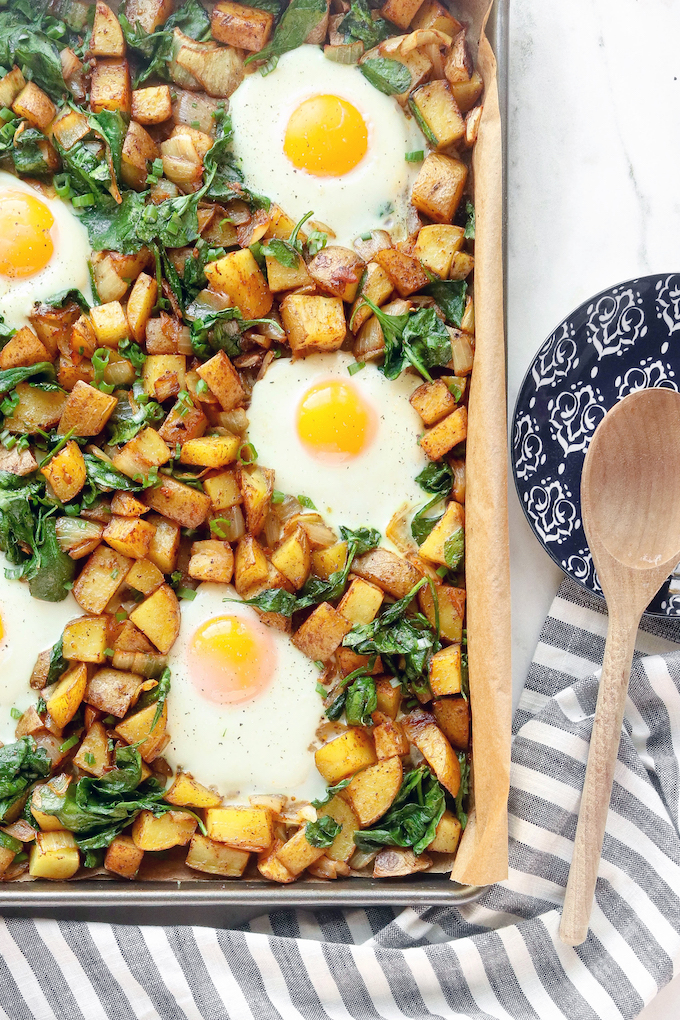 30-Minute Veggie Loaded Taco Soup: