Fresh Asparagus with Curry Dip is simple to make, requiring just 1 bowl, 10 minutes and 4 ingredients. Subbing Greek Yogurt for Mayonnaise gives this classic side-dish a healthy twist.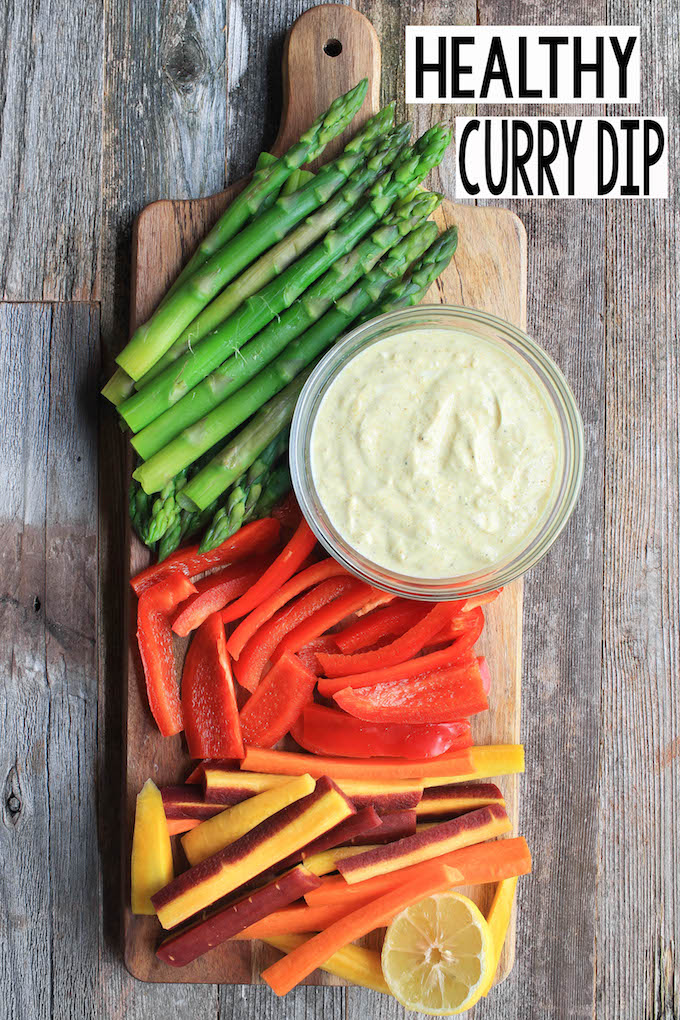 Last minute? Me? Nope, never ?.
You guys, if I get to brush my teeth for the full 2 minutes that my electric toothbrush requires of me before frantically pulling on my standard uniform of black yoga capris, t-shirt and running shoes prior to racing out the door (boys in tow) I consider it a victory.It doesn't matter what time it is, how long I have known about the commitment or what activities occurred before or after.. I'm always in a rush.
It didn't use to be this way. In fact, in another lifetime I allowed a full 60 minutes to get dressed, wore pants that buttoned and wouldn't have been caught dead in flats. Aaaannnd then.. kids. These days make-up, hair straighteners and pants that button are reserved for special occasions.
Friends, there have been A LOT of special occasions in my life this month. Birthdays, graduations, Mother's Day, dinner parties, house guests.. AKA.. lots of make-up, hair fixing, pant-buttoning (<-- so sad I just wrote that) AAANNND obviously.. cooking.
In said prior life, I LOVED bringing swanky appetizers, complicated side dishes and meticulously decorated desserts to ALL the special occasions. These days, getting myself and 2 boys dressed presentably, packing a diaper bag and navigating Cam's frequent tantrums (terrible twos end at 3.. right??) leaves approximately 15 minutes (if everything goes perfectly) to throw together whatever food it is that I signed up to contribute.
For the first round of soirées.. I brought Simple Corn Salad to Every. Single. Event. Then, the same people started showing up. Soooo, round 2 is going to be all about THIS Fresh Asparagus with Curry Dip.
Fresh Asparagus and Curry Dip has many things going for it.
It comes together in under 10 minutes.
It can be made 2-3 days in advance and still taste totally fresh.
It is served cold. No worries about serving it at it's optimal temperature.
It. Is. Delicious.
FACT: At 2 dinner parties that we hosted, we served identical menus (find something easy, roll with it) of NY Strip Steak, loaded twice baked sweet potatoes, fresh asparagus and curry dip and homemade ice-cream.
FACT: The curry dip stole the show. Twice.
FACT: When you spent 90 minutes meticulously preparing and loading said sweet potatoes.. guests raving about your curry dip that took all of 5 minutes to throw together gets you feeling all ?.
Glass half full.. another quick recipe to add to my arsenal of recipes that make people think you spent hours slaving away in the kitchen when in reality it only took minutes!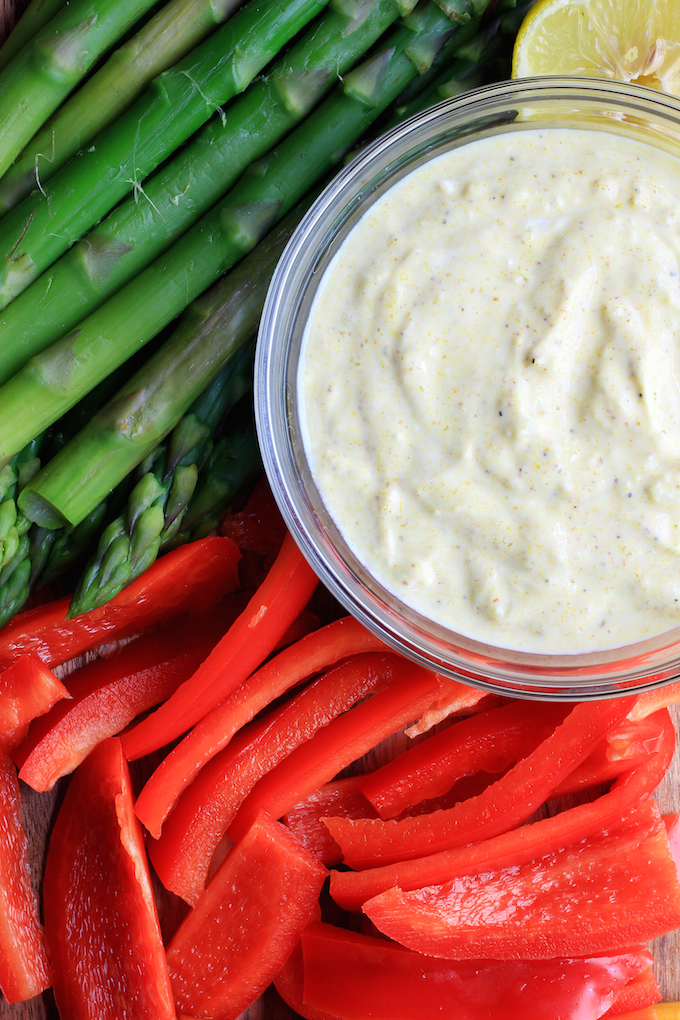 Time Saving Tips and Tricks:
Prep: This recipe takes so little time that it really isn't necessary to prep ahead. The amount of time it takes to blanche the asparagus matches up perfectly with the time it takes to throw the curry dip together.
Make Ahead: Yes! The dip can be made 1-3 days in advance and the asparagus can be blanched the night before. Cover dip and asparagus with plastic wrap and store in the refrigerator until needed.
Freezer: Sorry, not this time.
Print
Fresh Asparagus with Curry Dip
Author:

Prep Time:

5 mins

Cook Time:

4 mins

Total Time:

9 minutes

Yield:

1 cup

1

x
---
Description
Fresh Asparagus with Curry Dip is simple to make, requiring just 1 bowl, 10 minutes and 4 ingredients. Subbing Greek Yogurt for Mayonnaise gives this classic side-dish a healthy twist.
---
1 cup

greek yogurt, strained

½ cup

mayonnaise

2 tsp

curry

½

tbs lemon juice

1 ½

tbs grated onion

1

-

2

bunches of blanched asparagus, for dipping (you could use other fresh veggies as well)
---
Instructions
ASPARAGUS: Bring a large pot of water to a boil over medium high heat. Clean and trim asparagus. Once water begins to boil, add asparagus. Boil for asparagus until tender crisp, about 3-4 minutes. Remove asparagus from water and immediately place it in a bowl of ice water to stop the cooking process.
CURRY DIP: In a small bowl, combine yogurt, curry, lemon juice and onion. Stir until fully combined.
---
Helpful Hints:
This recipe was adapted from Paula Deen. I swapped out ½ of the may for greek yogurt. I have tried the original recipe and it is delicious. You can use whatever ratio of greek yogurt to mayo that you prefer. Full disclosure.. the more mayo the better it tastes, BUT obviously greek yogurt is nutritionally superior. I say life is about balance.. go ½ and ½!
Credit to Hope Nabity for discovering this recipe. It has been a staple in our family for years!
Let's Connect:
Looking for more healthy whole-food recipes? Check out Simply Sissom on Pinterest. If you like it, follow! New pins are added daily from my favorite bloggers from around the web!
You can also find Simply Sissom on Instagram, Twitter and Facebook . Check it out and if you like what you see.. follow?!
Other Simple Recipes You Might Like: