Delicious, vegan friendly Roasted-Red Pepper Italian Pinwheels come together in 15 minutes with 9 ingredients. It's the perfect crowd-pleasing summer appetizer. #vegan #glutenfree #plantbased #wholefood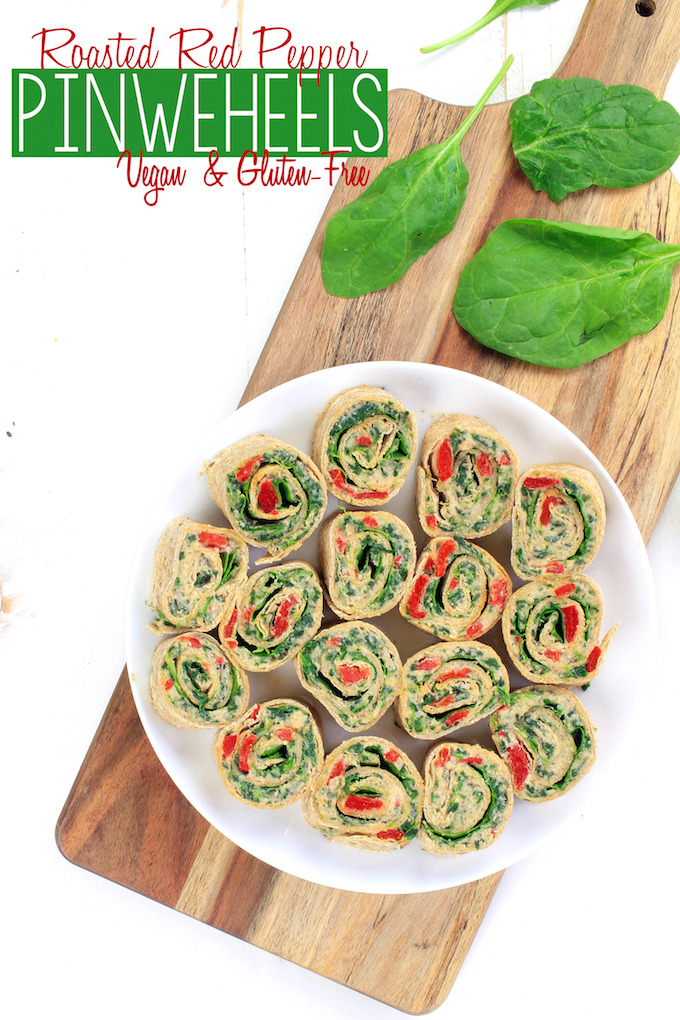 On the best days I patiently answer ALL 3,000 of Campbell's questions with patience, lovingly play the role of referee between the boys, sing silly songs while driving the kids to all 376 of their daily activities, prepare whole-food meals in which all food groups are represented, ensure that my children and myself are well-groomed and bathed, etc.
Friends, today was not one of those days. Today, I pretty much failed at life.
Let me break it down for you:
One of the chickens was involved in an unfortunate incident involving an improperly latched gate.. I'll spare you the details.
I COMPLETELY forgot about field day at Cooper's school. While he doesn't seem particularly scarred by this oversight.. awful doesn't even begin to describe how I feel.
Grooming and Cleanliness category.. FAIL. In addition to sending Cooper to field day wearing wrinkly khaki pants and a polo shirt (small victory.. he had on tennis shoes) Campbell has insisted on donning a fedora hat and braided belt to accessorize his athletic shorts and t-shirt. I'm not going to even talk about my appearance, it's just too shameful?.
So yes, today has been rough. And yes, tomorrow will be better. And yes, I am SOOOO glad that I have these Roasted Red Pepper Italian Pinwheels hanging out in my refrigerator from yesterdays "photo session" because you guys, the healthy whole-food lots of food group thing just isn't happening at my house tonight!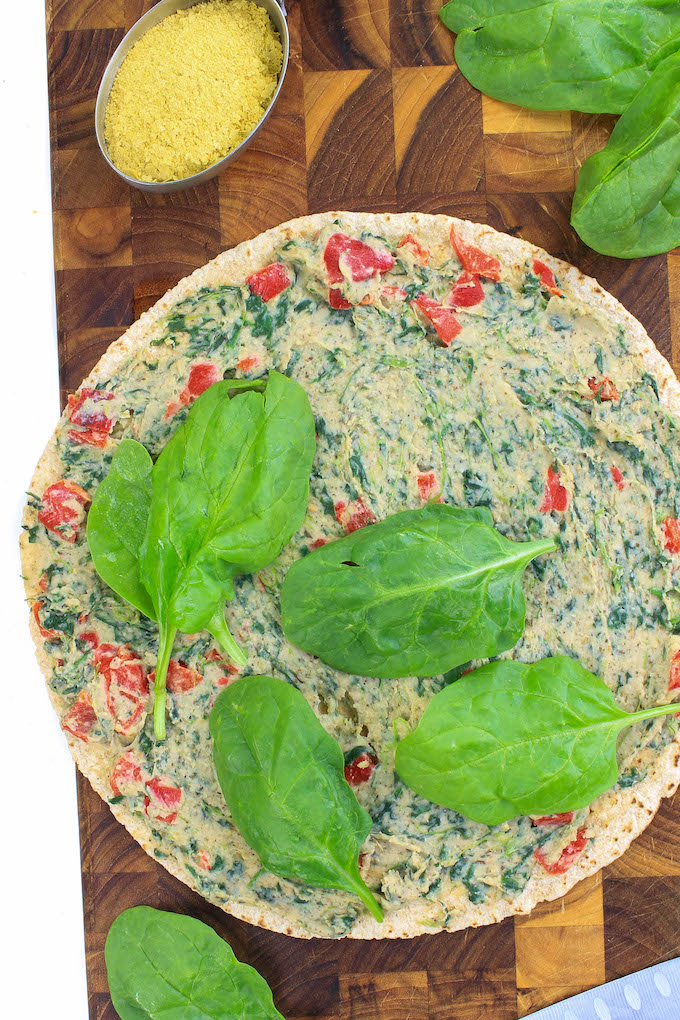 These Roasted Red Pepper Pinwheels are SOOO easy to make! A little chopping, a little food processing, a little rolling and DONE. They are loaded with protein from the beans, packed with nutrients thanks to the spinach and peppers and full of flavor from the garlic and "parmesan cheese." Best part, they can be made ahead, served straight from the fridge and leftovers are freezer friendly?. Basically, it's the perfect dinner for those days when you are sucking at life. Other people do that too, right???
Time Saving Tips and Tricks:
Prep: You can prep the filling ahead of time if you want, but the recipes comes together so quickly that it probably isn't worth dirtying up an extra bowl to store the filling in the fridge.
Make Ahead: Yes! These are best when made ahead (they hold their shape better after chillin in the fridge for a bit). Follow recipe directions, but don't slice until just before serving. They stay prettier that way!
Freezer: Full disclosure.. I haven't tried this (we ate all of our before I had a chance). However, I cannot think of a reason that these wouldn't be perfectly freezer friendly. Simply follow recipe directions, slice and arrange pinwheels on a baking sheet. Place baking sheet in the freezer for 1-2 hours or until pinwheels are frozen through. Remove baking tray from the freezer and place frozen pinwheels into a freezer safe, airtight Ziplock bag. To thaw, simply place them in the fridge overnight and serve once completely thawed.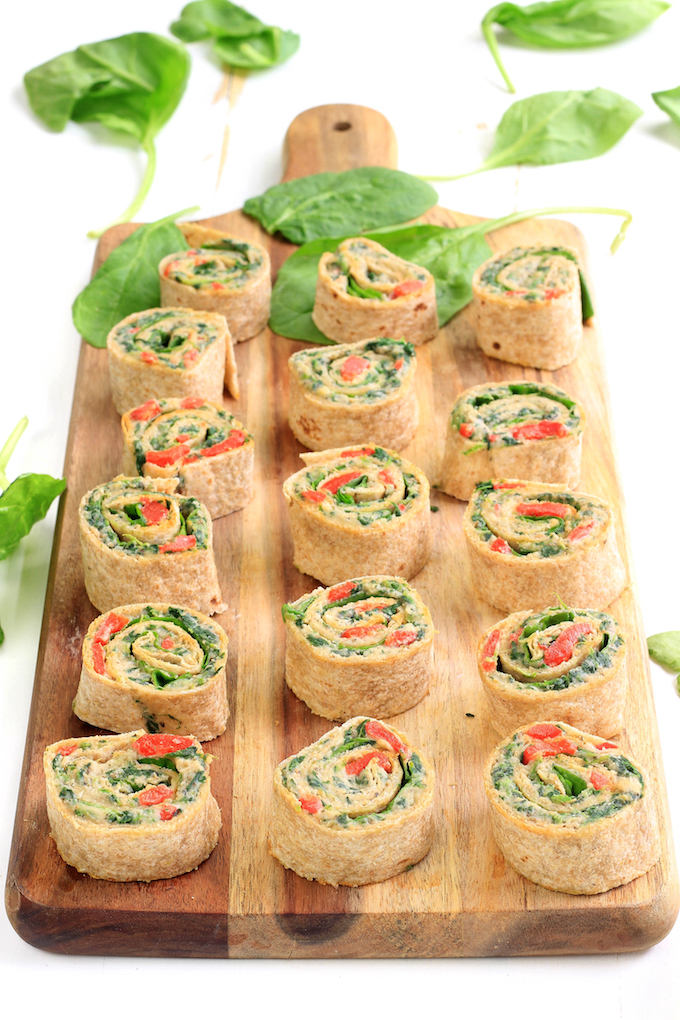 Print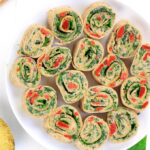 Roasted Red Pepper Italian Pinwheels
Author:

Prep Time:

10 mins

Total Time:

10 minutes

Yield:

16

pinwheels

1

x
---
Description
Delicious, vegan friendly Roasted-Red Pepper Italian Pinwheels come together in 15 minutes with 9 ingredients. It's the perfect crowd-pleasing summer appetizer. #vegan #glutenfree #plantbased #wholefood
---
2

garlic cloves, roughly chopped

¼ cup

grape seed oil (you can sub olive oil if desired)

1

15 oz. can Great Northern Beans, rinsed and drained

¼ cup

vegan "parmesan cheese" (recipe below in the helpful hints section of this post)

2 tsp

Italian seasoning

½ cup

roasted red peppers, patted dry and diced

⅓ cup

frozen chopped spinach, thawed and squeezed dry
pinch of salt and pepper

2

large whole wheat tortillas, or gluten-free variety
---
Instructions
In the bowl of a food processor, combine garlic, grape-seed oil, beans, vegan "parmesan,", Italian seasoning and salt/pepper. Pulse until smooth.
Remove mixture from food processor and place into a medium mixing bowl. Add peppers and spinach. Stir to incorporate. Taste and add additional seasoning as needed.
Cover each of the tortillas with ½ of the bean mixture (make sure to go all the way to the edge). Top with spinach leaves (make sure to leave one end "spinach leaf-less" so that the tortilla can stick to itself and create a seal.
Roll tortilla tightly and place it seam down on serving platter. Refrigerate for 15 minutes prior to using a seated knife to slice the rolls into 1" sections.
---
Helpful Hints:
Vegan Parmesan Cheese: In the bowl of a food processor, combine 3 TBS nutritional yeast, ¾ cups raw cashews, ¼ teaspoon garlic powder, ¾ teaspoon sea salt. Pulse until mixture is the texture of course sand.
If it is not important to you that the recipe be vegan friendly, you can substitute "vegan parmesan" for regular parmesan cheese.
Make sure that your frozen spinach isn't creamed spinach. Spinach should be the only ingredient listed. It is also important that you squeeze all the water from the spinach prior to adding it to the bean spread. To do this, wrap the cooked/cooled spinach in a kitchen towel and squeeze hard. Make sure to do this over a sink!
Nutritional Yeast can be found in most grocery stores. I found mine in the health food section.
Let's Connect:
Looking for more healthy whole-food recipes? Check out Simply Sissom on Pinterest. If you like it, follow! New pins are added daily from my favorite bloggers from around the web!
You can also find Simply Sissom on Instagram, Twitter and Facebook . Check it out and if you like what you see.. follow?!
Similar Recipes You Might Like:
Sun-Dried Tomato Basil Hummus: