Strawberry Spinach Salad with Candied Pecans is simple, requiring only 30 minutes. Tender spinach, crunchy pecans and juicy strawberries are tossed with a homemade tangy-sweet vegan dressing that is sure to please the whole family.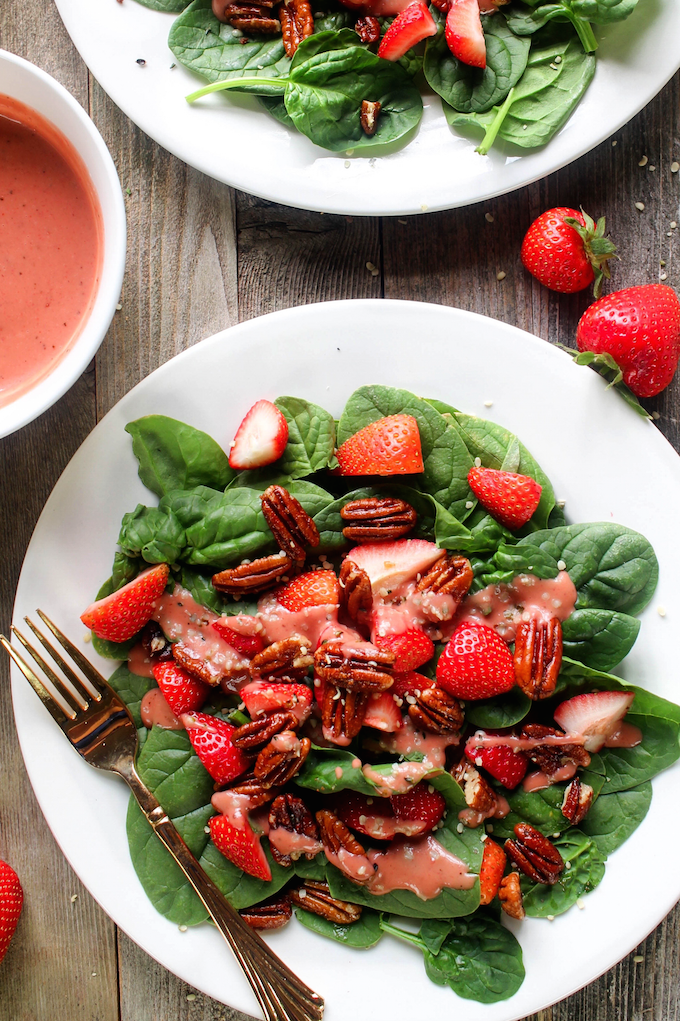 It happens Every. Single. Night.
I spend hours (ok.. maybe 45 minutes?) preparing 3 separate meals in a desperate attempt to satisfy everyone.
I know, I know.. I need to read the book French Kids Eat Everything and make some changes in my life. Maybe someday.
I'm gonna level with you.. for now, it's survival around here. Don't get me wrong, I fantasize of having children with sophisticated palates who scoff at the the idea of peanut butter and jelly for dinner when they could instead enjoy Coq Au Vin with an extra serving of mushrooms and lardons but let's be serious, not happening.
Now before I get emails and book suggestions crowding my in-box, let me clarify. My kids don't eat chicken nuggets, hotdogs and pizza while we dine on whole-food healthy meals. They eat veggies every night but prefer them raw instead of cooked. Joe tends to enjoy dishes with LOTS of flavor while the boys find anything that isn't questionably bland to be "spicy." You get the idea.
Just to complicated the issue further.. I personally choose to follow a mostly plant-based diet. Aka.. if it has meat or contains dairy, if I can muster the energy, I usually choose an alternative option.
In summary..dinner, well, it's a lot.
Que Strawberry Spinach Salad with Candied Pecans ❤️?? !!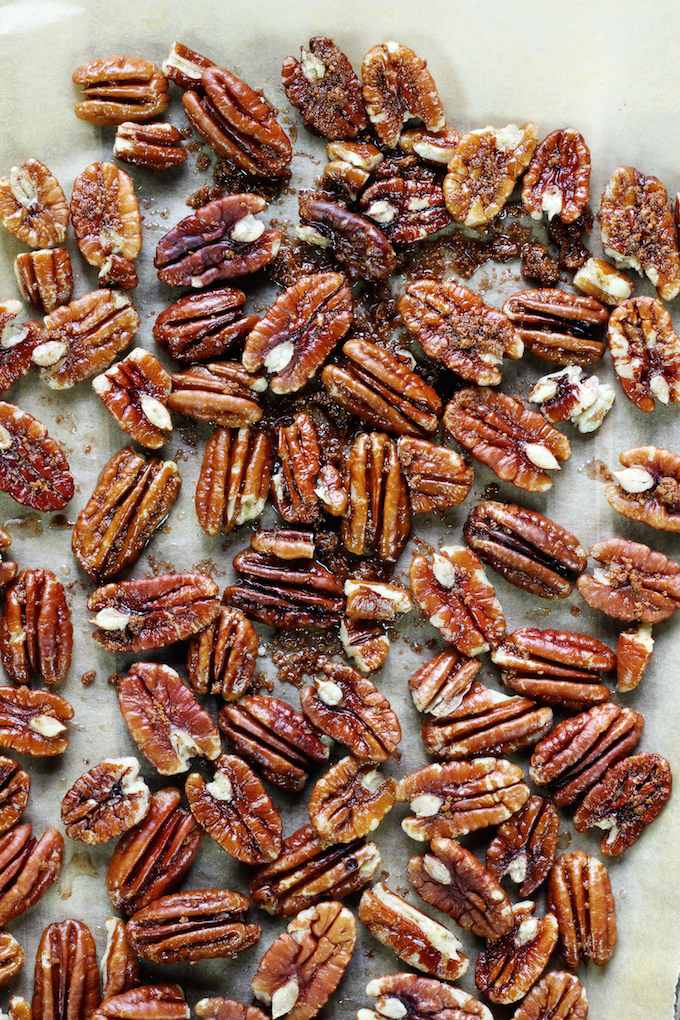 Not only is this salad fresh and delicious but, it comes together in 30 minutes and while each plate looked a bit different, it satisfied All. The. People. Let me break it down a bit:
BOYS (Picky Kids): As a general rule, my boys don't like their food to touch. Meaning, throwing all these ingredients into a salad and serving it up to them in a bowl isn't going to get me very far. So.. instead, I served this meal to them "deconstructed style." AKA.. strawberries, pecans, and a side of chicken. I chopped some cucumber up as well for good measure.
JOE (Meat Loving Men): You may have picked up on the fact that this salad doesn't contain any meat. You guys.. it really doesn't need it. There is a ton of protein in the pecans and hemp hearts, buuuuutttt some people just want meat. I tossed some chicken that I prepped on Sunday onto Joe's salad and there were NO complaints about salad for dinner.
Me (Plant-Based): Full disclosure, I made this recipe for myself. Something about beautiful weather and sunny skies brings out the best of my healthy intentions. So yes, throwing a bit of chicken on the salad and calling it dinner was an after thought?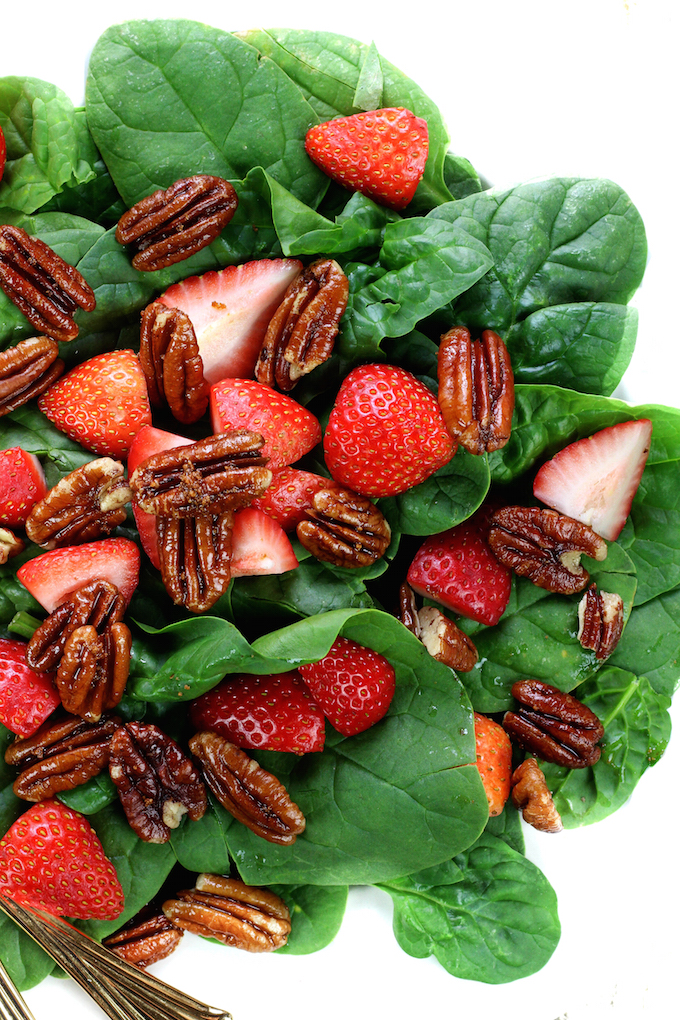 Time Saving Tips and Tricks:
Prep:  The actual assembly of this salad does not require much prep work. If you want to get a jump start you could pre chop the berries.
Make Ahead: Every component of this salad can be made ahead of time making this a perfect recipe for company. The dressing will keep in the refrigerator for up to 3 days (depending on the freshness of your strawberries). The candied pecans can be made up to a week ahead of time and if stored in the refrigerator  or a dark pantry.
Freezer: Nope, unfortunately you can't freeze these salads but the candied pecans and dressing are definitely freezer friendly. For the pecans, store in an airtight ziplock bag and freeze for up to 6 months. The salad dressing can also be stored in an airtight bag or container and kept for up to a month.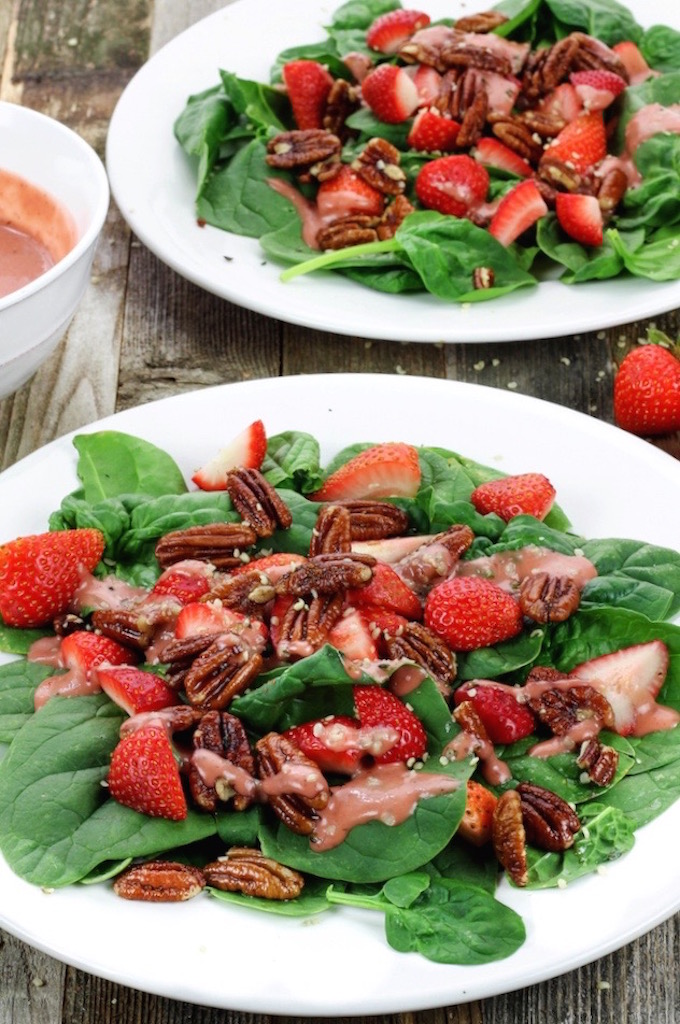 Print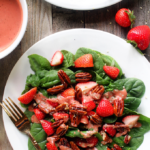 Strawberry Spinach Salad with Candied Pecans
Author:

Prep Time:

20 mins

Cook Time:

15 mins

Total Time:

35 minutes

Yield:

4

large salads or

8

side salads

1

x
---
Description
Strawberry Spinach Salad with Candied Pecans is simple, requiring only 30 minutes. Tender spinach, crunchy pecans and juicy strawberries are tossed with a homemade tangy-sweet vegan dressing that is sure to please the whole family.
---
1 cup

grape seed oil

1 pint

fresh strawberries, halved (divided)

3

TBS balsamic vinegar

½ tsp

salt

¼ tsp

ground black pepper

¼ tsp

ground tarragon

1

-

2

TBS honey (depending on desired amount of sweetness)

1 cup

raw pecan halves

3

TBS coconut oil, melted

2

TBS coconut sugar
Pinch of salt
Pinch of cinnamon

10 oz

. fresh spinach
---
Instructions
DRESSING: In a blender or food processor, mix grape seed oil, ½ pint of fresh strawberries, balsamic vinegar, salt, pepper, tarragon and desired amount of honey (start with 1 TBS and add as needed) and blend until fully incorporated. Set aside.
CANDIED PECANS: Heat oven to 325 degrees and place pecans on a parchment-lined baking sheet. Roast for 5-6 mintues (watch carefully, they burn easily). While pecans are baking, combine coconut oil, coconut sugar, salt and cinnamon in a small bowl. Whisk to combine. Remove toasted pecans from the oven, toss with coconut oil mixture and spread them back out on the baking sheet. Toast for an additional 4-6 minutes or until fragrant and golden brown. Allow pecans to cool before adding them to the salad.
ASSEMBLY: Divide spinach equally into 4 bowls. Top with ¼ of the remaining fresh strawberries. Add ¼ cup of candied pecans to each salad. Drizzle desired amount of dressing on each salad and sprinkle liberally with hemp hearts.
---
Helpful Hints:
If your family is anything like mine.. a meatless dinner isn't going to fly. THIS CHICKEN is simple and a delicious addition to this salad. If you go this route, make the honey-bourbon chicken skillet prior to the strawberry salad and add the leftover chicken to the mix the following night!
Not digging salad as a main meal? This would be a delicious side-dish or lunch options.
If you don't have grape seed oil you could definitely sub it out for an oil of your choice. I used grape seed oil because the flavor is much milder than olive oil.
The pecans pair wonderfully with the strawberries but you can "candy" any type of nut that you desire. I think almonds are walnuts would also be excellent options.
Don't be afraid to customize the final dressing to your personal taste. A bit of honey will add extra sweetness while an extra splash of balsamic will the the dressing a tangier flavor.
Let's Connect:
Looking for more healthy whole-food recipes? Check out Simply Sissom on Pinterest. If you like it, follow! New pins are added daily from my favorite bloggers from around the web!
As always, if you try out this recipe, let me know! Leave a comment, rate it, and don't forget to tag a picture #simplysissom Instagram or Twitter . I'd love to see what you come up with?
Other Yummy Salad Recipes: