Superfood Hot Chocolate is sweet, creamy, chocolatey, decadent and full of "good for you ingredients" that are guaranteed to keep you feeling amazing all season long.
Pin Superfood Hot Chocolate for later!!
It's that time of year again!  Baking, decorating, tradition making, crafting, gift buying, social events, and family time. It's exciting, and fun, and wonderful.. but EXHAUSTING. I find myself losing sleep, skipping meals, fighting crowds to keep up with everything. Not very relaxing.
Don't get me wrong, much of this so called "stress" is self-inflicted. Last year,  I spent no less than 6 hours (<--- don't ask) making homemade cinnamon rolls for Christmas morning. And not the "whole-food" kind.  I had visions of my family waking up to their delicious smell, gathering around the table in laughter and conversation. Creating memories that would last a lifetime. You know, Hallmark movie stuff.
They didn't like them. They didn't eat them. No table. No laughter. No conversation. I was literally begging my children to eat cinnamon rolls. WHAT???
This year I am going to slow down make and make very intentional decisions about what is and is not worth my time (aka.. no cinnamon rolls). I'm also going to take time to relax and take care of myself.. it is the holidays after all!
As an act of indulgence, and to keep my energy high and stress levels low, I'm going to drink hot chocolate.

Yes you read that correctly, hot chocolate. But not just any hot chocolate ... Superfood Hot Chocolate. We are talking 100% cacao, maca powder (<-- think stamina, energy, calming),  coconut oil, turmeric, cinnamon, and fresh ground nutmeg. It's decadent, but packed with nutrient dense ingredients that are guaranteed to make you feel amazing all season long.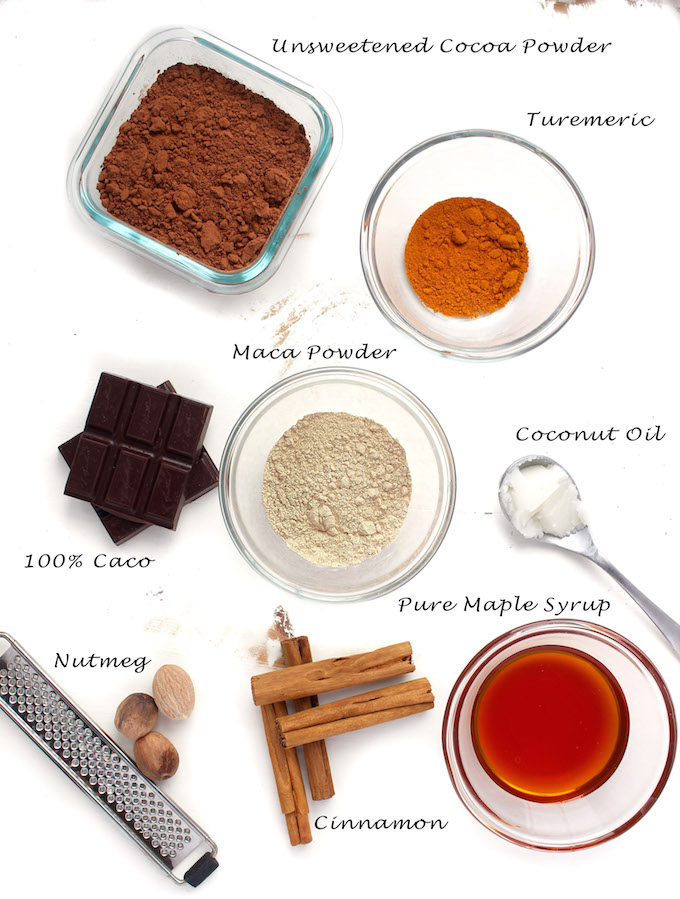 Maca Powder: Maca, a Peruvian root that belongs to the radish family, is mostly found in powder form. It's rich in vitamins B, C and E. It also provides calcium, zinc, iron, magnesium, phosphorus, and amino acids. It has all types of healthy benefits such as increased stamina, energy, and bone health. It is also commonly used to fight stress, depression, and mood swings. Added bonus... it's great for your complexion!
Cacao: One of the best sources of magnesium found in nature. It is also a rich source of anti-oxidants. Studies show it lowers blood pressure and improves cardiac health.
Coconut Oil: Supports thyroid and hormone balance, boosts energy, curbs cravings and gut health, increases metabolism, strengthens immune system,  and improves brain function.
Turmeric: Turmeric has been used in India for thousands of years as a medicinal herb. It contains churchmen, which has powerful anti-inflammatory effects and is a strong anti-oxidant (prevents aging and disease).
Cinnamon: Cinnamon boosts brain function, controls blood sugar, improves gut health, protects against heart disease, improves circulation, fights respiratory infection, prevents cancer, reduces cholesterol, and is a powerful anti-inflammatory.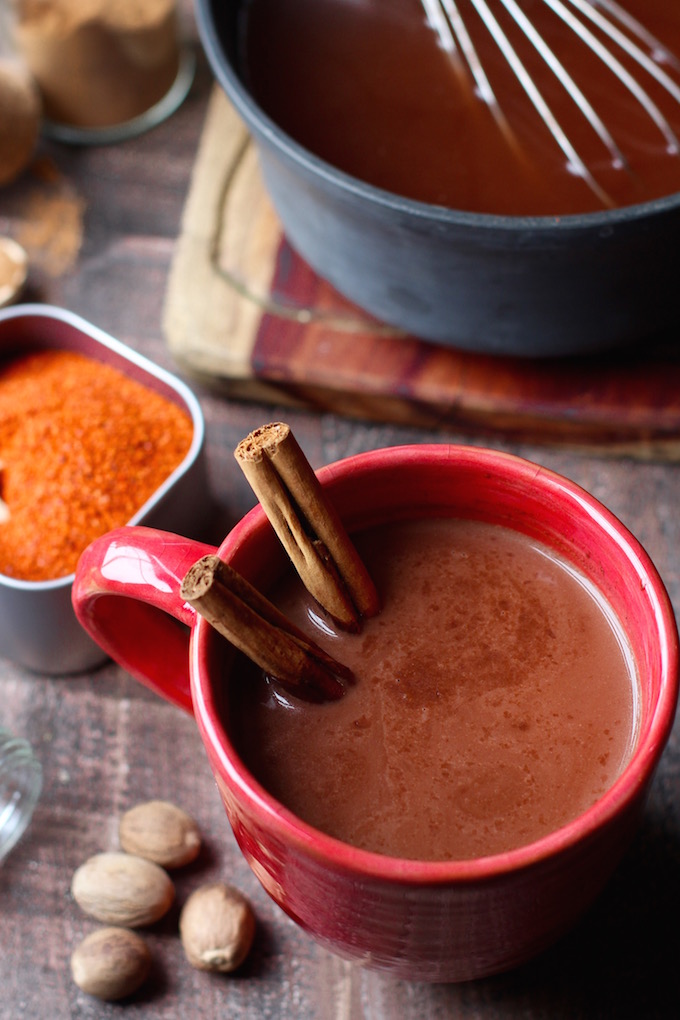 Print
📖 Recipe
Superfood Hot Chocolate
Author:

Prep Time:

5 mins

Cook Time:

7 mins

Total Time:

12 minutes

Yield:

2 cups

1

x
---
2 cups

milk (I used unsweetened almond milk)
Vanilla Bean, 1 small piece

1 oz

100% cacao chocolate

1

TBS unsweetened cocoa powder

1 tsp

Maca Powder

¼ tsp

turmeric

¼ tsp

cinnamon
sprinkle of sea salt

2

-

3

TBS Maple Syrup or Raw Honey (to sweeten)

½

TBS coconut oil
---
Instructions
In a small pot over medium heat, combine milk and vanilla. Whisk continuously until mixture is hot, but not boiling.
Add remaining ingredients. Whisk until combined.
Serve immediately.
---
Helpful Hints:
Don't confuse Maca with Matcha... they are different (which is actually how I discovered Maca in the first place). I found mine at Whole Foods but it is available in most health stores or online. It's pricey, but will last for a long time since you use such small amounts. If you want to skip it, the hot chocolate will still be delicious!
If 100% cacao is too much for you, it's a bit bitter you can bump down to a lower percentage. If you use less cacao make sure to reduce the amount of maple syrup or honey that you use to offset the increased sweetness.
I feel that it is important to tell you.. this tastes good. I know the ingredients look strange, but if I didn't tell you that they were in there you really wouldn't notice. My 5 year old son drinks it and LOVES it!
I'm not a doctor, but I have read that if you are nursing or pregnant you should not consume Maca.
Let's Connect:
More Recipes Like Superfood Hot Chocolate:
Whole Food Honey Roasted Almonds:
Superfood Dark Chocolate Quinoa Bark:

Dye Naturally: Free Downlaod
How to Make Natural Food Coloring for Christmas Baking + Whole Food Christmas Cookie Recipe.