Superfood Dark Chocolate Quinoa Bark is simple to make requiring just 8 ingredients and 15 minutes prep. Nuts, seeds, dried fruit and dark chocolate combine to make a nutrient dense snack perfect for busting sugar cravings.
Pin Superfood Dark Chocolate Quinoa Bark for later!
It's  a simple 2 layer Superfood Dark Chocolate Quinoa Bark: crunchy toasted nuts and seeds held together with honey on the bottom and decadent dark chocolate studded with cranberries, sliced almonds and pistachios on the top.
I know, I know...  quinoa in chocolate? I had questions too.
But, YES!!!
It's true. I''m going full on hippy on you today with this granola style dark chocolate bark.
You guys, this flavor combination is odd. I get it. But really, it's straight up lovely.
That's what it is. I mean, lovely among other things like, fancy, and crunchy, and sweet, and completely perfect.
I went all fancy on you and named it "Dark Chocolate Superfood Quinoa Bark, " because, well.. it seemed like what a real "food blogger" would do. But I'm going to level with you, it's a homemade candy bar. Aannnnnd now that I have learned how to make them.. EVERYBODY I know is getting some. Valentines day parties, hostess gifts, thanks for babysitting ...you get the idea. You could definitely play with the toppings to make these bars holiday appropriate. Go with pistachios for St. Patrick's Day, coconut and cranberries for Valentines Day, blueberries, cranberries and coconut for the 4th of July. Ok, Ok.. I know, you get it. I get a little excited when there is a theme involved.
NOTE: I have lots of toppings on these guys because, well.. pretty pictures. But, in real life I often just do the dark chocolate with a sprinkle of sea salt. My boys won't touch this with the "fancy toppings."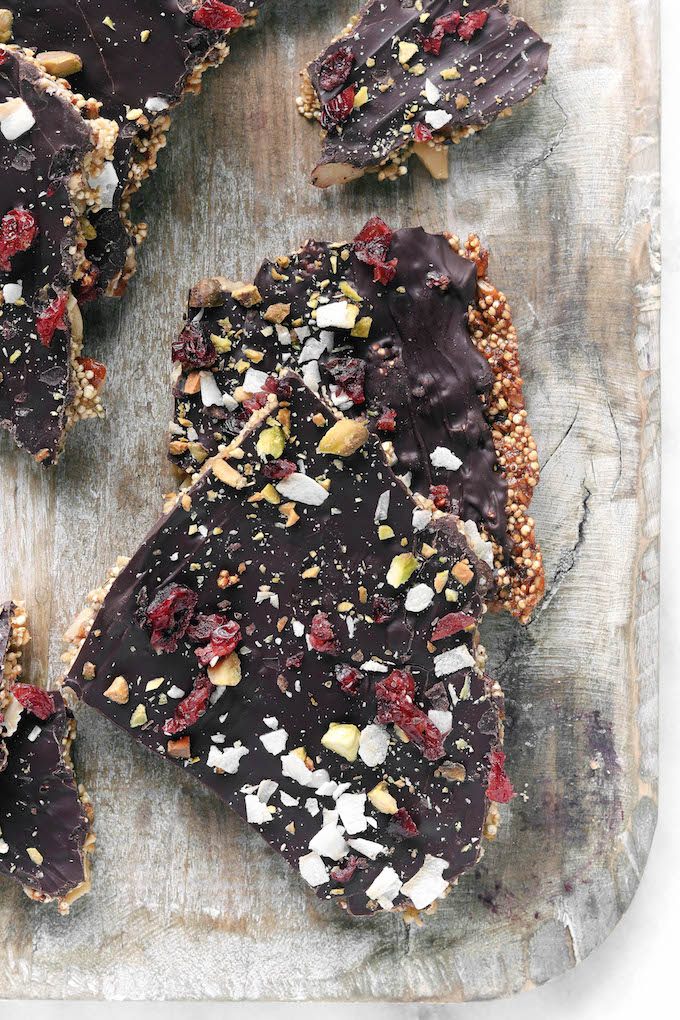 All that stuff that I wrote up there about this Dark Chocolate Superfood Quinoa Bark .. all true, but not even the best reason to make it. You guys.. this stuff is LOADED with good for you ingredients. Think chia seeds, flax, quinoa, pistachios, pecans, cranberries.. you get the idea.
That said.. don't let me lost you with the long-list of fancy ingredients. This recipe is totally customizable. Don't have hemp hearts, use flax or chia. Don't have either.. add extra nuts, quinoa or use a different seed. This recipe isn't picky. As long as you use the suggested amount of quinoa,  1 cup of nuts and ½ a cup of seeds you won't throw off the ratios.
Time Saving Tips and Tricks:
Prep: This recipe is so simple that there is little reason to prep ahead. You could make the quinoa/nut/seed base ahead of time. Just cook according to recipe directions and store it in the refrigerator until you are ready to add the chocolate and the toppings.
Make Ahead: Yes! The bark needs to be completely cooled before you can serve it.  Making ahead is not only possible, it's necessary. Follow recipe directions and store in the refrigerator for up to a week.
Freezer: You bet! This is my favorite way to store quinoa bark. Follow recipe directions and then store in an airtight ziplock bag. When you need a snack.. pull out a little piece. You can eat it straight from the freezer or let it thaw a few minutes first. Either way, it's delightful!
Print
Superfood Dark Chocolate Quinoa Bark
Author:

Prep Time:

15 mins

Cook Time:

25 mins

Total Time:

40 minutes

Yield:

20

servings

1

x
---
½ cup

honey

2

TBS coconut oil

2 tsp

vanilla
pinch of sea salt

1 cup

uncooked quinoa, rinsed and dried

1 cup

nuts, roughly chopped (I used pistachios, pecans and sliced almonds)

⅓ cup

mixed raw seeds (I used a combination of hemp hearts and chia)

12 oz

dark chocolate, roughly chopped
OPTIONAL: cranberries, Coconut Flakes and additional nuts for topping 
---
Instructions
Preheat the oven to 350 degrees. Line a rimmed baking sheet with parchment paper.
In a small pot, melt together honey and coconut oil over medium low heat (stir continuously) until smooth. This took me about 2 minutes. Stir in vanilla and salt. Set aside.
In a large mixing bowl, combine quinoa, nuts and seeds. Stir to combine. Add honey/coconut oil mixture to the bowl. Use a rubber spatula to mix until all the dry ingredients are evenly coated with the wet ingredients.
Spread out the mixture onto the prepared baking sheet in a thin (about ¼") even layer. It will spread as it cooks so leave a good amount of room around the edges.
Bake for 15-25 minutes, or until the quinoa is golden brown and crisp. The edges may appear to "burnt", don't panic.
While the bark is cooking, add chopped chocolate to a glass bowl and place the bowl over the top of a pot of boiling water to create a double boiler. Make sure that the bottom of the glass bowl is not touching the water. Stir regularly until the chocolate has completely melted and becomes smooth. Pour chocolate over the cooked quinoa bark in an even layer. Sprinkle with desired toppings.
Place the pan in the freezer for 15 minutes, or until chocolate has completely solidified. Remove from freezer and break into desired size pieces. Store in a sealed Ziplock bag in the fridge or freezer.
---
Notes
To make this recipe vegan friendly sub maple syrup for the honey and use a  dairy free dark chocolate substitute.
Purchasing high quality chocolate is worth the splurge. Just a quick glance at the ingredient list of low quality chocolate can confirm that. I used organic 70% cacao chocolate made from cacao, pure cane sugar and vanilla bean. You really don't need much else!
The quinoa does not need to be cooked prior to adding it to this recipe. Quinoa is actually a seed even though we often treat it as pasta. It will toast up perfectly in the oven.
Let's Connect:
You can  find Simply Sissom on Instagram where I share even more recipes (some that aren't on the blog), behind the scenes pics and videos AND tips and tricks to make healthy eating realistic for your busy family.
Recipes Like Superfood Dark Chocolate Quinoa Bark:
Almond Butter and Blueberry Cookies: