I was asked to participate in Hodgson Mill's #NewYearNewGrain18 campaign as a member of the Healthy Aperture Blogger Network. I was compensated for my time.
This Warm Grains and Greens Salad is simple to throw together and make ahead friendly.  With 3 whole grains (KAMUT® wheat, Sorghum & Teff), TONS of fresh greens, garlic peppercorn chicken, juicy berries and a simple lemon vinaigrette..healthy has never tasted better!
Pin Warm Grains and Greens Salad for later!
You guys, this Warm Grains and Greens Salad  is the kind of dish that makes you feel healthy just for looking at it. Seriously, it's loaded with good for you stuff. Think whole-grains, lean chicken, healthy fats, fresh fruit and All. The. Greens. 
Don't be skeptical. I know, it has a bit of a hippy feel, embrace it!
This salad is fresh, flavorful and best of all, throws together in under 30 minutes (especially if you use my tips in the helpful hints section below).
Oh yeah.. did I mention that it's make-ahead friendly???
Hodgson Mill Products are my absolute go-to in the grain department. For this recipe, I chose to use their Ancient Grain Medley - Rosemary and Olive Oil Variety.
Ancient Grains (KAMUT® wheat, Sorghum and Teff) + Modern Flavors (Rosemary and Olive Oil) = Match (Scientific Fact).
Introducing "New" ancient grains, with unfamiliar flavors or textures, doesn't have to be difficult- and it can also be delicious! Whole Grains are specifically produced to retain all parts of the grain- often grains are refined to remove the nutritious bran and germ, which are packed with flavor, vitamins and minerals.
I like choosing a whole-grain medley as opposed to purchasing 3 separate whole grains to include in a recipe because, well.. it keeps things simple and simple is kind of my thing.
For greens, I used a combination of broccoli, spinach and cabbage. That said, this recipe is nothing if not flexible. Don't like cabbage, swap it out for bok-choy, have some kale hanging out in the fridge, throw it in!  As long as you stick to between 6-8 cups of veggies, throw in what you like.
Once the grains, chicken and green are cooked, mix it all up and toss it with a super simple lemon vinaigrette. Top it off with a sprinkle of fresh berries. Seriously you guys.. this Warm Grains and Greens Salad showcases whole-foods at their finest.
Time Saving Tips and Tricks
Prep: Making Ancient Grain Medley ahead of time assures that assembling this salad is really simple. You can also wash and pre-chop all of your greens.
Make Ahead: Yes! It's one of my favorite things about this salad. I make the full recipe and then divvy it out into 4-5 individual portions to eat for lunches throughout the week.
Freezer: Sorry guys.. not this time!
Print
📖 Recipe
Warm Grains and Greens Salad
---
2

TBS olive oil

½

red onion

3

garlic cloves, minced

3 cups

broccoli

3 cups

baby spinach or kale

2 cups

green cabbage, shredded

2 cups

shredded chicken, prepared
Zest and juice of 2 lemons

¾ cup

fresh berries
salt and pepper to taste
---
Instructions
Prepare Hodgson Mill Ancient Grain Medley according to package instructions.
While grains are cooking, heat 2 Tbs. of olive oil in a wok or large skillet over medium-high heat. Add onions and cook until translucent, about 5 minutes. Add garlic, cook 1 minute or until fragrant. Add broccoli and cabbage. Cook for 3-4 minutes. With about 1 minute until all the veggies are tender, add spinach and chicken and cook until spinach is wilted and chicken is warmed through. Remove from heat.
To the cooked veggies/chicken, add grains, lemon juice/zest. Season to taste with salt and pepper. Finish the recipe with a sprinkle of berries over the top of the salad.
---
Notes
You can sub pomegranate seeds, oranges, or any other type of fruit you like for the fresh berries.
Greens used in this recipe are just a recommendation, use what you have on hand.
If you don't want to prepare shredded chicken, you can purchase a rotisserie chicken from the deli at your local grocery store.
Helpful Hints:
Hodgson Mill side dishes are new, and can be found in-store in select areas, but can also be purchased online on the Hodgson Mill Website or on Amazon.
Let's Connect:
Recipes Like Warm Grains and Greens Salad: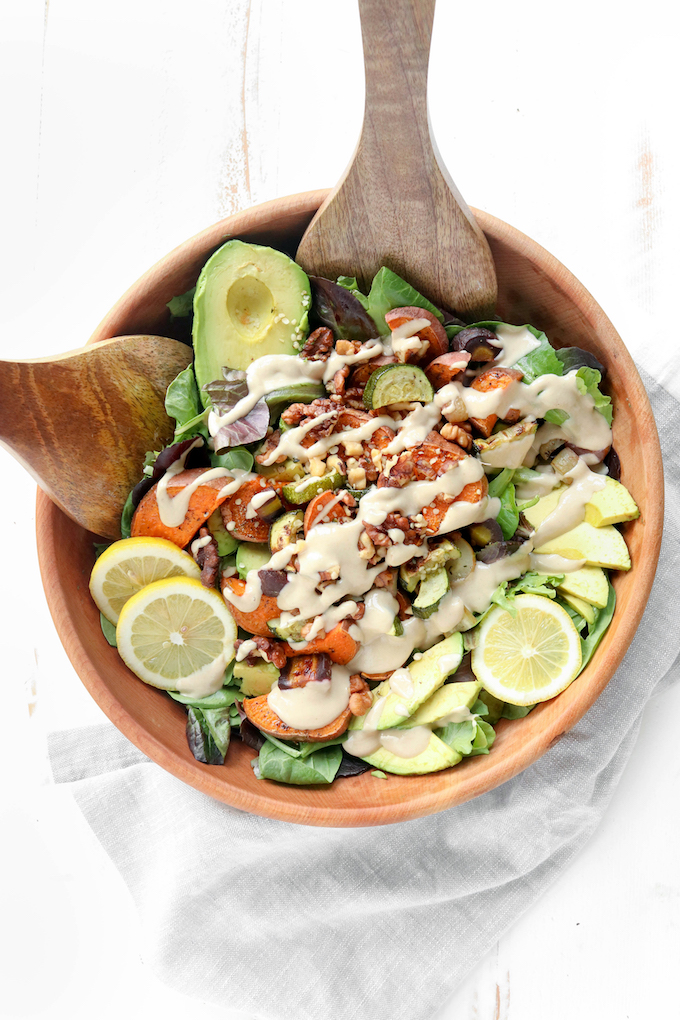 Strawberry Spinach Salad with Candied Pecans: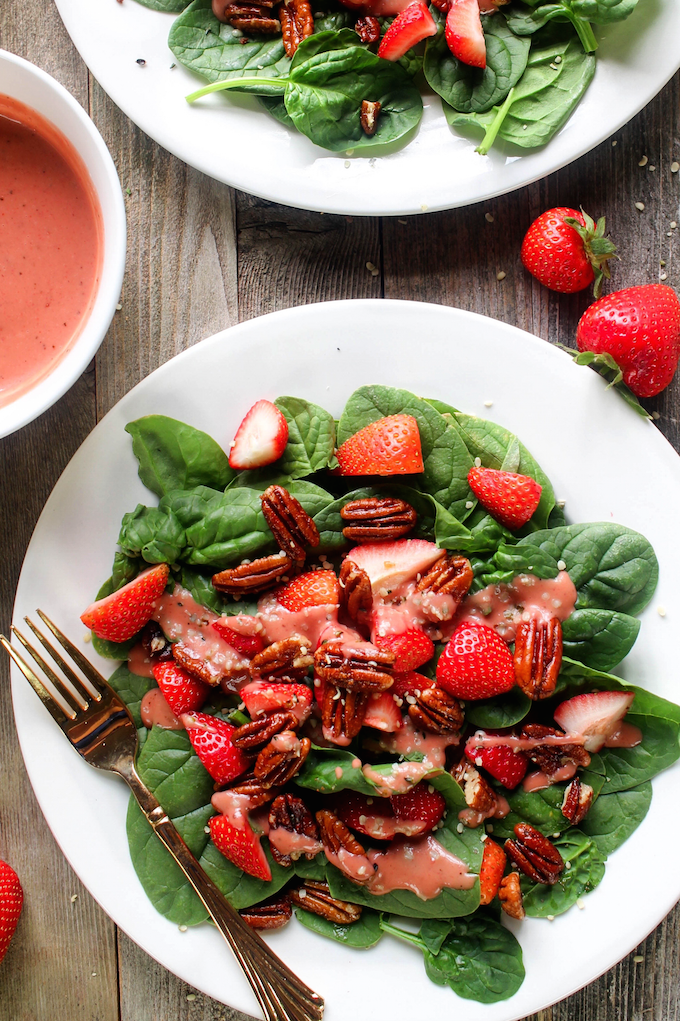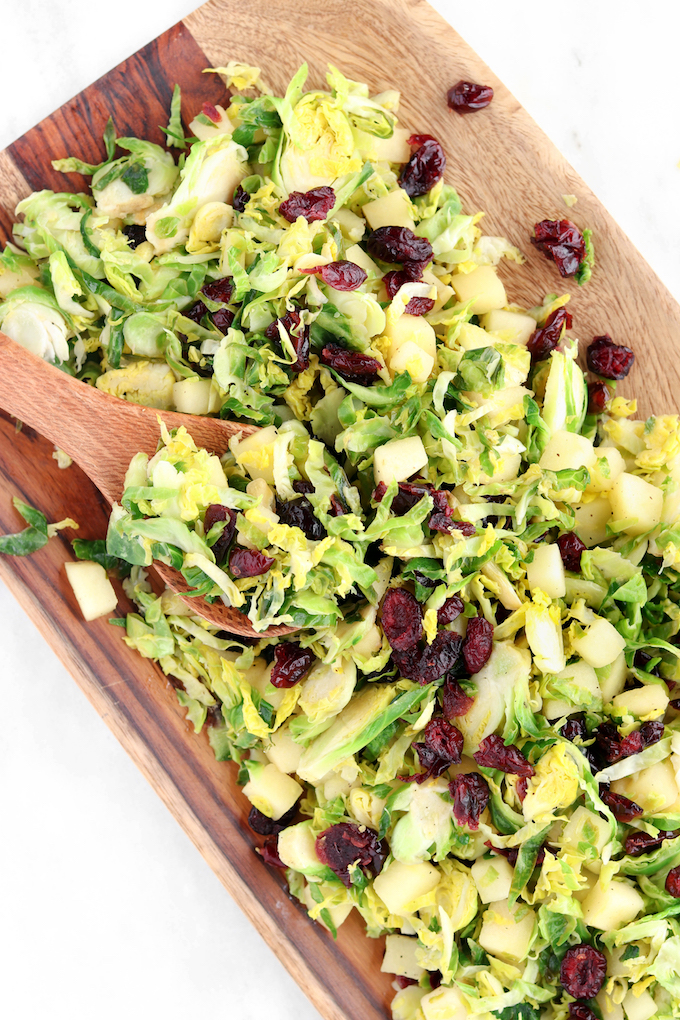 SaveSave
SaveSave
SaveSave
SaveSave
SaveSave
SaveSave
SaveSave
SaveSave
SaveSave