1-Bowl Whole-Grain Blueberry Muffins  naturally sweetened, healthy and seriously delicious.
Pin Whole-Grain Blueberry Muffins for later!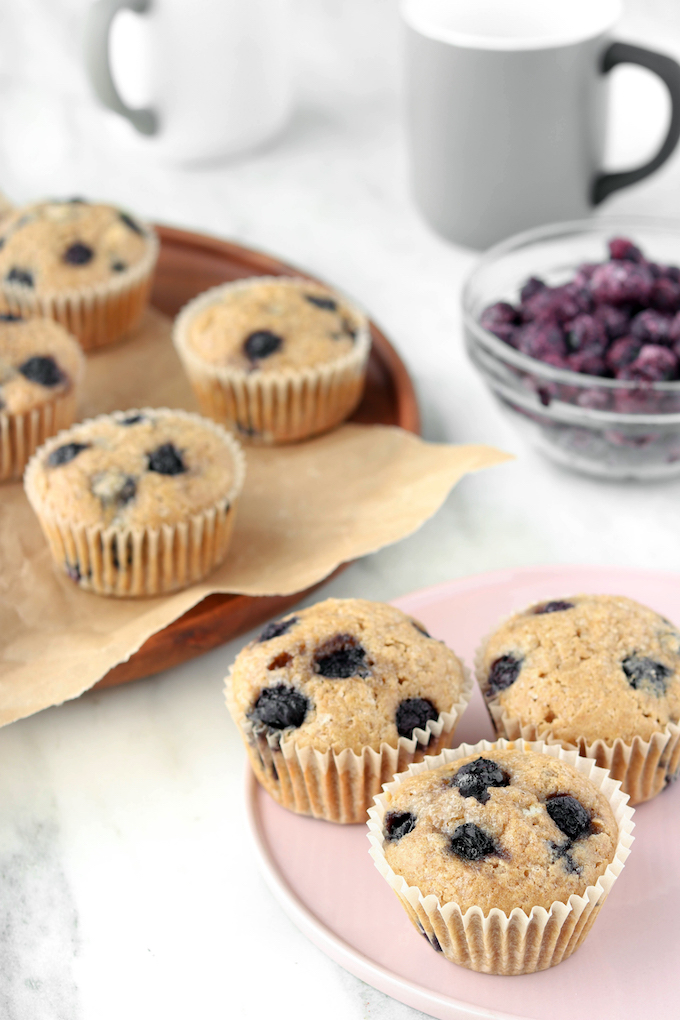 Aren't they pretty? If you don't think so, lie.
Without exaggeration.. I made 5 batches of muffins to get these pics. I know, I have a documented history of stretching the  numbers a bit, ok a A LOT. But, you guys, this claim is legit.
Making muffins that don't taste like bricks AND are made from whole-grains AND are free from refined sugars and oils, well... it was a little challenging.
Adding to the challenge, SNOW DAYS.
Snow Days = Kids home.
Kids home = recipe testing assistants.
Recipe testing assistants = Fighting (who knew that being the one to pour the blueberries into the batter was such a desired position) and spilled ingredients.
Fighting and spillage = MORE time.
Buuuuut, we persevered.  We baked blueberry muffins until the sun came out.  Now we have simple healthy blueberry muffins that taste great and are made with whole-food ingredients. Or at least we did... they're long gone. (and I don't even have to feel guilty about it). I'm telling you, this is a good one!
Time Saving Tips and Tricks:
Prep: As you throw together your first batch of these muffins, why not make a mix of the dry ingredients for a future muffin making session? I like to take out 2 large bowls, and just make the 2 mixes side by side. It takes very little extra time. Next time you make muffins, just add the wet ingredients and mix. It's just like a store bought muffin mix but SOOO much healthier.
Make Ahead: Since I made 5 batches, I am the queen of make-ahead muffins this week. These whole-grain blueberry muffins are perfect for school lunches, snacks, and even grab-and-go breakfast situations. I am storing mine in the refrigerator (I find they keep better) and serving them out at request.
Freezer: As I have mentioned, over and over (I'm sorry), I MADE 5 BATCHES OF MUFFINS this weekend. Yes, they can be frozen! Wrap each muffin individually in plastic wrap and store in the freezer. To thaw, pop them in the microwave or oven or put them in the refrigerator over night. They will be delightful.
Print
1-Bowl Whole Grain Blueberry Muffins
Author:

Prep Time:

10 mins

Cook Time:

25 mins

Total Time:

35 minutes

Yield:

10

muffins

1

x
---
Description
1-Bowl Whole-Grain Blueberry Muffins  naturally sweetened, healthy and seriously delicious.
---
1 ½ tsp

baking powder

1 ½ cups

whole wheat pastry flour

¼ cup

almond meal

¼ tsp

salt

½ cup

maple syrup

¼ cup

butter, melted

2

eggs

¾ cup

milk

1 tsp

vanilla

1 cup

blueberries
Turbinado sugar for sprinkling, optional
---
Instructions
Preheat oven to 350
In a large mixing bowl or stand mixer, whisk together the dry ingredients.
Dig a small well in the center of the dry ingredients. Into the well, add maple syrup, butter, eggs, milk and vanilla. Mix until smooth.
Fold in ¾ of the blueberries, reserving the remaining ¼ cup to stick into the tops of the muffins (it makes them pretty)
Evenly distribute the batter between your muffin cups. I like to fill them about ¾ full. Sprinkle the tops with reserved blueberries and turbinado sugar if desired.
Bake the muffins on the center oven rack for 20-25 minutes, or until an inserted toothpick comes out clean.
Let muffins cool in the pan for 10 mins, then transfer to a wire rack.
Enjoy
---
Helpful Hints:
Almond meal or almond flour will work for this recipe. You can purchase this online or in the health section of most grocery stores. I used Bob's Red Mill Almond Meal.
Eggs, milk, and butter should be purchased organic when possible.
Since blueberries aren't in season, it can be difficult and/or expensive to purchase organic. You can use frozen blueberries as a substitute.  To use, run blueberries under lukewarm water to thaw (I use a strainer). Pat blueberries dry and mix them with 1 TBS of cornstarch. Mix. This will prevent them from bleeding into the muffins as much:)
Turbinado Sugar can also be purchased online or in the health section of most grocery stores. I used Wholesome's Organic Turbinado Sugar.
Nutrition Information:

Let's Be Friends:
Recipes Like 1-Bowl Whole-Grain Blueberry Muffins:
Peanut Butter Chocolate Protein Bars: