Whole Wheat Blueberry Oat Waffles are made with simple ingredients and require just 30 minutes. Bursting with blueberry flavor, wholesome real food ingredients and freezer-friendly!
Pin Whole Wheat Blueberry Oat Waffles for later!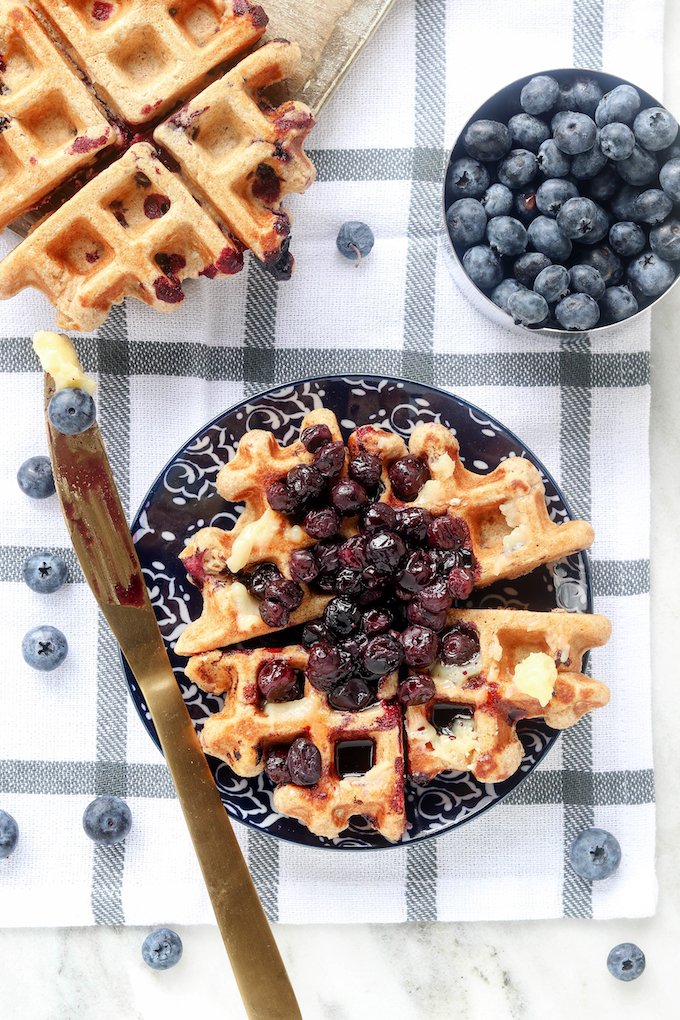 Sometimes busy school mornings just call for a waffle.
When I set off to create a whole-wheat waffle that satisfied my "pickiest-of-store-bought -waffle-connoisseurs", I succeeded with this recipe for Whole Wheat Blueberry Oat Waffles.
In fact, as of late.. the easiest way to coax my boys out of bed is to whisper, "if you hurry.. we will have time for waffles!" I know, I know.. I'm supposed to gently rub their backs while softly humming bright/cheerful renditions of "Good Morning To You", buuuuuut... let's keep things real.. morning just isn't my thing.
In keeping with the whole theme of "I hate mornings".. I should probably note, I am NOT hanging out at the waffle iron ladling fresh waffle batter and popping out fresh crispy waffles. These waffles are NOT a June Cleaver moment. They are freezer-friendly and made waaaaaaay in advance on a weekend afternoon on my time (aka.. after 11:00 AM) when I have time to scoop flour, whisk ingredients and spend a few minutes cleaning up. All that's required of me in the AM is plopping these guys into the toaster. Pair them with some greek yogurt or a hard-boiled egg and you've got a quick grab-n'go breakfast that even the most enthusiastic of morning people would be proud to serve.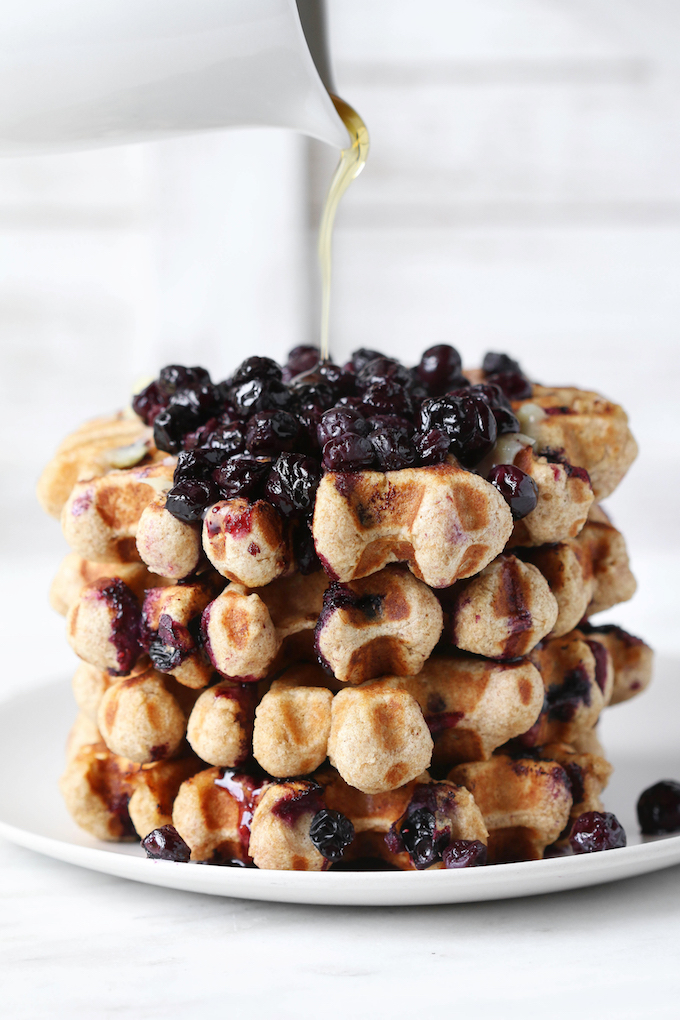 Let's go ahead and get the obvious out of the way.. making your own freezer waffles takes a little more effort than just grabbing a box of frozen yogurt at the store.  That said.. making my own waffles means that I have complete control over the ingredients. That's the cool thing about homemade.. it gives me the opportunity to serve something that is not nutritionally ideal  (I'm looking at you overly-processed freezer waffles that rhyme with "lego") into something that's wholesome, nourishing and delicious.
I love adding some oats to the recipe for a bit of added fiber. They thicken the batter, which results in a finished product that is soft on the inside and crispy on the outside. I also added blueberries to this recipe (because that's what my boys like), but you could definitely sub in chocolate chips or anything else that you like!
Now.. let's take just take a minute and talk about the blueberry syrup that I have included with this recipe.
FACT: I don't offer this as an option during the week. It's too messy (we can't risk blueberry stains on clothes right before we run out the door)!
That said.. I often make this recipe for dinner or on the weekends and then double or triple it so that we can stock the freezer up. If you have the time, it really takes these guys to the next level and couldn't be simpler to whip together. When you add fresh (or frozen blueberries) .. the kids get way less syrup than if they were just pouring it onto their waffles. Best part.. they don't even notice!
Time Saving Tips and Tricks:
Prep Ahead: Waffle batter can be made the night before and stored in the refrigerator. Since the baking powder may lose some of its potency overnight, add a little extra. If the first waffle doesn't rise enough, sift a little extra into the batter and gently stir it in.

Make Ahead: These waffles can be made ahead of time and stored in the refrigerator for up to 2 days. That said.. I prefer freezing to refrigeration. The waffles get crispier this way! To reheat, just heat them in the oven at 375 until warmed through or use my favorite method.. pop them in the toaster! If going with the toaster method, remember to make smaller waffles so that they fit into the slots.
Freezer: That's the idea. To freeze waffles, cook according to recipe directions. Allow waffles to cool on a cooling rack. Arrange in a single layer on a baking sheet that has been fitted with a silicon liner or freezer paper. Place baking sheet in the freezer for 3-4 hours, or until waffles are completely frozen through. Break waffles into small pieces and store in an airtight zipper bag in the freezer for up to 3 months.
Print
Whole Wheat Blueberry Oat Waffles
Author:

Prep Time:

10 minutes

Cook Time:

20 minutes

Total Time:

30 minutes

Yield:

8

waffles

1

x

Category:

Breakfast

Method:

Waffle Iron
---
Description
Whole Wheat Blueberry Oat Waffles are made with simple ingredients and require just 30 minutes. Bursting with blueberry flavor, wholesome real food ingredients and freezer-friendly!
---
For the Blueberry Waffles:
2 ½ cups

whole wheat flour

½ cup

old fashioned oats

2 tsp

baking powder

1 tsp

cinnamon

½ tsp

salt

1 ½ cups

milk

2

eggs

4

Tbs melted butter

2 tsp

vanilla extract

2 cups

fresh blueberries
For the Blueberry Syrup:
2 cups

fresh or frozen blueberries

¼ cup

maple syrup
pinch of salt
---
Instructions
 FOR WAFFLES:
In a large mixing bowl, whisk together flour, oats, baking powder, cinnamon and salt. Set aside.
To a second large mixing bowl, add milk, eggs, melted butter and vanilla. Whisk until fully combined.
Slowly pour the dry ingredients into the wet ingredients while whisking gently until just combined. Do not over mix. It is ok if the batter is a little lumpy.
Gently stir in blueberries. Do not over mix.
Preheat waffle iron.
Cook the waffles according to the manufacturer's directions. Serve with a pat of butter or ghee and homemade blueberry syrup.
 FOR BLUEBERRY SYRUP:
To a small sauce pan over medium heat, add blueberries, maple syrup and salt. Allow ingredients to simmer until blueberries pop and the mixture thickens, about 5 minutes. Stir frequently. NOTE: Syrup will thicken once cooled. 
---
Notes
You can use whatever type of milk you prefer. I like using whole milk, but have also made the recipe with almond milk.
Nutrition information does NOT include the blueberry syrup.
Keywords: waffle, blueberry
Let's Connect: 
Recipes Like Whole Wheat Blueberry Oat Waffles:
Peanut Butter Chocolate Chip Energy Balls: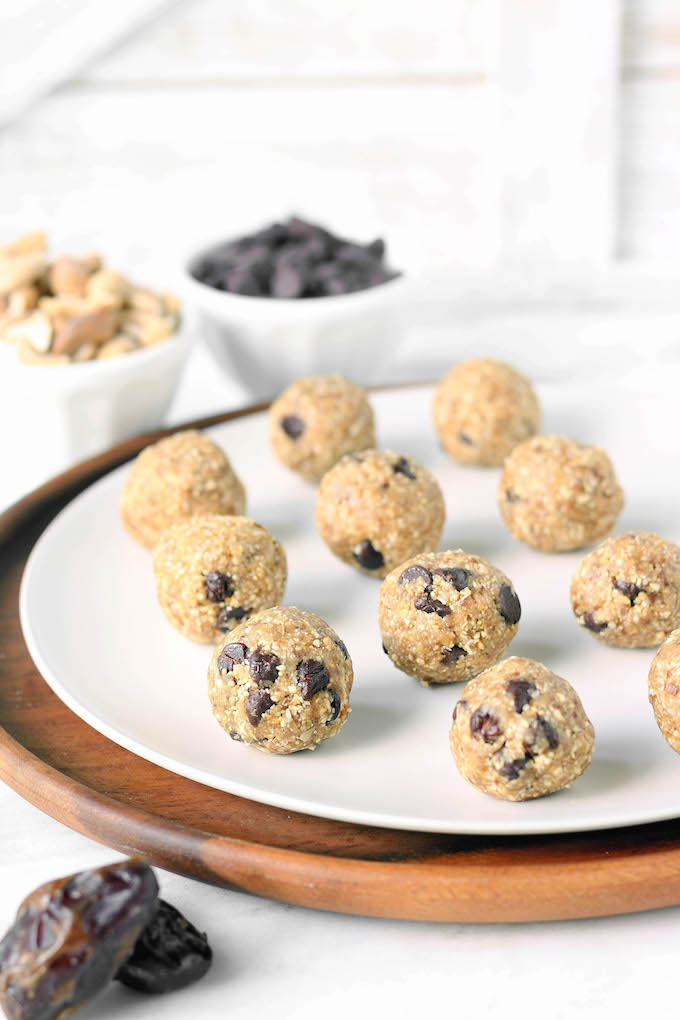 1-Bowl Peanut Butter Oatmeal Breakfast Cookies: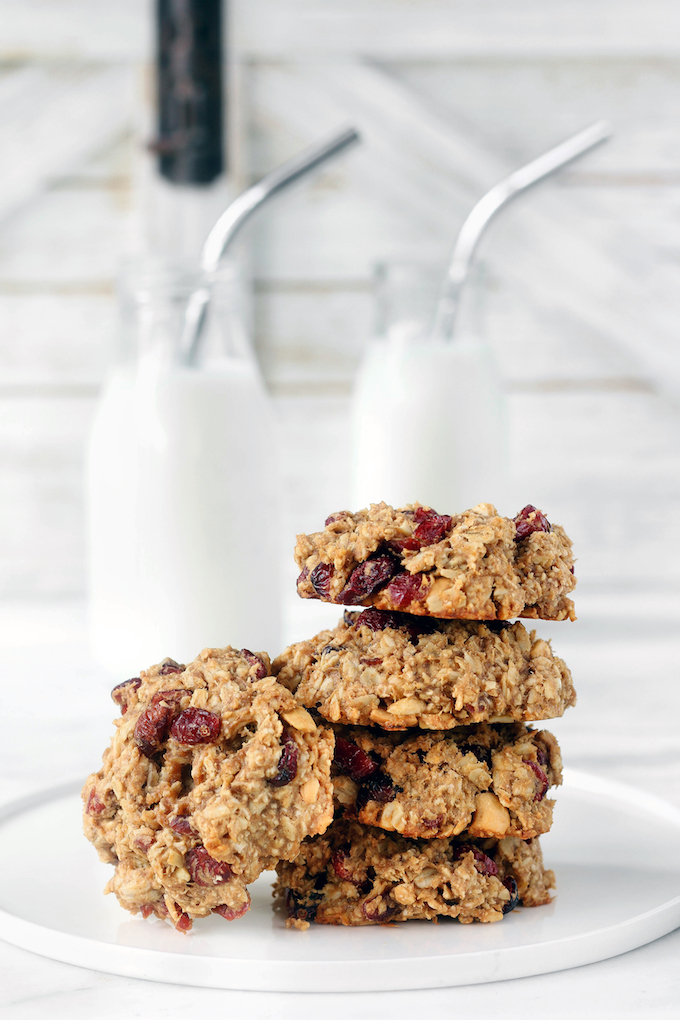 3-Ingredient Cashew Cookie "Lara" Bars: