A healthy, easy recipe for 3-Ingredient Cashew Cookie "Lara" Bars made with cashews, Medjool dates and sea salt. The perfect grab-n' go snack, these bars are vegan, gluten-free and Whole30 compliant.
Pin 3-Ingredient Cashew Cookie "Lara" Bars for later!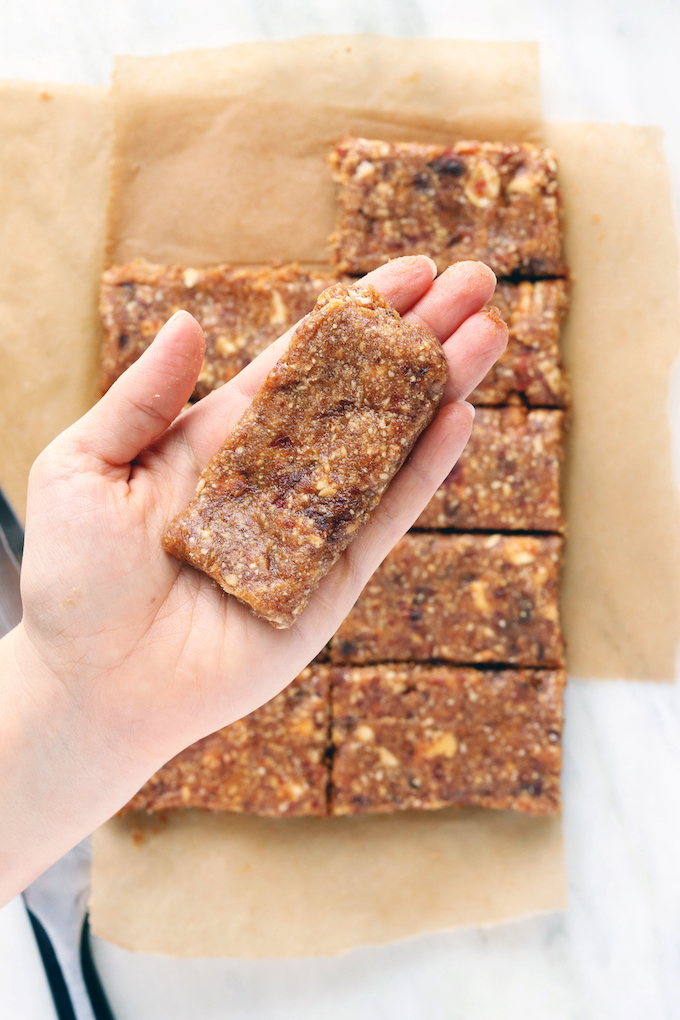 Day 15 of #simplysissomwhole30 challenge and I. Want. All. The. Snacks.
Seriously, once the kids are in bed and I'm settled in my chair to watch T.V. shows that I'm too ashamed to name, well.. I want to mindlessly eat popcorn, peanut butter and if I'm being honest, maybe a cupcake or 3.
It has been really interesting to realize that I associate "relaxing" with eating. I guess that's kind of the point of Whole30, you know.. intentional food decisions and all that.
That said, is it really so wrong to want to curl up in front of the T.V. and munch on something healthy??? I vote nope.
Soooo, I spent the week testing out Whole30 complaint treats that will satisfy my "I-survived-putting-the-kids-to-bed" cravings.
And you guys.. 3-Ingredient Cashew Cookie "Lara" Bars are the answer to all my semi - late night snacking problems.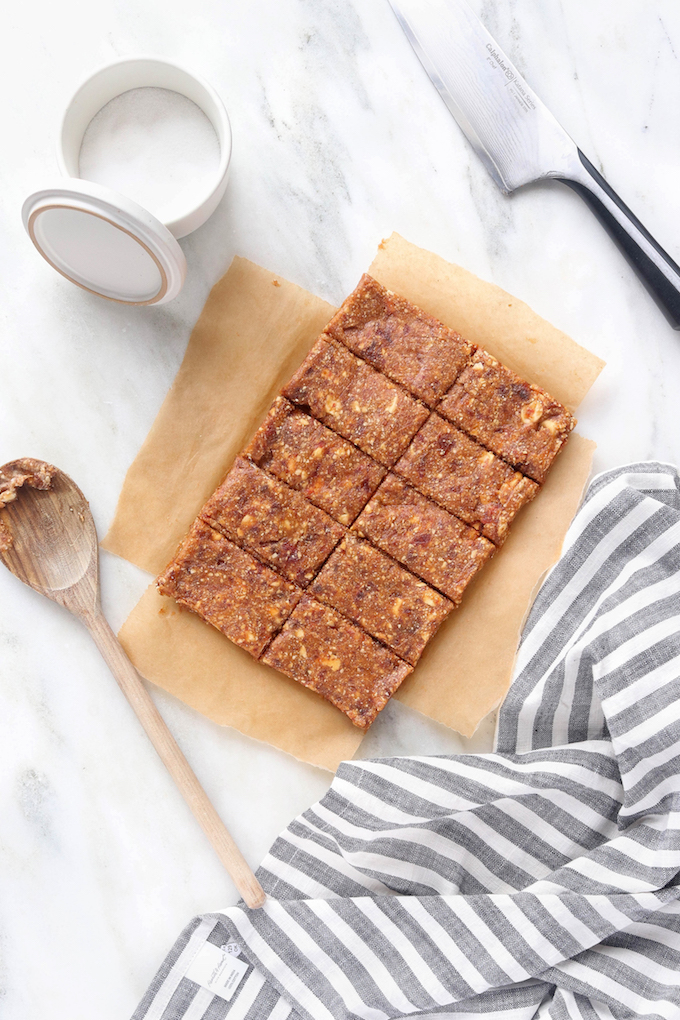 SO.. yeah. 3-ingredients. This is a mindlessly easy recipe.
Obviously grab-n go snacks and I have been having a moment for quite sometime now. And no, these Cashew Cookie Bars aren't just for people doing Whole30 - it can just be a wonderful recipe that you make so that your family has something quick and nutritious to grab for breakfast in the morning. But, it's Whole30 compliant, and since that's kind of the theme for January, I'm embracing it!
Here's what I LOVE about this recipe:
Sooo Easy.  3 ingredients, no baking required.
It's customizable. Pecans, almonds,  additional add-ins (yeah, I see you chocolate chips).. whatev you have on hand.
It's sweet. Don't yell at me, I realize that I could be breaking the spirit of Whole30 with this one, but I'm just trying to keep it honest. Remember, we agreed to a judgement free #simplysissomwhole30 and I'm holding you to it.
Freezer-Friendly. Anytime I can double a recipe and freeze half for later, well... that's a good thing.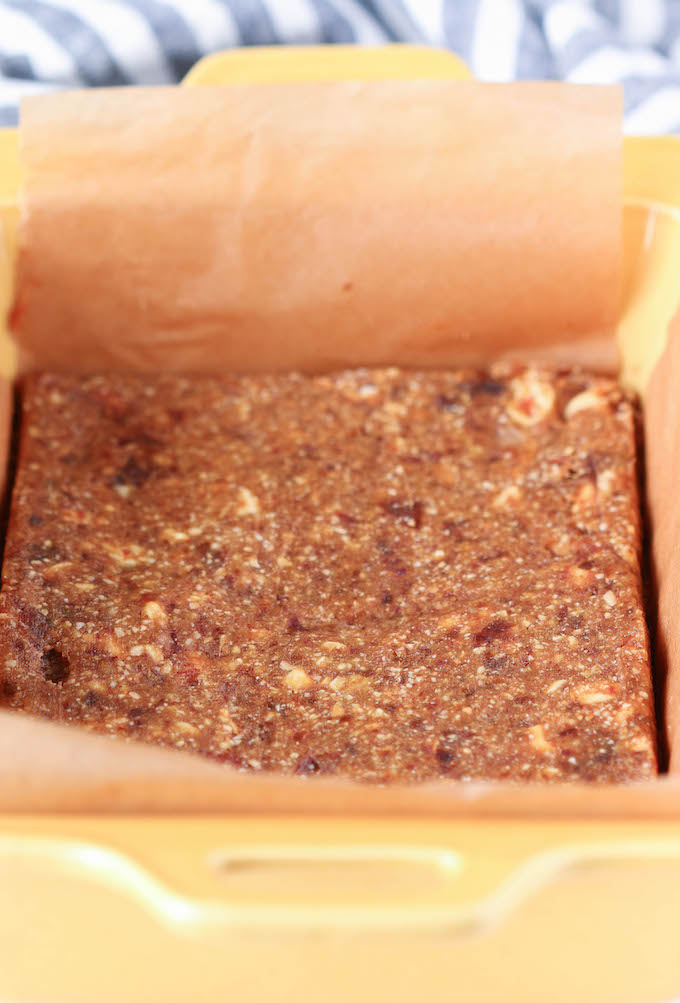 Let's talk dates for a moment.
This recipe calls for Medjool dates (the big plump and juicy guys), annnnnd they're kinda pricey (which explains the obscene cost of store-bought Lara bars). I recommend buying them in bulk. Costco has them for $8.99 for 2 lbs (<--aka, good deal alert). I also like to shop bulk bin aisles for these so I can purchase the exact amount that I need. Subbing out for a different variety of date that costs less will work, but will change the recipe ratios. In all honesty, you will end up using so many more dates that it will most likely eliminate any savings. I recommend sticking with Medjool.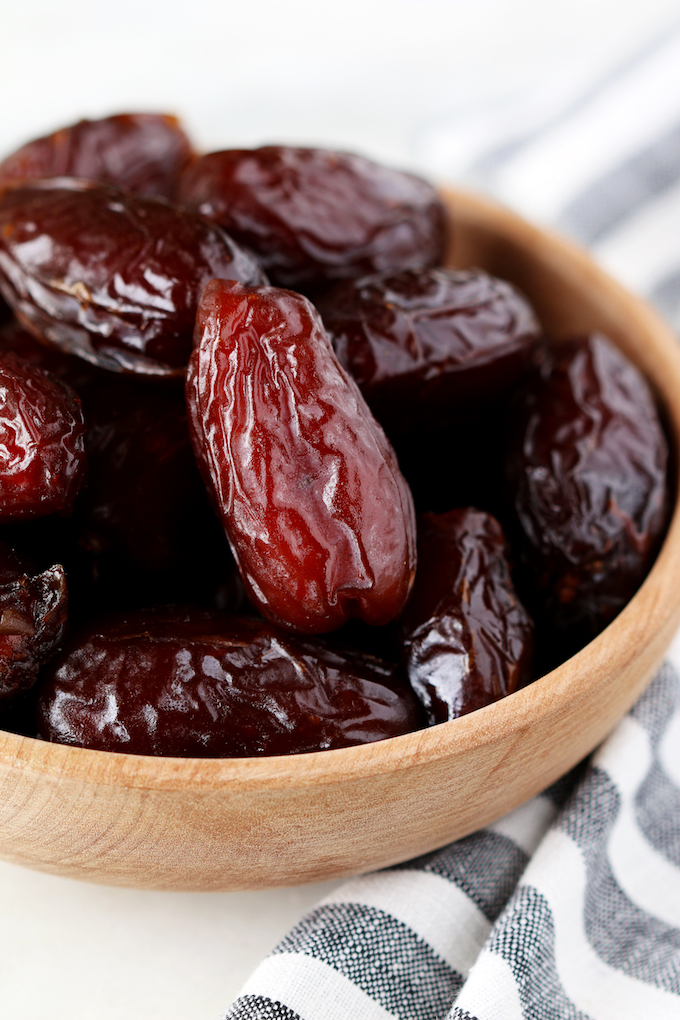 The actual recipe is super simple. Dump, pulse, scrap, press and freeze. No baking, no fancy ingredients.
SUPER HELPFUL HINT: MAKE SURE TO PIT YOUR DATES. THE PITS WILL RUIN YOUR FOOD PROCESSOR.
3-Ingredient Cashew Cookie "Lara" Bars:
Time Saving Tricks
Prep: With only 3-Ingredients.. prepping this recipe ahead of time really isn't necessary. Seriously, the hardest part is doing the dishes!
Make Ahead: Yes! It's one of the great things about these bars. Since you don't serve them warm, they are actually made to be "make-ahead." I like to make a batch (sometimes a double) on Sunday and then use them for breakfasts and/or lunch boxes throughout the week.
Freezer: You bet. I actually store my bars in the freezer most often. The dates can make them a bit sticky, but when they are frozen it doesn't matter. Nobody seems to complain about how cold the bars are, so I figure.. go with it! If frozen isn't your preference, you can still store the bars in the freezer and just let them hang out on the counter a few minutes before you eat/serve them.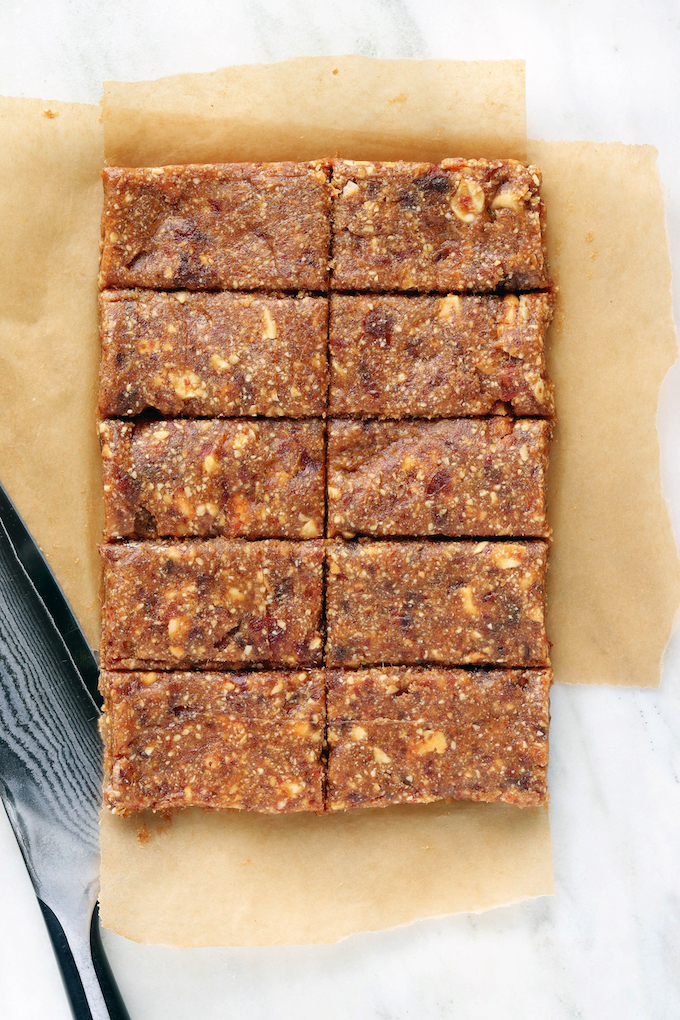 Print
3-Ingredient Cashew Cookie "Lara" Bars
Author:

Prep Time:

10 mins

Cook Time:

0 mins

Total Time:

10 minutes

Yield:

10

bars

1

x

Category:

Snacks

Method:

Food Processor

Cuisine:

American
---
17

-

20

Medjool Dates, pitted (the fresher your dates are the stickier.. aka, you don't need as many)

1

heaping cup of cashews

¼ tsp

sea salt

¼ cup

chocolate chips (optional, skip for Whole30)
---
Instructions
Spray and line a baking dish (I used a 7"x11", but a 9" square would work) 2 sheets of parchment paper (one horizontal and one vertical). You can see my parchment paper in the picture above.
To the bowl of a food processor, add PITTED Medjool dates. Pulse 15-20 times until dates form a paste.
Add cashews to the bowl of your food processor. Process on high. You will have to stop occasionally and scrape the sides of the processor. The mix is REALLY sticky. You aren't doing it wrong!
Use damp hands to press the bar mixture into prepared baking dish. Make sure it's pressed all the way to the edge. You will not get it to be completely smooth and flat. They are homemade, embrace it!
Use a rubber spatula and stick it between the bars and the edge of the pan so that the bars will remove easily. Make sure to do this all the way around the pan.
Place bars in freezer for 10 minutes. Remove from freezer and use the parchment "handles" to get the bars out of the pan. Slice into desired size bars. You should be able to get 8-10 depending on the size of baking dish you used. Store in the freezer or refrigerator.
---
Notes
Exact amount of dates was difficult to gauge for the recipe. It varied each time I tested the recipe. This is because dates can be so many different levels of "sticky." If your dates seem VERY dry, use more. You can also soak them in warm water for 10-15 minutes to hydrate and plump them up a bit.
These bars would also make excellent "energy balls." Skip pressing them into bars and instead, form 1" balls (make sure hands are damp.. sticky dough).
Cashew pieces are cheaper than whole cashews and will work just fine for this recipe. Go ahead and save a little $$$.
Recipes Like 3-Ingredient Cashew Cookie "Lara" Bars: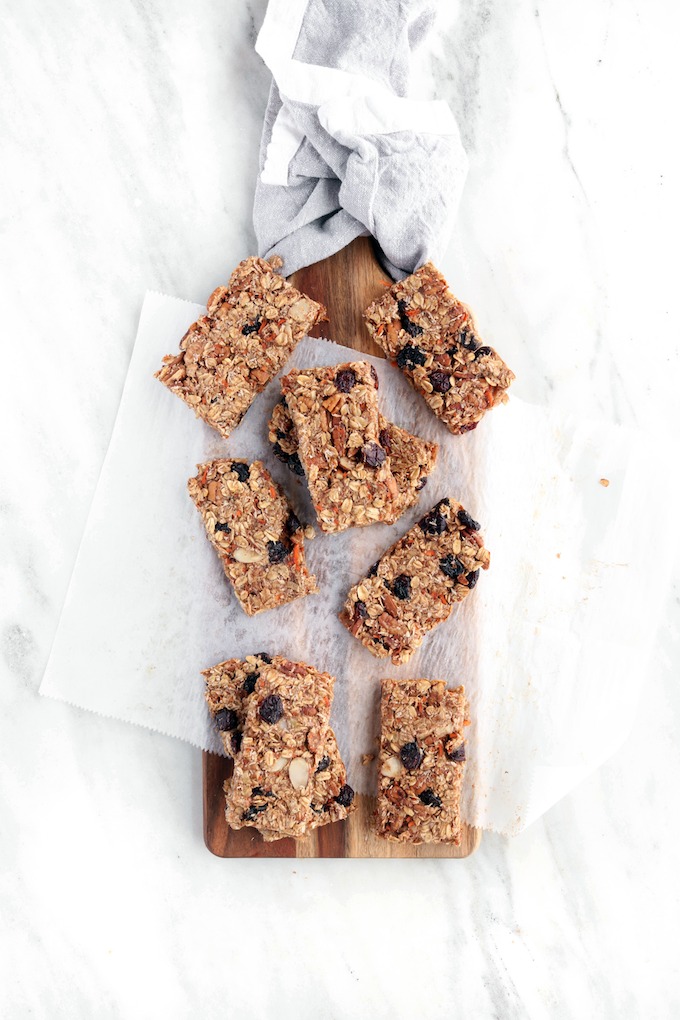 No Bake Cereal Bars for Kids: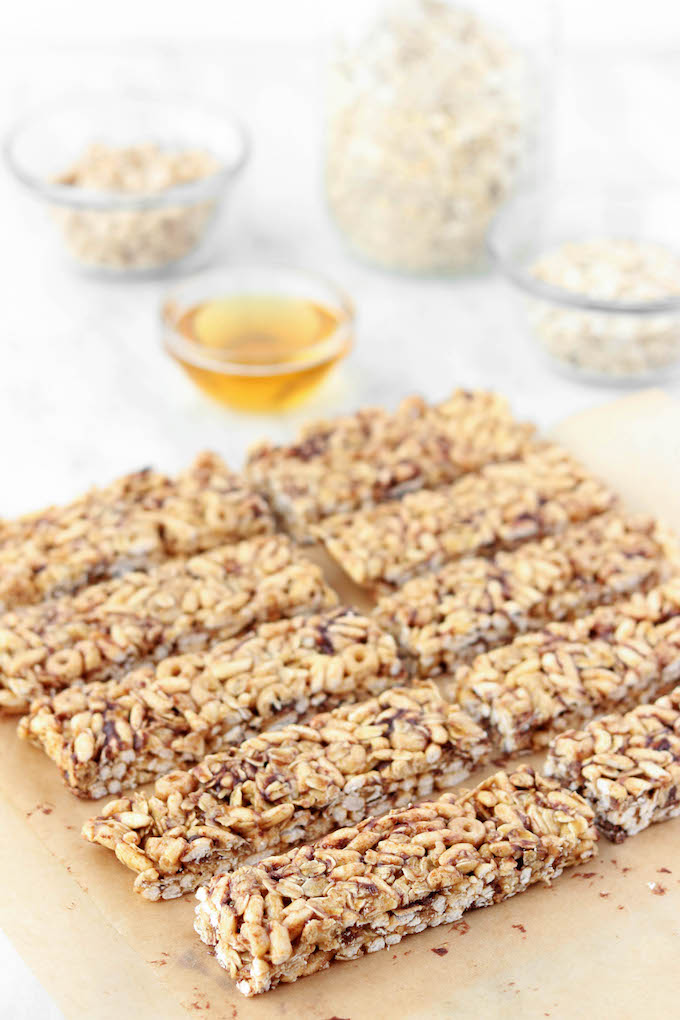 Peanut Butter Chocolate Protein Bars:
Let's Connect:
Prep-Ahead recipes are my all time favorite! Join the BRAND NEW Simply Sissom Community Private FB Group and let's meal prep together! Each week I share an exclusive recipe in the group via FB Live that is REALLY simple and make-ahead friendly. Join us!
Interested in more Whole30 meal prep ideas? Follow Simply Sissom on Instagram. I share all my meal plans and behind the scenes prep session videos on Instagram stories.
Want to prep 5 whole-food meals for a family of 4 in just 45 minutes? Check out my new program, Savvy Mama Meal Prep: Quick and Easy. Use code SMMP50 to save 50%.
If you make these bars, make sure to leave a comment. I read every single one! You can also share a pic with me on any social media channel @simplysissom. Your comments and feedback make my day!!!
SaveSave
SaveSave
SaveSave
SaveSave
SaveSave
SaveSave
SaveSave
FREE WHOLE30 COOKBOOK
12 Family Friendly Whole30 Compliant Recipes from Simply Sissom.