Celebrate special occasions with these super festive, naturally sweetened, Healthy Brownie Balls (or skip the sprinkles and enjoy them year round).
Pin Healthy Brownie Balls for later!
Cooper is turning 7.  Whhhaaa! I know, I know... I'm being super annoying. Kids have birthdays, they happen every year. I used to marvel at how parents went on-and-on-and-on every time their child started a new school year, had a birthday, lost a tooth, I mean seriously... time passes.
I'm pretty sure that one of the best descriptions that I've ever read about raising children was on a clearance mug in a random Marshall's .. "the days are long, but the years are short." TRUTH.
When Cooper was a newborn, I used to grill Every. Single. Mom. I came into contact with the same questions. "How long until yours slept through the night?" "How many weeks did you breast feed?" " How long until this gets just a little bit easier?"  Friends, those were some LONG days (and nights).   Those memories are foggy, vague and yet..  it seems like just yesterday that we brought Cooper home from the hospital and wondered on who's authority we had been permitted to be in charge of such a tiny human being.
Now... now he's turning 7.  I'm doing All. The. Math. 11 years until he moves out, 9 years until he's driving, 10 years until his first prom .. you get the idea. In a nutshell, my guy is growing up and while I'm so proud of the smart compassionate boy that he is becoming, a part of me (bigger than I should admit) wishes that time would just slow down.
But.. it won't.
I've learned that life is like a roll of toilet paper. The closer it is to the end, the faster it goes.

-Andy Rooney
Aren't I full of golden nuggets today?
Ok, Ok.. time to move onto the fun part of Birthdays, the food.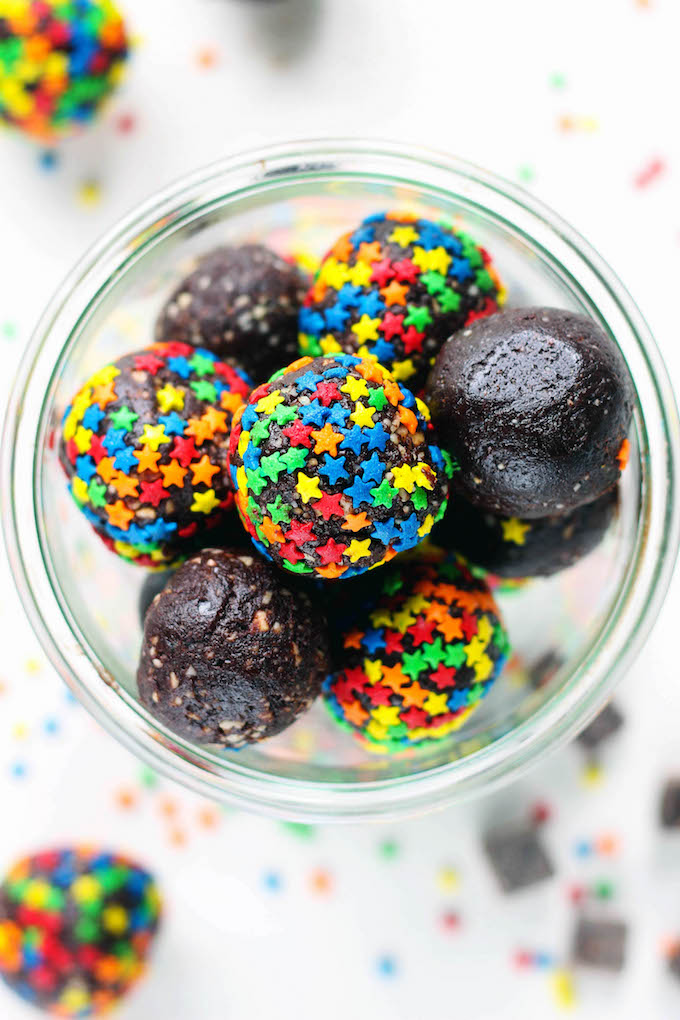 I'll just lay it out for you, I have an affinity for tiny spherical shaped desserts like these Healthy Brownie Bites.
They are sweet, perfect, cutesy things that I like to keep in a little container hidden on the back shelf of the freezer for the perfect small after dinner snack.
Combine dense, naturally sweetened chocolate glory with sprinkles, and well.. Happy Birthday indeed.
These Healthy Brownie Bites are PERFECT for class parties (as long as their are no nut allergies), a special birthday breakfast or any other festivities that may be occurring. (HINT.. you can enjoy them year round. Just skip the sprinkles and opt for rolling them in cocoa powder, chopped nuts, shredded coconut or enjoy them as is).
They are super practical too (6 ingredients, 1 bowl/food processor, no oven required and make-ahead/freezer friendly). Looks like Cooper and Campbell are going to have to start taking their "ball rolling duties" more seriously, because these guys are going to be making an appearance at All. The. Things.
Time Saving Tips and Tricks:
Prep: When the recipe is so simple, there really isn't any reason to spend time prepping. The most time consuming part of this recipe is actually forming the balls. HINT... this is a great job for young helpers.
Make Ahead: Yes! This is a perfect make-ahead recipe. In fact, I recommend it. When the balls are first rolled, they are a bit sticky from the dates and agave. They are much less"tacky" when served chilled.
Freezer: This is my favorite way to store energy balls. They will keep for several months. To freeze, arrange balls in a single layer on a baking sheet. Freeze for 2-3 hours, or until balls are frozen through. Remove from freezer and store in an airtight ziplock bag. Balls will store for several months. To serve.. remove desired amount of balls from freezer, allow them to thaw for 5 or 10 minutes on the counter.
Print
📖 Recipe
Healthy Brownie Balls
Author:

Yield:

12

balls

1

x
---
Description
Celebrate special occasions with these super festive, naturally sweetened, Healthy Brownie Balls (or skip the sprinkles and enjoy them year round).
---
⅔ cup

cashews

⅓ cup

unsweetened cocoa powder

8

large Medjool dates, pitted

1

Tbs vanilla

¼ tsp

course sea salt

2

-

3

Tbs agave nectar
---
Instructions
To the bowl of a food processor, add the cashews and unsweetened cocoa powder. Pulse 10-15 times (mixture should still be chunky but the cocoa should be fully incorporated with the nuts). Don't over mix or it will turn to nut butter.
Add dates, vanilla and sea salt. Pulse 10-15 times.
Drizzle in 2 TBS of agave while food processing on high. The dough is ready when it forms a ball inside the bowl of the food processor. If this does not occur, slowly continue to add more agave as needed. The mixture will be wet and sticky, but should not be so moist that you are unable to EASILY for a ball.
Wrap dough in parchment paper and chill for 30 minutes - 24 hours.
Form dough into 1" balls. Store in the refrigerator for up to 5 days or in the freezer for several months (see time saving tips and tricks above for specifics).
---
Let's Be Friends:
Posts like Healthy Brownie Balls: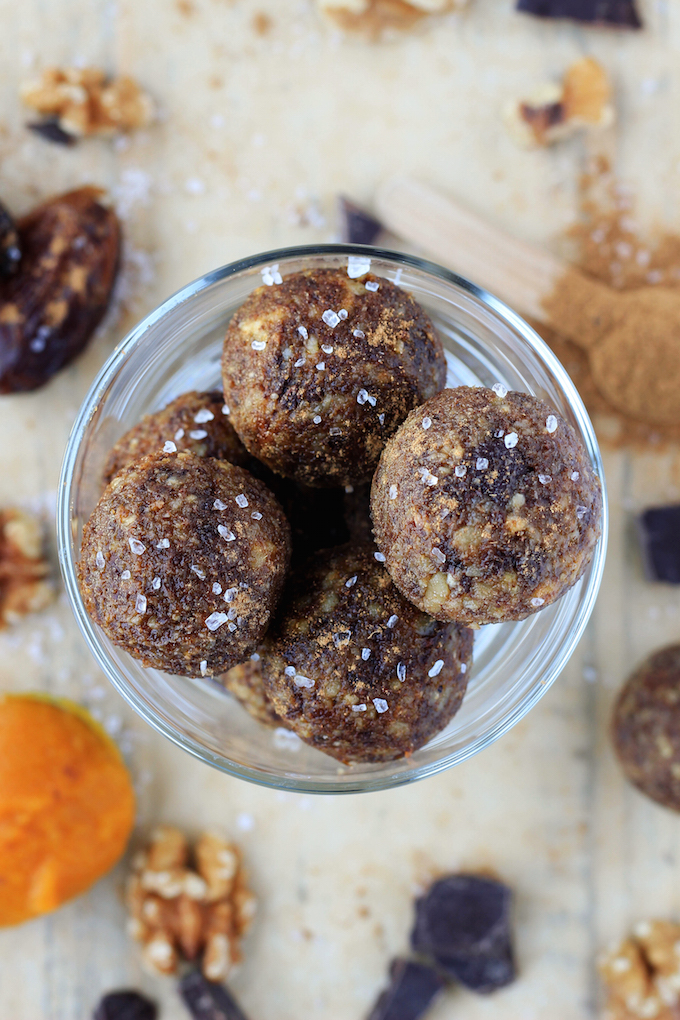 Peanut Butter Jelly Energy Balls:

Freezer Friendly Breakfast Cookies: