Freezer Friendly Breakfast Cookies are simple to make, requiring only 1 bowl and 10 ingredients. Vegan, gluten-free, perfectly sweet and chewy, and the perfect snack or on-the-go-breakfast. #BRMOats #Ad
Pin Freezer Friendly Breakfast Cookies for later!
Cookies + School Mornings = Match (it's a kid-tested and approved fact)
Specifically,  THESE freezer friendly breakfast cookies.
What does that even mean?
Let's start by saying that these hearty little guys are taking notes from super-soft oatmeal cookies, homemade breakfast bars and salty sweet trail mix. THEN.. they're making it all come together in a happy delicious moment for breakfast lovers EVERYWHERE.
To me, that delicious moment looks like soft oat-based cookie-shaped granola bars with tons of salty nuts and sweet fruit add-ins.
Buuuuut... let's take a minute and be realistic. Every. Single. Person. in my family would have a DIFFERENT opinion about breakfast cookie perfection. Cooper hates nuts, Campell can't stand raisins.. and Joe, well.. quite honestly, as long as he doesn't have to make it, anything goes.
Soooo, I make a breakfast cookie base, divide it in half, give each of them a measuring cup. Each of my guys fills their measuring cup with  ¾ of  WHATEVER they want in "their cookies." It's a great way to entertain them while I get breakfast made for the week, but even better... it helps cut down on morning drama.
School has been in full-swing around here for 3 weeks. Mornings are still a struggle. On the positive side, grab n' go style breakfasts have been a life saver. My boys may have on 2 different socks, hair that sticks up a bit in the back and a note meant for his brother's teacher in his backpack, but they have a nutritious, oat-based, whole-grain breakfast cookie in hand while we frantically fly to the bus stop. Gotta celebrate the small victories?!!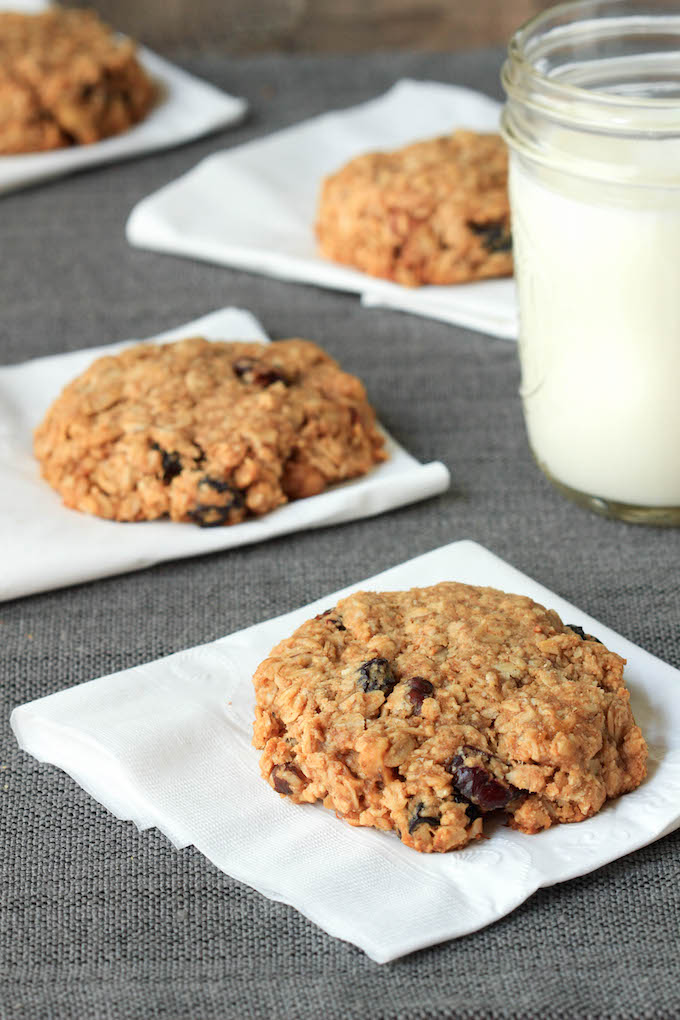 I know, I know.. you are most likely still trying to get past the fact that I am encouraging you to feed your child cookies for breakfast. This is the beautiful thing.. these guys are L-O-A-D-E-D with all kinds of good for you stuff. So if even if Cam decided to fill his whole measuring cup up with chocolate chips and strawberry fruit leather (hypothetically of course ?) I can still feel good knowing that he's getting tons of vitamins, nutrients, fiber and healthy fats. Let's break it down..
Rolled Oats: Oats are SUPER versatile and an easy way to add whole grains to your diet. They have tons of fiber, reduce cholesterol annnnnd, they are the base for this breakfast cookie recipe. I like to use Bob's Red Mill Oats for baking. They are always kiln roasted which gives the cookies a really wholesome taste. (Note: make sure to use rolled oats not steel cut. Rolled oats are rolled flat to produce the flakes you know and love, while steel cut are chopped into several pieces and are much chewier).
Bananas: Banans are great for digestive regularity and full of vitamins.
Peanut Butter: Tons of protein and potassium. This lower blood pressure and disease prevention. Oh yeah.. more vitamins too!
Watch How Easy They are To Make:
Time Saving Tips and Tricks:
Prep: This recipe is so simple to throw together that there isn't really any reason to prep.
Make Ahead: Yes! What would be the point of a breakfast cookie that wasn't? The cookies will keep for up to a week in an airtight container on the counter, or even longer in the fridge!
Freezer: You bet! To freeze, lay out cooled cookies on a baking sheet. Pop the baking sheet into the freezer until cookies are frozen through, about 2-3 hours. Remove baking sheet from freezer and place frozen cookies into an airtight Ziplock bag. Store in the freezer for up to 3 months. To thaw, remove cookies from freezer and allow them to sit overnight in the refrigerator or on the counter until they reach room temperature.
Print
Freezer Friendly Fruit and Oat Breakfast Cookies
Author:

Prep Time:

10 mins

Cook Time:

20 mins

Total Time:

30 minutes

Yield:

15

cookies

1

x
---
2

large ripe bananas, mashed

2 ½ cups

Bob's Red Mill GF Quick Oats (or old fashioned pulsed a few times in food processor)

¾ tsp

salt

1 tsp

cinnamon

1 cup

peanut butter (you can sub almond)

⅓ cup

honey ( sub agave for Vegan)

1 tsp

vanilla

1 ½ cups

of add ins (I like to use

¾ cup

nut +

¾ cups

dried fruits)
---
Instructions
Heat oven to 325 and cover a baking sheet with a silicone mat or parchment paper.
In a large bowl, use 2 forks to mash bananas.
Add oats, salt, cinnamon, nuts, 1 ½ cups of "add ins", peanut butter, honey and vanilla.
Mix until fully incorporated and ingredients form a dough (it will be very sticky).
Use a spoon or ice-cream scoop to drop about ¼ cup of dough onto the cookie sheet (do not roll into a ball, these cookies spread very little). Repeat until no dough remains.
Bake for 18-22 minutes. Cookies should be golden around the edges.
Allow to cool for 5-10 minutes before eating.
---
Helpful Hints:
Bob's Red Mill COUPON for YOU!!!
Using ripe bananas for the recipe is very important if you want sweet cookies (and who doesn't ???).
If you don't have any "quick oats" you can pulse old fashioned oats a few times in a food processor and get the same result.
My FAVORITE thing about this recipe is that it is versatile. As long as you add 1 ½ cups of "mix-ins" the recipe will do great.
Rice syrup can also be used as a sweetener.
Looking for more grab n' go recipes? Download my FREE Grab N' Go Breakfast Ebook. Click on the image below and jus let me know where to send it!
Let's Connect:
Other Posts You Might Like:
Blueberry Matcha Granola Bars:
Peanut Butter and Jelly Energy Balls:
Freezer Friendly Baked Egg Cups:
I was selected for this opportunity as a member of Clever Girls and the content and opinions expressed here are all my own.