Homemade Whole-Food Graham Crackers are light and airy, have a rich buttery taste and just the right amount of sweetness. They are whole-grain, packed with protein, and free from refined sugar and oils. Bonus... homemade gives you control of the quality and quantity of the ingredients you use!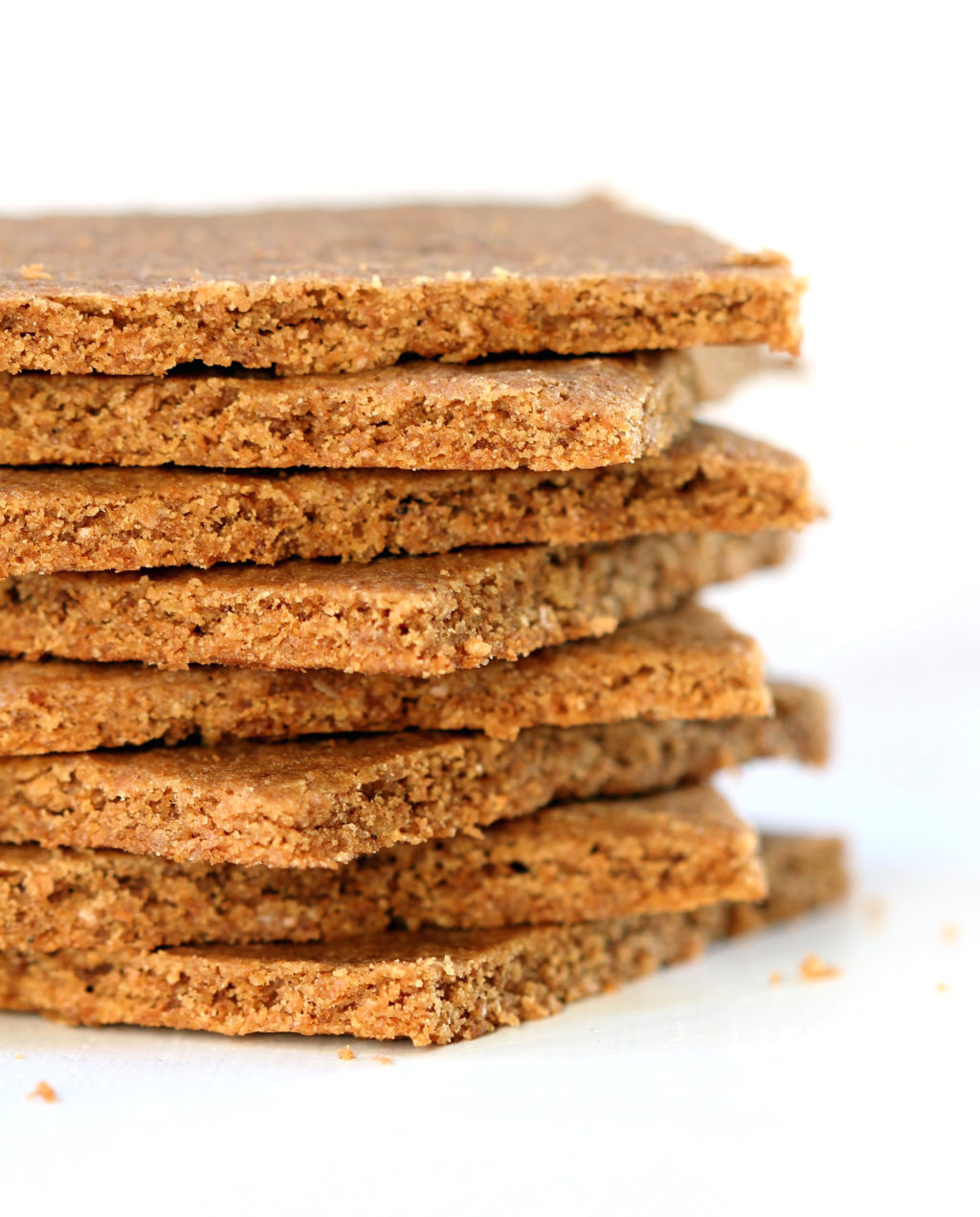 Fun fact of the day... graham crackers were originally introduced in 1829 by Sylvester Graham, a presbyterian minister.  They were recommended as a health food for those who followed the Graham diet (a diet rooted in the belief it was possible to  curb one's sexual appetite (carnal urges) by eating bland foods)?.
Who knew graham crackers had such authority?
The original graham cracker was made with graham flour; a combination of finely-ground unbleached-wheat flour with the wheat bran and germ coarsely-ground and added back in to provide flavor. The result was a mild food that was mildly sweetened (unlike the highly refined commercial version we enjoy today).
Regretfully, I'm going to stay far away from the topic of carnal urges while writing this post, but I can definitely get on board with a health-ier version of a graham cracker! These homemade, whole-wheat graham crackers utilize graham flour, a high protein wheat flour and are sweetened naturally with honey and molasses replacing refined white sugar.
They are light and airy, with a rich buttery taste and just the right amount of sweetness. I guarantee that once you try this homemade version, you won't go back.
I'm not going to sit here and pretend that homemade graham crackers are going to be coming out of my oven on the regular. Let's be serious with each other. I had never even made homemade crackers before today. NEVER! In my mind, homemade crackers are for Martha Stewart, people who make their own laundry detergent and lovingly swaddle their babies in cloth diapers with adorable prints. You know... domestic diva like people.
But now, I know. Homemade crackers are definitely not on the same level as homemade cleaning products and cloth diapers! Aaaannnnddd they are SO MUCH better for you than store-bought.  I may not have achieved the full on domestic diva status, but homemade crackers... bring em on!
Time Saving Tips and Tricks:
Prep: Graham flour can be difficult to find. I ordered mine online, but if you don't have time to wait for the mail man... you can make your own homemade version. Mix ⅔ cup whole-wheat flour, a little less than ⅓ cup of wheat bran, and 1.5 tsp. of wheat germ). I like to triple this recipe and keep a canister of graham flour on hand in the pantry.
Make Ahead: Homemade Graham crackers can be stored at room temperature for 2-3 days.
Freezer: Yes! Wrap in cellophane or place in an airtight ziplock bag and freeze fro 2-3 months. I like to keep extras on hand in case a need for a graham cracker crust arises!
Print
Homemade Whole-Food Graham Crackers
Author:

Prep Time:

30 mins

Cook Time:

9 mins

Total Time:

39 minutes

Yield:

16

graham crackers

1

x
---
2 ½ cups

graham flour

½ cup

wheat germ, untested

½ tsp

. salt

1 tsp

. cinnamon

1 cup

butter, softened

¾ cup

coconut sugar

1

TBS honey

1

TBS molasses
---
Instructions
In a mixing bowl, combine graham flour, wheat germ, salt, and cinnamon. Mix to combine.
In a stand mixer fitted with the paddle attachment, combine butter, coconut sugar, honey, and molasses. Mix until light and fluffy, about 3 minutes.
Slowly add the flour mixture to the wet ingredients. Mix gently until fully combined.
Place dough between 2 sheets of parchment paper and use a rolling pin to flatten dough to about ⅛ of an inch. Place dough/parchment paper on a sheet pan and freeze for 20 minutes (this will make the dough less sticky).
Remove dough from freezer and use a square cookie cutter to create cracker size squares. Place squares on baking sheet (leave plenty of room, they will expand). Bake at 350 degrees for 8-9 minutes. Remove from oven and allow to cool on pan for 3-5 minutes (crackers will be soft). Place baked crackers on baking rack and let them continue to cool until hardened.
---
Helpful Hints:
There will extra dough that is too small to cut into a perfectly shaped square. Don't throw it away! I like to bake the scraps on a separate sheet and keep them in the freezer for pie crusts... or if I'm being honest, feed to the kids so they don't mess up my perfectly square crackers!
If you find that your crackers have cooled, but are not hardened and crumbly, you can pop them in the oven for a bit longer. They will re-soften and then cool and harden. I experienced this! Just keep your eyes on them while they are in the oven.. they burn fast!
If you know that you are going to be using the graham crackers for a pie crust (heellloooo Thanksgiving), don't bother with cutting the dough into squares. Just roll it flat and bake it in a sheet. No need for beauty! Just remember that the dough rises considerably while in the oven. Make sure you allow enough room on the edge of the pan so that it doesn't ooze over. I experienced this too! You may even want to bake it on 2 separate baking trays.
Let's Connect:
Looking for more simple whole-food meals? Check out Simply Sissom on Pinterest. If you like it, follow! I add new pins from my favorite bloggers around the web daily.
You can also find Simply Sissom on Instagram, Twitter and Facebook . Check it out, if you like what you see.. follow.
Posts Similar to Homemade Whole-Food Graham Crackers: