Italian Chicken Meatballs are made with just 10 ingredients and 30 minutes. Savory, flavorful, juicy and full of protein. The perfect family friendly weeknight dinner. #lowcarb #gluten-free
Italian Style Magic coming to the table in 3, 2, 1..
You guys, these zippy, gluten-free, low-carb, whole-food chicken meatballs want to be your dinner. It's a super simple recipe loaded with garlic, fresh herbs, lots of spices and it's coming to rescue you and your stuck-in-a-dinner-rut -self.
And guess what all you super busy, no-time-to-make-dinner regular people of the world?  Making this entire recipe takes only 15-minutes of hands on prep and 10-ingredients (most of which it is probable you already have hanging out in your pantry).
Not that ever find myself lumped into the above mentioned category.
(I lie. I live in a constant state of no-time-to-make-dinner).
So, here's some really great news. The best thing about these healthy chicken meatballs isn't even the fact that they are So. Easy. To. Make.
You guys, they are the definition of versatile. Pastas, noodles, pizza, sandwiches, lunch-boxes, salads,  a-la-carte ... you get the idea. They are good on anything. Buuuut, the versatility doesn't even end there. You can freeze em, prep em, make-em ahead... whatever works best with your schedule (or lack of). And if you reside with me in the land of no-time-to-make-dinner regular people of the world category, well... you get it.  Dinner + Flexibility = Happy Feelings.

These meatballs are a twist on their more traditional cousin, the time-honored Italian meatball.
I used chicken. It's lighter, healthier and WAAAAYYY less greasy than beef.
I used almond meal in place of traditional bread crumbs. It makes them low-carb (which I like - particularly when served atop of zucchini noodles) and gluten-free, but not one single person will ever know the difference. Seriously.
Time Saving Tips and Tricks:
Prep: You can prep the meatball mixture ahead. If you are feeling extra on-top of life you could even go ahead and roll the meatballs. Just arrange them in a single layer on a baking sheet, cover with plastic wrap and cooke according to recipe directions when you are ready to eat. They will keep in your fridge (without cooking) for 1-2 days.
Make Ahead: These meatballs are great reheated! Since creating a recipe results in Lots. Of. Meatballs. I have been popping them into school lunches, grabbing one here and there when I need a quick snack and serving meatball everything for dinner (i.e pasta, sandwiches). Store meatballs in an airtight container. They will keep for 3-4 days.
Freezer: Yep. This recipe does it all! I like to double the recipe, serve half and save the other half for a night when making dinner just isn't gonna happen. To freeze, follow recipe directions but DO NOT BAKE. Instead, lay out rolled uncooked meatballs into a single layer on a sheet pan and pop them in the freezer for 2-3 hours or until frozen through. You can then place the frozen meatballs into a labeled airtight bag and store in the freezer for up to 3 months.
Print
Italian Chicken Meatballs
Author:

Prep Time:

15 mins

Cook Time:

25 mins

Total Time:

40 minutes

Yield:

15

meatballs

1

x
---
1

lb. ground chicken

½ cup

almond meal (you can sub Italian breadcrumbs, but recipe won't be GF or low-carb)

½ cup

parmesan cheese

2

garlic cloves, minced

1

egg

1

TBS Italian seasoning

1

TBS fresh parsley, chopped

½ tsp

salt

½ tsp

pepper

5

-

6

dashes of hot sauce
---
Instructions
Heat oven to 425 and cover a baking sheet with foil or parchment paper.
In a large mixing bowl, combine chicken, almond meal, parmesan cheese, garlic, egg, Italian seasoning, parsley, salt, pepper and hot sauce. Use hands to mix ingredients until fully incorporated. Roll meat mixture into 2" balls and place in a single layer on a baking sheet.
Bake meatballs for 20-25 minutes, or until no longer pink in the center.
NOTE: For a golden brown coating, pop the meatballs under the broiler for 1-2 minutes after cooking.
---
Helpful Hints:
If you don't want to purchase almond meal, you can sub Italian or whole-wheat breadcrumbs. Keep in mind the recipe will no longer be gluten-free or low-carb.
You can cook these meatballs the traditional way (in a pan of oil) and they taste great. I just like the healthier alternative of baking and then letting them spend a few minutes under the boiler.
Let's Connect:
Other Italian Recipes You Might Like: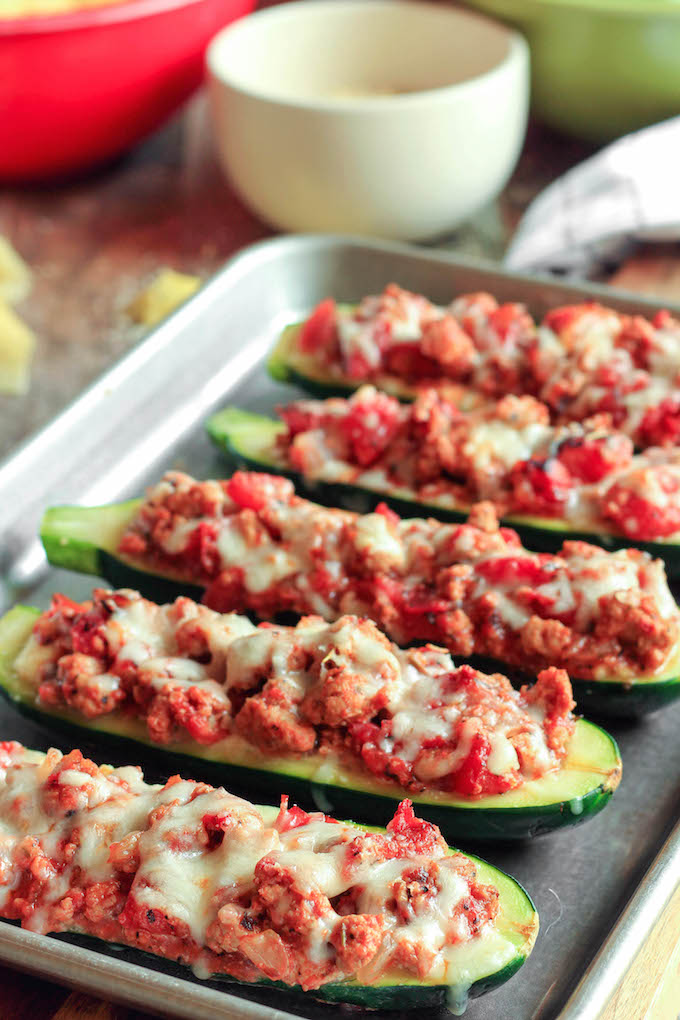 Roasted Red Pepper Italian Pinwheels: