Tender and cheesy Italian Slow Cooker Meatballs are baked in a succulent red sauce made with whole tomatoes, flavorful herbs, and fresh garlic. Dinner is ready when you are!
Crockpot meals are my new favorite thing along with pumpkin spice lattes (but that' not news), cozy sweatpants, and Scandal (the TV show?).
Okay. Soooo I'm not exactly cutting edge.
(FACT:  Crock Pots were invented in 1971.)
Trendy is definitely not in the top 10 adjectives that someone would use to describe me.
(FACT: Until last month I was still wearing my flared jeans.) Sidenote... are flared jeans coming back in style this season?? .....PLEASE!!!!)
Bottom line... if it has to do with NEW+ NOTEWORTHY, I'm not your girl.
I AM, however, the granddaughter of a traditional Italian cook and I think that makes me more than qualified to speak on the subject of these delicious Slow Cooker Meatballs! Ok... that's a stretch and a terrible transition?. I just returned from a  4 hour field trip to the orchard with my son's kindergarten class this morning. I'm exhausted (enter slow cooker),  can we just go with it?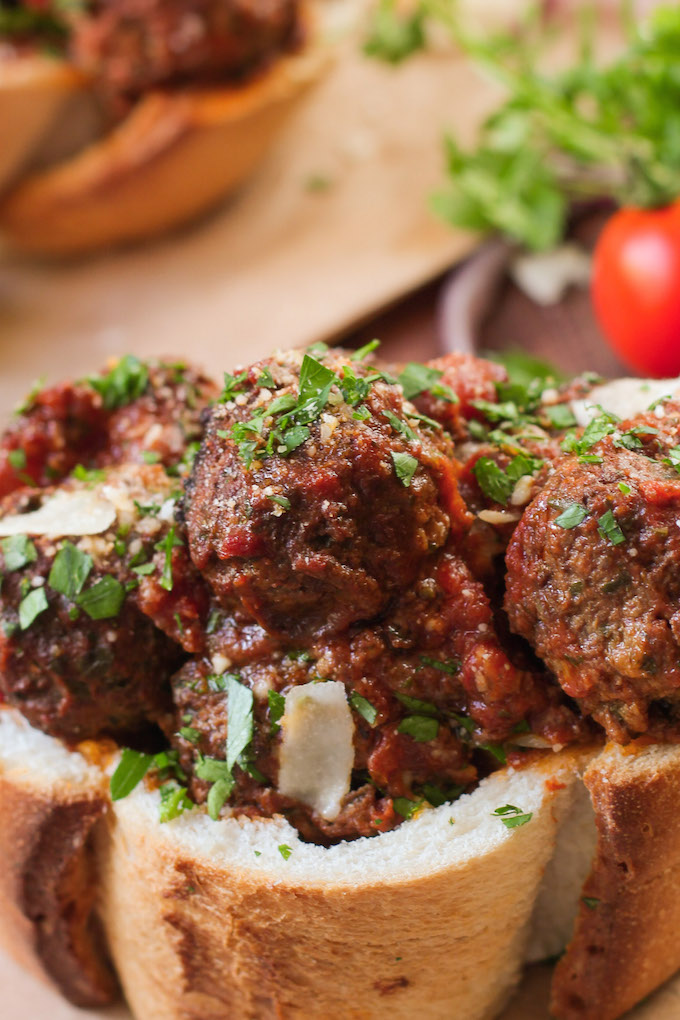 Time Saving Tips and Tricks:
Prep: The meatballs can be assembled up to 24 hours in advance. Store in refrigerator on a baking sheet that is covered with plastic wrap.
Make Ahead: The meatballs and sauce taste delicious as left overs! I like to leave leftover meatballs and sauce in the crockpot and store in the refrigerator. When you want to heat meatballs just stick them back in the crockpot base and heat them on low until warm.
Freezer: Meatballs are a perfect freezer option. Follow recipe directions for assembly, but don't bake! Arrange uncooked meatballs on a baking sheet and freezer for 1-2 hours, or until meatballs are frozen through. Place frozen meatballs in a a labeled and airtight sealed ziplock bag. If you are feeling super ambitious you can put the ingredients for the sauce in a separate ziplock bag and freeze as well! When you are ready to make Italian Slow Cooker Meatballs, just dump the contents of both bags into the crockpot and cook on low for 6 hours.
Print
Slow Cooker Italian Meatballs
Author:

Prep Time:

15 mins

Cook Time:

4 hours

Total Time:

4 hours 15 minutes

Yield:

4

servings

1

x
---
1

lb. ground beef

¼ cup

fresh parsley, divided

4

minced garlic cloves, divided

¼ cup

whole wheat bread crumbs

½

sweet onion, diced
few dashes of hot sauce

1

egg

3

TBS milk

3 tsp

. Italian seasoning, divided

⅓ cup

grated parmesan
salt and pepper to taste

28

pz can whole tomatoes

2 ½

TBS of tomato paste

1

bay leaf

½ cup

of chicken stock
---
Instructions
In a large mixing bowl, combine ground beef, 2 TBS parsley, 2 garlic cloves, bread crumbs, onion, hot sauce, egg, milk, Italian seasoning, parmesan cheese, and salt/pepper. Use clean hands to combine mixture.. do not over mix! Form into 1 ½ inch balls. Set aside.
In the crockpot, combine tomatoes, tomato paste, bay leaf, 2 cloves of garlic, 1 tsp. Italian seasoning, 2 TBS parsley, and chicken stock. Stir until combined.
Arrange meatballs in crockpot. Cook on low for 4-5 hours. Serve on crusty french bread, over whole wheat noodles, on top of spaghetti squash, or just eat em plain!
---
Helpful Hints:
There are MANY ways to enjoy these meatballs... my favorite is to get some crusty french bread and slice it, slice diagonally, remove middle of the bread to create a "bowl" and place meatballs and red sauce inside. Top with parmesan, mozzarella, and a bit of chopped parsley! Not into the carbs? Try meatballs over spaghetti squash, zoodles, or even a sweet potato. More traditional? Yep, they are delicious over noodles as well!
Ideally you should purchase your meat from a local farm where you can observe their farming practices. However, life is far from idea. At the grocery store, look for organic grass-fed beef.
In the mood for Italian, but want something on the lighter side? Check out these Lasagna Stuffed Zucchini Boats!
Looking for recipes and ideas to help you prep healthy lunches and dinners for yourself or your family? Check out Simply Sissom's Instagram account for extra recipes and meal prep ideas that you won't find on the blog!
Find TONS of healthy recipes collected from around the web by following Simply Sissom on Pinterest. New recipes are added daily!