The best Triple Berry Crisp, naturally sweetened and gluten free. Bubbly, warm fruit and crispy granola topping!
Pin Triple Berry Crisp for later!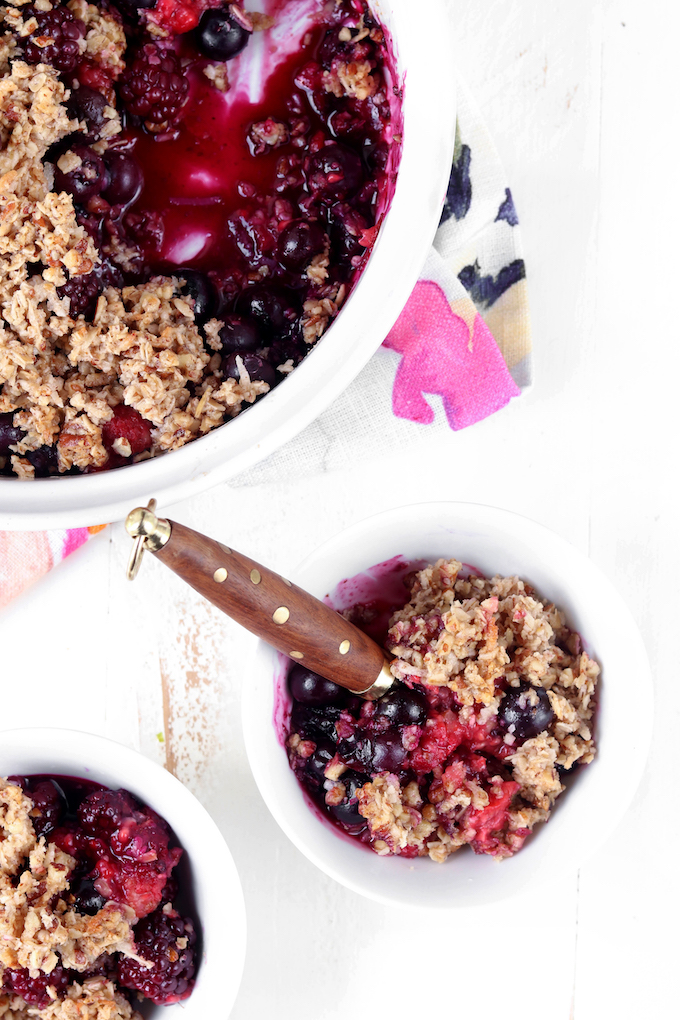 We have a tiny problem on our hands around here and it's called Food. Blog. Leftovers. Let me start by stating a given.. it's a really incredible problem to have. And by incredible, I mean that it just might be the best problem of all the problems EVER. A fridge full of mostly healthy whole-food options at any given time .. this is not something to be taken for granted.
Buuuut, there's a little catch. Sometimes,  I make dessert. If you have been hanging around here for any amount of time, you know that baking, sweets and anything else requiring super precise measurements are not my thing. Annnnnd by not my thing, I mean that when I am recipe testing for a dessert, I usually make it no less than 3 times in the pursuit of perfection. Now let me be clear, rarely does a dessert actually taste bad. More often than not.. it's a vanity problem. The result, a fridge full of not 1, not 2 but 3 (or more) perfectly good tasting (although possibly non-ascetically pleasing) desserts to tempt me All. Day. Long.
If I'm being perfectly honest with myself.. I'm not entirely mad about the 3 ENTIRE berry crisps situation happening in my refrigerator.  In addition to being wonderfully delicious, this is a dessert that I feel really good about eating. In my opinion, it's even breakfast worthy because each ingredient is nutrient packed and as always, it's whole-food friendly. Fresh berries, pecans, rolled oats, coconut .. it's kinda hard to go wrong!
This recipe was actually the 3rd recipe that I ever posted on Simply Sissom. While the original was delicious.. this version is So. Much. Better. I kept the berry component mostly the same (although I switched out the arrow root powder for corn starch) but TOTALLY reworked the topping. I took out the whole wheat flour and honey making the new version gluten-free and vegan friendly.
Time Saving Tips and Tricks
Prep: You can make the Triple Berry Crisp according to recipe directions, but instead of baking, cover with clear plastic wrap overnight. When you're ready for warm berry crisp, just pop it in the oven!
Make Ahead: Yep! It actually tastes great after sitting in the fridge for a day or so. It's delicious hot or cold, so warm it up in the oven or eat it straight from the fridge!
Freezer: I haven't actually tried this method, but I strongly suspect that you could assemble the cobbler and freeze it for up to a month. To cook, I would pop it in the oven straight from the freezer and bake at 350 until bubbly and warm. If you try it, let us know how it goes in the comments!
Print
---
4 cups

fresh berries

1

Tbs corn starch

3 ½ tsp

vanilla, divided

½ cup

pecans

½ cup

rolled oats

¼ tsp

sea salt

2

Tbs shredded coconut

2

Tbs maple syrup

2

Tbs coconut oil, melted
---
Instructions
Heat oven to 350 and lightly oil an 8x8 inch baking dish.
In a medium bowl, combine berries, arrowroot powder, and 1 ½ teaspoon vanilla extract. Mix well. Pour into prepared pan.
In a food processor, pulse the walnuts until they are broken up, but not the texture of flour. Add the oats and salt and pulse 10-15 times. Transfer oat mixture into a medium bowl and stir in the coconut. Add maple syrup and 2 teaspoon vanilla. Stir until combined. Add the coconut oil, stir. Place granola mixture on top of berries in the prepared pan.
Bake for 40 minutes or until the oats are golden brown and the juices from the fruit are bubbly. Serve with vanilla ice-cream or whipped honey topping (recipe in notes section below).
---
Notes
Blueberries are #20 and raspberries are #24 on the EWG's "Dirty Dozen +" list. For this reason, if available, organic is worth the splurge.
Let's Be Friends: 
Posts like Triple Berry Crisp: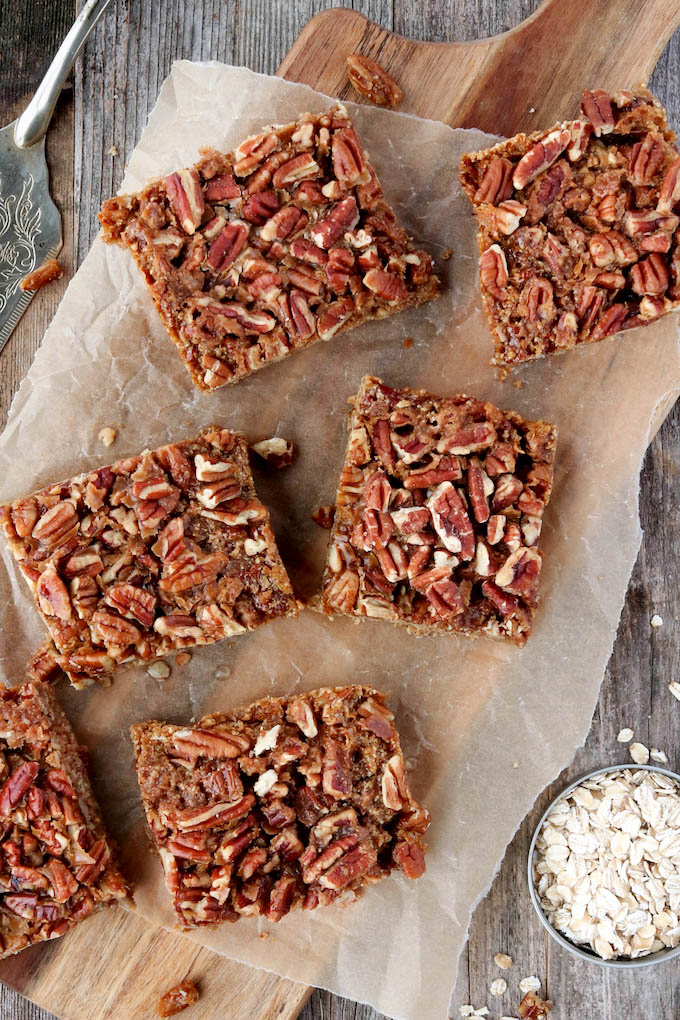 3 Ingredient Strawberry Ice Cream: