3-Ingredient Strawberry Ice Cream is a vegan ice-cream that requires just 5 minutes prep and is naturally sweetened with maple syrup. Simple to make, delicious to eat.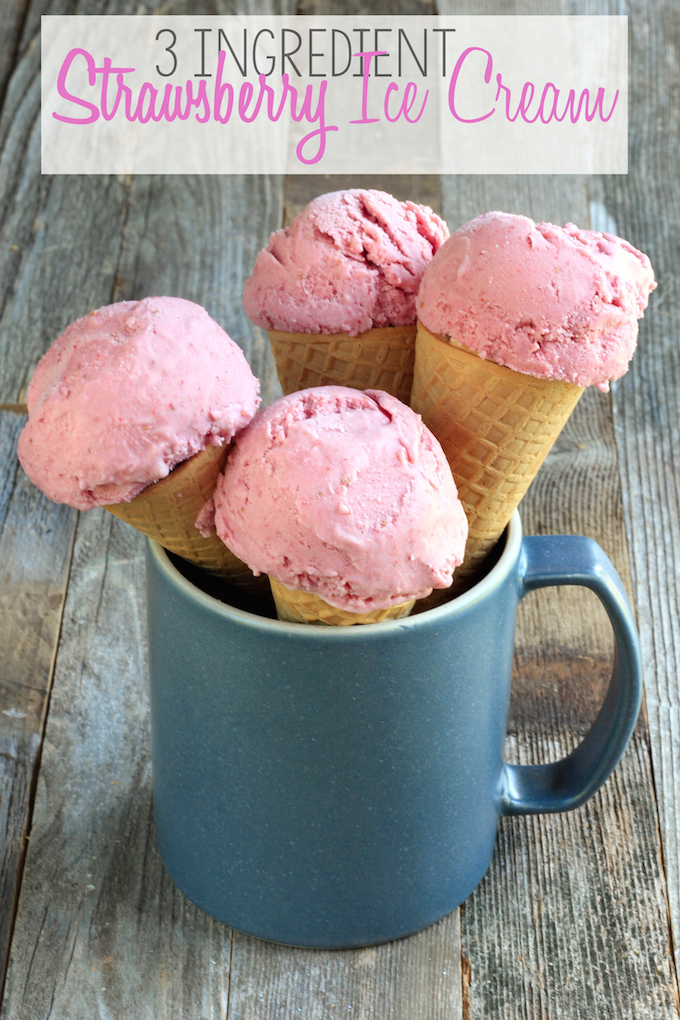 Up until recently, I didn't own an ice cream maker (and the only reason that I have one now is that it was a gift).
But, I always envied people who had one (the mother's day gift wasn't exactly out of left field.. I may have dropped a hint or two?). It's a bit of an investment, but let's be honest, so is taking the whole family out for ice cream. I LOVE being able to make my own ice-cream at home because it allows me to control the quality and quantity of certain ingredients (i.e. sugar and additives). Since Mother's Day I've been putting it to good use!!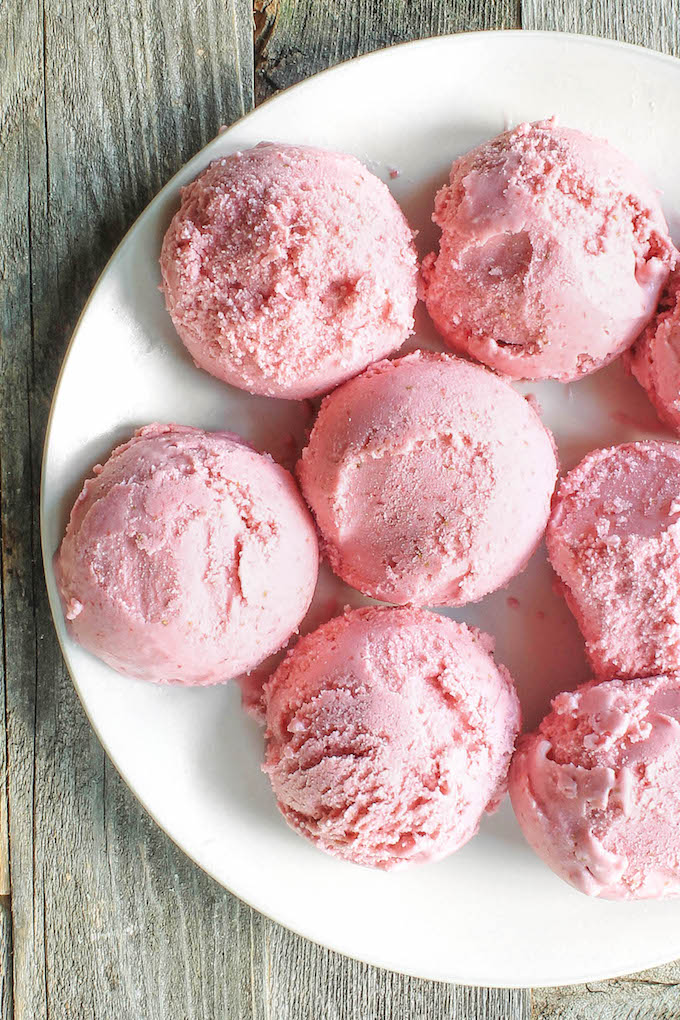 No doubt, I will be sharing LOTS of ice cream recipes, but today I wanted to start out with a super basic recipe. And I mean basic. Basic as in 3 ingredients and 5 minutes prep.
No Ice Cream machine? Fear not. I get it, not everyone is into collecting large appliances that take up room on the counters or in the cabinets. I hear you, and I answer with this:
Don't let your lack of ice cream maker stand in the way of enjoying delicious, healthy, simple ice cream at home. I give you: A NO CHURN OPTION with all the richness, flavor and simplicity of the real thing, no ice cream maker required (see the helpful hints section below for instructions).
Here's the deal. If you use fresh, whole food ingredients, good things happen. With that said.. I always try to keep it super honest here on the blog, because that's the kind of friends that we are. Manage your expectations. This ice cream is DELICIOUS, but you aren't going to mistake it for Haagen-Daz. It has more of a sherbet/sorbet  (is there even know a difference?) thing going on.  It's a little less creamy than traditional ice-cream and a bit more tart.
This recipe requires just 3 Ingredients:
Fresh Strawberries
Coconut Milk
Maple Syrup
That's it!! And prep time is only 5 minutes. The hardest part is waiting the 25 minutes or so it takes to churn. If you're impatient like me you sneak a spoonful (or 10) right from the ice-cream machine before letting it firm up in the freezer. Yeah.. patience has never really been my thing.
 Time Saving Tips and Tricks:
Prep: Strawberries can be chopped ahead and stored in the fridge for 1-3 days (if organic), longer if conventional.
Make Ahead: Yes! Unlike most recipes, this one MUST be made in advance since it needs to chill a minimum of 1-2 hours prior to serving.
Freezer: Obviously ?.
Print
3-Ingredient Strawberry Ice Cream
Author:

Prep Time:

5 mins

Total Time:

5 minutes

Yield:

8

servings

1

x
---
Description
3-Ingredient Strawberry Ice Cream is a vegan ice-cream that requires just 5 minutes prep and is naturally sweetened with maple syrup. Simple to make, delicious to eat.
---
4 cups

fresh strawberries, hulled and roughly chopped

2

cans unsweetened coconut milk (full fat), chilled overnight in the fridge

½ cup

pure maple syrup
---
Instructions
To a blender, add the cream from the coconut milk (do not add the liquid), strawberries and maple syrup.
Blend until smooth.
Pour mixture into ice-cream machine and follow manufacturers directions.
Remove ice cream from machine and pour into a loaf pan. Allow to chill for 1-2 hours before serving.
---
Helpful Hints:
Don't have an ice cream maker? No problem. Follow recipe instructions through step 2.  Instead of pouring mixture into an ice cream machine, pour into a loaf pan and pop it in the freezer. Stir every 20 minutes or so until frozen. The texture will not be as creamy as it would be with an ice-cream machine, but there won't be any complaints!
Interested in purchasing an ice-cream machine? I use THIS ONE and it works perfectly every time.
Make sure to purchase FULL FAT coconut milk. The ice-cream will not solidify if you use a reduced-fat version.
If the ice cream is too tart, increase maple syrup next time. Too sweet.. decrease maple syrup.
I haven't tried it, but I suspect that this mixture would make EXCELLENT popsicles. This would eliminate the need to stir every 20 minutes. Just pour mixture straight from the blender into the molds. If you try it.. help everyone out and let us know how it works out in the comments below.
Let's Connect:
Join over 200 people and take the ⅓ Plant-Based 7 Day Challenge!! CLICK HERE for more info.
Looking for more healthy whole-food recipes? Check out Simply Sissom on Pinterest. If you like it, follow! New pins are added daily from my favorite bloggers from around the web!
You can also find Simply Sissom on Instagram,

Twitter

and Facebook . Check it out,  if you like what you see.. follow?!
Other "SHORT ingredient list recipes" you might like: