One bowl, Whole Food Dark Chocolate Brownies are simple to make, requiring just 8 ingredients and sweetened with a combination of Maple Syrup and Cane Sugar. Simple, decadent, delicious.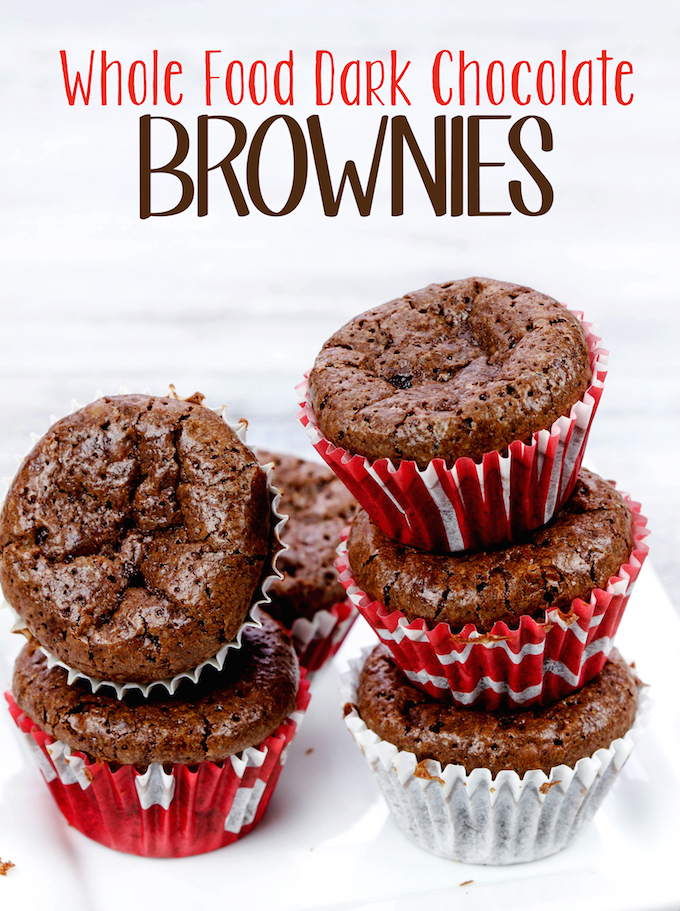 Sooo.. Whole Food Dark Chocolate Brownies ?
I've been sitting on this one for A LOOOOONG time. The original plan was to share this recipe during the "eat all the sweet things" season of Christmas... buuuuut, they took a little longer to perfect than originally planned and then, it was January. January, you know, the month where everyone is all I LOVE kale smoothies and mason jar salads. Didn't seem right to share such a decadent recipe.. I'm not into killing diets with the temptation of delicious food (in January?).
But.. now it's February. With Valentine's day around the corner, the time is right.
These brownies are the perfect situation when you are having the type of chocolate craving that can't be satisfied with a square of dark chocolate or some new fangled black bean brownie recipe. Chocolate is pretty much my favorite thing, and sometimes you just need the real deal. And these are just that. Crusty on the top and warm and gooey in the center.  Mini.. so you can eat "just one" ?.
These brownies definitely pack a caloric punch (but they are mini!). However,  they are made from high quality dark chocolate, unrefined sugars and whole grain spelt flour. In other words, nothing artificial, no dyes, no processed ingredients.  They are minimalist, only requiring 8 ingredients and 1 bowl. Best part, they come together in under 30 minutes.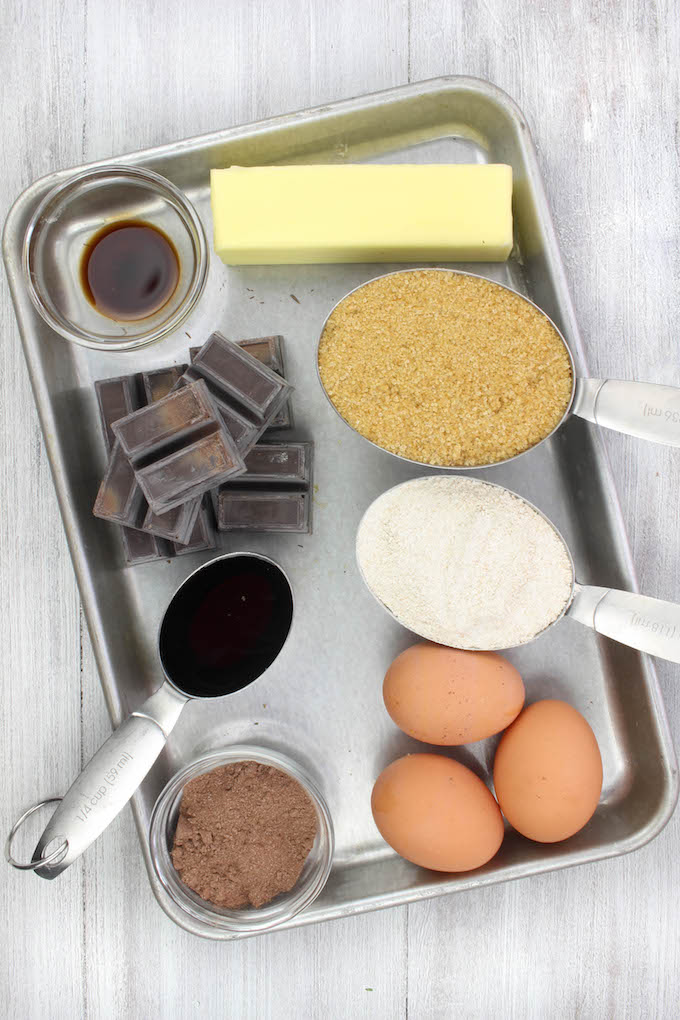 Time Saving Tips and Tricks:
Prep: Three really isn't any reason to prep these brownies ahead of time since they only take about 10 minutes to throw together!
Make Ahead: Yes! Just bake according to recipe and cover with plastic wrap to ensure that they stay fresh. I like to keep mine in the refrigerator and pull them out about 30 minutes prior to serving.
Freezer: You bet.. if you can trust yourself to have mounds of ready to eat brownies sitting around the house.. go crazy. These little guys can hang in the freezer for up to 3 months. Buuut.. I bet they won't last that long. To store, place cooked brownies on a baking sheet in a single layer. Put baking sheet into freezer for 1-2 hours or until brownies are frozen through. Remove the baking sheet from the freezer and store the frozen brownies in a airtight ziplock bag. To thaw. simply remove from the freezer and allow them to thaw or pop them in the oven or microwave until they are warmed through.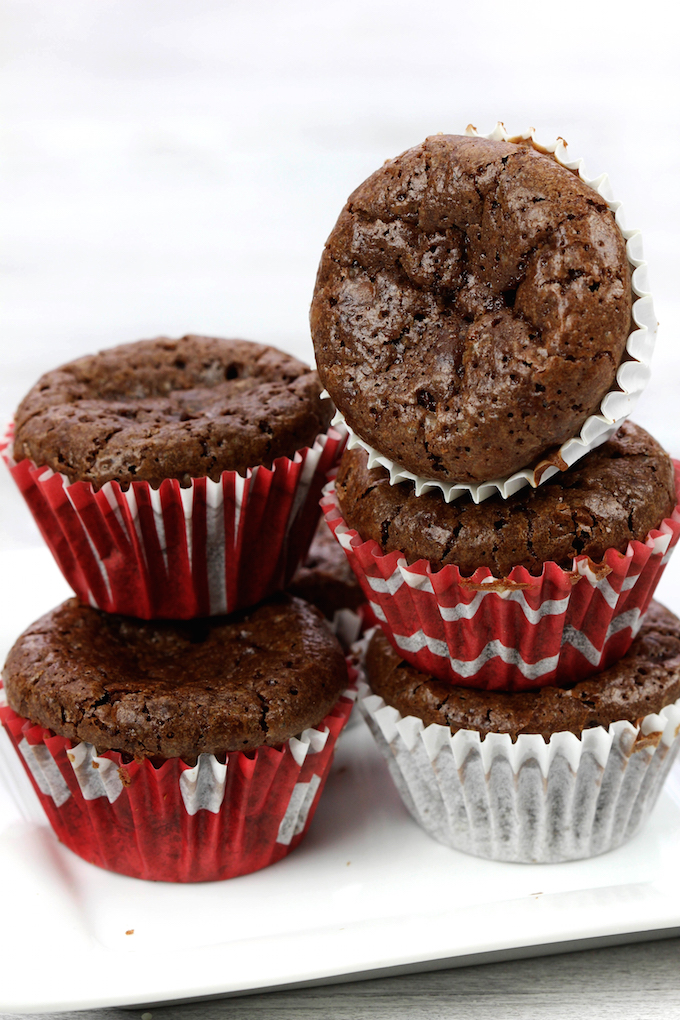 So, make these little cuties. For Valentine's Day, class parties, anniversaries, birthdays, because it's Friday... Just make these brownies! You need them in your life.
Print
Whole Food Dark Chocolate Brownies
Author:

Prep Time:

10 mins

Cook Time:

15 mins

Total Time:

25 minutes

Yield:

24

mini muffins

1

x
---
½ cup

butter, unsalted (organic recommended)

7 oz

. dark chocolate (70% cacao or higher - I used 100%)

¼ cup

maple syrup

1 cup

pure cane sugar

3

eggs

1 tsp

vanilla

½ cup

+2 TBS of spelt flour

2

TBS cocoa or caco powder
---
Instructions
Preheat oven to 350 and line mini muffin tins with baking cups.
In a small sauce pan over medium low heat, combine butter, dark chocolate and maple syrup. Stir constantly until all ingredients are completely melted and the mixture is smooth. Remove from heat and allow to cool for about 10 minutes.
In a stand mixer fitted with the paddle attachment, add the cooled chocolate and the remaining ingredients. Mix to incorporate.
Use a spoon to fill each paper lined muffin cup ¾ full. Bake for 13-16 minutes, or until a tooth pick inserted in the center of the brownies comes out clean. Allow brownies to cool for about 5 minutes before serving.
---
Helpful Hints:
Make sure that you use quality dark chocolate. There should be no funky ingredients or words that you can't pronounce.
Spelt flour is made from an ancient whole grain and is awesome for baking! It is becoming more widely used and easier to find in the grocery store. It is usually found in the health or organic section.
Let's Be Friends:
Looking for more whole food desserts options? Check out Simply Sissom's board, YUMMY TREATS on Pinterest. New pins are added daily from my favorite bloggers from around the web!
You can also find Simply Sissom on Instagram. Get updates when new posts are added and TONS of bonus recipes and tips about how to prep meals for the week! I'd love to connect!
Other Whole Food Desert Recipes You Might Like: