20 Minute Pesto Zucchini Noodles with Cajun Shrimp. A light whole-food Summertime throw-together meal, requiring just 20 minutes and 1 pan.
Pin 20 Minute Pesto Zucchini Noodles with Cajun Shrimp for later!
End of June.
Pool days, popsicles, sun tans, family vacations aaaannnnnnddd... All. The. Summer. Produce!!! FINALLY.. basil, zucchini, sweet corn, watermelon, squash, tomoatoes..not only does Summer have  all the healthy vegetables,  they're cheap!
Making basil pesto in the Winter months costs no less than $854.23.
Ok, obviously I exaggerate, but seriously, do you know how many of those tiny little packages of basil you have to purchase to get 4 packed cups? Yep, unless you have an unlimited grocery budget,  basil pesto is definitely a treat best reserved for Summer.
Let's just keep it real, I don't grow my own herbs. In fact, I don't grow my own anything. For those  true domestic goddesses with their own perfectly kept garden boxes bursting with fresh living things..
1) impressive
2) so jealous
3) can we be friends??
For the rest of us mere mortals.. take comfort in the fact that in the glory months of Summer... basil is so abundant it's practically free. Soooo.... let's make pesto!!! Only 5 ingredients needed (+ salt and pepper).
STEP 1: Basil Pesto:
This basil pesto is adaptable, quick, extremely delicious, and generally my favorite thing about Summer. It goes with everything: pizza, rice, meat, veggies, pastas --> you name it. It's going on everything I eat this week, from quesadillas to fish tacos.
Best part, it's super simple. Throw the ingredients into the food processor, pulse, stir in cheese, done. I'm talking 5 minutes tops, no cooking involved. I even made you a handy little "how-to" guide.
I like to make extra in the Summer, freeze it and enjoy it in the Winter.
Ok, realistically, by the time  Winter rolls around  it will be all gone and we will be feasting on the jarred version around here, but basil-pesto in the Fall, well.. that's cool too.
STEP 2: Zucchini Noodles
Making your own zucchini noodles is REALLY simple, but.. you've gotta invest in a spiralizer. They cost about $30, which stinks,  but you will make up the difference fairly quickly by eliminating the need to purchase pre-spiralized veggies. Seriously.. those guys are PRICEY! That said, if you are trying out zucchini noodles for the first time, buy some pre-spiralized (most stores carry them in the produce section) and make sure you LOVE them.
Once you've got the pesto and zucchini noodles taken care of, you are approximately 5 minutes away from DONE.
STEP 3: Shrimp: 
These little guys beckon to be tossed in all things spicy. Enter a simple cajun spice mix and a little butter and EVOO to help it stick! Who knew that cajun was so simple? Atop a bed of zucchini noodles tossed in basil-pesto is officially my favorite way to enjoy seafood! If you aren't into super spicy foods, just scale back on the cajun seasoning for less heat without sacrificing flavor.
Time Saving Tips and Tricks:
Prep: You can spiralize the zucchini noodles 1-2 days in advance. I just store them in the refrigerator in an airtight ziplock bag. Cleaning the spiralizer is a bit of a pain, so when I am spiralizing... I do lots!
Make Ahead: This dish can be made ahead, but it's definitely best served warm. I served it cold to Joe (since I photographed it in the early afternoon) and I didn't get any complaints.
Freezer: As I mentioned above, pesto is PERFECT for the freezer. You could definitely make a double batch and freeze half. To freeze, place pesto in a freezable airtight mason jar, top with a bit of olive oil, secure lid and freeze. That's it. To thaw, remove from freezer and allow to thaw on the counter or in the fridge. You can also freeze individual portions in ice cube trays. Fill tray with pesto, cover with plastic wrap and freeze!
VIDEO:
Print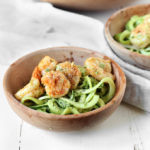 20 Minute Pesto Zucchini Noodles with Cajun Shrimp
Author:

Prep Time:

15 mins

Cook Time:

5 mins

Total Time:

20 minutes

Yield:

6

servings

1

x
---
4 cups

fresh basil leaves, packed

⅔ cup

pine nuts

5

garlic cloves, minced

1 cup

olive oil +

1

TBS, divided

1 cup

freshly grated parmesan cheese
salt and pepper to taste

3

large zucchini

1

TBS butter

1.5

lbs. of raw shrimp, peeled and deveined
Cajun Seasoning
---
Instructions
PESTO: Place the basil, pine nuts, and garlic in the base of a food processor. Pulse until roughly chopped. Scrape sides of food processor with a rubber spatula. With food processor running, slowly stream in the olive oil. Stop to scrape down the sides of the food processor as needed. Stir in the parmesan cheese and desired amount of salt and pepper.
ZUCCHINI NOODLES: Spiralize according to manufacturers directions. In a skillet over medium heat, cook the noodles for 3-4 minutes, until just heated through. Set aside.
SHRIMP: In a skillet over medium-high heat, add butter and 1 TBS olive oil. Sprinkle shrimp with cajun seasoning (no need to measure). When butter has melted, add shrimp in a single layer to the skillet. Allow it to cook until pink, 1-2 minutes per side. Remove shrimp from heat and set aside.
ASSEMBLY: Toss the zucchini noodles with pesto sauce (you may have leftover sauce). Top with cajun-shrimp. Serve immediately.
---
Helpful Hints:
If you don't have a spiralizer or are weary of zucchini noodles, you could definitely sub noodles. I recommend 100% whole-wheat rotini. It holds the sauce well!
If you don't have 4 cups of basil, you can sub out half of the basil for baby spinach leaves.
Pine nuts can be kind of pricy. You can sub out walnuts to save a bit of money.
I have a THIS  Spiralizer 

and it works really well. You can find it for about $30.00 on Amazon.
Let's Connect:
Other Whole-Food Pesto Recipes You Might Like: