Whole wheat lavash bread, topped with creamy basil pesto sauce, seasoned chicken, garden fresh heirloom tomatoes, caramelized onions, zesty artichokes, and melted mozzarella cheese... AKA Chicken Pesto Pizza!!
Pin Pesto Chicken Pizza for later!
Last week I posted a recipe for Homemade Veggie Pizza (V, GF) and you guys.. It. Was. So. Good. Buuuut, I've been on a bit of a plant-based eating kick and since I'm the chef around, whelp.. that means the whole fam has been on a plant-based eating kick. I'm going to level with you, not everyone (Joe Sissom) is as excited about meat and dairy-free meals. I'm nothing if not balanced (?) sooooo, tonight.. CHICKEN pesto pizza with CHEESE!
You guys, I love pizza made with crazy combinations and swanky food stuff, but in real life, homemade pizza is kinda abhorrent to make. This pizza has lots of opportunity for lil short cuts because I 1000% believe that practical, realistic, ready in 30 minutes real food recipes are the best kind❤???!!
Let's Break Down Your Options:
Pizza Crust: Skip the homemade and use whole wheat lavash bread instead. I found mine at Whole Foods in the bread section. It's made with 5 ingredients, and is sugar and oil free. Why bother with homemade?
Pesto: Use pesto from your freezer! Don't have any? You can buy jarred pesto, just be sure to check the ingredients and make sure there aren't any funky ingredients listed. Pesto should be made from herbs, olive oil, parmesan, spices and not much else.
Chicken: Ummmm.... rotisserie! ** Organic Recommended**
Time Saving Tips and Tricks:
Prep: There are a couple of things that you can do to prep ahead for Chicken Pesto Pizza. Anything that you want to do homemade.. get it done. The pizza crust, pesto and even the cooked chicken can be made in advanced so that when it is time to assemble the pizza everything is ready to go. The onions and mushrooms (if you are using them) can also be cooked in advance.
Make Ahead: Assemble the pizza when you have time and refrigerate until you are ready to bake. It will last 1-2 days in the refrigerator. Make sure to cover tightly with plastic wrap so that the pesto doesn't turn a funky green color!
Freezer: This pizza does really well in the freezer. Place assembled pizza that has been wrapped in plastic wrap on a baking sheet. Place baking sheet in the freezer for 1-2 hours or until pizza is frozen through. Remove baking sheet. and place frozen pizza in the freezer. To cook: preheat oven to 425 and allow the pizza to cook 5-10 minutes longer than original recipe baking time.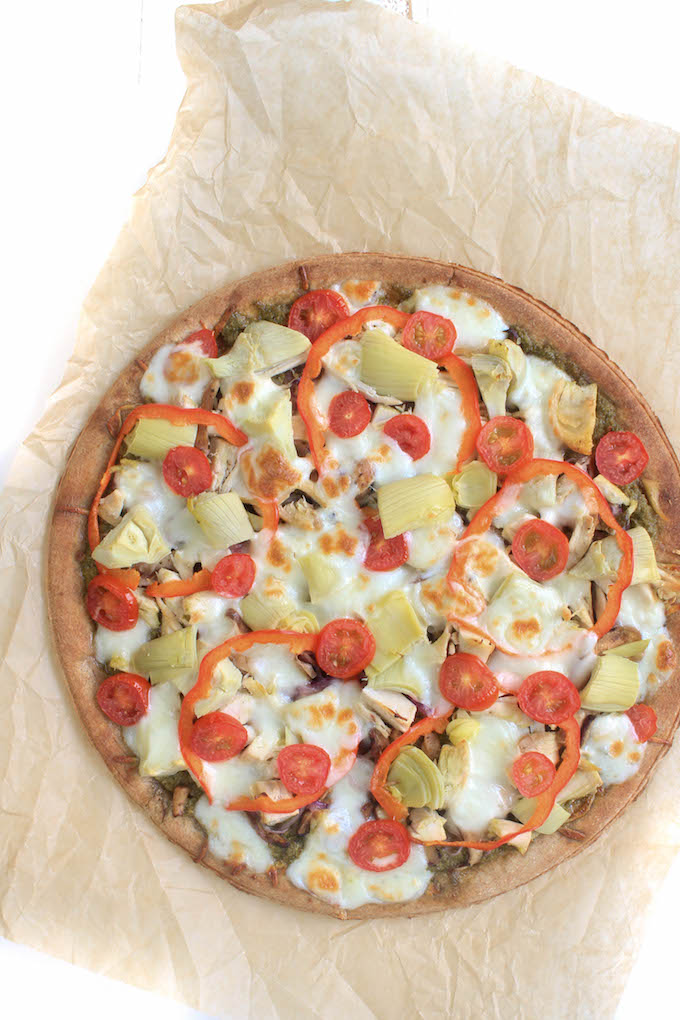 Print
📖 Recipe
---
1

whole wheat pizza crust or lavash bread
olive oil (1 TBS)

1

small red onion, thinly

½ cup

mushrooms, chopped (optional)

1 cup

basil pesto sauce (homemade or store-bought)

10

cherry tomatoes

½

red pepper, thinly sliced

½

can artichokes, quartered

2

seasoned chicken breasts, prepared
---
Instructions
Preheat oven to 450 degrees.
In a skillet, heat olive oil over medium heat. Add onions and mushrooms if using. Season with salt and pepper. Cook until caramelized.
Spread basil pesto sauce over lavash bread or a whole-grain pizza crust. Top with caramelized onions and mushrooms, tomatoes, red pepper, chicken, and artichokes. Tear off chunks of mozzarella, and arrange evenly.
Cook pizza according to crust package or recipes instructions. I like to finish out the pizza under the broiler for 1-2 minutes so that the cheese and crust turn golden brown.
---
Helpful Hints:
Want to make your own pesto but aren't sure how? I LOVE this recipe for pesto from Ina Garten. Simple and delicious!
Want to lighten this pizza up... skip the mozzarella. You won't miss it!
This pizza is nothing if not flexible. Not feeling the mushrooms.. skip it. Don't have a purple onion use sweet onion. You get the idea. It's pizza.. very difficult to go wrong!
I do recommend that you take the time to sauté the onions and mushrooms in a bit of olive oil before putting them on the pizza. Avoid raw onion.. unless you like it of course. In that case, options!
Let's Connect:
Recipes like Pesto Chicken Pizza: