These Chicken Basil Meatballs are fun, easy to make, quick to cook and extremely versatile - plus, they are freezer and Whole30 friendly!
Pin Chicken Basil Meatballs for later!
Clearly I'm kinda into feeding my family healthy, real foods MOST of the time. Which, when I sit and write it out, doesn't seem like it should be an overwhelming situation, but to make real food meals happen during the week - I've got to be organized and prepped. Which is something that, as a whole-food blogger who creates meal prep courses, I should dominate Every. Single. Week.  Strangely, it's is the single household task that controls the majority of my time and one of the first things to suffer when I get overwhelmed with life. Total truth, meal prepping is hard. It takes organization, grocery lists, accurate shopping and most difficult, TIME. Going through the drive through or eating out, NOT HARD.
That said, it's really important to me that my family sits down (most night) and enjoys a healthy real-food meal together. Over the last 34 years, I've gotten to know myself pretty thoroughly. In a nutshell, it's "all or nothing" with me (aka.. my domestic skills are either completely on-poing or, well... they're not). No matter how much planning, how many schedules, what "morning routine" I implement, there will always be those weeks that I'm just tired and "off." It's inevitable.
So, instead of pretending that each week I will religiously plan on Sunday, shop Monday morning, prep Monday afternoon and then provide my family with a well-balanced meal made with love each night, I PLAN for failure.
For me, that means that when I'm in my "ALL" mode, I make sure that my freezer is stocked with prepared whole-food meals that can be thrown together with little to no effort.
And currently, these Chicken Basil Meatballs are filling up my freezer.
Let me give you all the perks of these little ol' meatballs:
They are freezer-friendly, obviously.
Odds are pretty good that a majority of the 7 ingredients (+ salt/pepper) are currently hanging out in your fridge.
You can adjust based on what you have, no ground chicken.. use beef.
They check all the boxes healthy-wise that a meatball can.. grain-free, dairy-free, paleo, Whole 30.
MEATBALLS. I love a good ol' beef marinara, but I LOOOVVVVEE a good meatball. Notice the difference there? Give me the meatballs.
So, save this one and then some weeknight, go meatball crazy, I dare you. Double the recipe. Triple the recipe. Go for quadruple. Freeze those babies. Then, when the time comes that you are, ahem.. less than your best.. bust em' out and feel good about the fact that even though you didn't make it to the store, a homemade dinner is still happening.
Time Saving Tips and Tricks
Prep: There is not really much reason to prep for these guys, they come together really fast! But.. if you really want to get ahead, you can sauce the garlic and onions 1-2 days ahead of time and store in an airtight bag or container in the refrigerator.
Make Ahead: Yep! I like to double the already large recipe and use up the leftovers in lunch boxes, egg frittatas or in their original form!
Freezer: That's the idea! These meatballs are perfect for freezing. Arrange cooked and cooled meatballs in a single layer on a baking sheet. Freeze for 3-4 hours, or until frozen through. Remove baking sheet from freezer and transfer meatballs to an airtight Ziplock bag. They will keep with no problem for up to 3 months.
Print
Chicken Basil Meatballs
Author:

Yield:

8

Servings

1

x
---
Description
These Chicken Basil Meatballs are fun, easy to make, quick to cook and extremely versatile - plus, they are freezer and Whole30 friendly!
---
1

 Tbs olive oil

5

garlic cloves

1

small sweet onion, diced

½

 cup carrots, minced (I purchase shredded and then chop them)

¼ cup

fresh basil, minced

2

lbs. ground chicken

¼ cup

almond butter

1

 tsp salt

½ tsp

pepper
---
Instructions
Heat oven to 425. Cover a rimmed baking sheet with foil.
In a small skillet over medium-high heat, add olive oil. Once oil is heated, add garlic and onions, Cook until translucent, about 5 minutes. Transfer to a large mixing bowl.
To same mixing bowl, add carrots, basil, ground chicken, almond butter, salt and pepper. Use hands to mix, don't overdo it.
Shape the mixture into 1" meatballs. Place meatballs on the prepared baking sheets and bake for about 20 minutes, rotating the pan half way through the baking time, until the meatballs are browned. Let cool.
---
Let's Be Friends:
Posts like Chicken Basil Meatballs:
Freezer-Friendly Thick n' Chunky Marinara Sauce:

Italian Chicken Meatballs:

Lasagna Stuffed Zucchini Boats: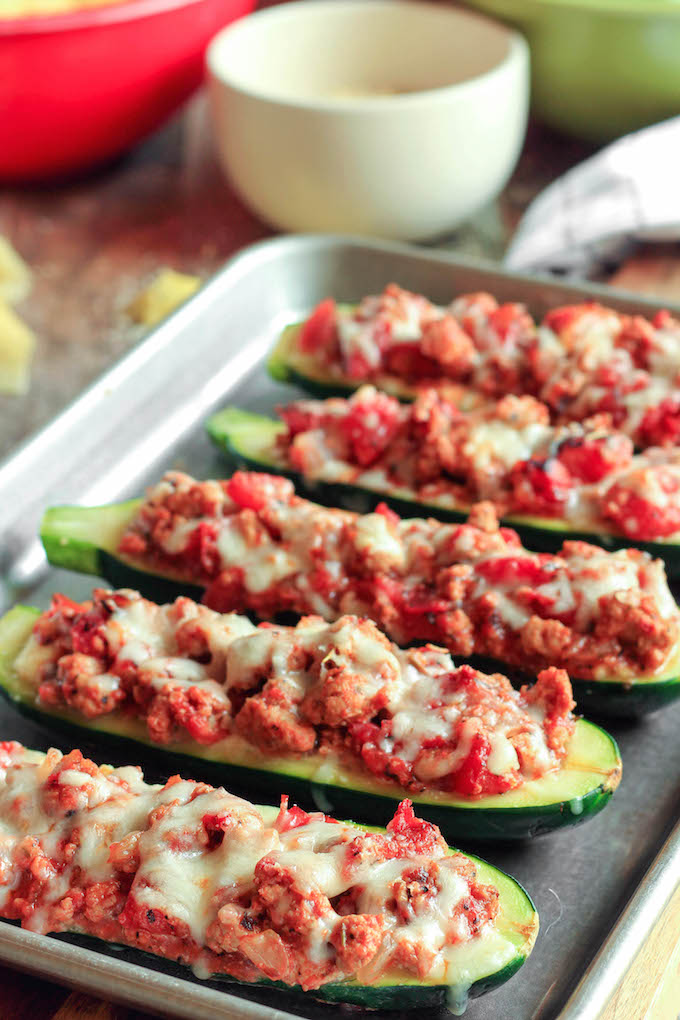 SaveSave
FREE WHOLE30 COOKBOOK
12 Family Friendly Whole30 Compliant Recipes from Simply Sissom.