Flavorful, Clean Eating Lasagna with a zesty meat sauce, creamy ricotta and melty mozzarella. Freezer Friendly and so delicious!
Pin Clean Eating Lasagna for later!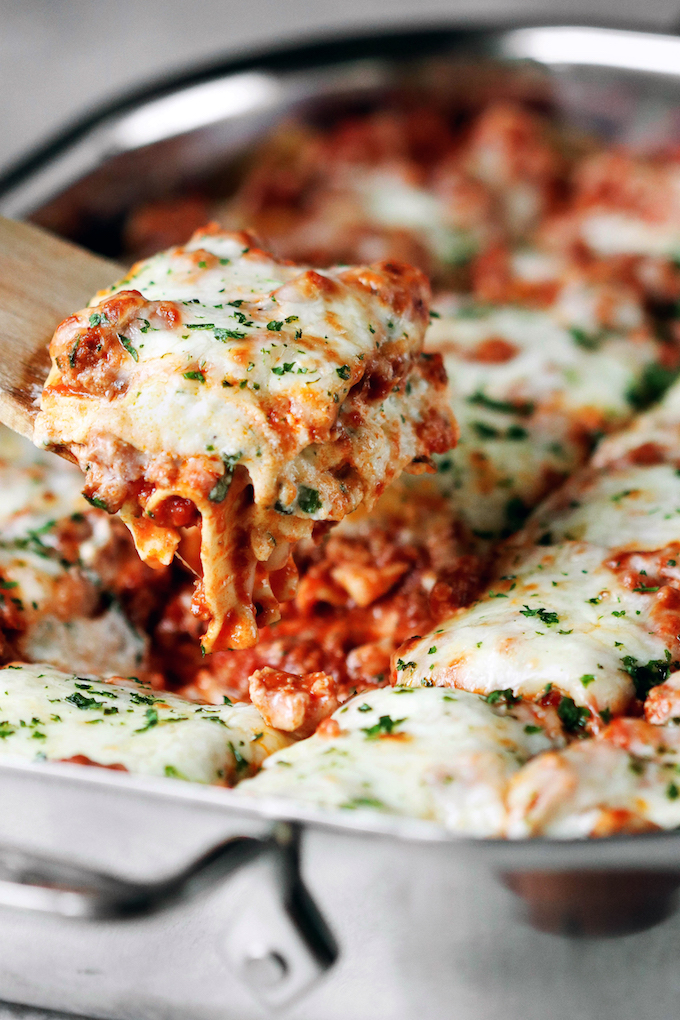 This clean eating lasagna is not packed with obscure veggies, fancy cheeses, or other ingredients that will leave you combing the aisles of the grocery store for hours. Don't get me wrong, I love swanky lasagna, the more types of cheeses and veggies the better! Sadly, I'm in the minority around here. My boys want MEAT, stringy blobs of cheese, and traditional flavor!
I aim to please.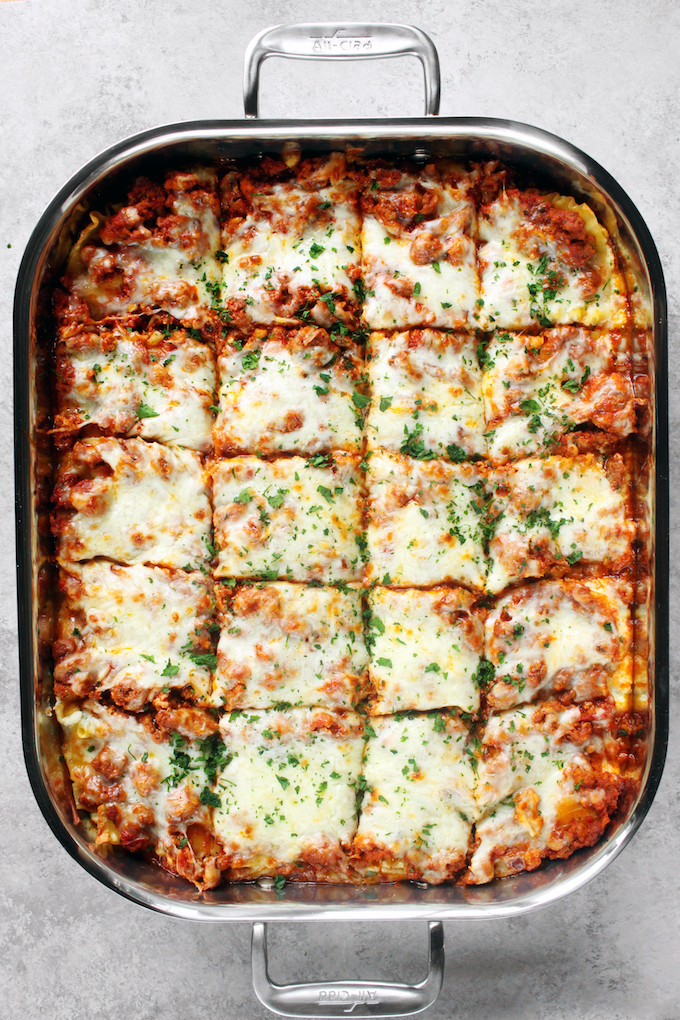 This lasagna is simple, basic and would best be described by the term, traditional. I changed up the way that I layer it up since I opted to use whole-wheat NO BOIL lasagna noodles (aka.. best idea ever). If the noodles don't get enough moisture, they don't cook completely. Crunchy lasagna.. no thanks.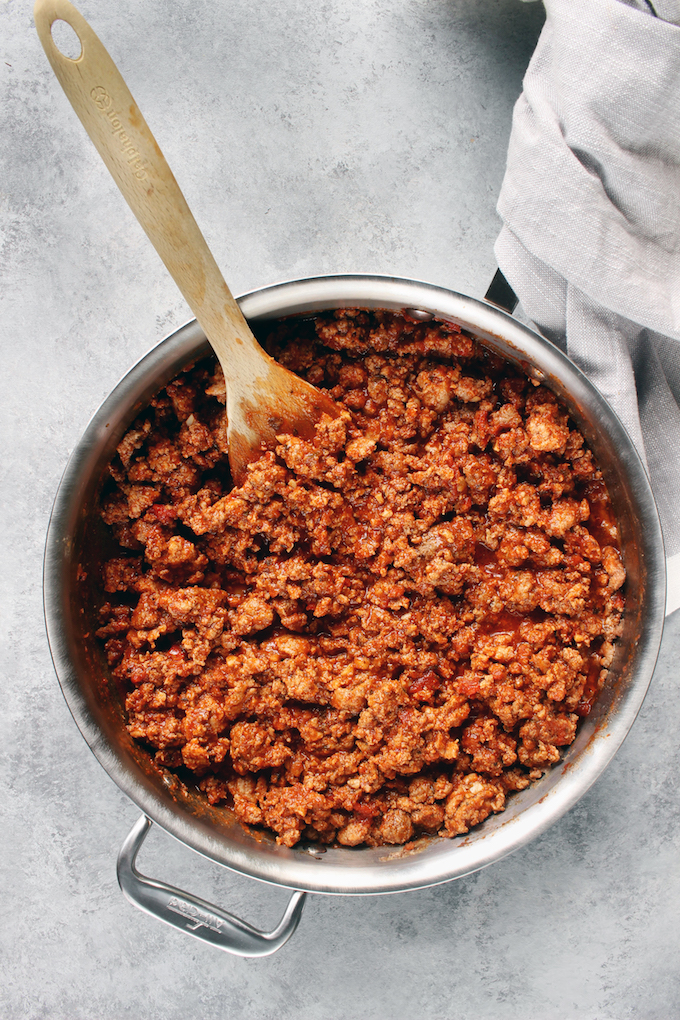 I know that layering a lasagna isn't exactly rocket science, but I can't tell you how many times I've blown it. Please tell me I'm not the only one. Here's a little help from me... to you. You're welcome.
Cheat Sheet:
Meat sauce (less meat, more sauce)
Noodle layer
Meat sauce (more meat, less sauce)
Mozzarella
Noodle Layer
Ricotta Mixture (use it all)
Noodle Layer
Meat
Mozzarella
I even made you a visual...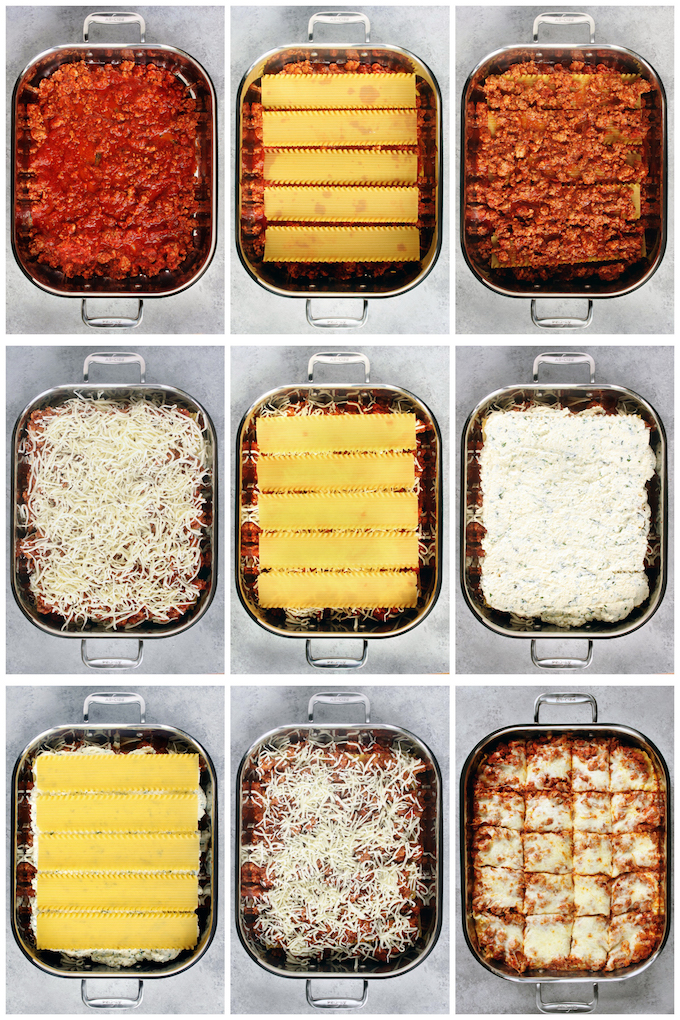 Lasagna doesn't fall under the category of "classic health food," but with a few simple swaps and some careful grocery shopping, you can eliminate all things funky while still using some store-bought shortcuts! Keep in mind, clean eating doesn't mean low calorie.
Clean Eating Lasagna Shopping Guide:
Chicken Sausage - I like to purchase sausage that is made fresh in store. You can find this at the butcher counter in LOTS of grocery stores. Make sure to ask what's in it. You should recognize All. The. Things. It may only come in link form but you can remove the casing, dump it in the skillet and it will cook up perfectly.
Ground Beef - Organic, grass-fed and local is preferable. That said.. do the best you can. This isn't always possible.
Marinara - You could definitely make your own, but there are some really great store-bought options out there. Look for a variety that is made from all real food ingredients (no weird words) and doesn't list sugar as an ingredient. I like Rao's (<-- not sponsored, just my fav).
Ricotta Cheese - This can be tricky, but ricotta made from real food ingredients is possible. The ingredient list should be short. I also look for whole-milk, organic versions.
Mozzarella - If possible, try to avoid the mozzarella that comes pre-packed and shredded. It contains an ingredient called cellulose (anti-clumping) and you just don't need it. At my grocery I purchase the mozzarella from the deli and ask them to shred it for me (yep.. I'm lazy like that).
Lasagna Noodles - You guys.. no boil is where it's at! So much easier than pre-cooking. I use Dellalo Whole Wheat Oven Ready Noodles and I've never had a complaint. (NOTE: this post has been edited after the fact with info about Dellalo .. these noodles are not shown in pic).
Time Saving Tips and Tricks
Prep: The meat sauce and ricotta mixture can be made up to 3 days ahead of time if stored in the refrigerator.
Make Ahead: Assemble lasagna and cover it with plastic wrap. Do not bake. It will keep in the fridge for up to 3 days. When you are ready to serve, remove it from the fridge and allow it to come to room temperature. You can then bake it according to recipe directions.
Freezer: Assemble lasagna. Place a piece of plastic wrap directly on top of the lasagna. Cover lasagna pan tightly with clear wrap. Store in the freezer for up to 1-2 months.
Print
Clean Eating Lasagna
Author:

Yield:

15

Servings

1

x
---
1

TBS olive oil

4

garlic cloves, minced
1 lb. ground Italian chicken sausage (you can sub beef or turkey sausage)

1

lb. ground beef

½

TBS Italian seasoning

10

-

13

oz. marinara sauce (amount will vary based on meat used, etc.)

2 cups

ricotta cheese

¼ cup

fresh basil

¼ cup

fresh parsley + more for garnish

1 cup

parmesan cheese, divided

1

egg, beaten
salt and pepper

2

 cups mozzarella cheese, shredded

12

-

15

whole wheat no boil lasagna noodles (may require more than

1

box)
---
Instructions
Meat Sauce:
Heat large skillet over medium-high heat. Add olive oil. After 30 seconds, add garlic. Cook until fragrant, about 1 minute. Add sausage, beef and Italian seasoning. Cook until no longer pink, about 6-8 minutes. Remove pan from heat. Drain grease. Add marinara sauce. You want the meat mixture to be thick, not runny. A little thinner than the texture of sloppy joe. Set aside.
Ricotta Mixture:
In a large mixing bowl combine ricotta, basil, ¼ cup parsley, ½ cup parmesan cheese and egg. Season with salt and pepper. Mix to combine. Set aside.
Assembly:
Heat oven to 350 degrees.
Spread 1 ½ cups of meat sauce in the bottom of a 9x13 inch baking dish, top with 4-5 lasagna noodles. Use slotted spoon to dish 2 very meaty cups of sauce over noodles and sprinkle with ¾ cup of mozzarella. Top with 4-5 more noodles and spread with all of the ricotta mixture. Top with 4-5 more noodles, 2 very meaty cups of sauce and ¾ cup of mozzarella. top with remaining noodles, sauce and ½ cup each parmesan and mozzarella.
Cover with foil. Bake for 45-55 minutes, or until sauce is bubbling and pasta is cooked. Uncover and bake for another 10 minutes at 425, until top is lightly browned. Let stand 10 minutes before cutting and serving.
---
Let's Be Friends:
Posts like Clean Eating Lasagna:

Freezer-Friendly Thick N' Chunky Marinara Sauce: