Maple Pecan Baked Stuffed Apples are naturally sweetened and made in 1-bowl.  Apples are generously stuffed with oats, pecans, dates and cinnamon, butter, vanilla and cinnamon and then baked until soft and gooey. They make the perfect Fall dessert.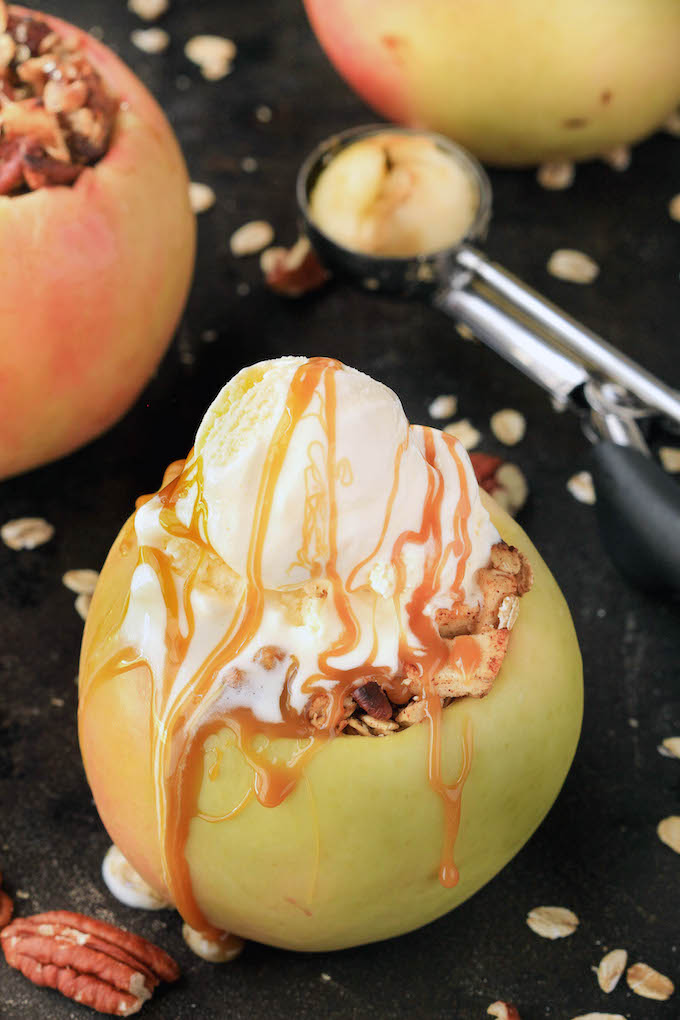 Question????
A sweet, warm Honeycrisp apple encasing a heaping portion of apple crisp that is topped with homemade vanilla ice-cream and drizzled with 2-ingredient date caramel: you into that?
It's been a REALLLLLLY long time since I made a dessert. Don't get me wrong - I eat it. Buuut, as far as making it goes, I'm pretty much the worst. Baking and desserts require precision, and not be self-deprecating, buuuuut precision is not really my forte.
When I do make desserts, I will be the first to admit that I am a die-hard chocolate dessert fan, and yet. And YET.
I have no doubt in my mind that these Maple Pecan Stuffed Apples rival the taste of even the most decadent desserts that chocolate has to offer. Seriously, these are a must try.

Made with ingredients you can feel good about eating, baked stuffed apples are naturally sweet without the use of refined sugar or oil. The pecans provide healthy fats, the oats and apple bring the fiber and dates and maple syrup work together to naturally sweeten things up.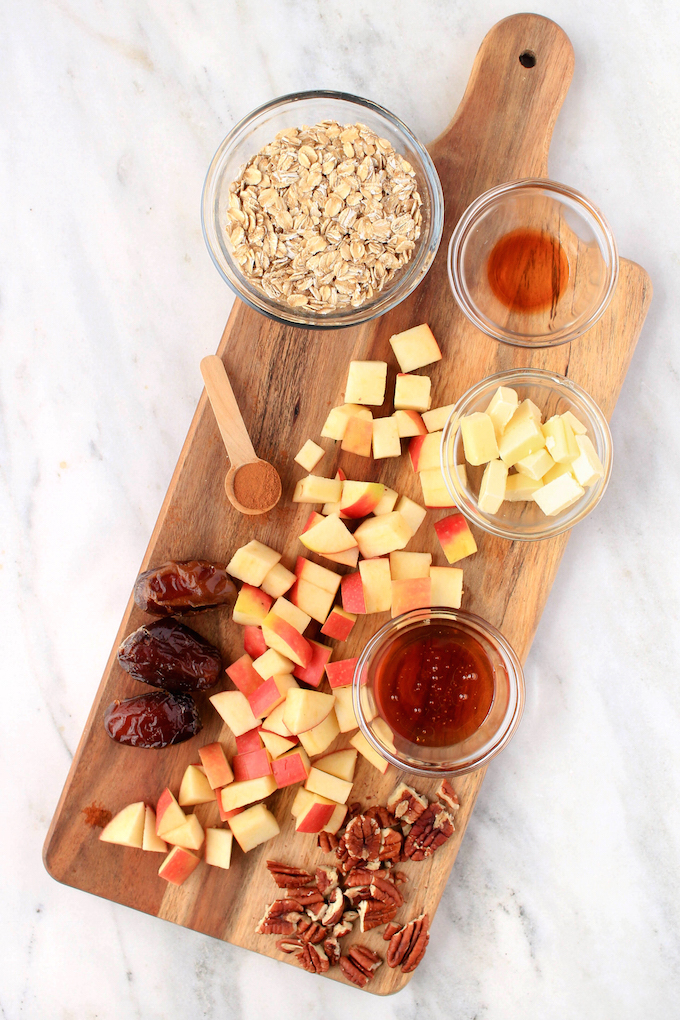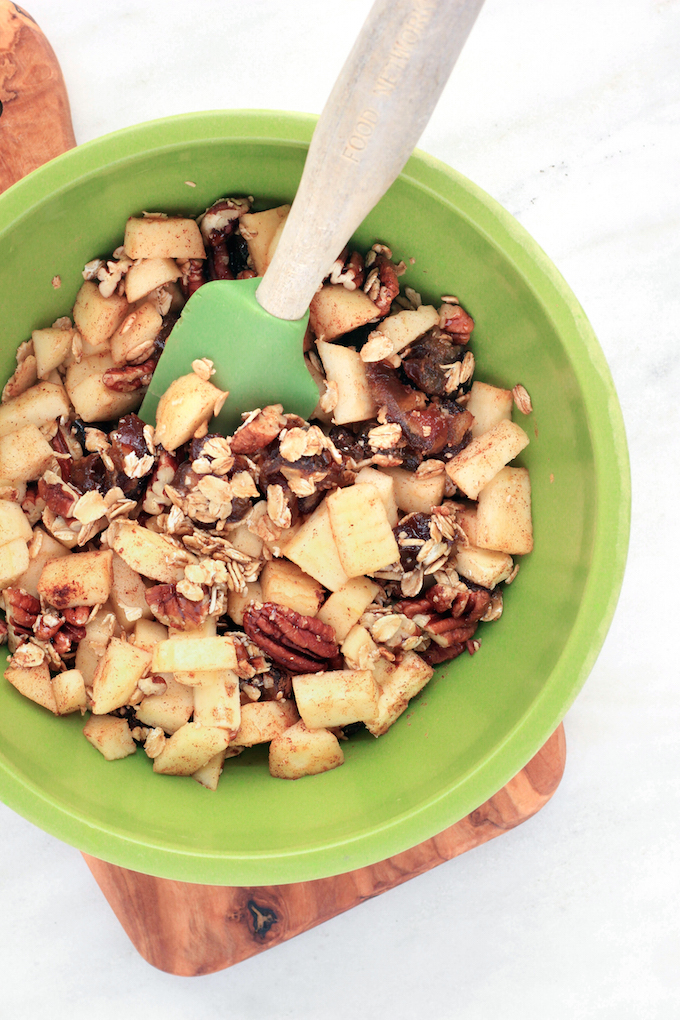 Maple Pecan Baked Stuffed Apples Video:
Time Saving Tips and Tricks:
Prep: Yep! Just follow recipe directions through step 5. Basically, assemble but don't bake. Store stuffed apples in the refrigerator in a covered baking dish. Note: the edges of the apple will turn a bit brown, but this won't matter once baked. They can be made up to 1 day in advance.
Make Ahead: These apples can be made and baked ahead of time or eaten as leftovers. They taste delicious, buuuuut they lose their good looks with age. I wouldn't plan to make-ahead if you are planning on serving to company or for a special event.
Freezer: Not this time.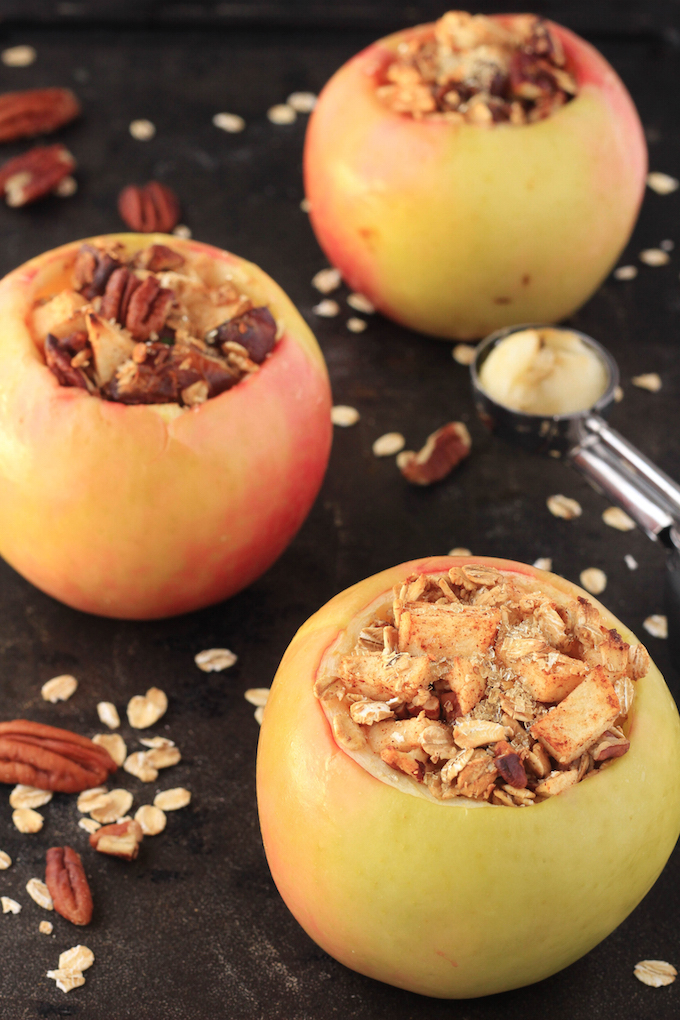 Print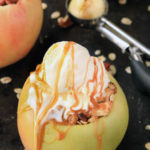 Maple Pecan Baked Stuffed Apples
Author:

Prep Time:

15 mins

Cook Time:

20 mins

Total Time:

35 minutes

Yield:

4

apples

1

x
---
5

Apples (4 for stuffing and 1 for filling))

2

TBS butter, cut into

¼

inch cubes

1 cup

apple, cut into

¼

inch cubes

¼ cup

quick oats (gluten-free if necessary)

¼ cup

pecans, chopped

1

TBS maple syrup

4

dates, pitted and chopped

1 tsp

vanilla

1 tsp

cinnamon
---
Instructions
Heat oven to 350.
Use a knife and melon baller (a spoon would work too) to hollow out 4 apples.. Check out the video in the post for a visual.
Place hollowed apples into a baking dish that has been lightly sprayed.
In a medium sized mixing bowl, combine butter, apple, oats, pecans, maple syrup, dates, canilla and cinnamon.
Using a large spoon, fill hollowed apples with stuffing. Apples should be filled to brim and the stuffing packed in tightly.
Bake for about 20 minutes, or until apples are tender. Do not overcook or they will turn into a mushy mess.
Serve with ice-cream and date-caramel (if desired). Enjoy!
---
Helpful Hints:
Want to make a healthy caramel topping? Check out this Date Caramel from Minimalist Baker. I added extra water to the recipe so that I was able to drizzle the caramel onto the apples.
I suspect that making these apples dairy-free and/or vegan friendly would be fairly simple. I would replace the butter with coconut oil and trade in the ice-cream for a milk-free substitute. DISCLAIMER: I haven't tried this. If you do... let us know in the comment section how it went.
When apples begin to ooze liquid (even a tiny bit) out the bottom... they are done!
You don't want to use puny apples to make this dessert. They wilt up in the oven. I found that Honeycrisp apples held up well in the oven and had a delicious flavor. Apples are on the dirty-dozen list so using organic is always recommended.
The recipe calls for 7-8 apples but only makes 6 stuffed apples. Apples 7 and 8 are to use to make cubes for the stuffing. I found that using the apple pieces that were removed when hollowing were just didn't work well. They were too thin.
Let's Connect:
Other Healthy Desserts You Might Like: