Easy, One-Bowl Corn Muffins sweetened naturally with honey. Tender, wholesome, and a delicious snack or side to savory entrees. #wholegrain 
Pin One-Bowl Corn Muffins for later!
Soooo, I've made 48 corn muffins Just. This. Week.
(FACT: I never even got a chance to take pictures of the first batch.. the boys ate them.)
Before you get judgy, know this.. I did not feed them 4 corn muffins each. They snuck them!
Negligent parenting? Maybe. Buuuut, let's not focus on that.
You guys, right beside the spot that the corn muffins were cooling .. Halloween Buckets.
That means, my kids snuck cornbread instead of candy (unless they also stole candy and got away with it). Seriously, who does that? I'm claiming it as a WIN. I'll focus on instilling integrity some other day:)
These cornbread muffins taste just like, well.. regular corn muffins. I know what you're thinking.. "That's your sell, regular ol' corn muffins? No thanks."
Give me a minute, don't stop reading. I'll win you over.
These corn muffins are made entirely of non-processed, real food ingredients. No white flour, no refined sugar. The amount of butter is cut in half and high calorie buttermilk has been replaced with yogurt. That makes these guys #wholegrain #lowcal #lowfat #wholefoodfriendly. So under the circumstances, I think tasting just like the real deal is pretty darn impressive!
Time Saving Tips and Tricks:
Prep: Throwing these muffins together is super simple. There really isn't much need to prep ahead.
Make-Ahead: Yes! I always do baking ahead of time. I kept these corn muffins in a sealed container on the counter for 3 days.. they were still delicious. I suspect that if you stored them in the refrigerator they would keep even longer.
Freezer: You bet.  To freeze, follow recipe instructions. Once muffins have cooled, arrange them on a baking sheet and pop them into the freezer for 3-4 hours (or until frozen through). Remove baking sheet from freezer and store corn muffins in an airtight freezer bag. They will keep for up to 2 months with no problem. To thaw, remove from freezer and allow to come to room temperature.
Print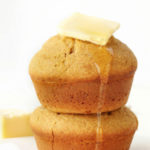 One-Bowl Corn Muffins
Author:

Prep Time:

10 mins

Cook Time:

20 mins

Total Time:

30 minutes

Yield:

12

corn muffins

1

x
---
Description
Easy, One-Bowl Corn Muffins sweetened naturally with honey. Tender, wholesome, and a delicious snack or side to savory entrees. #wholegrain 
---
1 cup

cornmeal

1 ½ cups

whole-whole flour

¾ tsp

baking soda

¼ tsp

salt

3

eggs

1 ¼ cup

whole-milk plain yogurt

4

TBS butter, melted

3

TBS applesauce

¼ cup

honey
---
Instructions
Heat oven to 350. Spray muffin tin cups with non-stick spray.
In a large mixing bowl, combine cornmeal, flour, baking soda and salt. Mix.
Dig a small well in the center of the bowl, into the well add eggs, yogurt, butter, applesauce and honey. Use a hand mixer to combine.
Bake until the edges pull away from the pan and turn golden in color, about 18- 20 minutes.
---
Helpful Hints:
You can successfully make most recipes "lighter" by subbing applesauce for up to ½ of the butter.
I used Stony Field's Grassfed Organic Whole-Milk Yogurt in this recipe.  It's my fav (<-- NOT sponsored, just love it!).
When purchasing whole wheat flour you need to make sure that it actually says "100% Whole Wheat." I like King Arthur's 100% Whole Wheat Flour. It's widely available and I know that it is made from high quality ingredients. (<-- this is not sponsored either!).
I used this recipe to make my Whole Food Sausage Apple Stuffing and it worked out perfectly!
Let's Connect:
Posts Like One-Bowl Corn Muffins:
One Bowl Chocolate Chip Pumpkin Bread: