This Whole Food Chocolate Breakfast Shake is made with wholesome ingredients and loaded with protein and fiber. It's smooth, creamy and will definitely keep you satisfied until lunch time!

Yesterday I failed miserably as a parent. This is without a doubt not the first time that this has happened, but it is the first time that we have ended up at the hospital as a result. Nope, not a stellar parenting day on my part.
I do feel that Campbell (my 2 year old) needs to take a bit of responsibility for his part in this mishap. I mean honestly.. who sees a screw on the floor and deems it a great idea to stick said screw up their nostril? I will concede that it is within the realm of possibility that the previously mentioned screw possibly ended up wedged deep within my toddler's nose at the direction of his older brother, but at the time of this post Cooper (5 year old) was unable to confirm or deny his involvement in this incident?.
So yes, Campbell got a screw stuck in his nose. Not just a little stuck.. like REALLY REALLY stuck. Stuck as in 2 separate doctors, 4 hours of time, hundreds of dollars in medical fees and threats of full blown surgery. Yep, when my kids "screw up" (<--please don't stop reading ?) they go all out!
But I haven't shared with you the part where my parental guilt comes in. Yes, I should have been watching closer. No, I wasn't in the room when this happened. Yes, there was a screw on our floor that I wasn't aware of.  All forgivable. But, here's the issue... I didn't believe that there was a screw in my son's nose. I couldn't see it. I couldn't feel it. I spent 15 minutes forcing the boys to scour the playroom for the missing screw.. all the while my 2 year old kept pointing to his nose (probably thinking, "it's right here you dummy") and saying Mommy. Screw. Nose. I wasn't buying it.
After a good deal of time passed (20 minutes or so) I begrudgingly began hunting for shoes and socks.. I was resigned to the fact that I was going to have to pay a doctor $1, 435, 987 dollars to tell me that there was in fact no screw stuck in my son's nose. Not to mention, at the time of the incident I. Looked. Rough. Think stained t-shirt, Mom-Bun and yesterday's makeup (yes it was 12:30 in the afternoon.. no judgement!). I contemplated a shower and a little make-up but convinced myself that in the off chance that there was in fact a screw in Cam's nose it would probably puncture his brain or come out through his eyeball if I spent 15 minutes cleaning myself up.
Long story short.. as you already know, there was in fact a screw in Campbell's nose. I will spare you the horror story involving  4 nurses, Joe and Myself and a doctor holding down my screaming son and skip to the happy ending. Screw's out. Campbell's fine. I'm making whole-food chocolate breakfast shakes for dinner. That last sentence may seem a bit out of place to you. Questionable transition to breakfast shakes, I get it. But trust, you cannot feel like a crappy parent when your 2 year old son picks chocolate "milkshakes" (secretly loaded with wholesome ingredients like spinach, rolled oats and fresh fruit) as his reward for being so brave while they removed an inch long screw from his nose. Okay.. maybe you can still feel a little crappy?.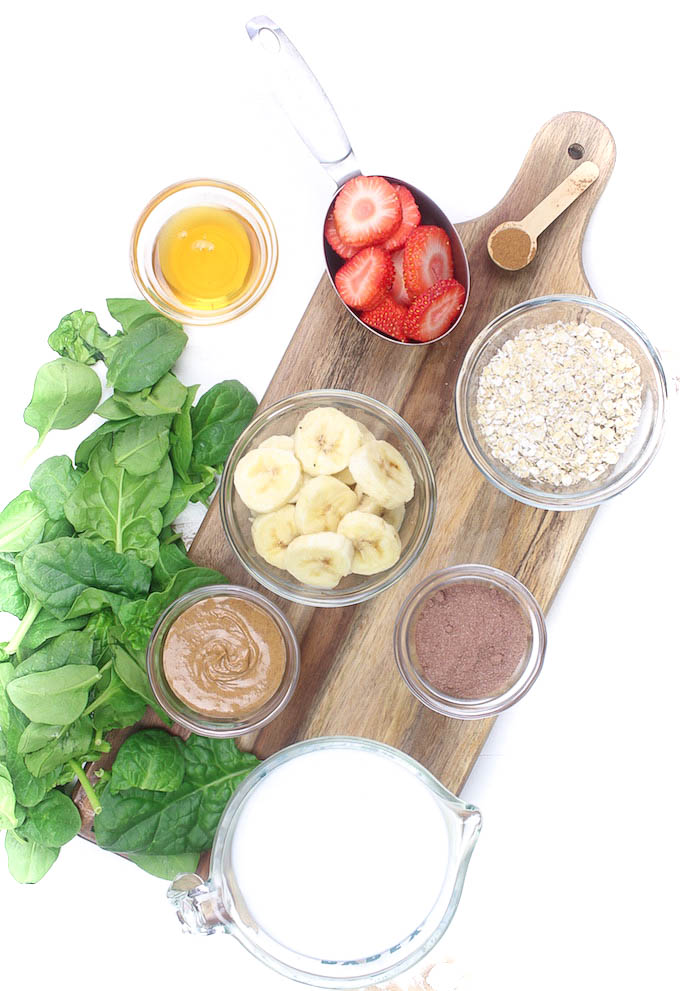 Time Saving Tips and Tricks:
Prep: There is a little bit of prep work required for these breakfast smoothies. Don't stress.. it's easy! The bananas and strawberries need to go into the blender frozen. In our family, we never eat an entire bunch of bananas before they start to go brown. And heaven help me if I dare serve the boys bananas with brown spots. Sooo... when the bananas at our house start to look a little less than picture perfect, I simply peel them, wrap them in plastic wrap and store them in the freezer. This way when we want smoothies... bananas are good to go. For the strawberries.. you can use fresh and freeze them yourself OR just buy the pre-frozen ones.
Make Ahead: You can make these smoothies the night before.. pre blended and everything. Just follow recipe directions. Store finished smoothies in mason jars. In the morning, grab and go breakfast is ready!
Freezer:  This is my FAVORITE way to make smoothies/shakes. It's really a laziness thing.. I hate cleaning the blender. Sooo.. if I have it out to make 1 smoothie, I figure I may as well make 5. Follow recipe directions and store smoothies in a freezer friendly mason jar in the freezer. The night before you want to serve em up for breakfast, just stick them in the fridge to thaw. They will be perfect by the AM. If you prefer a freshly blended smoothie you can always make "smoothie bags." In a quart sized ziplock bag (freezer friendly) just add all of the ingredients except for the milk and honey (you can throw those into the blender the morning of). Seal the bag, date it and write on the bag what ingredients need to be added a time of blending (ex: 1 cup of almond milk and 1 TBS of honey), this way you won't forget!! When you are ready to enjoy the smoothie, empty the contents of the bag, add the missing ingredients and blend. Simple.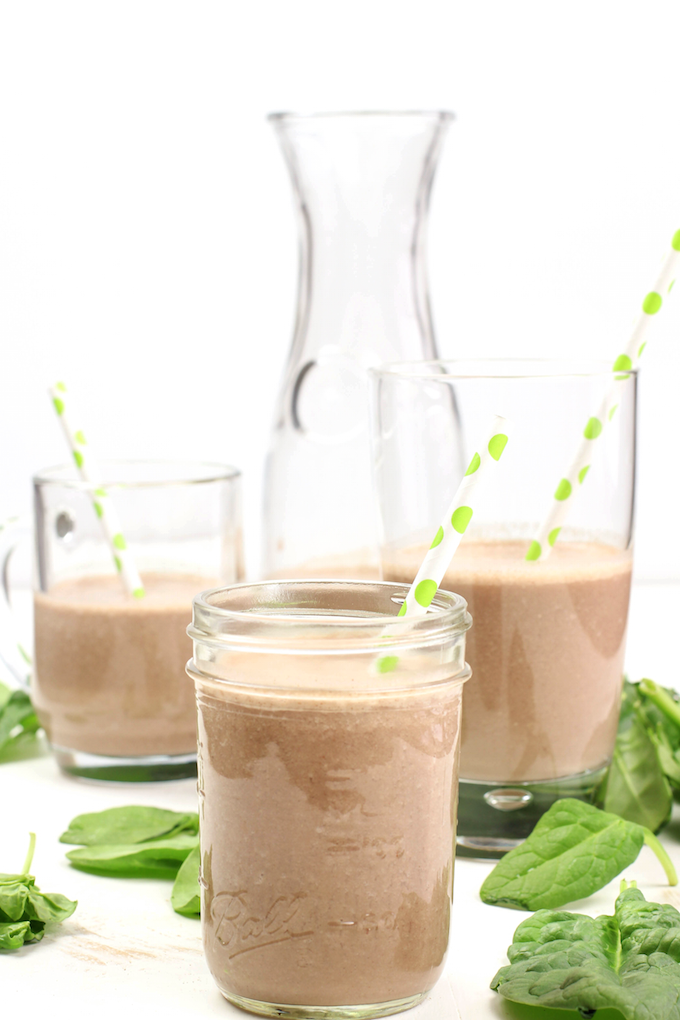 Print
Whole Food Chocolate Breakfast Shake
Author:

Prep Time:

5 mins

Total Time:

5 minutes

Yield:

2

servings

1

x
---
1

frozen ripe bananas, chopped (you can do this before or after freezing)

⅓ cup

cooked and cooled rolled oats (use gluten-free if needed)

½ cup

frozen strawberries

2 Tbsp

cocoa powder

2 Tbsp

salted almond butter

1 cup

unsweetened almond milk

½

-

1

TBS honey

⅓ cup

ice

1

big handful of spinach

1 tsp

. cinnamon
---
Instructions
Add all ingredients into a high speed blender. Blend until all ingredients are fully combined. Enjoy.
---
Helpful Hints:
You can definitely taste the banana in these shakes.. if you don't like banana sub out a scoop of protein powder or ½ a cup of greek yogurt.
Depending on the amount of spinach that you include the color of the shake change. If you are trying to be sneaky keep the spinach to a handful or less.
Some almond milk contains an additive called carrageenan.. a known carcinogen. Make sure to check the label.
Let's Connect:
Looking for more healthy whole-food recipes? Check out Simply Sissom on Pinterest. If you like it, follow! New pins are added daily from my favorite bloggers from around the web!
As always, if you try out this recipe, let me know! Leave a comment, rate it, and don't forget to tag a picture #simplysissom Instagram or Twitter. I'd love to see what you come up with?.
Other Grab N' Go Breakfast Recipes You Might Like: