Apple Pie Overnight Oats make a fiber and protein rich breakfast. Cooked apples and cinnamon add fall flavor while maple syrup adds natural sweetness.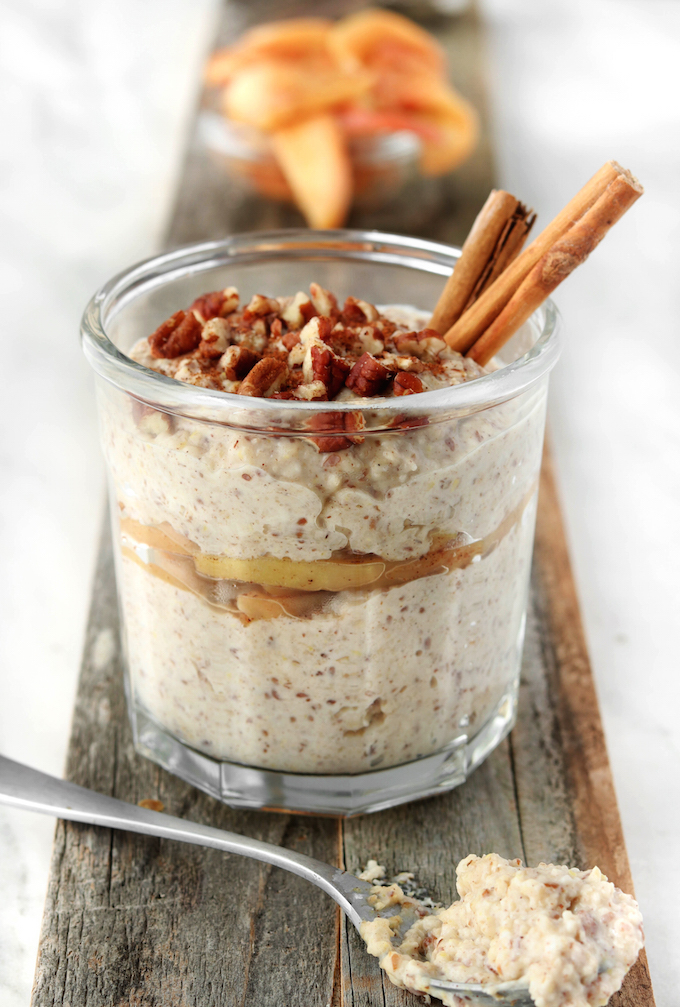 I am going to start this post by stating the obvious... Overnight Oats are NOT a new thing.
I have never been a person that one would describe as "trendy." My favorite Pandora station is "Summer Hits from the 90's," I have no idea how to "juju on that beat," and I have yet to master the hashtag (seriously... how are people so witty??). Yep.. being late to the party on the latest and greatest ... Story. Of. My. Life.
Overnight oats are no exception. As much as I love a "grab n' go" breakfast.. it's really unbelievable I haven't tried this yet.  No worries. I'm making up for lost time now. I have been eating overnight oats like they're going out of style. Annnd, if we are being completely honest with ourselves they probably are ?.
Overnight oats were created for us non-morning people. If you're one of those domestic-diva-I-make-bacon-eggs-and-biscuits-every-morning-type-mom ...weeelll, this isn't going to be for you.
Why?... They. Are. So. Easy.
Make them the night before, put them in the fridge, forget  them, and then wake up to a cool, creamy bowl of goodness that's packed with nutrients and tastes like dessert.

Speaking of dessert.. Apple Pie Overnight Oats should most definitely NOT be confined to the breakfast table. They are the absolute BEST after dinner treat. I find them especially hand when I want to eat the leftover brownies, but need to eat something that doesn't have 1,456,982 calories. The maple syrup and apples give the oats sweetness without adding TONS of sugar.
Now that we have determined that they taste amazing, let's talk nutrition. These guys have got it all covered. Rolled oats are a great source of fiber, the yogurt provides protein, calcium comes from the milk and the chia seeds help keep you full.
Time Saving Tips and Tricks:
Prep: I don't usually prep these ahead of time because they are so simple to make, but if you wanted to make the cooked apples a day or 2 early they would still taste great!
Make-Ahead: Yes! With a grab-n'-go breakfast I guess that is a bit of a given Overnight oats should be assembled the night before, but can keep in the fridge for up to 3 days.
Freezer: Sorry guys, not this time.
Print
---
Description
Apple Pie Overnight Oats make a fiber and protein rich breakfast. Cooked apples and cinnamon add fall flavor while maple syrup adds natural sweetness.
---
1

large apple

½

TBS butter

½ tsp

. cinnamon

¼ cup

maple syrup (divided)

⅔ cup

plain yogurt

1

heaping cup rolled oats

1 ⅓ cup

milk of choice

2

TBS chia seeds

1 tsp

vanilla
---
Instructions
In a skillet over medium high heat add apples, butter, cinnamon and 1 TBS maple syrup. Stir to combine. Cook until apples are tender. About 5-7 minutes. Cover and refrigerate.
In a small casserole dish with lid, add yogurt, oats, 3 Tbs maple syrup,  milk, chia seeds and vanilla. Stir to combine. Cover and place in the refrigerator overnight.
Place ¼ of the oatmeal mixture into each of 4 jars. Top with ¼ of the cooked apples. Place lid on jar. Store in refrigerator for 1-3 days.
---
Helpful Hints:
I used Bob's Red Mill Instant Rolled Oats for this recipe. If you like a little more texture you could use Old Fashioned Oats instead.
Yogurt can be tricky to purchase. Some REALLY popular varieties are full of tons of sugar and additives. I like to buy Stonyfield 100% Grassfed Plain Yogurt. It's organic, pasture-raised and non GMO. There is no reason to purchase vanilla.. these oats have tons of flavor and don't need the extra sugar.
½ pint mason jars are great for storing overnight oats.
Don't want to mess with cooking apples... the oats taste great on their own. You can always throw some fresh fruit on top on the way out the door.
Let's Connect:
Recipes like Apple Pie Overnight Oats:
Fruit and Oat Breakfast Cookies:
Freezer Friendly Breakfast Sandwiches: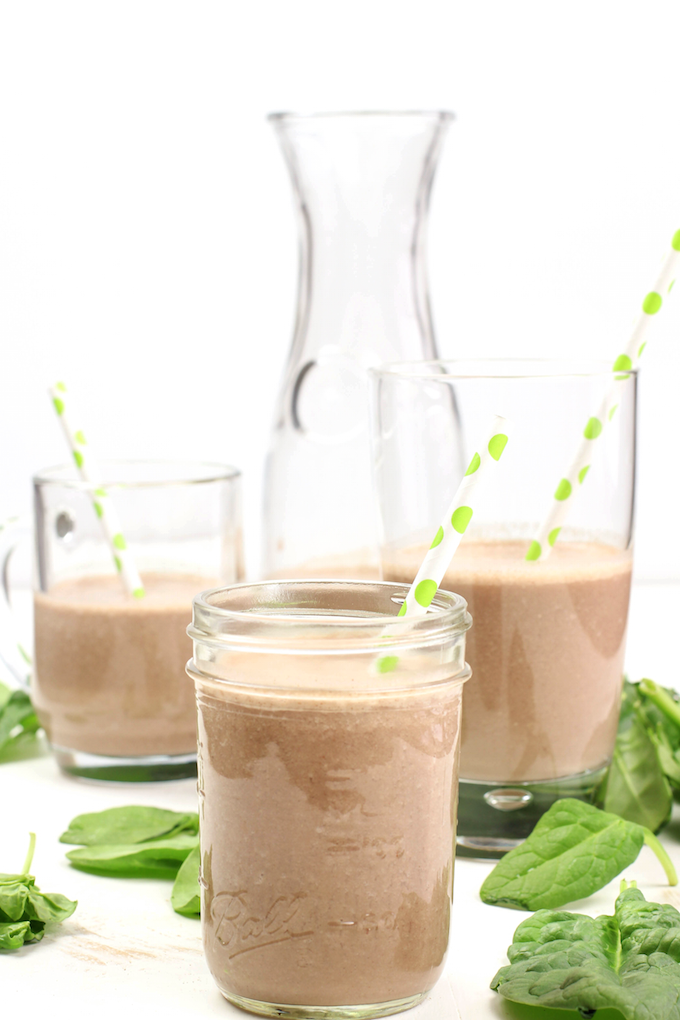 SaveSave
FREE: GRAB N" GO BREAKFAST EBOOK
10 Make-Ahead,Whole Food Breakfast Recipes to help mornings go a little smoother and maybe even get you a little bit of extra sleep!