Cheesy Sausage Baked Penne is spicy, meaty, cheesy and make-ahead friendly. 6-Ingredients, 20 minutes prep and dinner is done.
Pin Cheesy Sausage Baked Penne for later!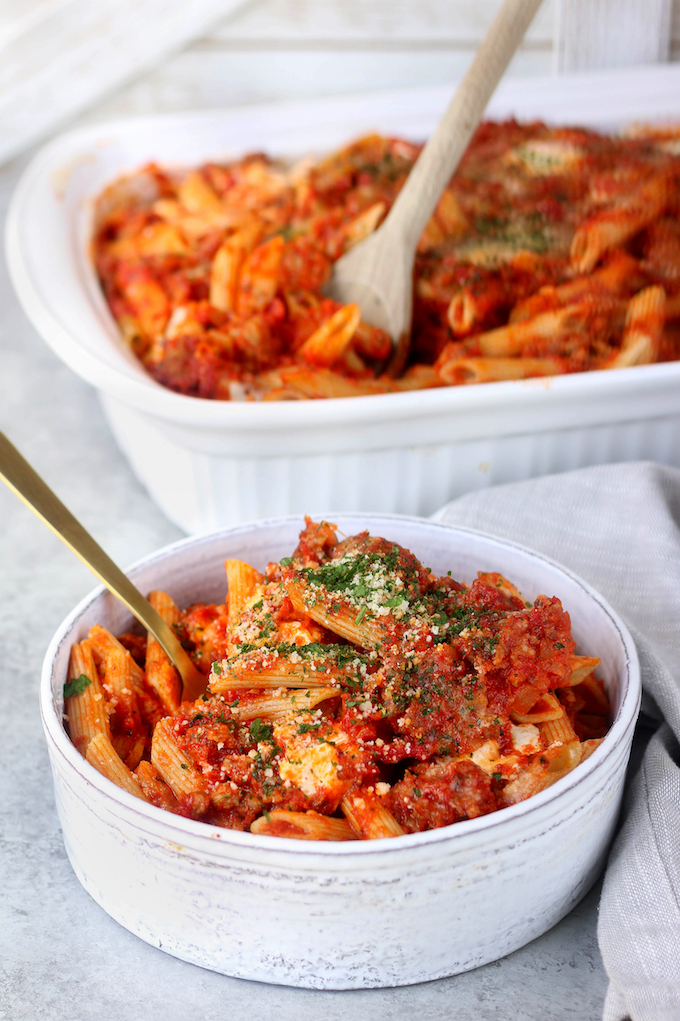 In just 1 week, my kids go back to school. Which means, as a family.. we are about to become SUPER scheduled. With the start of school comes the start of soccer season, earlier bedtimes, homework, looooooong carlines and yet.. everyone still expects dinner on the table Every. Single. Night.
I've shared in the past, 6:00 -7:00 (aka.. dinner time) is not exactly my favorite time of day. It's a necessity. I mean, they've gotta eat, buuuut with tired and hungry kids pacing the kitchen, well.. it's just not my favorite time to cook. I've intentionally sought out ways to make getting dinner on the table simpler, more routine and more enjoyable.
This year I am planning on putting more intention behind my freezer game. I spent some time searching/creating freezer-friendly recipes and thinking about meals that my family would enjoy having for dinner. I was able to build a list of meal inspiration (I'll iron out the specifics of each recipe later) that will give me a good base for getting the freezer stocked with real-food friendly meals that just need to be popped into the oven.
Today I'm sharing the first of many (fingers crossed) make-ahead, freezer friendly meals that will soon stock my freezer.
You guys.. this Cheesy Sausage Baked Penne is the definition of simplified dinner. It throws together quickly, can be made ahead, cooked immediately or frozen for later use. It's made from 7-basic ingredients and includes a few store-bought shortcuts that can be made without the addition of any funky ingredients. In short.. it's a back to school miracle and you need to give it a try.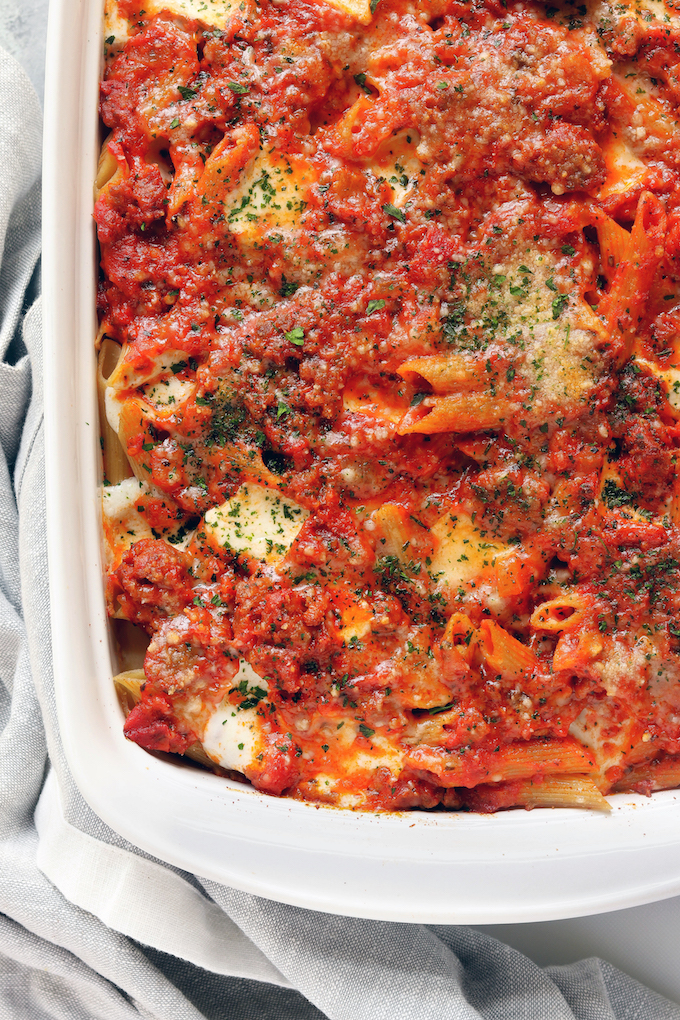 Cheesy Sausage Penne Bake is a riff off of lasagna. All the same flavors, some of the layers, SO MUCH less work. With only 7- ingredients (not counting spices and olive oil).. throwing this one together takes no time at all. It's simple..
Coat the bottom of the pan with a bit of sauce
Add ½ the noodles
Sprinkle on ½ the mozzarella cubes
Add ½ the sauce
Repeat
Top with with parmesan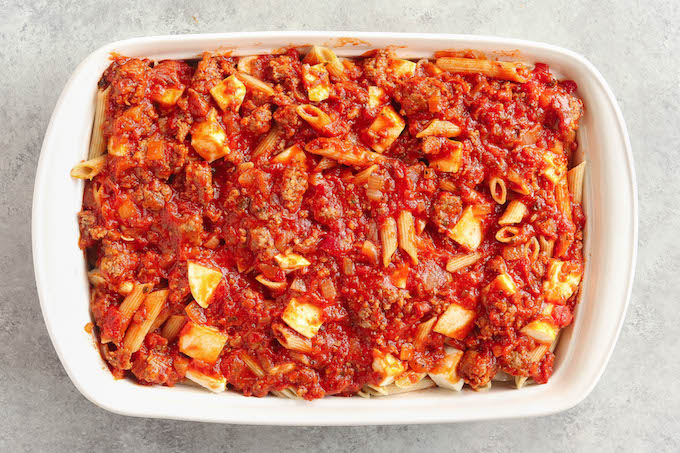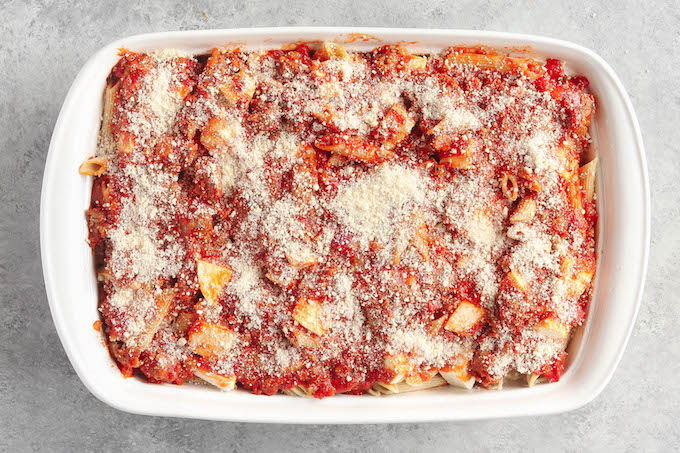 At this point, the only thing left to do is to determine if you will be baking, storing in fridge or wrapping it up for the freezer!!
Time Saving Tips and Tricks
Prep: Both the pasta and sauce can be made a day or two in advance and stored in the fridge until you are ready to assemble.
Make Ahead: This penne bake can be made ahead and stored in the refrigerator for up to 3 days. Follow recipe directions, but don't bake. Instead, cover it with plastic wrap and place in fridge one completely cooled. To cook, heat oven to 350, remove plastic wrap and bake for 25-30 minutes or until the cheese is golden and bubbly.
Freezer: Yep! I like to use a disposable foil baking dish. Follow recipe directions, but don't bake. Instead, place a piece of plastic wrap directly onto the assembled dish. Wrap the whole thing in foil and store in the freezer for up to a month. To cook, heat oven to 350, remove plastic wrap/foil and bake for 2 hours. Cheese should be golden and bubbly.
Print
📖 Recipe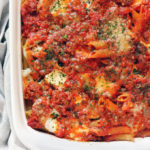 Cheesy Sausage Baked Penne
Author:

Yield:

1

9"x13" baking dish.

1

x
---
Description
Cheesy Sausage Baked Penne is spicy, meaty, cheesy and make-ahead friendly. 6-Ingredients, 20 minutes prep and dinner is done.
---
1

lb. whole wheat penne pasta

2

Tbs olive oil

1

onion, diced

1.5

lbs. ground Italian Sausage
(2) 25-oz. jars marinara sauce

1

Tbs oregano

¼ tsp

red pepper flakes

16 oz

. mozzarella cheese, cut into

1

" cubes

½ cup

grated parmesan
mixed fresh parsley (optional for garnish)
---
Instructions
Preheat oven to 350.
Cook pasta according to package directions. Drain and set aside to cool.
While pasta is boiling, get to work on your sauce. In a large skillet over medium heat, add 2 teaspoon olive oil. Once oil is hot, add onion and sauté until translucent. Add raw sausage to the pan and continue to cook until no longer pink. Add the marinara sauce, oregano and pepper flakes to the pan. Mix and cook until warmed through. About 5 minutes. Set aside to cool.
To Assemble: Cover the bottom of a deep 9x13 inch pan with a thin layer of sauce (just enough to cover the bottom). Layer in half of the noodles, followed by half of the cheese and half of the sauce. Repeat the layers. Top the remaining layer of sauce with parmesan cheese.
Bake Cheesy Sausage Rigatoni Bake for 20-25 minutes or until cheese is golden and bubbly. Garnish with parsley before serving if desired.
---
Notes
This dish can also be made in advance. Be sure all ingredients are cooled before you assemble. Cover and place in the fridge or freezer until ready to cook. If baking straight from the refrigerator, cook times will remain about the same. If cooking straight from freezer, bake at 350 for about 2 hours.
Let's Connect:
Recipes like Cheesy Sausage Baked Penne:
Spaghetti Squash with Meat Sauce: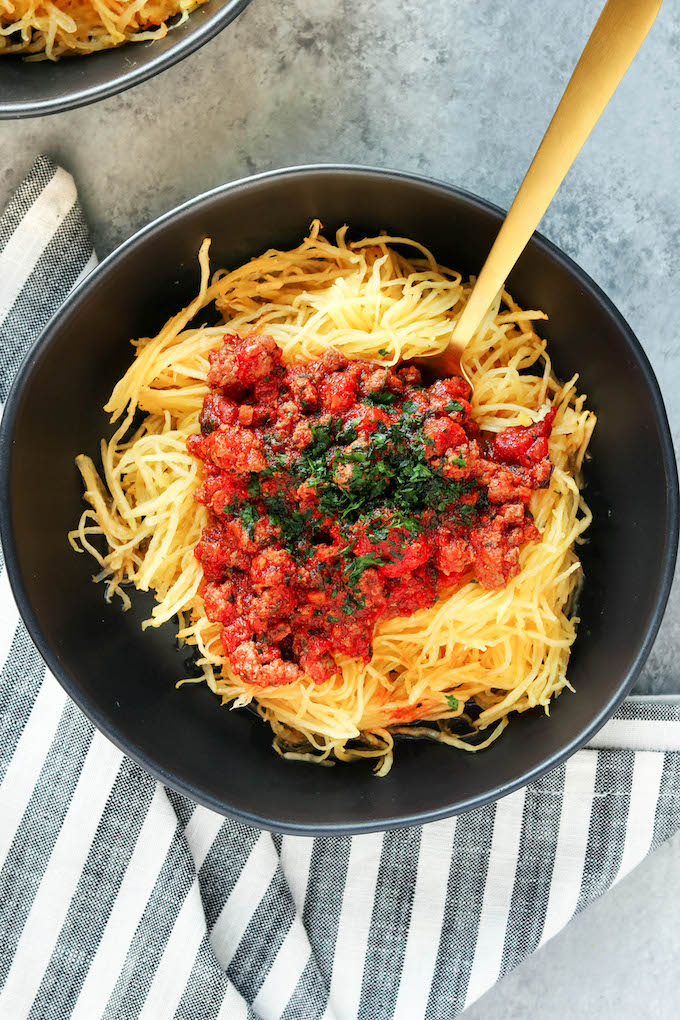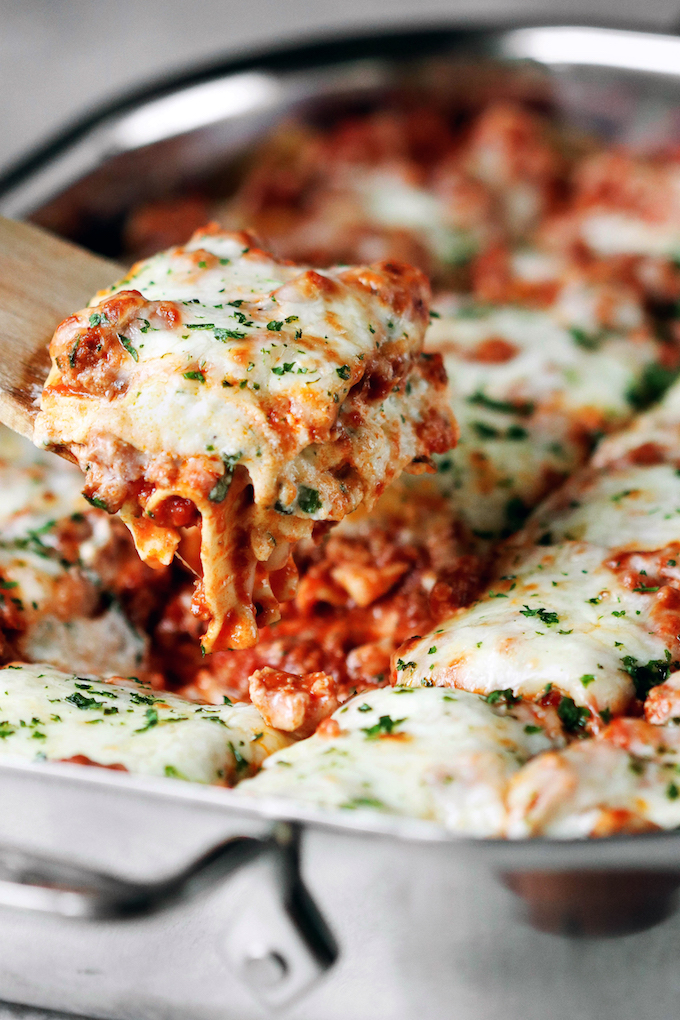 Freezer-Friendly Thick N' Chunky Marinara Sauce: