Foil Pack Fajitas are simple to make, requiring just 15 minutes prep. This easy, flavor-loaded recipe makes the best fuss free Summer dinner. Perfect for cookouts, camping, or nights you just don't want to do the dishes!
Pin Foil Pack Fajitas for later!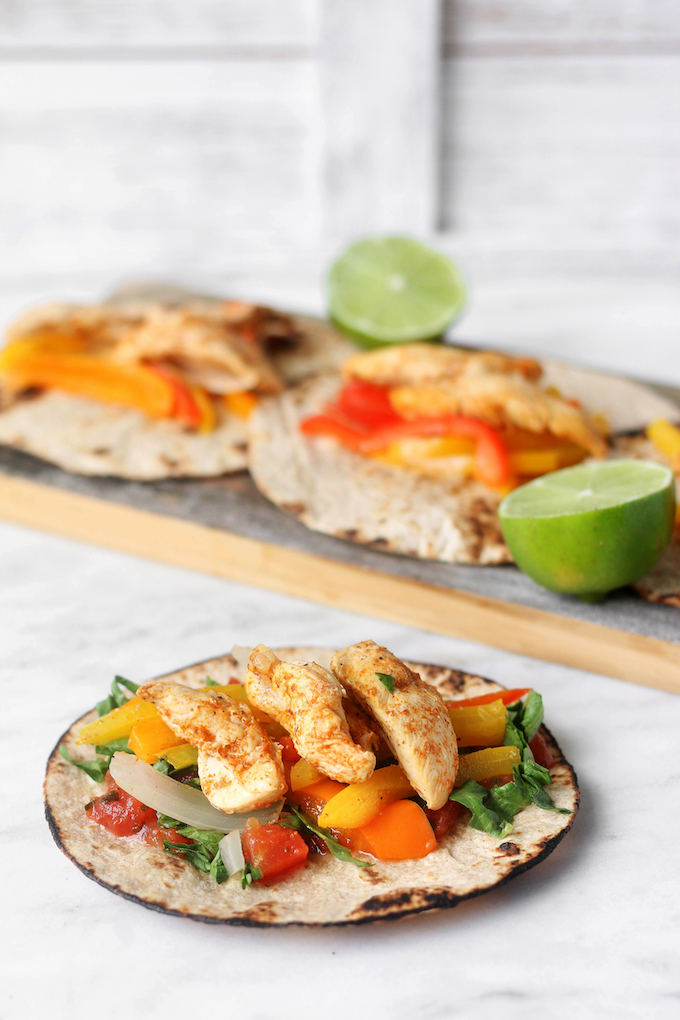 Quality time with my boys consists of making truck noises, driving trains, shooting basketball, kicking around the soccer ball, and now... CAMPING.
I'm not what you would call an outdoorsy person. People who know me would laugh at my name even being used in a sentence with the word. I find the outdoors to be full of lethal animals, poisonous plants, bugs, and LOTS and LOTS of dirt.
I'm going anyway.
Yep, being the only female resident in the fraternity house that I call home has drastically impacted my girly girl ways.
My idealistic self has visions of our family cheerfully gathering fire wood, fishing in a little stream for our dinner,  singing around the campfire, roasting s'mores, the whole bit. My realistic self knows that it's going to be A LOT OF WORK.  According to Cooper, my 7 year old,  there is no need to worry about packing food because his Dad is a professional fisherman. Well... um, nope. I hope they catch dinner, I really do, but just in case I'm going to have these yummy chicken fajita foil packs on hand and ready to go!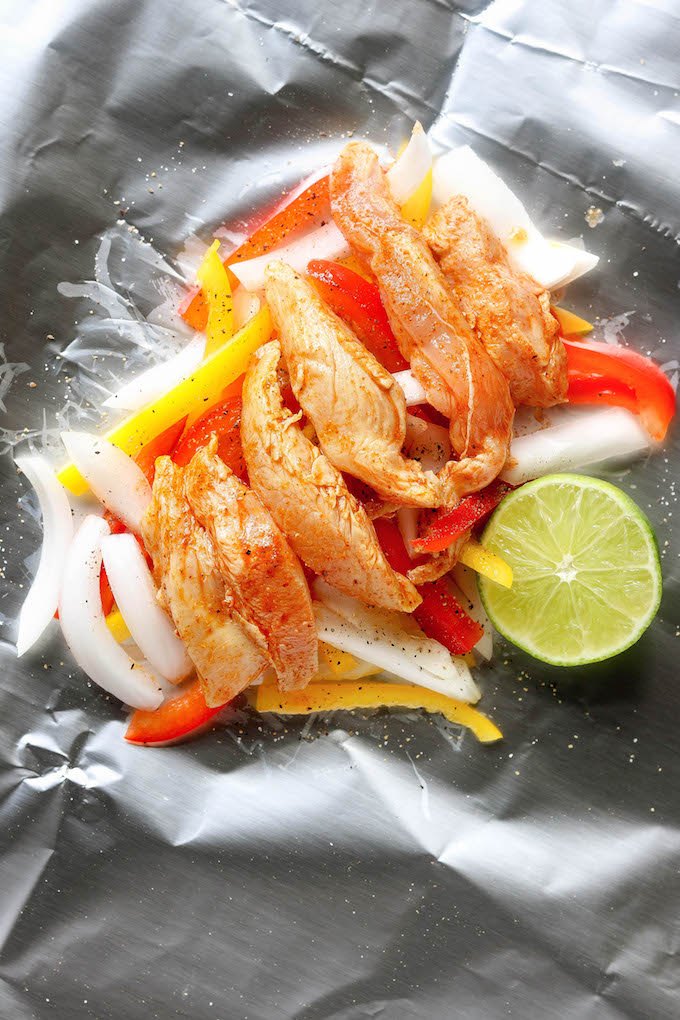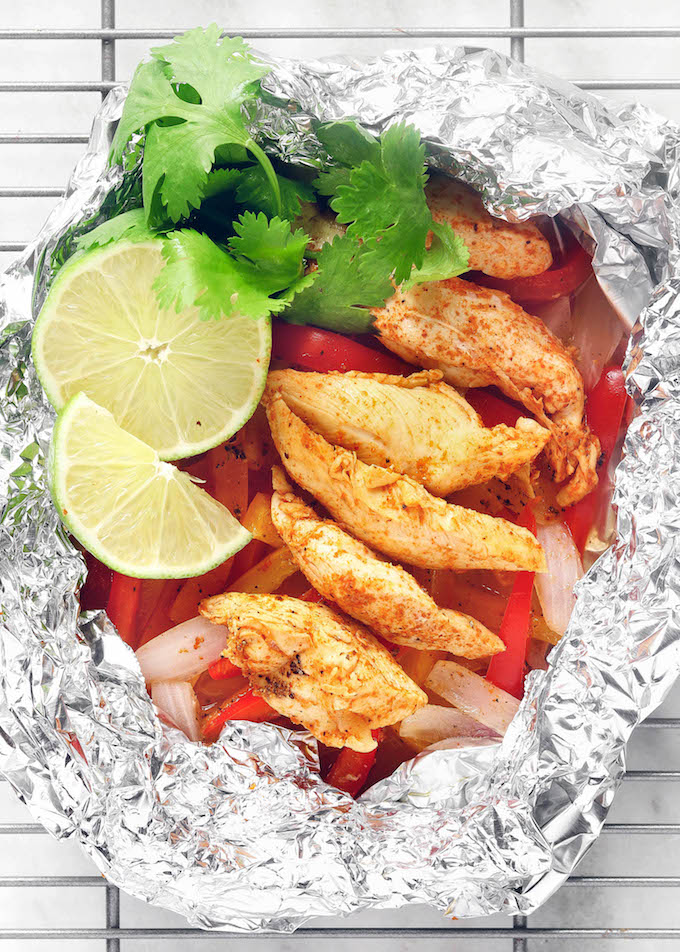 Throwing these Foil Packet Fajitas together really couldn't be any simpler. Chop your veggies, season with salt and pepper, top it all with some chicken made from a 4-ingredient marinade and give it a little squeeze of lime. Seriously... that's it. The result is a little foil package filled with tender vegetables, perfectly seasoned chicken and best of all... NO DIRTY DISHES.
Not going camping? No problem. Make them on the grill or even in the oven (see directions on recipe below). The thing that makes them perfect for camping (make-ahead friendly) is the same thing that makes them the perfect weeknight or feed-a-crowd meal.
These guys are flexible.. serve them on warm tortillas, atop a bed of lettuce or even eat them straight out  of the foil packet. As for sides, well.. you do you. They are perfectly tasty with just a squeeze of fresh lime OR you can go fancy and add All. The. Toppings. My personal favorite is to add a bit of salsa, romaine and fresh cilantro.
Let's take one minute (I'll be quick) and talk about taco seasoning. It's the FLAVOR of this whole recipe and you want to make sure and get it right! Yes.. you can use the pre-mixed packages and the result will be delicious. That said, whipping up your own from scratch is super simple and allows you to control the quality and quantity of ingredients used (I'm looking at you salt). You can find my go-to taco seasoning recipe HERE.
Time Saving Tips and Tricks
Prep: Cut your peppers and onions and seal them in an airtight bag. Make the marinade. Slice your chicken. Combine marinade and chicken in an airtight bag and store in the refrigerator for 1-2 days. Dinner is completely prepped and ready to go!!
Make Ahead: The foil packs can be pre-made the night before or morning of. Assemble them and store in the refrigerator until you are ready to cook them.
Freeze: The chicken can be marinated and then frozen before cooking. In fact, having a little bag of perfectly seasoned meat ready to throw on the grill, add to fajitas or toss over a salad is never a bad idea!! To thaw, just remove the bag from the freezer and allow it to hang out in the fridge the night before you are planning on using it.
Print
Foil Pack Fajitas
Author:

Prep Time:

15 mins

Cook Time:

20 mins

Total Time:

35 minutes

Yield:

4

fajita packets

1

x
---
1.5

lbs. of boneless skinless chicken breast (organic recommended)

3

TBS olive oil, divided

2

lemons

½ tsp

salt

1 ½

TBS clean taco seasoning

3

bell peppers, sliced

2

medium onions, halved and sliced lengthwise

2

limes
Whole wheat tortillas
OPTIONAL TOPPINGS: salsa, cilantro, grated cheese, shredded lettuce, avocado slices
---
Instructions
MARINADE: In small bowl combine the juice of 2 lemons, 2 TBS olive oil, 1 teaspoon pink himalayan salt, and 5 teaspoon of clean eating taco seasoning. Stir until combined. In a heavy duty resealable bag combine marinade and chicken. Refrigerate for a minimum of 2 hours. (I usually try to leave it overnight).
FOILPACK ASSEMBLY: Tear off 4 16" x 16" sheets of aluminum foil. Place ¼ of the peppers and onions in the middle of each piece of foil. Sprinkle veggies with salt and pepper. Lay ¼ of the marinated chicken over each veggie pile. Squeeze ¼ of a lime over each packet. Drizzle 1-2 teaspoon of extra marinade over each packet. Fold packet (see link to video on how to do this below).
Grill Directions: Grill over a medium flame for 15-20 minutes. Seam side up.
Campfire Directions: Cook in the hot coals of the fire until chicken is opaque and veggies are tender. About 20 minutes.
Oven Directions: Bake Fajita Foil Packets in an oven that has been heated to 400 degrees for 30 minutes.
---
Notes
Cooking times may vary with this recipe depending on how thin you cut the chicken and how many veggies you load into each pack. Do NOT continually open the packets to check on the cooking process, they will dry out. I like to pull one packet out and test it periodically, leaving the others to cook without interruption.
Let's Connect:
Prep-Ahead recipes are my all time favorite! Join the BRAND NEW Simply Sissom Community Private FB Group and let's meal prep together! Each week I share an exclusive recipe in the group via FB Live that is REALLY simple and make-ahead friendly. Join us!
Interested in more Whole30 meal prep ideas? Follow Simply Sissom on Instagram. I share all my meal plans and behind the scenes prep session videos on Instagram stories.
Want to prep 5 whole-food meals for a family of 4 in just 45 minutes? Check out my new program, Savvy Mama Meal Prep: Quick and Easy. Use code SMMP50 to save 50%
Recipes Like Foil Pack Fajitas:
Freezer-Friendly Chipotle Chicken Breakfast Burritos: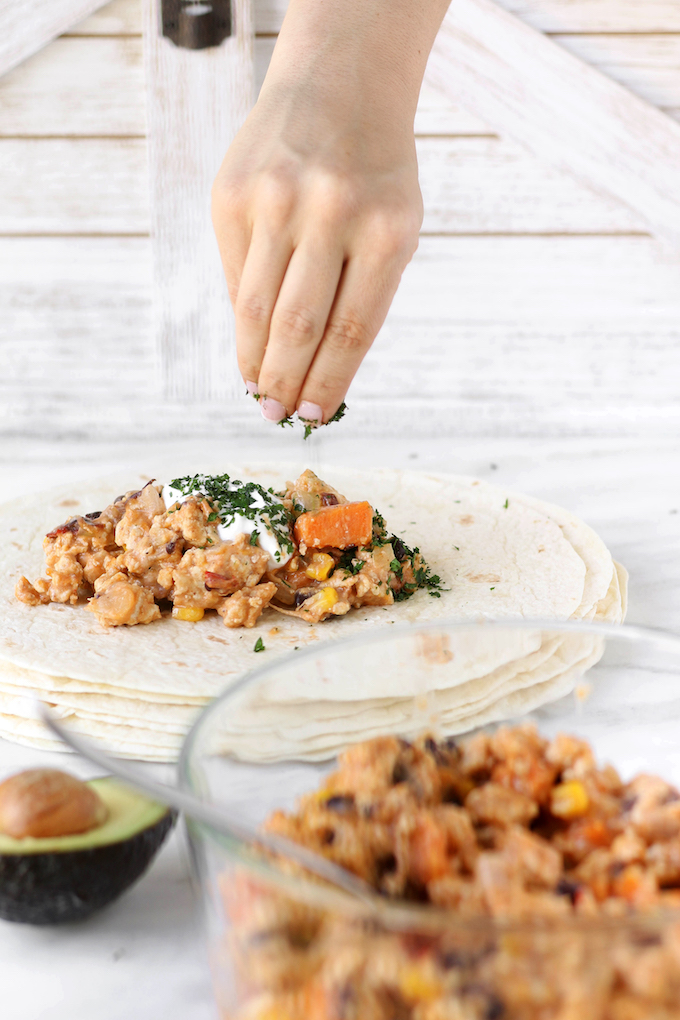 Quick and Easy DIY Taco Seasoning: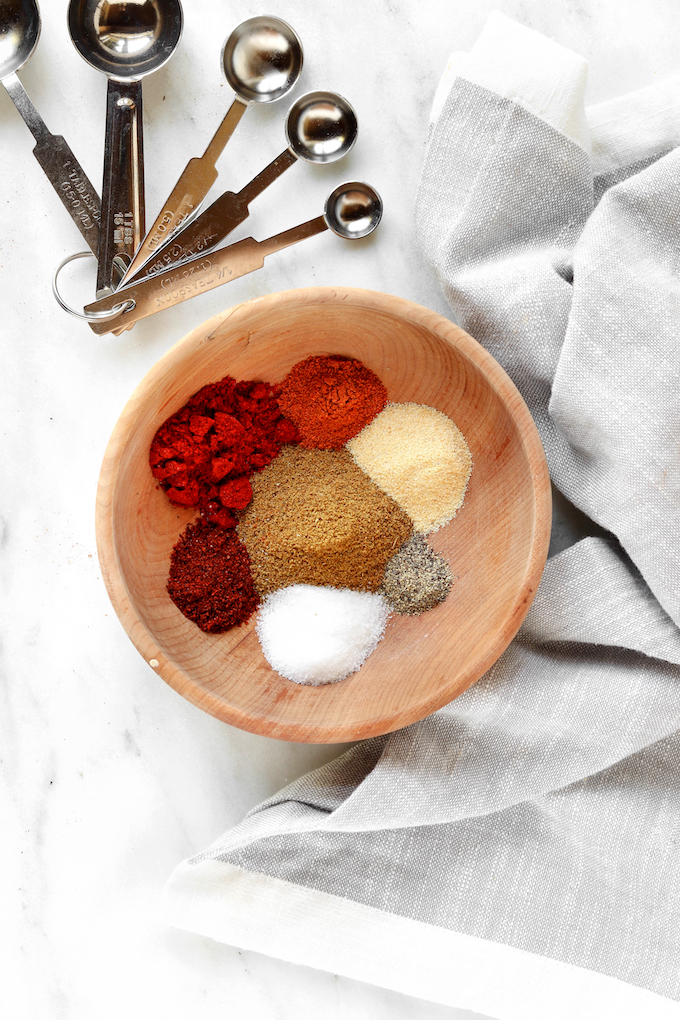 4-Ingredient Salsa Verde Chicken Tacos:
SaveSave