Healthy Chicken Salad.. all of the flavor, less of the mayo! Seasoned chicken, fresh herbs and a simple yogurt-based dressing.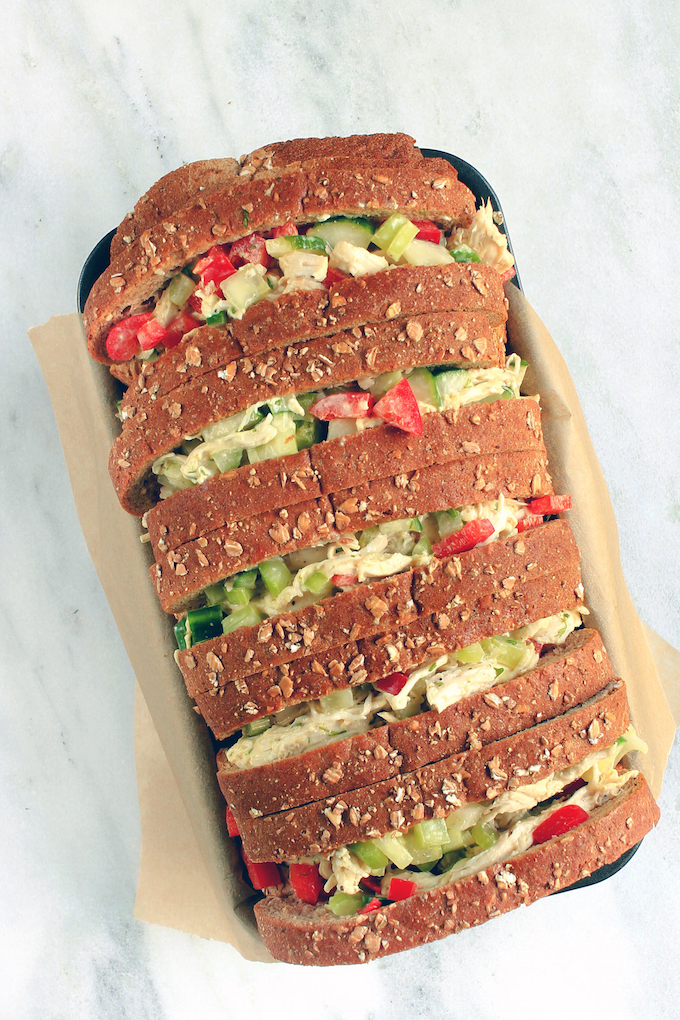 I seriously don't know how the summer whizzed by so quickly. But yet again, back to school time seems to have arrived. AKA... my to do list this week is crammed!
So, for anyone looking for a quick and seasonal meal to to fuel you through this week, I present...
Healthy Chicken Salad.... that tastes good. You know, actually has flavor.

I'm just going to say it... I don't like nuts and grapes in my chicken salad. I know... crazy. No judging allowed. I just prefer a variety of seasonal veggies. No worries, if you like em, add em.  This recipe is about as versatile as you would like to make it.
Don't want to use mayo, just double the yogurt. (I usually go for a combo to please everyone).
Don't have bell pepper, add some zucchini. You can really use whatever veggies you like and have on hand - green beans, cucumber, avocados...
You can even get inventive with the vehicle in which you deliver the chicken salad.. you know, Forest Gump Style. Chicken salad stuffed pitas, chicken salad on pretzel buns, celery n' chicken salad, chips n' pita salad, chicken salad on bib lettuce.. you get the idea.
The best part about this recipe.. its So. Easy. I'm talking 10 minutes prep. Buy a rotisserie chicken in place of baking your own and life gets even easier. In a nutshell, shred chicken, chop veggies, mix up simple yogurt-based dressing. Lunches for the week.. DONE.
TIME SAVING TIPS AND TRICKS:
PREP: If you aren't using a store bought rotisserie chicken, you gotta cook that chicken. It's super simple, but you gotta plan. Place 3 chicken breasts into a casserole dish. Drizzle with olive oil and season with salt and pepper (don't be shy.. nobody likes bland chicken). Bake in the oven at 350 until no longer pink in the center, about 35 minutes. If you are feeling super ambitious, while the chicken is baking, go ahead and do a little veggie chopping. You'll thank yourself later!
MAKE AHEAD: This chicken salad is the poster child for make ahead meals. It actually tastes better after sitting gin the fridge for a few days! I like to double the recipe, serve it for dinner and then use it for packing lunches throughout the week.
Print
---
1

Rotisserie Chicken, shredded

2

green onions, thinly sliced

½

red pepper, diced

½

english cucumber, diced

2

celery stalks, diced

1 ½

TBS mayo

1 ½

TBS whole milk yogurt, plain

1

garlic clove, minced

2 tsp

yellow mustard

1 ½

TBS fresh dill, chopped

1

lemon, juiced
salt and pepper to taste
---
Instructions
In a large bowl, combine all ingredients and mix until fully incorporated. Enjoy!
---
Helpful Hints:
Celery, cucumbers, bell peppers, and cherry tomatoes all appear on the EWG's dirty dozen list. They are worth the splurge to buy organic.
Yogurt should be made with whole milk, and organic when possible.
Mayo is ok in moderation. Just grab an organic and full fat version. If you can find a variety that's made with olive oil instead of canola.. bonus points for you!
Let's Connect:
Other Posts You Might Like: