Fluffy, Baked Vanilla, Healthy (ish) Baked Donuts made in 3o minutes!
Save Healthy (ish) Baked Donuts for later!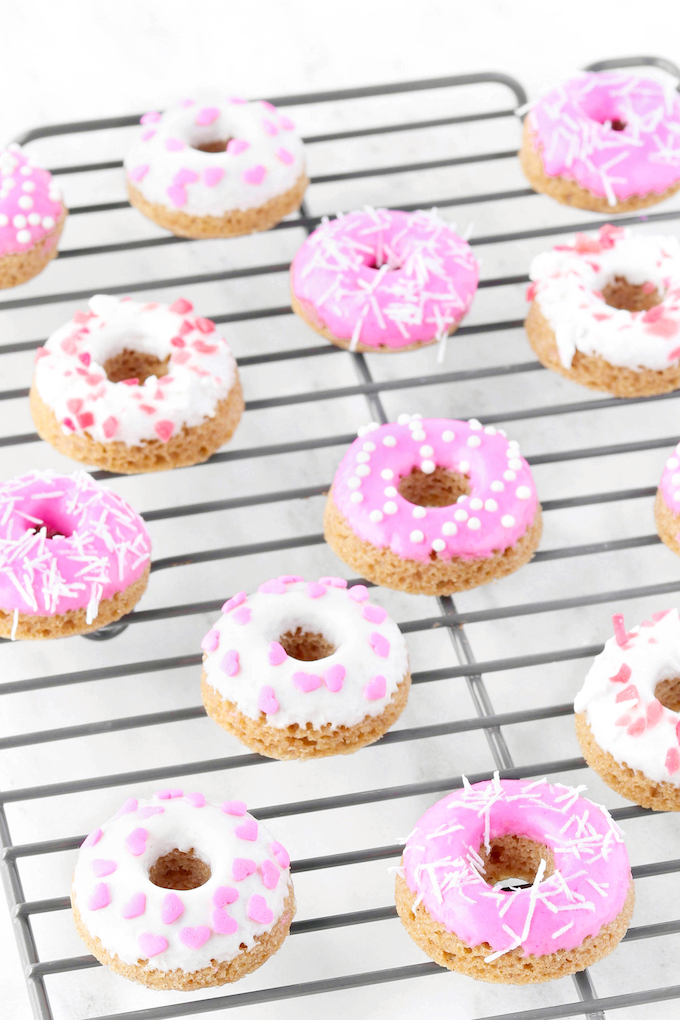 If you've been around here long you know that baking is not my thing.  You have to be super accurate and pay attention to minute details. It's science.. which I can tell you without pause is Definitely. Not. My. Forte.
There is something about Valentine's Day that demands that you break out out the cookie cutters, sprinkles, frosting and get baking.. with a smile.. and if applicable, your kids (I blame Pinterest).
I'm going to preface my next sentence with a plea...don't judge me. I'm going to be straight with you... I don't like baking with my kids.
I know, it's very grumpy and unmotherly of me.   I'm not sure if it's the broken bottles of vanilla, spilled flour, arguments over who's turn it is to stir, serious infractions of the health code (think finger licking and sneezing), the inevitable sugar highs, or the sticky EVERYTHING that get me so down on this joyous tradition. Whatever the root cause... It. Stresses. Me. Out.
Don't get all indignant and horrified with me...I do it anyway. With a smile. Because.. they love it, and I love them.
With that said, I'm picky about what recipes I will and will not make with the boys. I want fast, simple, and forgiving. Also.. there must be frosting and sprinkles because, if I'm going to bake.. happy childhood memories must be created. I think we can all agree that sprinkles and frosting are essential when memory making.
These healthy(ish) baked donuts with naturally colored glazes fit the bill. They come together quickly, and are simple and fun to decorate with.  I also love that they are made with MOSTLY with whole-food natural ingredients (I just couldn't get the glaze done without a little powdered sugar) .
I adapted these donuts from Ina Garten's Cinnamon Baked Doughnuts.
Instead of using sugar to sweeten the donuts I opted for maple syrup and a bit of honey. Because sugar is a dry ingredient and honey is a wet ingredient I reduced the amount of liquid in the original recipe by ¼ cup and lowered the baking temperature by 25 degrees since honey caramelizes at a lower temperature than granulated sugar.
I LOVE the combination of Spelt flour and buttermilk so I swapped out whole milk and white flour for those  ingredients at a 1:1 ratio. If you don't have buttermilk I'm sure that whole milk would work just fine.
The original recipe recommended dipping the baked doughnuts into butter and then rolling  in a sugar/cinnamon mix. I have no doubt that would be delightful.. but since this was Valentines' baking.. with kids, I went for the colored glazes.
AMAZING LIFE HACK ALERT: You can make your own whole-food powdered sugar! How amazing is that? Purchase a bag of Pure Cane Sugar (since it is not refined) and pour it into your food processor. Pulse until your sugar is the same consistency as powdered sugar.
Vanilla Cream Cheese Glaze: Combine all ingredients using a mixer.
2 oz cream cheese, softened
2 TBS butter, softened
1 ¼ cup of powdered sugar
4-6 teaspoon milk
1 teaspoon vanilla
Desired amount of food coloring (if using)
Raspberry Glaze: Combine all ingredients in a blender and pulse until smooth. (NOTE.. Raspberry glaze is not shown in photos. The sharp pink is from a combination of beet juice and store-bought all natural food coloring added to the vanilla cream cheese glaze)
1 cup powdered sugar
¼ cup fresh raspberries
1 teaspoon half and half (more if consistency is too thick)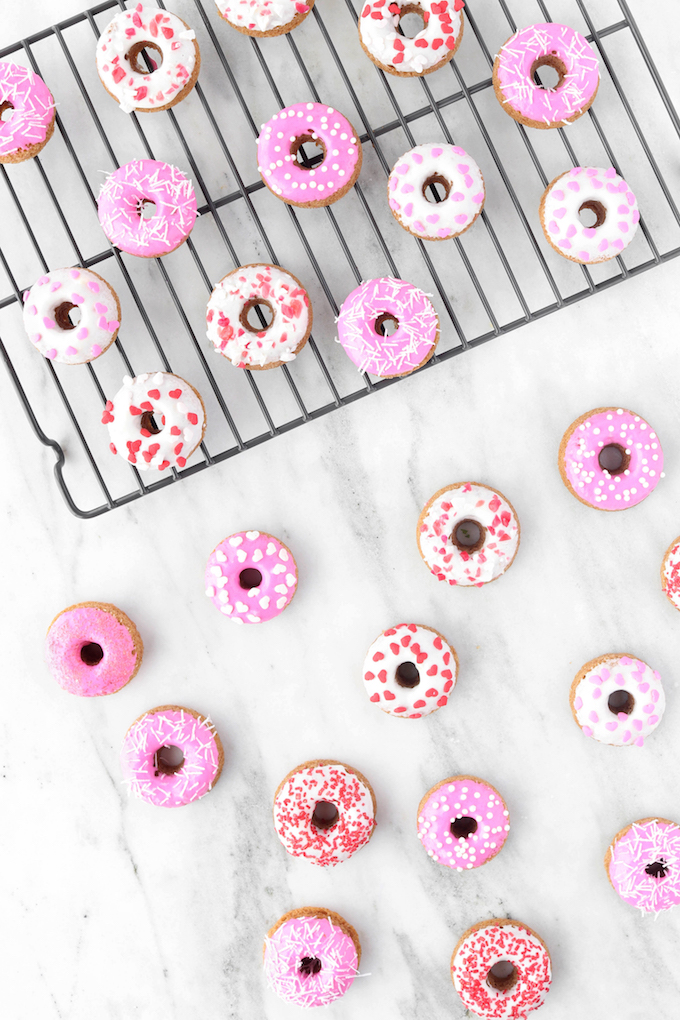 Time Saving Tips and Tricks:
Prep: You can prepare the donuts 1-2 days before applying the glaze Just store them in an airtight container. Prior to glazing the donuts just pop them in the oven long enough that they are warm so that they glaze melts on contact. I tried prepping the glaze ahead of time and the result was ok. The donuts definitely looked nicer when the glaze was prepared right before use.
Make Ahead:  The donuts can be prepared and frosted the night before serving. Make sure to store them in the refrigerator or the icing gets a little funny looking.
Freezer: The donuts (without frosting) will keep in the freezer for up to 3 months. Bake according to direction and then arrange them on a cookie sheet and freeze for 1-2 hours or until frozen through. Remove sheet pan from the freezer and store the frozen donuts in an airtight bag. I tried freezing the donuts after frosting them. they tasted great, but the frosting turned into a gunky mess when reheated.
Print
Healthy (ish) Baked Donuts
Author:

Prep Time:

10 mins

Cook Time:

15 mins

Total Time:

25 minutes

Yield:

36

donuts

1

x
---
Description
Fluffy, Baked Vanilla, Healthy (ish) Baked Donuts made in 3o minutes!
---
Coconut Oil Cooking Spray

2 cups

spelt flour

2 tsp

baking powder

½ tsp

salt

½ tsp

cinnamon

1 cup

maple syrup

2

TBS honey

1

egg

1 cup

buttermilk

2

TBS butter, melted and cooled

2

TBS vanilla
---
Instructions
Spray mini donut pan liberally with cooking spray (I used coconut oil)
Heat oven to 325 degrees.
In a stand mixer, fitted with a paddle attachment, combine flour, sugar, baking powder,salt, and cinnamon. Mix until combined.
Use your fingers to dig a "well" in the center of the dry ingredients. Into the "well" add maple syrup, honey, egg, buttermilk, and butter. Mix until all ingredients are just combined.
Use a pastry bag to pipe batter into prepared mini donut pans. Fill each about ¾ of the way to the top.
Bake for 15 minutes.
---
Helpful Hints:
If you don't have mini donut pans you can make full size donuts. Just increase baking time. The recipe will create 12 full size donuts (I like making mini donuts with the kids.. there are more to glaze and sprinkle, and it makes less of a mess). You could also fill mini muffin tins about half full .. the hole will still be missing, but the taste is exactly the same!
Don't want to mess with making both glazes (I didn't), but still want all the colors? Choose a store-bought NATURAL food coloring, or boil some beets down and add a few drops to the cream cheese glaze. Learn more about this on my  post about How To Make Natural Food Coloring (with free printable). Just split the vanilla cream cheese glaze into 2-3 bowls and add a few drops of color to each. You could easily make a light pink by adding fewer drops and a deeper pink by adding more. Coupled with the white you already have.. you're good to go!
Let's Connect:
Posts Like Healthy (ish) Baked Doughnuts: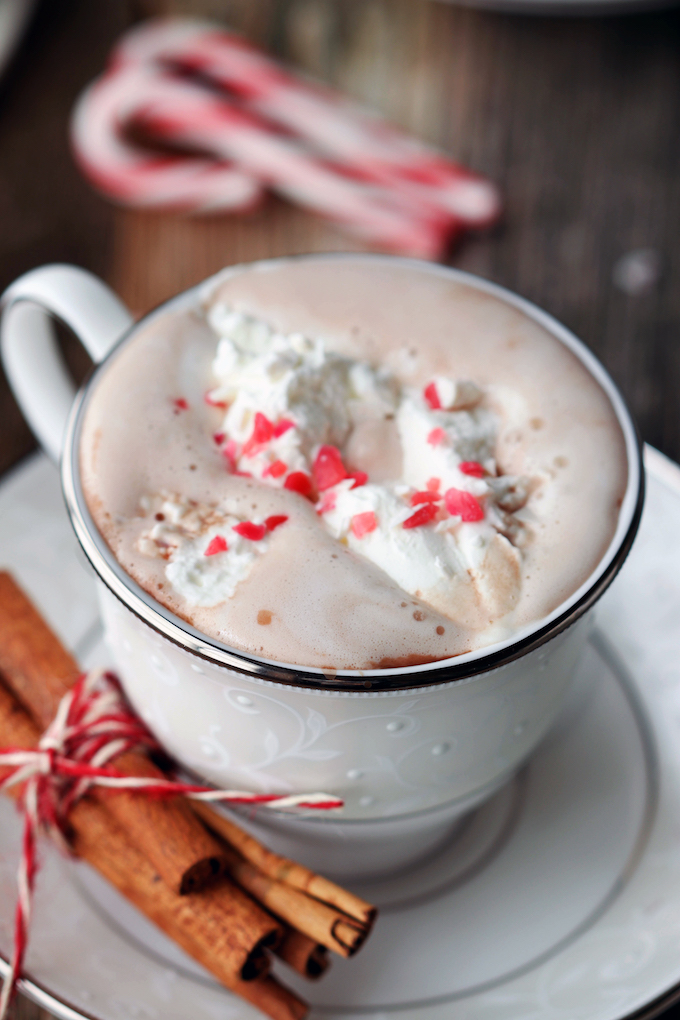 Whole Food Dark Chocolate Brownies:

Gluten-Free Kentucky Derby Cookies:
Dye Naturally: Free Downlaod
How to Make Natural Food Coloring for Christmas Baking + Whole Food Christmas Cookie Recipe.