The Ultimate Juicy Turkey Burgers are quick to make, requiring VERY little prep and simple ingredients. Healthy, juicy and wonderfully basic, these burgers make the perfect weeknight meal.
Pin Ultimate Juicy Turkey Burgers for later!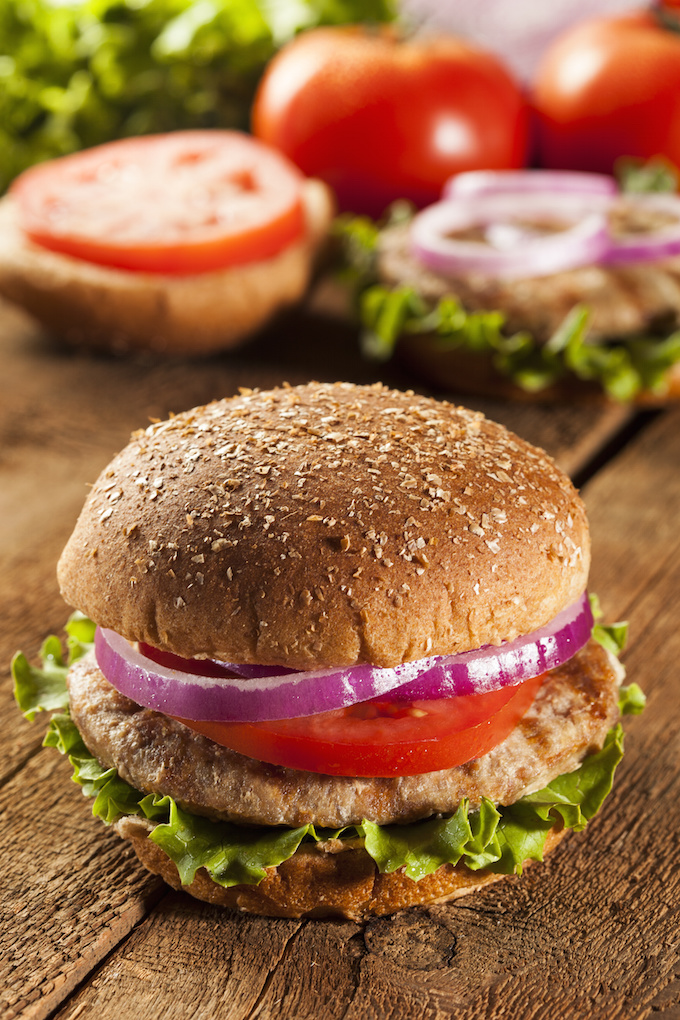 Each year, with the approach of Spring, a flip switches around here.  I trade in crockpot comfort dishes and meaty chili's enjoyed by the fire for fresh veggie salads and green smoothies on the way to the gym.  Why... 2 words, Spring. Break.
You guys, please say I'm not the only one that gets super stressed at the idea of trading in super cozy sweaters and leggings for shorts, bathing suits and sleeve-less tops?
I know, I know... it's shallow, superficial and I really should hold myself to higher standards, buuuuuut.. the truth remains, I can be super self conscious. Annnnnd, in  all honesty, putting in a little work before the warm weather arrives, well.. it wouldn't be a terrible idea.
I learned years ago that for me, when my body isn't feeling it's best, deprivation is not the answer.  Instead I try to shift my focus away from food that  "I don't eat"  and focus instead on the foods that "I do eat."
My plan for Spring is pretty simple. In fact,  I can sum it up with one word, intentional. Intentional about eating more fruits and veggies, intentional about drinking more water, intentional about exercise and as always, intentional about consuming whole foods. And guess what, if I slip up.. No. Big. Deal. I'm all for intentional decisions about what I eat, but there has got to be some balance, or guess what.. I crash and burn (tested fact) and all my good intentions are forgotten because.. well.. I'm hungry, and being hungry sucks.
SO.. for the next week or two I'm going to be putting a healthy spin on traditional meals. You know, highlight some lightened up recipes that are heavy on the veggies and high in nutrients.  The perfect opening post, Ultimate Juicy Turkey Burgers.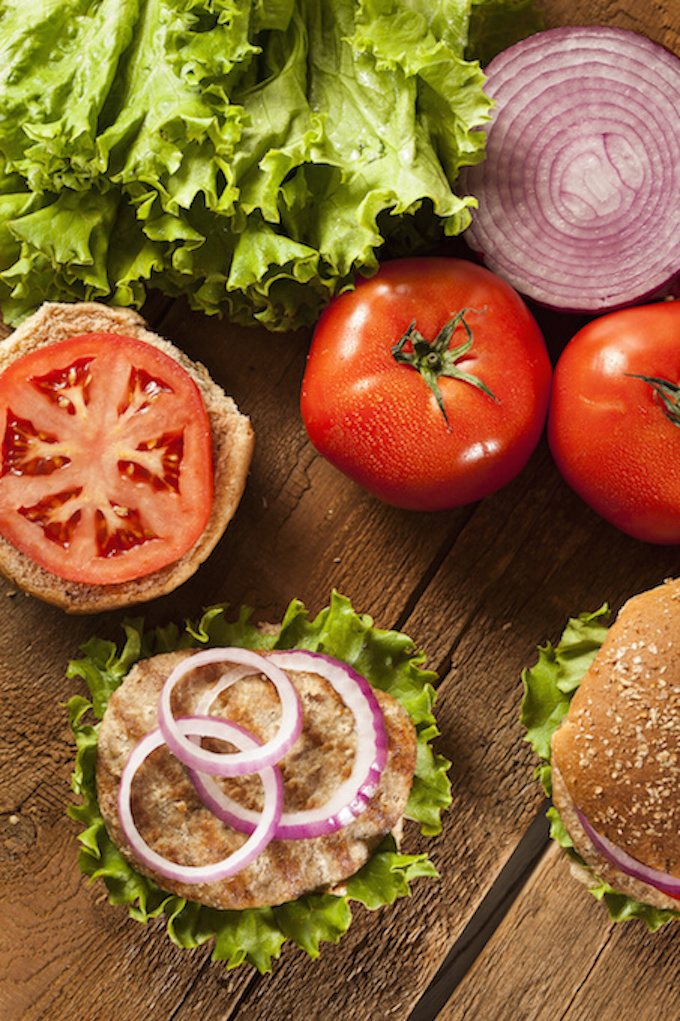 These burgers are aaaaallllll about feeling good. 1000% you can enjoy a a guilt-free burger that doesn't taste like a dry hockey puck. You just need a few tricks!
Swap out beef for turkey. It's leaner. Since there is less fat in turkey I like to use a combo of light and dark meat to keep my burgers juicy.
Season well. Turkey can be a bit bland. I loaded these burgers up with Italian seasoning, dijon mustard, soy sauce, and garlic powder.
Use a binding agent so that the burgers don't fall apart. The first time I made these burgers I did it sans bread crumbs .. they fell apart. Don't skip it!
Load your burger with lots of healthy toppings, I'm thinking lettuce, tomato, avocado, and any other veggie you have laying around!
Swap out mayo for hummus or guacamole. It's yummy!
Skip the white bread and pair your burger with a 100% whole wheat bun or pita:)
Don't make burgers that are 7632 pounds. I like to stick to ¼ pound per burger (4 oz).. this also helps them cook faster and more evenly!
Throwing these guys together really couldn't be any simpler. Dump, mix, pat, cook. That's it!
Time Saving Tips and Tricks:
Prep: Yes! Follow recipe to prepare burger patties and store in the fridge until grill time! I like to place them in a plastic Zipper bag with  parchment paper between each layer. Wrap each burger carefully and then seal in an airtight labeled bag.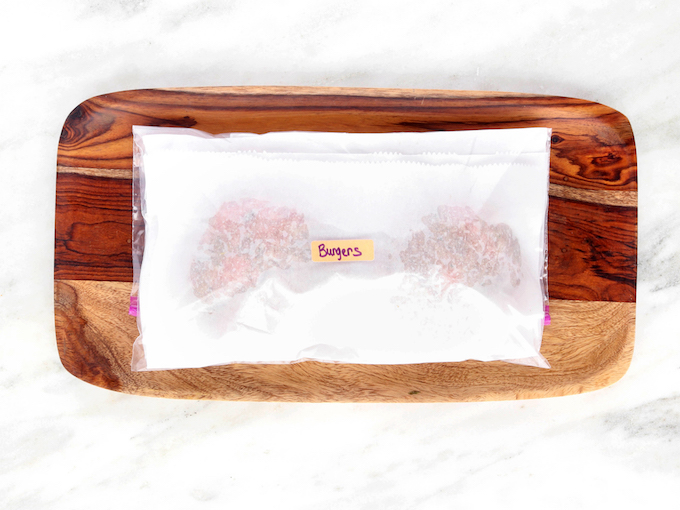 Make Ahead: I frequently make a double batch of these burgers. I serve them for dinner and then pack the leftovers into containers with 2 cups of roasted veggies or crumble them up as a salad topper.
Freezer: To freeze the burgers follow the recipe to prepare the burger patties.. but don't grill. Place patties in a single layer on a baking tray. Place tray in freezer for 1-2 hours or until burgers are frozen through. Remove tray from freezer and place frozen burgers into a sealed Ziplock bag. They will keep for up to 3 months. (*** NOTE: DO NOT refreeze turkey meat that has already been frozen)
Print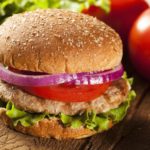 Ultimate Juicy Turkey Burger
Author:

Prep Time:

10 mins

Cook Time:

10 mins

Total Time:

20 minutes

Yield:

8

burgers

1

x
---
1

lb. ground turkey thigh

1

lb. ground turkey breast

½ cup

whole wheat bread crumbs

2

TBS olive oil + more for skillet

2

TBS dijon mustard

1

TBS soy sauce

1 ½

TBS Italian Seasoning

1 tsp

garlic powder

1 tsp

black pepper

½ tsp

salt
---
Instructions
Combine all ingredients in a large mixing bowl. Mix with hands. The mixture will be VERY sticky (these are moist turkey burgers). Heat grill pan over medium- high heat. Drizzle a bit of olive oil so burgers don't stick. Cook burgers until no longer pink, about 5-6 minutes/side. Serve on a whole wheat bun with desired toppings.
---
---
Nutrition
Serving Size:

1 Burger

Calories:

232

Sugar:

.5g

Sodium:

276.4mg

Fat:

11.7

Carbohydrates:

5.5

Protein:

24.7
 Helpful Hints:
I HIGHLY recommend using a combination of dark and light turkey meat. It really adds to the juicy factor! Organic meat is always recommended.
Liquid aminos can be subbed for the soy sauce if you are gluten free.
These burgers have a VERY sticky consistency prior to cooking. You didn't do anything wrong.
For a low carb option, almond meal can be subbed for the breadcrumbs.
Let's Be Friends:
Posts Like Ultimate Juicy Turkey Burgers: