The BEST Veggie Burger. Simple, gluten-free vegan burgers that are actually grill-able. Twelve ingredients, tender, hearty, flavorful, delicious.
If you follow along with the blog you may have noticed that there have been more plant-based recipes happening lately. I'm kinda into the idea. Don't get me wrong, I can't give up dairy, meat and sugar all the time, but I gotta admit, when I eliminate those food groups, I eat a lot more veggies, whole-grains and fruits. There isn't any denying that's a good thing. As a mom and resident household chef, I can't justify making 2 entirely different meals each night so that I can stick with the plant-based thing. Buuuut, making a daily plant-based lunch for myself is more than manageable. I like to think of myself as ⅓ Plant Based? (i.e. 1 out of 3 meals per day). I spend about 1 hour on Saturday prepping my lunches for the week, and you guys.. they are filling, delicious and contain plenty of protein. I don't feel like I'm missing out a bit. I did this throughout the month of May (no other changes to my diet) and dropped 5 lbs. Pretty crazy.
I've taken what I learned and put together a  FREE 7 Day challenge for anyone who is interested in learning a bit more about plant-based eating. I put SOOOO much time into it. The idea being, now you don't have to?. In a nutshell, I'll email you a grocery-list, prep guide, recipes with nutrition info (and photos), and meal plan. You just grocery shop, spend about an hour prepping and lunches for the week are DONE. The challenge recipes are designed to be enough for 2 people.. so invite a friend to do it with you and prep together (it's more fun that way!).   If plant-based isn't your thing.. no worries, Simply Sissom will continue offering TONS of real whole-food meals (meat and diary included!) If you are interested in being a part of the challenge just CLICK HERE or on the image below to get more details and learn more about why plant-based eating (even part time) can be such a great thing!
Now... The BEST Veggie Burgers!!! These are an easy tie in to the ⅓ plant-based challenge because.. well, they're part of it!! You guys they are just So. Good. Even Joe eats them.. without complaint (and that is saying something). He's not usually on board with my "hippy dinners" as he likes to call them. Yep, he's a meat and potatoes kinda guy.
These burgers are loaded with flavor, substantial enough that you can throw them on the grill if you want (you could also bake them), come together in 30 minutes and require only 1 bowl. I'm not even finished.. they are also make-ahead and freezer friendly!!! Definitely my kind of dinner (or lunch)!!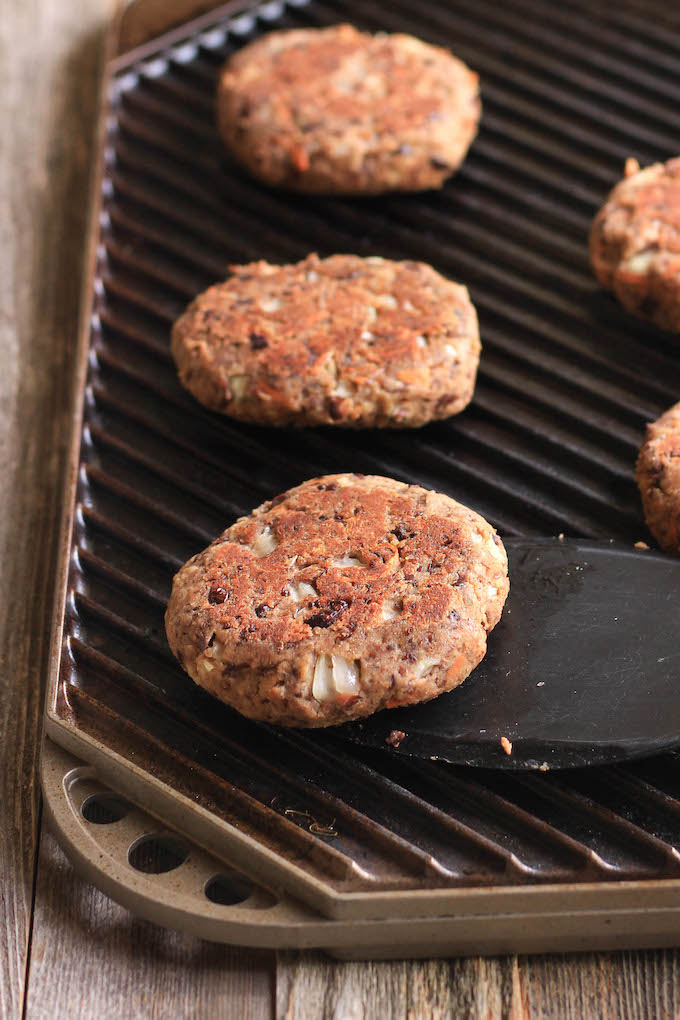 Time Saving Tips and Tricks:
Prep: If you want to get a jump start on these burgers you can chop/grate the veggies in advance. Cover in store in the fridge for up to 3 days.
Make Ahead: These burgers are make-ahead friendly. Follow directions, but don't bake. Instead place burgers in a sealed container (with parchment between layers) and store in the fridge. They will be fine for up to 3 days. When ready to serve, simply following baking directions.
Freezer: Veggie Burgers are also a perfect freezer food. Follow recipe directions, but don't bake. Instead place burgers on a baking sheet and freeze for 2-4 hours, or until frozen through. Remove burgers from freezer and place in an airtight labeled Ziplock bag. Store in the freezer for up to 3 months. When ready to serve, pull burgers from freezer and allow them to thaw in the refrigerator overnight. Following regular baking directions.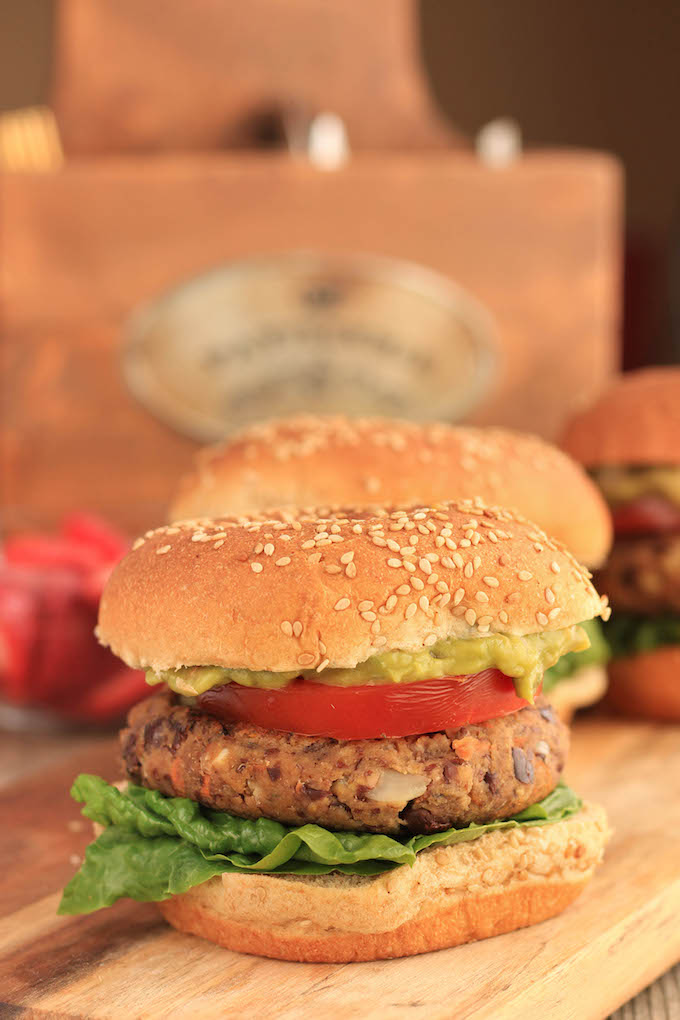 Print
The BEST Veggie Burger
Author:

Prep Time:

15 mins

Cook Time:

10 mins

Total Time:

25 minutes

Yield:

6

burgers

1

x
---
Description
The BEST Veggie Burger. Simple, gluten-free vegan burgers that are actually grill-able. Twelve ingredients, tender, hearty, flavorful, delicious.
---
¼ cup

ground flax

⅓ cup

water

1

can black beans, rinsed and drained

1 cup

grated carrot

2

garlic cloves, minced

½ cup

onion, diced

¾ cup

almond flour/meal

½ cup

whole wheat bread crumbs

2

TBS liquid aminos

1 tsp

paprika

1 tsp

garlic powder

1 tsp

cumin;

1 tsp

salt
pepper to taste

6

whole-grain buns, pita pockets or tortillas (your choice)
head romaine lettuce (optional)

2

tomatoes, sliced (optional)

6

TBS guacamole (optional)
---
Instructions
In a small bowl, combine flax and water. Mix. Set aside.
Pour prepared black beans into a medium size mixing bowl. Use a potato masher or the
back of fork to smash beans. Leave some whole for texture. Add carrots, garlic, onion,
almond flour, bread crumbs, liquid aminos, paprika, garlic powder, cumin, salt and
pepper. Use hands to mix ingredients and then form 6 patties. Bake patties for 15
minutes, flip and cook an additional 15 minutes.
Serve with a whole wheat bun, pita bread or as a wrap. I like to garnish with guacamole, tomatoes and lettuce.
---
Helpful Hints:
A burger on a bun is delicious,  but my favorite way to eat these veggie burgers is as a wrap. I like to use Ezekiel Sprouted Grain tortillas.. because, well.. they are REALLY good for you! Think whole grain and no added sugar or oil.
You can make your own bread crumbs if you can't find a whole wheat variety without tons of extra additives. Just use a 100% whole-grain choice (I use Ezekiel). Allow the bread to dry out on the counter overnight (or at least a couple of hours) and then toss it into the food processor and pulse until you have bread crumbs!
Liquid aminos can be swapped out for regular soy sauce if desired.
If you don't want to purchase almond flour, you can make your own! Toss some almonds into the food processor and pulse until almonds are the texture of course sand.
If you are looking for a low-carb friendly version of this burger.. just use a lettuce wrap in place of bread!! You can also eliminate the bread crumbs and substitute with additional almond flour.
Let's Connect:
Join over 200 people and take the ⅓ Plant-Based 7 Day Challenge!! CLICK HERE for more info
Looking for more healthy whole-food recipes? Check out Simply Sissom on Pinterest. If you like it, follow! New pins are added daily from my favorite bloggers from around the web!
You can also find Simply Sissom on Instagram, Twitter and

Facebook

. Check it out, if you like what you see.. follow?!
Other Burger Recipes You Might Like: