3-Ingredient Sheet Pan Pork Chops with Balsamic Glazed Vegetables is simple to make requiring just 1 sheet-pan and 5-minutes prep time. Perfect for busy weeknights. Make ahead friendly!
Pin 3-Ingredient Sheet Pan Pork Chops with Balsamic Glazed Vegetables for later!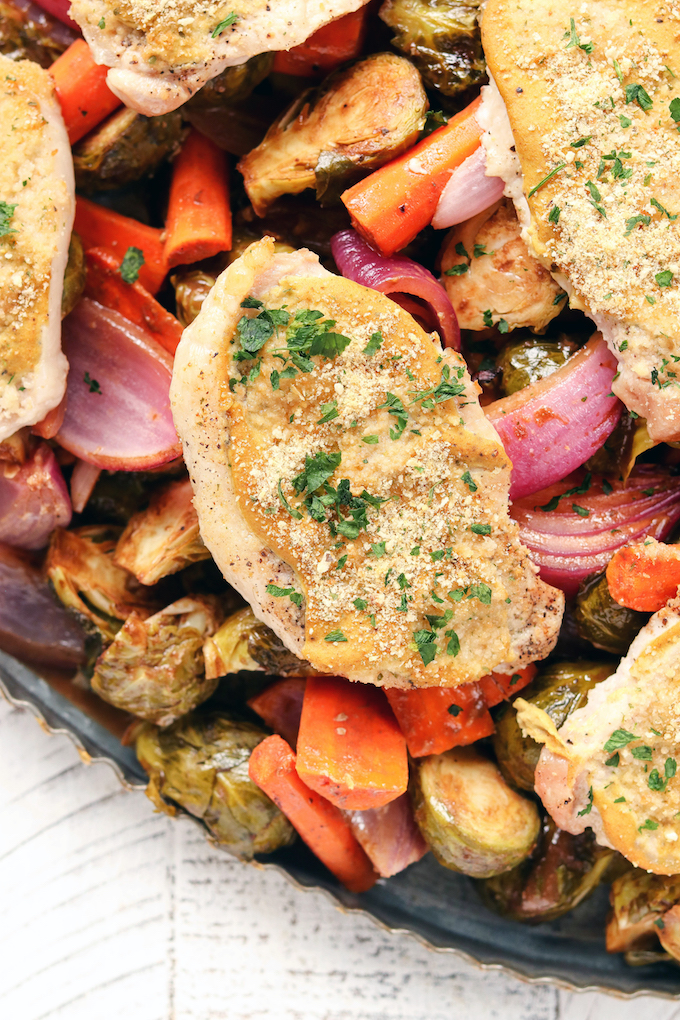 You know those times that you need really good food and you need it fast? No fancy ingredients, no drawn-out grocery visits, no ultra-complicated directions?
I present, the dinner idea of the hour - that is, despite looking all fancy and complicated, actually quite simple.
Because, it is a SHEET PAN DINNER! You know, yummy food without all the dishes. I went a little rogue and made pork chops instead of chicken (which surprisingly went unnoticed by my super picky 5 year old).
I know, right? Sneaky.
Don't get me wrong, I love a good chicken recipe. Buuuut, full disclosure, after 3 failed attempts with creating a flavor-loaded chicken dish, while dealing with a grumpy 10-month old sous-chef and grocery companion, I threw in the towel (for now).
And you guys, I'm. So. Glad.
After 1 attempt, these pork chops turned out tender and full of flavor. There's a little hint of tanginess from the dijon and a perfectly crispy top coating even though they are baked and not fried.
And then there's the Balsamic Glazed Vegetables.
Carrots, Brussel Sprouts, and red onions tossed in a creamy maple-dijon balsamic glaze and roasted until tender and golden. You might be raising your eyebrows at the mention of Brussel Sprouts in a post about a family-friendly dinner. It just works. I'm not saying that the kids were begging for seconds. I'm not even saying that they didn't complain. Buuuut.. they ate them. Without crying. #winning
That said, this recipe is nothing if not flexible. Don't like Brussel sprouts, swap them out for potatoes or double the carrots. Anything goes. As long as you keep your veggies chopped into similar sizes (for cooking time purposes), you really can't mess this one up.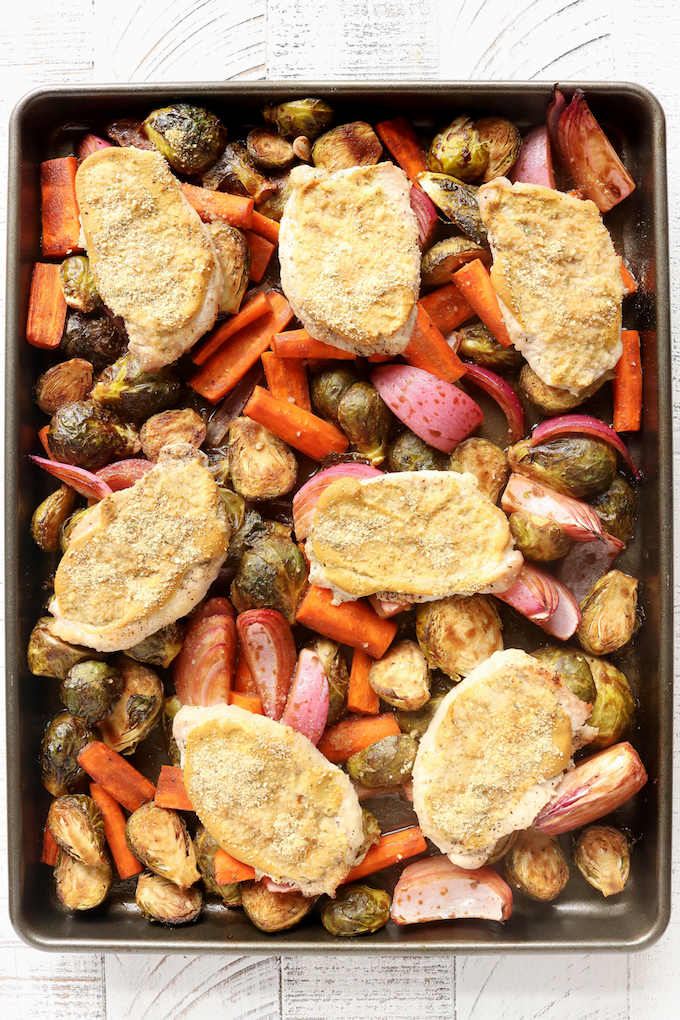 What Is A Sheet Pan Supper?
In a few words, sheet pan suppers are the best thing ever. Simple prep, minimal cleanup. Throw all of your ingredients onto 1 pan, toss it in the oven and dinner's DONE.
How Do You Make 3-Ingredient Sheet Pan Pork Chops with Balsamic Glazed Vegetables?
First: Mix up the Balsamic Glaze and Toss it with your chopped vegetables. Arrange the coated vegetables onto a sheet pan in a single layer.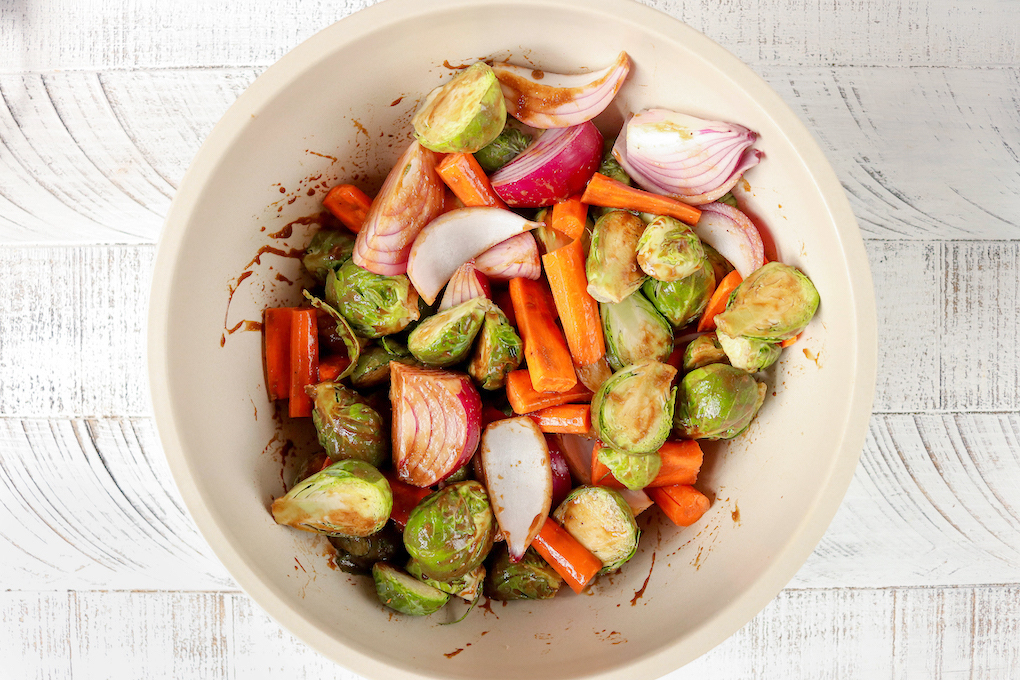 Next: Season the pork chops with salt and pepper and place them onto the sheet pan. Spread a thin layer of dijon mustard onto each pork chop and top with breadcrumbs.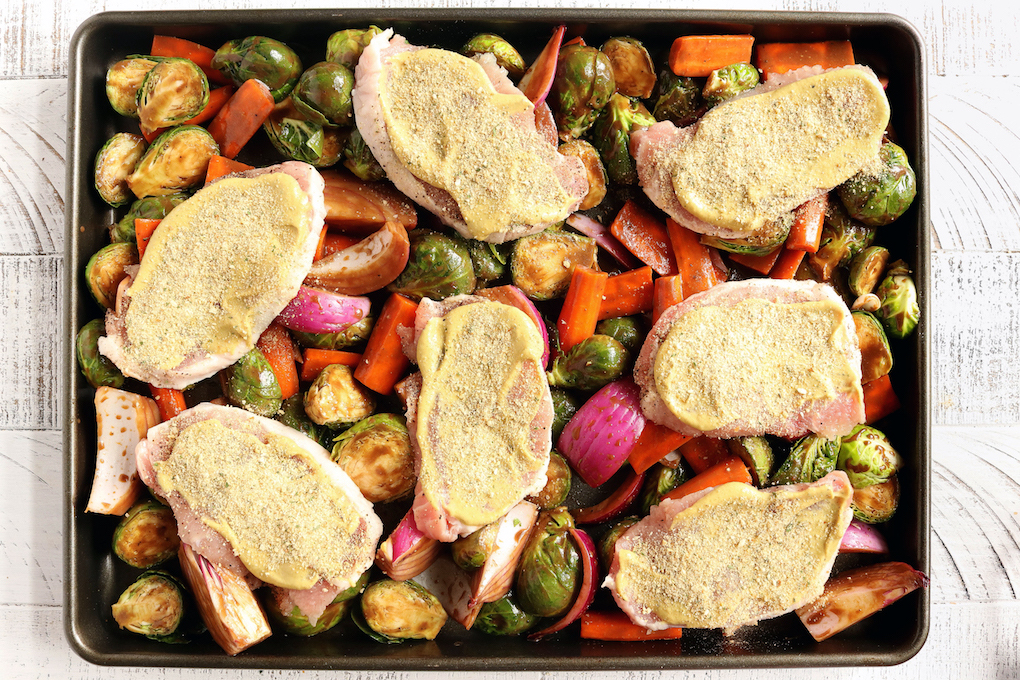 Finally: Bake the pork chops and balsamic glazed veggies until cooked through and tender.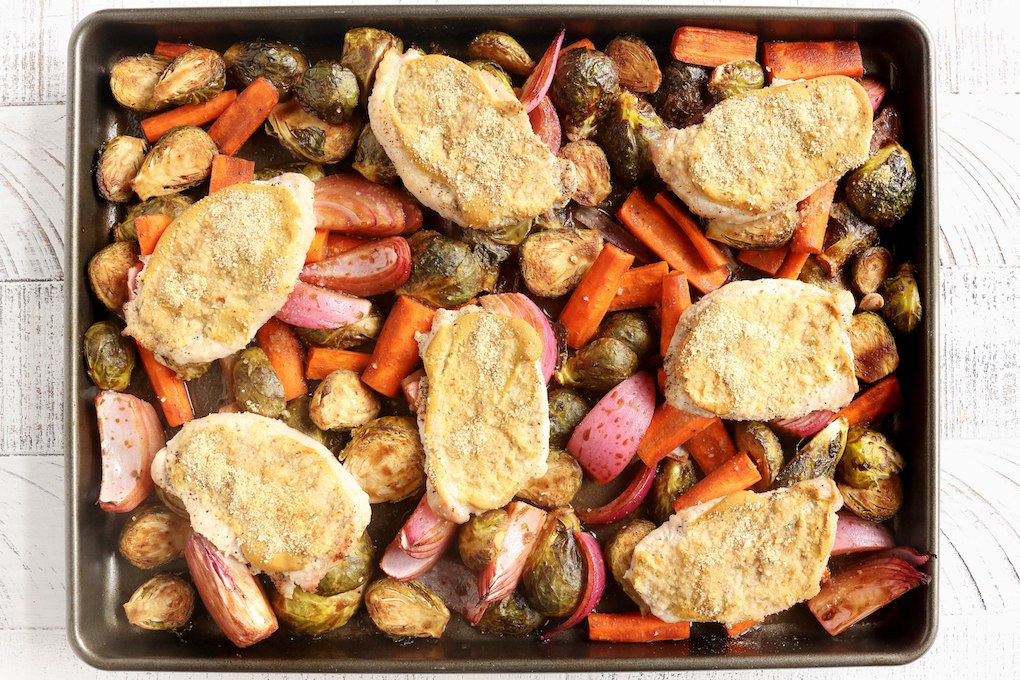 3 -Ingredient Sheet Pan Pork Chops with Balsamic Glazed Vegetables Video:
FAQ's About 3-Ingredient Sheet Pan Pork Chops with Balsamic Glazed Vegetables:
What Type of Pork Chop is best for making Sheet Pan Pork Chops ?
The cut of pork chop that you purchase is important for this recipe, mainly due to cooking time. I recommend purchasing center-cut boneless pork chops that are about 1" thick. This will help ensure that the vegetables and meat finish cooking at the same time.
If you do purchase bone in pork chops, or have a chop that is thicker than 1", just keep your eye on the veggies and the chops as they cook. You can always pull one out early and allow the remaining to continue cooking.
What is the Best Type of Dijon Mustard to Purchase?
I personally purchase Sir Kensington Dijon Mustard because I like the flavor and texture. That said, as long as you select an option that contains recognizable ingredients (vinegar, mustard seed, and spices) you really can't go wrong. Steer clear of options that contain weird additives. There are lots of great options!
Can 3-Ingredient Sheet Pan Pork Chops with Balsamic Glazed Vegetables be made ahead?
They can! You can fully assemble this recipe (just don't bake) the night before or the morning of the day you plan to serve it. Just cover the entire baking sheet with plastic wrap and let it hang out in the fridge until you are ready to bake it. Cooking time may increase slightly since the chops and vegetables will no longer be room temperature.
What Vegetables Can Be Substituted?
You can really use any type of hearty vegetable that you like. Fast cooking vegetables like zucchini or yellow squash would not be ideal for this recipe. Yukon gold potatoes would be delicious! The most important thing is just to make sure that the veggies are cut roughly the same size so that cooking time won't vary.
Should I use seasoned or unseasoned breadcrumbs when making 3-Ingredient Sheet Pan Pork Chops?
I personally use whole-wheat unseasoned breadcrumbs, but you can use whatever you like/whatever you have on hand. I find the pre-seasoned varieties often have a lot of unnecessary ingredients so I stay clear. You can mix in a little garlic powder, parsley, salt and pepper to create your own seasoned bread-crumbs, but it really isn't necessary. The dijon already has TONS of flavor, the breadcrumbs are mostly there to add texture.
Print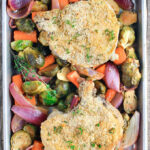 3 Ingredient Sheet Pan Pork Chops with Harvest Veggies
Author:

Prep Time:

15 mins

Cook Time:

30 mins

Total Time:

45 minutes

Yield:

4

servings

1

x

Category:

Dinner

Method:

Oven

Cuisine:

Sheet Pan
---
4

large carrots, chopped

12 oz

. brussel sprouts, halved

1

red onion, sliced into thin wedges

¼ cup

balsamic vinegar

½ cup

dijon mustard, divided

2

TBS olive oil

1 tsp

. Maple Syrup
Salt and Pepper to Taste

4

bone-in pork chops

⅓ cup

bread crumbs
---
Instructions
Heat oven to 425 and cover a baking sheet with parchment paper or foil.
In a large mixing bowl, combine carrots, brussel sprouts, onions, balsamic vinegar, ¼ cup dijon mustard, olive oil, maple syrup and salt and pepper to taste. Whisk.
Season pork chops with salt and pepper. Place on prepared baking sheet. Top with 1 TBS of mustard per chop and sprinkle with bread crumbs.
Arrange veggies on the pan around the pork chops. Bake for 30 minutes or until pork chops are no longer pink in the center and veggies are tender.
---
Notes
Veggies may take a little longer to cook than the meat depending on the thickness of your pork chops, if needed, remove pork chops to a plate and continue cooking veggies for 5-10 minutes until desired texture is obtained.
Brussel sprouts a problem, sub them for a veggie that you like. Sheet pan = flexible!!!
Keywords: Sheet Pan, Porkchops
Let's Be Friends:
You can find Simply Sissom on Instagram where I share even more recipes (some that aren't on the blog), behind the scenes pics and videos AND tips and tricks to make healthy eating realistic for your busy family.
Did you make this recipe? If you tried the recipe, I would love to see it and have you share! Tag me @simplysissom using the hashtag #simplysissom.
4 Ingredient Pesto Chicken Bake: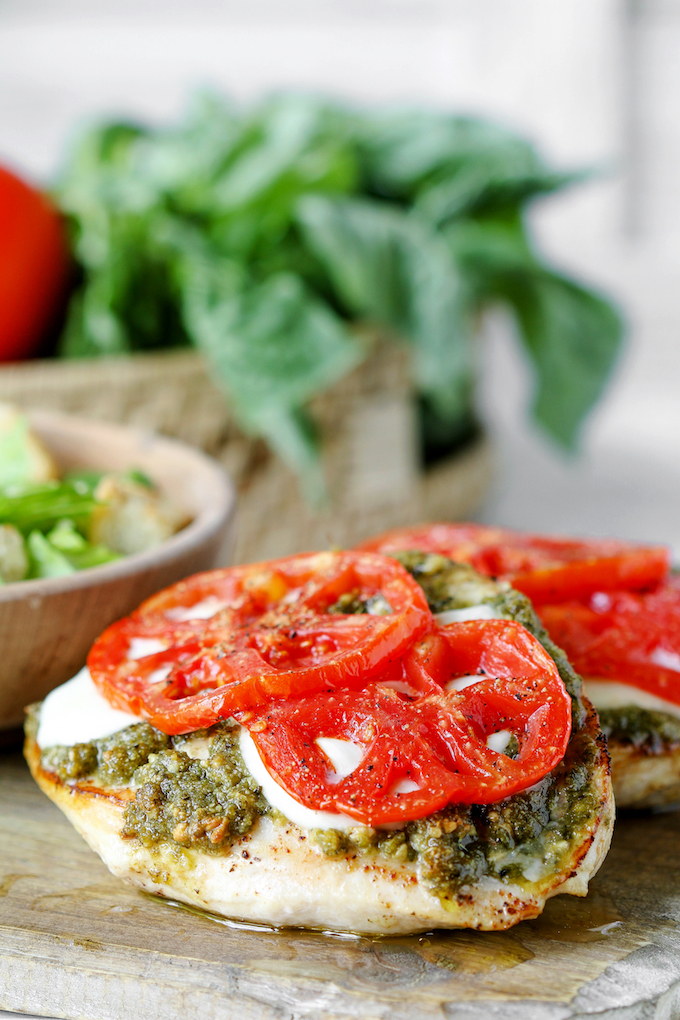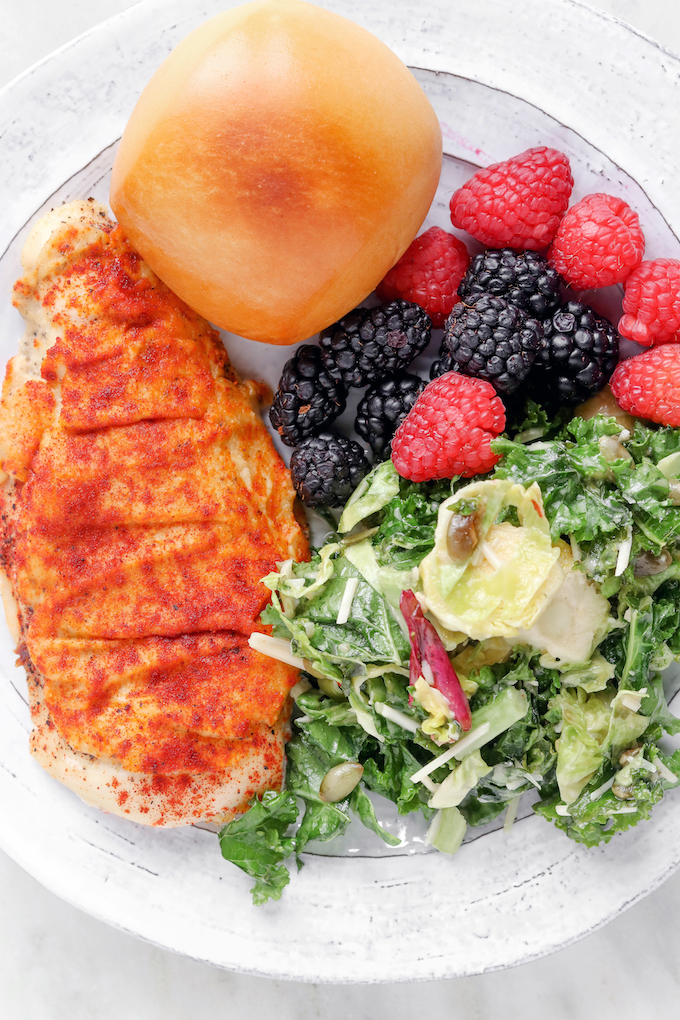 Cheddar BBQ Shrimp and Grits with Garlicky Greens: