Simple Yellow Cupcakes with Homemade Frosting that taste so much better than the boxed version! Fluffy, sweet, and free from dyes and other artificial ingredients. 
Pin Yellow Cupcakes with Homemade Frosting for later!
Ok, Ok, first thing's first. These cupcakes are "off-brand" for Simply Sissom.
They have sugar. It's cane sugar, which is better than granulated, but you guys.. I made 347 different batches of cupcakes. I tried molasses, honey, agave and had fail-after-fail-after-fail-after-fail. Don't get me wrong, they tasted great, buuuuut not like light fluffy cupcakes that you just NEED sometimes.
Not only are there times in my life (and my families) that we enjoy a dessert that isn't made entirely from whole-foods, but I wouldn't want it any other way. Balance. It's Valentine's Day and Campbell and I spent the morning making these cupcakes (with sugar) and everyone is going enjoy!!
With that said,  between holidays and my super-sized extended family, we have "special events" a lot. There's always a new baby, a birthday, weddings, graduations, you name it. For this reason, when my kids to eat sugary treats I do what I can to make sure that they are free from artificial ingredients and dyes.   A lot of times that's a simple as just making dessert from scratch. It's really not hard.
These simple yellow cupcakes with homemade frosting come together with about 15 minutes hands-on time. Not much longer than a box cake. The advantage, you get to control the quantity and quality of the ingredients . No giant mounds of icing on these cupcakes.. it just isn't necessary!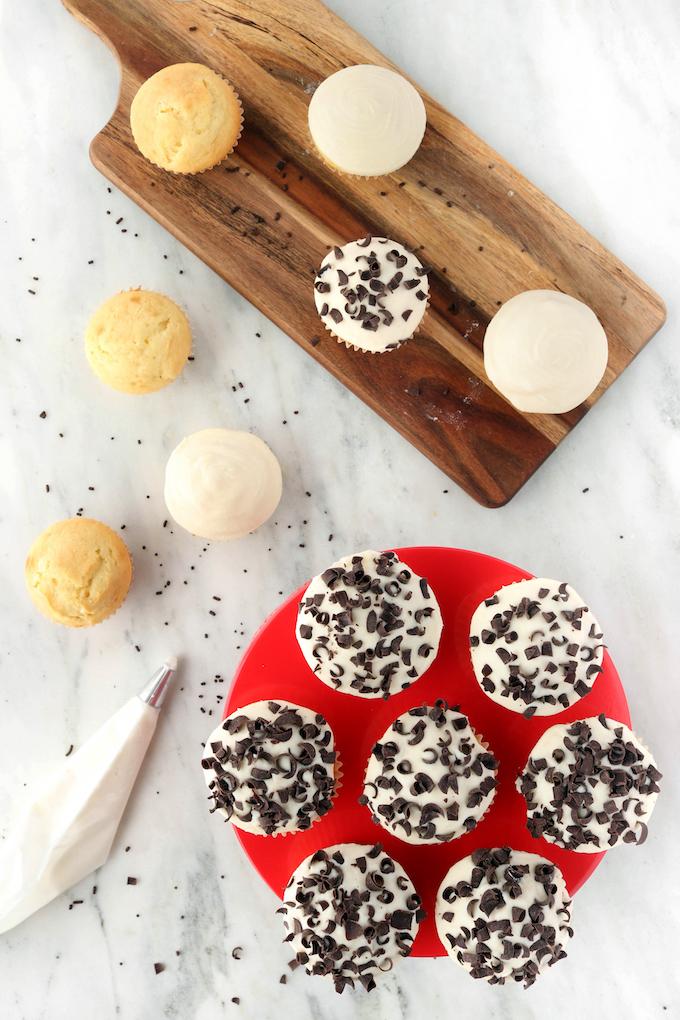 I don't try to reinvent the wheel with frosting. To me, it has sugar, it needs sugar and for that reason, I try to go easy when using (and eating) it. Personally, if I'm going to eat a cupcake I'm just not interested in whipped coconut, garbanzo beans or other healthy trends in the baking arena. Again, Balance.
For these cupcakes I used Betty Crocker's Buttercream Frosting Recipe. It's easy to make, and as is the trend of the todays recipe, SO MUCH better than a store-bought variety
Time Saving Tips and Tricks:
Prep: Baking is messy.. once you get out your ingredients you may as well just go for it!
Make Ahead: The cupcakes can be made in advance and frosted later. They will keep 2-3 days and still taste great! I like to store them in the refrigerator.
Freezer: You can freeze the cupcakes in the freezer, but I don't recommend icing them first. You can.. but it gets a little runny when they thaw. I like icing them fresh!
Print
Yellow Cupcakes with Homemade Frosting
Author:

Prep Time:

15 mins

Cook Time:

20 mins

Total Time:

35 minutes

Yield:

18

cupcakes

1

x
---
2 ½ cups

cup white whole-wheat flour 100% whole-grain

2 ½ tsp

baking powder

½ tsp

salt

1 ½ cups

of pure cane sugar

¾ cup

unsalted butter, softened

3

eggs, room temperature

1 ½ tsp

vanilla

1 ¼ cup

whole milk
---
Instructions
Spray and flour a muffin pan or line cups with paper baking cups. Heat oven to 375.
In a medium bowl, stir together flour, baking soda and salt. Set aside.
Add butter to the bowl of a stand mixer (you can also use a large mixing bowl), beat at medium speed for 30 seconds. Gradually add sugar and continue beating until well combined. Continue beating add eggs one at a time. Add vanilla.
Alternately add flour mixture and milk to the bowl, beating on low speed until just combined. Pour batter into prepared muffin tin cups.
Bake for 20-25 minutes until an inserted toothpick comes out clean. Allow to cool on cooling rack completely before icing with desired frosting.
---
Helpful Hints:
This recipe was slightly adapted from The Better Homes and Garden Cookbook. I reduced the amount of sugar, swapped out white flour for whole-wheat and used whole milk.
I used King Arthur White Whole Wheat Flour of this recipe. I was able to find it in my local grocery store, no fancy health store necessary. You can use regular whole-wheat flour, but I like using WHITE whole-wheat so that the cupcakes aren't brown colored, that's not festive!
Let's Connect:
Recipes Like Simple Yellow Cupcakes with Homemade Frosting :