Easy Oven-Baked Parmesan Chicken is made from 6-basic ingredients and can be prepped in under 15 minutes. This real-food recipe is a perfect for a quick weeknight meal option.
Pin Easy Oven-Baked Parmesan Chicken for later!
Easy Oven-Baked Parmesan Chicken. ❤️
I see you over there with your crispy golden brown skin and simple, rustic, and extremely bold flavor. This recipe is for those of us who want our chicken served up with a giant helping of YUUUUUUMMMM!!
What we are doing here is simple, we're using accessible, delicious, fresh ingredients (think parmesan, parsley, olive oil and panko) and chicken breast. You guys.. it's anything but basic.
Obviously I'm having a moment with super simple weeknight meals, and no.. this Easy Oven-Baked Parmesan chicken doesn't have to be a Monday-Friday only option - it can just be a wonderful recipe. But.. it works really well when you need a quick no-fuss dinner option. So either way.. weekend or weeknight. You do you.
The fact that I love this recipe is just a given, since I'm sharing it here on Simply Sissom. So... let's talk about the details. Here are 3 reasons why I LOVE this recipe besides the healthy/homemade factor...
Oven-Baked Parmesan Chicken is SO SO SO So easy to make. I always try to simplify recipes that I share here, and basic pantry ingredients make up the majority of items in the recipes that I share. This recipe is just one more to add to our growing collection of quick and easy real-food recipes.
Oven Baked Parmesan Chicken can be prepped in advance for an easy lunch or dinner. I often make a batch of these guys on the weekend. We enjoy them throughout the week as a quick grab'n' go meal option, slice it over salads, add it to a wrap.. you get the idea.
Oven Baked Parmesan Chicken reminds me of Shake'N Bake. Yep.. probably showing my age here. As a child of the 90's (aka.. big bangs, one-strap overalls AND LOTS of processed food) I definitely partook in my share of Shake' N' Bake meals. True story... I loved it!! This recipe, well.. it has the ability to take ya back.
Whether you enjoy these guys dipped in your favorite marinara, atop a bed of mixed greens or rolled into a wrap, I think you'll love this one as much as I do!
Time Saving Tips and Tricks:
Prep Ahead: This recipe is so simple to throw together that prepping the ingredients isn't really necessary. NO CHOPPING required!

Make Ahead: Yep. It's one of my favorite things about this recipe. Who doesn't love flavor loaded chicken hanging out in the fridge when you need a quick snack or lunch option? They lose a bit of their crunchiness, but you can bring it back by baking them in the oven until warmed through (400 degrees). That said, I usually just throw them in the microwave or eat them cold over a salad.
Freezer: Yes! I often double the recipe, serve half for dinner and then freeze the remaining half to serve on a night that I don't have the energy to cook. No need to thaw, just pop them into the oven at 400 degrees until warmed through and crispy.
Print
Easy Oven-Baked Parmesan Chicken
Author:

Prep Time:

15 mins.

Cook Time:

20 mins.

Total Time:

35 minutes

Yield:

4

large chicken breasts

1

x

Category:

Main Meal

Method:

Oven
---
2

Tbs dijon mustard

½ tsp

parsley leaves, chopped

¼ tsp

salt

¼ tsp

smoked paprika

4

boneless, skinless chicken breasts

1 cup

parmesan cheese, grated

1 cup

panko breaks crumbs
cooking spray
---
Instructions
Preheat the oven to 450 and fit a baking sheet with an oven-proof baking rack (this will ensure air circulates all around the chicken and will result with a crispy outer coating).
In a medium bowl, combine the mustard, parsley, salt and paprika. Whisk to combine. Add the chicken breasts and turn to coat completely. Set aside.
In a second medium bowl, combine the parmesan and panko. Mix to combine.
Dredge the mustard covered chicken breasts in the panko mixture, coating heavily and evenly. Press the crumb coating into the meat.
Put the chicken on a rack that has been lightly sprayed and set over a baking sheet. Spray chicken with an additional quick burst of cooking spray.
Bake until the chicken is golden and cooked through, about 15-20 minutes. Let rest 5 minutes before serving.
---
Let's Connect:
Posts Like Easy Oven-Baked Parmesan Chicken:
Pecan Crusted Chicken Tenders: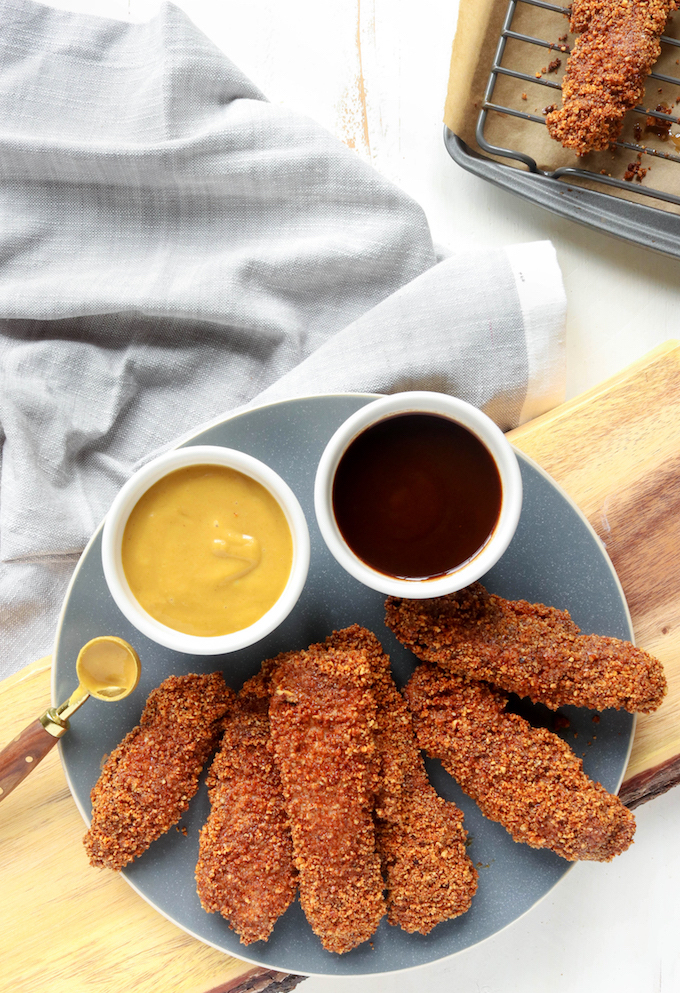 3 - Ingredient Hummus Crusted Chicken: