Freezer-Friendly Buffalo Chicken Meatloaf Cups are a fun updated twist on an American classic. Simple to make, requiring 8 ingredients and 15 minutes prep. Buffalo Chicken Wings + Meatloaf, yep...it's a match!
Pin Freezer-Friendly Buffalo chicken Meatloaf Cups for later!
You may have noticed that there has been a bit of a shift here on Simply Sissom, AND you'd be correct! As of October 2019, I officially started Simply Serving, a non-profit that delivers 25 high-quality meals to families who have been recently impacted by a serious medical diagnosis. You can learn more by visiting Simply Serving's NEW website!
You should also know that I MADE the aforementioned website and TBQH, I now consider myself to have achieved official "COMPUTER NERD" status 😜. In all seriousness, it took HOURS and HOURS and HOURS. I would truly love for you to check it out and learn more about how I've combined my love for all things tech-y + heathy homemade meals and turned it into something that is really having a social impact. I would love it even more if you decided to get involved!!
Now, back to the shift in Simply Sissom. Running a non-profit is NOT for the faint of heart. Permits, paperwork, fundraising, cooking, cooking, volunteer coordination, cooking, scheduling, cooking ... it's a LOT, and I'm only one person. For this reason, for the foreseeable future I will no longer be posting here on Simply Sissom 2x per week. Instead, we are going to take the less is more approach and publish 1 REALLY awesome recipe 1x per week. This will allow me to continue developing and sharing recipes (which I LOVE doing) while also giving Simply Serving the time and attention it requires and deserves.
All that to say... it's now twice as difficult for a recipe to be great enough to make it onto Simply Sissom, and friends I promise you... these Freezer-Friendly Buffalo Chicken Meatloaf Cups are a game changer! Quick prep time, make-ahead - able, freezer-friendly and best of all EVERY. SINGLE. CHILD. in my home eats them without complaining. Is there any higher accolade??? I think not.
Let's do this!

WHAT ARE MEATLOAF CUPS?
Meatloaf Cups are just want they sound like, tiny meatloaves baked in muffin cups! I like them because they can be served and/or frozen in individual servings. Also, there's just something kind of great about anything that's "mini" sized.
HOW DO YOU MAKE BUFFALO CHICKEN MEATLOAF CUPS?
Honestly, it couldn't be more simple.
FIRST: Place the oats into a small bowl, and pour the milk on top of them. This helps soften the oats!
NEXT: Add the remaining ingredients into a giant bowl.
THEN: Add the softened oats to the giant bowl and make a SUPER QUICK glaze.
FINALLY: Mix. Use a large scoop and place meatloaf into individual muffin cups. Add glaze to the top of each meatloaf. Bake and serve!
FAQ'S ABOUT BUFFALO CHICKEN MEATLOAF CUPS:
CAN I MAKE A REGULAR SIZED MEATLOAF INSTEAD OF MEATLOAF CUPS?
You bet. The cooking time will just be longer. Bake for 45 minutes, and then pour over the remaining buffalo glaze. Bake an additional 20-25 minutes; the meatloaf should no longer be pink in the middle. Allow to sit 10 minutes prior to serving.
ARE BUFFALO CHICKEN MEATLOAF CUPS KETO, PALEO OR LOW-CARB COMPLIANT?
They are not. These meatloaves contain oats, which are not compliant of the diets listed above.
CAN I USE GROUND TURKEY OR BEEF INSTEAD OF CHICKEN WHEN MAKING MEATLOAF CUPS?
Absolutely! Use what you have. All 3 varieties would be delicious.
CAN I SUB OUT ALMOND MILK (OR ANOTHER NUT MILK) IN PLACE OF WHOLE MILK?
I haven't tested it, so I can't say for sure, but I suspect it would work just find. It may change the texture slightly, but the flavor will still be great!
ARE BUFFALO CHICKEN MEATLOAF CUPS FREEZER-FRIENDLY?
Yep. I guess that was kind of implied in the name. When I freeze these, I like to use disposable muffin tins so that I don't lose my pan to the freezer for weeks or months. Just follow the recipe directions, but don't bake. Instead cover muffin tin tightly with plastic wrap and place in the freezer. To cook, allow meatloaf cups to thaw overnight in the refrigerator and then cook according to recipe directions.
CAN BUFFALO CHICKEN MEATLOAF CUPS BE MADE IN ADVANCE?
They can! I like to make a big batch over the weekend and eat them throughout the week for a quick lunch option. They will last 3-4 days wrapped in the refrigerator.
Print
Freezer-Friendly Buffalo Chicken Meatloaf Cups
Author:

Prep Time:

15 minutes

Cook Time:

50 minutes

Total Time:

1 hour 5 minutes

Yield:

18

muffins.

1

x

Category:

Main Meal

Method:

Oven

Cuisine:

American
---
Description
Freezer-Friendly Buffalo Chicken Meatloaf Cups are a fun updated twist on an American classic. Simple to make, requiring 8 ingredients and 15 minutes prep. Buffalo Chicken Wings + Meatloaf, yep...it's a match!
---
For The Meatloaf:
non-stick cooking spray, for the pan

1.5 cups

regular oats

1 cup

whole milk

2.5

lbs. ground chicken

4

slices bacon, cut into very small pieces

3

Tbs. finely minced chives, plus more for serving

½ tsp

. seasoning salt, such as Lawry's

½ tsp

. black pepper

¼ cup

buffalo sauce
For The Glaze:
¼ cup

buffalo sauce

¼ cup

ketchup

2

Tbs. honey
---
Instructions
Heat the oven to 350 degrees. Coat 18 standard muffin cups with cooking spray.
Put the oats in a small bowl and pour the milk on top of them. Stir. Allow them to sit for a minimum of 5 minutes.
Put chicken, bacon, chives, seasoning salt, pepper and buffalo sauce into a large bowl. Pour the soaked oats on top of the ingredients. Use your hands to mix it all together.
Place a ¼ cup scoop of the mixture into each of the prepared muffin cups. Use the edges of a spoon to move the meatloaves away from the pan so that they don't stick. Flatten the tops of the meatloaves with the back of your spoon.
Make the glaze by combining all ingredients in a small bowl and mixing them until combined. Top the prepared meatloaves with a spoon full of glaze. Reserve extra glaze.
Bake for 25 minutes, then carefully add a second layer of glaze to each meatloaf. Continue baking until meatloaves are cooked through, about 30 more minutes.
Sprinkle the meatloaves with chives, then let them sit in the pan for 5-7 minutes before serving.
---
Notes
You can sub a milk of your choice for the whole milk without affecting the recipe.
Keywords: Meatloaf, Buffalo
Let's Be Friends:
You can find Simply Sissom on Instagram where I share even more recipes (some that aren't on the blog), behind the scenes pics and videos AND tips and tricks to make healthy eating realistic for your busy family.
Did you make this recipe? If you tried the recipe, I would love to see it and have you share! Tag me @simplysissom using the hashtag #simplysissom.
RECIPES LIKE FREEZER FRIENDLY BUFFALO CHICKEN MEATLOAF CUPS:
20 Minute Bacon Honey Mustard Rice Bowls:
Freezer-Friendly Baked Egg Cups: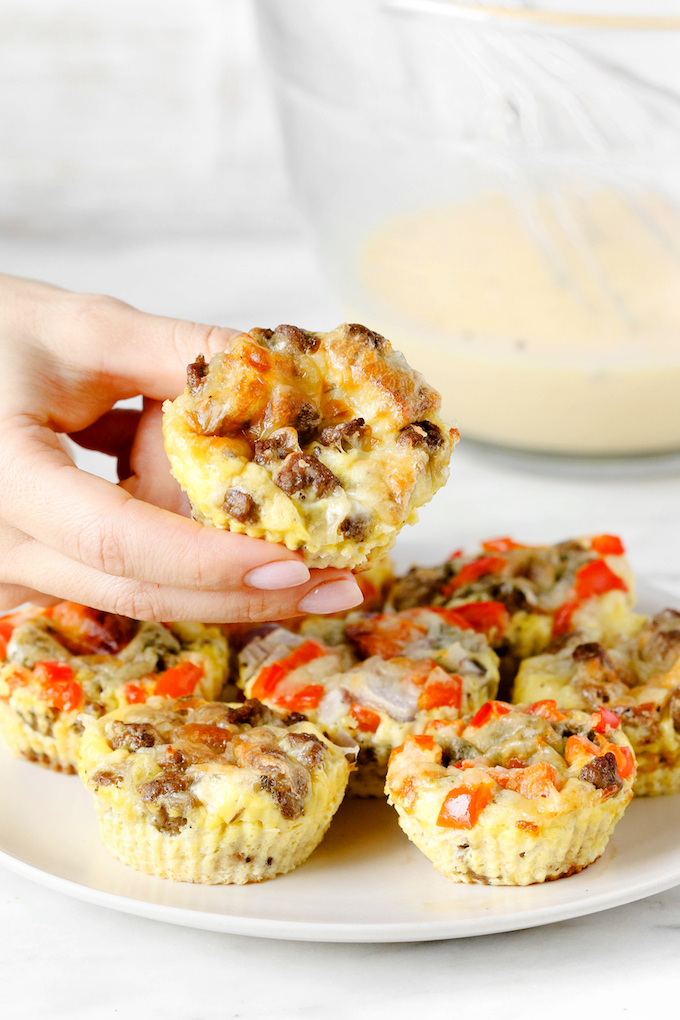 Extra Crispy Air Fryer Chicken Wings: