Mini Apple Sage Turkey Meatloaves are freezer-friendly, super moist and full of holiday flavor. Simple to make, requiring just 10 ingredients and 30 minutes to prepare.  #glutenfree 
Pin Mini Apple Sage Turkey Meatloaves for later!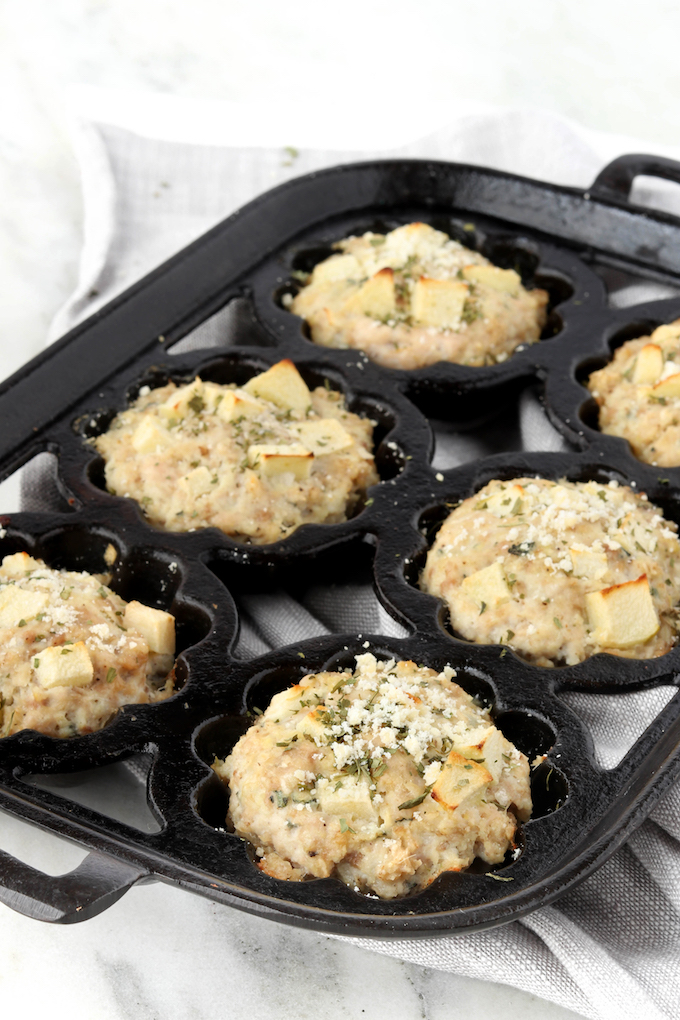 Ok, I don't know about you guys, buuuuuuut holiday "splurging" has gone Out. Of. Control. at my house. And yes, I realize that it's only mid-December. January and it's promises of green smoothies, regular gym visits and giant salads is way to far off for me to be "officially splurged out" (<-- it's a thing).
If I'm going to be completely honest with you, which I always try to do. My eating habits, for lack of a better word, have SUCKED lately. Granted, honey roasted almonds, Christmas Cut Out Cookies, Derby Pie.. it's all part o the season, buuuut.. I just don't feel great.
All this to say, yes.. I know that this is more of a "New Year, New You" type recipe, and that I really should be posting about frosted gingerbread cookies (it's coming) and other holiday indulgent recipes, but today I just couldn't.
Today, I needed a recipe that fits into my favorite category. You know, "super-simple-few-ingredient-freezer-friendly-but-still-so-delicious-even-the-kids-will-eat-it." So, here it is, in all it's anti-holiday-food glory.. Mini Apple Sage Turkey Meatloaves. Tell me I'm not the only one who needs this?????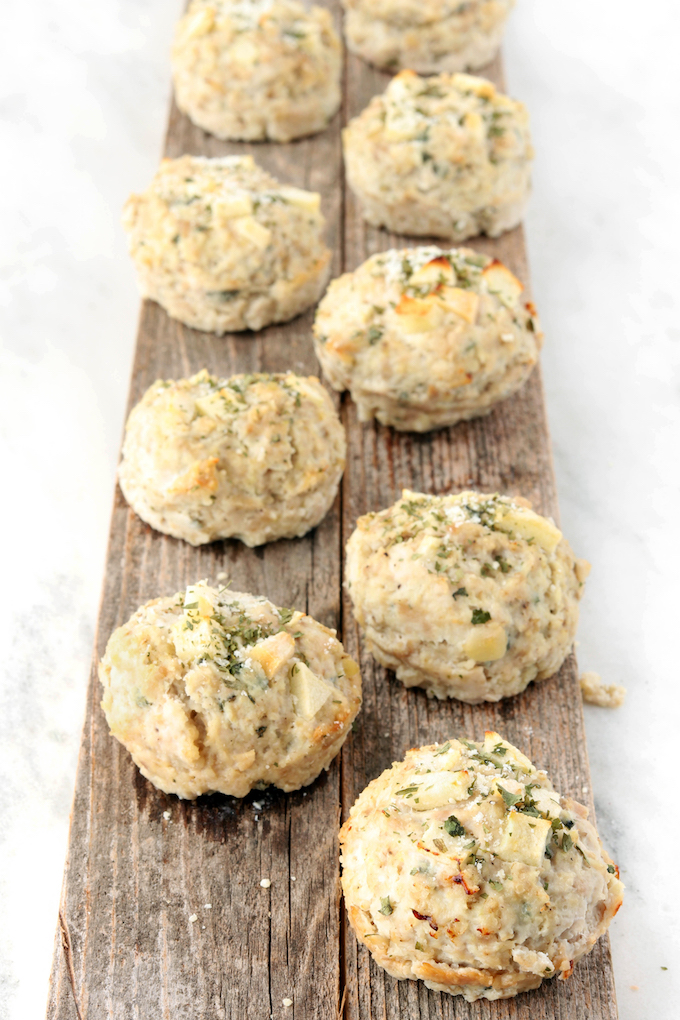 There are many things that I love about this recipe. First and foremost, they may not look like much, but you guys.. they are really really good. Turkey meatloaves tend to be dry and tasteless. Not. The. Case.
I used the food processor to create a puree from the apples, onions, garlic and ginger and it totally infuses these guys with flavor. I added rolled oats for fiber and tons of sage for a pop of  holiday flavor (see I'm not a complete Grinch).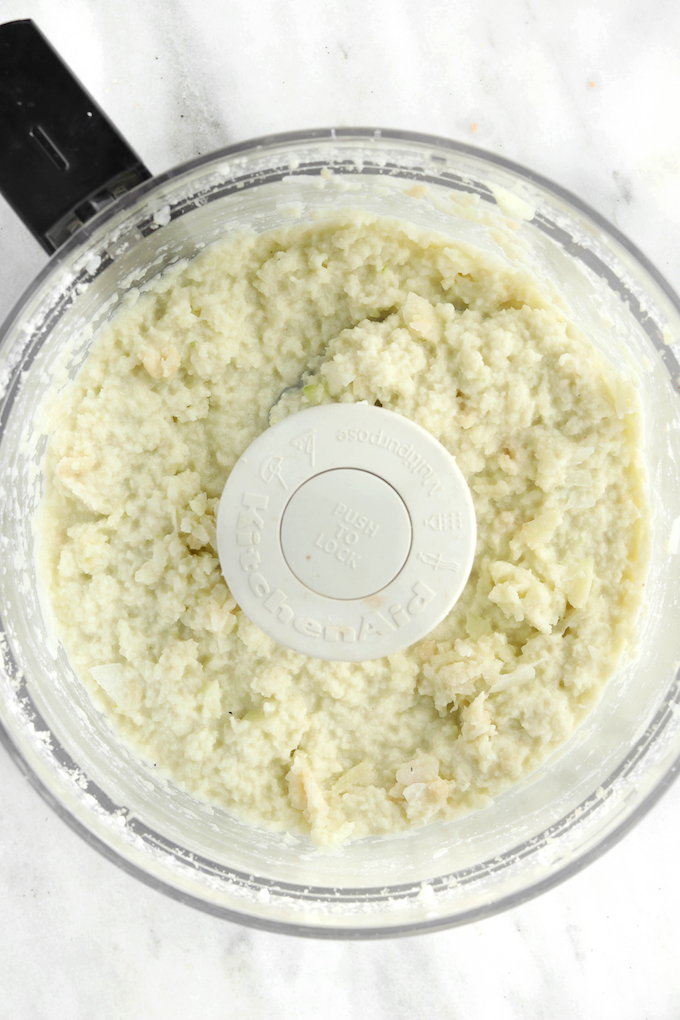 The result.. tiny little loaves (ok, ok, they look like meatballs. Humor me?) of yumminess that are possibly amazing enough to make you forget about the chocolate peppermint bark that your neighbor sent over (you know who you are!) and choose a healthier option instead! Probably not, but hey, goalz!!!
Time Saving Tips and Tricks:
Prep: You can prep ahead by pre chopping onion, apples, sage,  ginger and garlic. Items can be refrigerated in a sealed container or bag for up to a day. The apples will turn brown, but since we are baking them it really isn't a big deal. Once the chopping is done, throwing the recipe together is simple!
You could also fully assemble the meatloaves according to recipe directions, but wait to bake. Just place meatballs into the muffin tin, cover with plastic wrap and refrigerate. Meatballs can be made up to 1 day ahead.
Make Ahead: Yes! This is my favorite. I often double the batch (yep.. 32 meatballs) serve them for dinner and then store the rest in the refrigerator for lunches throughout the week. TIP.. they taste great crumbled up on a salad or on top of some cooked quinoa with marinara!
Freezer: Don't think you can eat 32 meatballs in 1 week? Freeze some! Arrange cooked meatballs into a single layer on a baking sheet and freeze for 2-3 hours or until frozen through. Store frozen meatballs in an airtight Ziplock bag for up to 2 months (possibly longer, but wanted to keep things conservative).
Print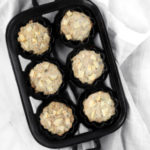 Mini Apple Sage Turkey Meatloaves
Author:

Prep Time:

15 mins

Cook Time:

20 mins

Total Time:

35 minutes

Yield:

18

meatloaves

1

x
---
Description
Mini Apple Sage Turkey Meatloaves are freezer-friendly, super moist and full of holiday flavor. Simple to make, requiring just 10 ingredients and 30 minutes to prepare.  #glutenfree 
---
2 cups

rolled oats (gluten-free if needed)

1

green apple, chopped

1

small onion, chopped

½

TBS ginger, chopped

3

garlic cloves, chopped

2

lbs turkey (mix of light and dark)

¼ cup

fresh sage, chopped

1

large egg, beaten

1

TBS maple syrup

1 tsp

salt

½ tsp

pepper

1

can tomato sauce (optional)
---
Instructions
Heat oven to 375. Coat muffin tin with non-stick spray.
Add oatmeal to the bowl of a food processor, pulse until course crumbs form. Transfer to a large mixing bowl.
Put apple, onion, ginger and garlic into the food processor, pulse until puree forms. Transfer to bowl with oats.
To the large mixing bowl, add turkey, sage, egg, maple syrup, salt and pepper. Use hands to mix completely.
Fill each muffin tin with a scoop of meat mixture (I used an ice cream scoop to keep things even).
Bake for 20 minutes or until meatloaves are no longer pink in the center. I like to broil them 2-3 minutes at the end to get a golden crust. Watch them carefully!!
Allow meatloaves to cool. Top with tomato sauce if desired.
---
Helpful Hints:
I used Bob's Red Mill's Organic Quick Cooking Rolled Oats for the recipe. There is a gluten-free version of this product available as well.
I usually say "fresh is best." Buuuut, in the case of ginger.. I'm going to level with you, peeling/chopping sucks! I use ginger from a jar. If you're looking to save some time, you should too. You can usually find this in the Asian section of most grocery stores.
I liked topping the meatloaves with a little tomato sauce for added flavor. It's optional, but definitely yummy!
Nutrition Information:
Let's Connect:
Recipes like Mini Apple Sage Turkey Meatloaves:
Healthy Italian Chicken Meatballs:
Lasagna Stuffed Zucchini Boats: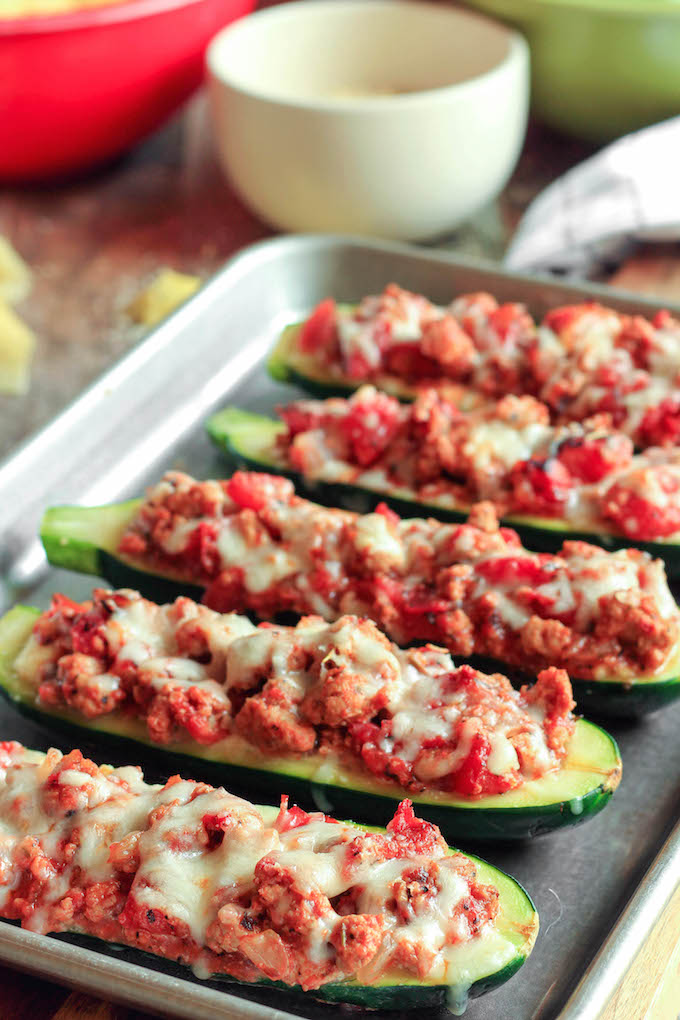 Dye Naturally: Free Downlaod
How to Make Natural Food Coloring for Christmas Baking + Whole Food Christmas Cookie Recipe.