6-Ingredient Pizza Rolls are simple to make, requiring only 10 minutes to throw together. Make Ahead and Freezer Friendly, they are perfect for snacking, lunch boxes or even a quick dinner.
Pin 6-Ingredient Pizza Rolls for later!
Another quick and easy dinner time favorite coming at ya!
If you were to ask me if I have made this recipe 3x in the last week, I'd say yes. Yes, definitely yes.
It's the kind of recipe that stays yummy for a good amount of time in your fridge or your freezer, so I just keep making it OVER and OVER. The ingredients are of the pantry variety. AKA, I almost always have them on hand. Soooo this recipe becomes a help-I-don't-have-a-dinner-plan-but-my-family-insists-on-eating-anyway-type-of-situation.
Pizza Crust = Freezer.
Parmesan, Mozzarella, String Cheese and Pepperoni = Fridge
Pizza Sauce, Flour, Salt and Olive Oil = Pantry
Gang's all here and ohmygoodness, I can't get enough!
Here's the real question.. did you catch my little white lie?
Yeah.. there are a few more ingredients than 6, but honestly... olive oil, flour and salt don't count! Please don't be mad.
Obviously what I've given you here is a super basic recipe that has LOTS of room for personalization and creativity. Prefer sausage to pepperoni, swap it. Feeling the need to get in those veggies, add em! More sauce, less sauce, double cheese... you do you!
I didn't mess with specific measurements for the ingredients. It's a pizza.. you can't get it wrong. Add lots of what you like and less of what you don't.
I do have 1 piece of advice.. go easy on the sauce AND leave some room around the edges. Rolling these guys up can get a little messy.
Let's take just a moment and talk pizza dough.
You've gotta be a little careful when using store-bought versions of this one. Just make sure to check your ingredients, you should recognize all of them. This is an ingredient that I love to stock up on at the farmer's market. Buy a bunch when you have the opportunity and just let it hang out in the freezer until you need it for a quick weeknight meal. If you don't make it to the farmer's market, or if your supply runs low.. Trader Joe's and Whole Foods both have great whole wheat pizza dough options that are made in house.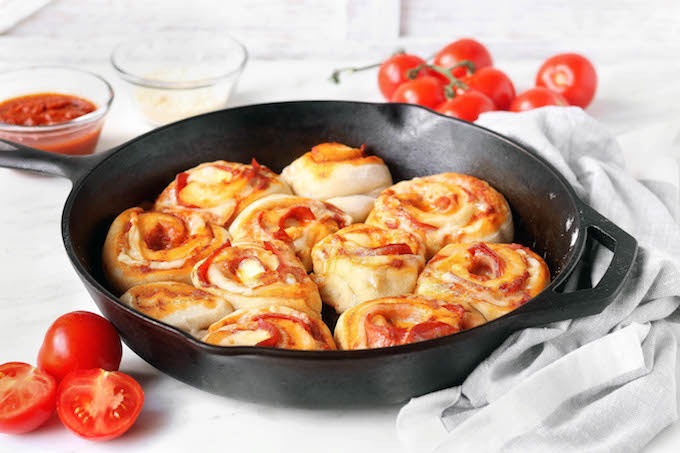 Time Saving Tips and Tricks:
Prep Ahead: This recipe is so simple that there really isn't any reason to prep ahead. If you would like to add extra-add ons like veggies you could pre-chop them and have them ready in the refrigerator for when you need them.
Make Ahead:  Yep, it's one of my favorite things about this recipe. I often assemble the pizza rolls early in the day, but skip baking them. Instead, I cover them with plastic wrap and let them spend the day in the refrigerator. At dinner time, I allow them to come to room temperature on the counter and then pop them into the oven (bake time will be the same as written in directions).
Freezer: These are perfect freezer food. Follow recipe directions, but do not bake. Instead, arrange in a disposable foil pie dish, place plastic wrap directly on top of pizza rolls,wrap the whole thing in foil and pop into the freezer. To thaw, place pizza rolls in the fridge overnight. Prior to baking, remove pizza rolls from the fridge and allow them to come to room temperature on the counter. Bake according to recipe directions.
6-Ingredient Pizza Rolls Video:
Print
Simple 6-Ingredient Pizza Rolls
Author:

Yield:

12

pizza rolls

1

x
---
Description
6-Ingredient Pizza Rolls are simple to make, requiring only 10 minutes to throw together. Make Ahead and Freezer Friendly, they are perfect for snacking, lunch boxes or even a quick dinner.
---
1

package of frozen pre-made pizza dough (I use the whole wheat version from Trader Joe's or Whole Foods)
Flour (for dusting)
Olive Oil
Salt

1

jar favorite pizza sauce
Parmesan Cheese
Sliced Mozzarella Cheese
Thinly sliced pepperoni

2

-pieces string cheese (Make sure the string cheese comes straight from the fridge, if room temp.. it will melt too much in oven and sink to the bottom of the pizza rolls.)
---
Instructions
Roll out pizza dough on a floured surface until it is the shape of a large rectangle, about  8 inches x 12 inches.
Brush on a thin layer of olive oil and sprinkle with salt.  Spread marinara onto the surface of the pizza dough. Leave around 1" on the sides as the sauce will spread when you roll the dough up. Don't overdo the marinara sauce, things will get messy.
Lay mozzarella slices over the sauce in a single (or double if you're feeling wild) layer.
Arrange pepperoni on top of the cheese (just like you would for a pizza).
Unwrap the string cheese and lay it in a a line at the top of the dough. Roll it towards you (keep things tight) so that the string cheese ends up in the middle of the roll of dough; pinch the seam closed. Slice 1" pieces and place them in a 10" cast iron skillet. Allow the rolls to rise for 15 minutes.
While rolls are rising, pre-heat the oven to 400 degrees.
Bake until the pizza dough is golden and the fillings are bubbly, about 18 minutes. Serve immediately with marinara sauce.
---
Notes
Gotta give credit where credit is due! I got the idea to add the string cheese from the Pioneer Woman. It adds a fun gooey component. If you want to skip them, the rolls will still taste great.
Since this recipe does not include measurements there are no nutrition facts included.
Recipes like 6-Ingredient Pizza Rolls: