Healthy-ish Roasted Potato Salad is loaded with the perfect combination of crispy pancetta, creamy eggs, fresh herbs and a tangy greek yogurt dressing.
Pin Healthy-ish Potato Salad for later!
For years, and I means YEARS, Summer break was the highlight of my year. As a student, it was the end of homework, tests, alarm clocks and most importantly.. the beginning of  days spent hanging at the pool with my friends without a schedule or concern in the world.
When selecting my profession, 2 major factors steered me in the direction of Elementary Education (SPOILER.. it wasn't my passion for children).
Summer Break
NO college level Calculus required
Writing that makes me sound shallow, buuuut it's the truth and I like to keep things real. However,  I would like to go on record as saying that these career "requirements" were established by an 18 year old whose brain was not yet fully developed.  Yeah.. I'm going with that.
Now that I work from home, the thought of Summer, well... it's stressful! I want the boys to get to do All. The. Things., buuuut my daily commitments don't change just because they will be hanging at home during the day. If I'm being completely honest, I'm struggling to build up my usual excitement over my former favorite season.
So, instead of walloring (<-- yep it's a thing) in guilt brought on by work and kid-related obligations, I'm  making the commitment to change my attitude. We are going to do ALL the swimming, bike riding, park going, bubble blowing, chalk drawing activities that once made Summer my favorite time of year AND all the other things.. they're gonna get done too. Deep breath.
Now.. check back with me on the state of my attitude next week, lol!
Since nothing says Summer time like Grilling.. this Friday (the official last day of school) I'm planning a family cookout with Juicy Turkey Burgers, Fresh Corn Salad , Triple Berry Crisp for dessert and most importantly... THIS ⬇️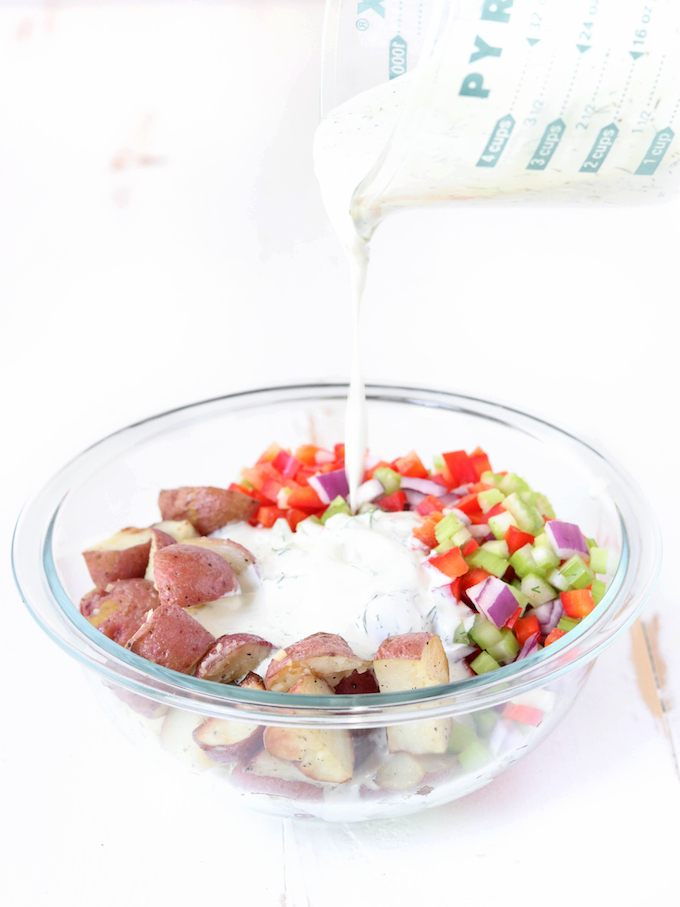 Most mayo labels are scary.  LOTS of crazy ingredients and almost all contain corn syrup and are made with refined oils. Even brands with attractive labels boasting "made with olive oil" most likely still contain some amount of soy or canola oil.
DISCLAIMER: THE NEXT PARAGRAPH IS NOT SPONSORED.. just a really great find that I wanted to share!
Instead, I use Primal Kitchen Mayo. It's made with avocado oil, cage free eggs, organic vinegar, rosemary and sea salt. That's it.  With that said, it would be irresponsible not to mention that while it is made from real food ingredients, it's still not "health food." It's high in fat and calories just like traditional mayo. For that reason, I have written this recipe to use ½ mayo and ½ greek yogurt. It's all about balance right?
I have had some success with skipping the mayo entirely and replacing it with greek yogurt. The texture is similar and it adds a yummy tang. I like it. I say "some success" because Joe finds the substitution absolutely abhorrent. So, in the spirit of compromise I go half yogurt, half mayo. You can mess with the ratios as you see fit.
Ok, Enough about mayo... more about this ⬇️
TIME SAVING TIPS AND TRICKS:
PREP: Yep. The potatoes and pancetta can be roasted up to 3 days prior to assembling the recipe. The dressing can also be mixed and stored in the fridge for 1-2 days.
MAKE AHEAD: Yes! This potato salad actually has more flavor after sitting in the fridge overnight.
Print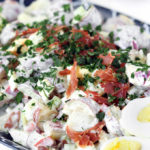 Whole Food Potato Salad
Author:

Prep Time:

20 mins

Cook Time:

35 minutes

Total Time:

55 minutes

Yield:

12

servings

1

x
---
48 oz

red potatoes

3

garlic cloves, minced
olive oil
salt/pepper

3 oz

. pancetta (thinly sliced)

⅓ cup

mayo

⅓ cup

plain greek yogurt

1

Tbs milk

½ tsp

red wine vinegar

2

Tbs dijon mustard

¼ cup

dill

1

red pepper, diced

½

onion, diced

4

celery stalks, diced

3

hard boiled eggs, chopped
---
Instructions
Heat oven to 425. Cover 2 rimmed baking sheets with foil.
Chop potatoes into eighths (quarters if potatoes are small). Arrange them in a single layer on one of the foil covered baking sheets. Drizzle with olive oil, salt and pepper. Sprinkle minced garlic over potatoes. Toss to coat. Roast for 25-30 minutes until fork tender, don't overcook. Remove from oven and cool completely before mixing up the potato salad.
Arrange pancetta in a single layer on the second foil covered baking sheet. Bake with the potatoes for 10-12 minutes. Remove from oven and set aside.
In a large mixing bowl, combine mayo, greek yogurt, milk, red wine vinegar, dijon and dill. Stir to combine. Season with salt and pepper.
To the large mixing bowl with dressing, add peppers, onions, celery, cooled potatoes, pancetta and eggs. Toss carefully so you don't break up the eggs and potatoes.
---
Notes
If you don't want to mess with boiling eggs, the recipe still tastes great without.
If you want to reduce the calories of this recipe further, don't use all the dressing. The roasted potatoes have so much flavor you can get away with it.
Helpful Hints:.
Potatoes are on the EWG's dirty dozen list. You should buy organic when possible.
Dairy such as milk and yogurt should also be organic if it is feasible.
Let's Be Friends:
Recipes like Healthy-ish Roasted Potato Salad:
Ultimate Juicy Turkey Burgers: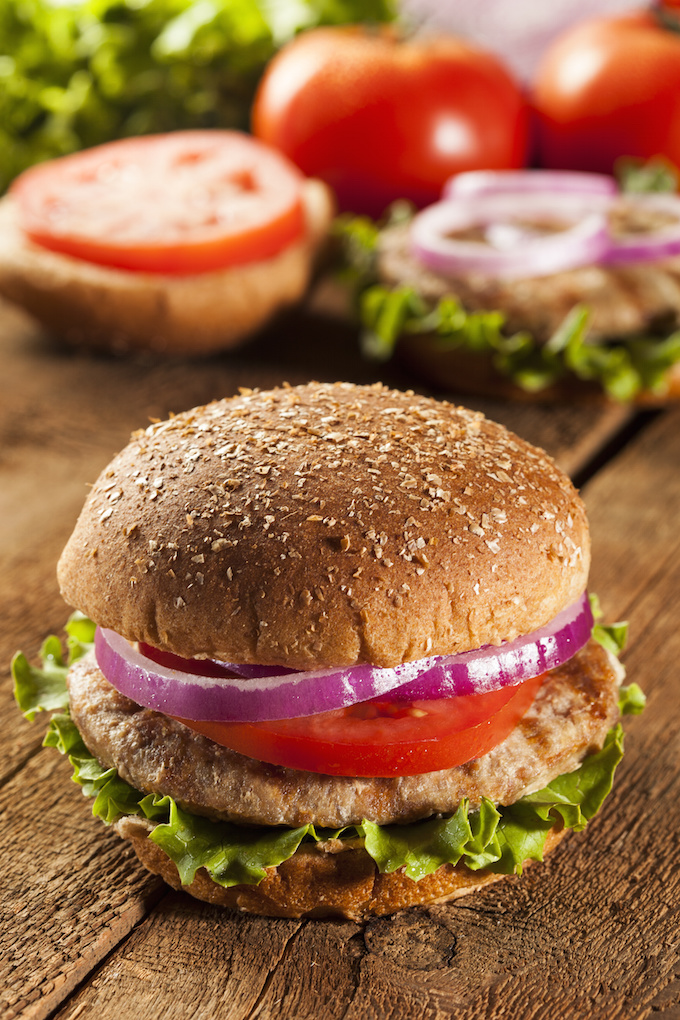 Triple Berry Crisp: